WHY GAMBLING ON THE NBA IS NO FREE THROW
by Nolan Dalla
Betting on a pro basketball game can be like a two-and-a-half hour coin flip.  Gambling. First it's heads then it's tails; heads, tails, heads, tails, heads, tails. In most games there are multiple lead changes, teams go on scoring streaks, then the closing minute usually turns into a foul circus, with the ultimate point spread winner determined by a couple of foul shots. Indeed, betting on NBA games presents some very unique challenges for sports gamblers.
There are many reasons why beating the NBA is no free throw.
More Games/Longer Season. The NBA season consists of 82 games, not including preseason and playoffs, which can add another 30 games per team. This means that "significant" regular season games are exceptionally rare. Fact is, "must win" games are infrequent. Contrast this with college and pro football where all games are crucial to national rankings and postseason prospects. Even college basketball features many significant regular season games, since the season is much shorter than the NBA. The bottom line is: Picking the team that will be motivated to win on any given night is very tough to predict.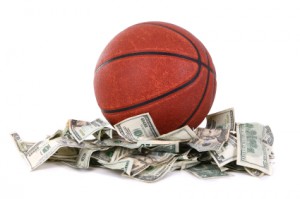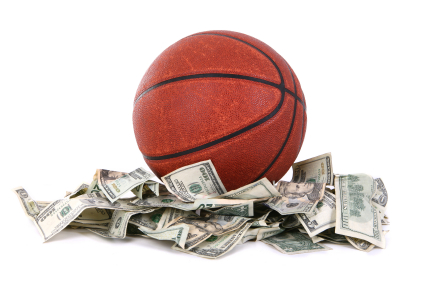 Urban Influences. The NBA is an urban game. Players are forced to live in hotel rooms half the season, often for extended periods. Players on the road visit bars and nightclubs and some find it difficult to resist temptations. Alcohol and women can certainly affect athletic performance. This might not be a politically correct thing to say, but ignoring the influence of the NBA's nightlife on wins and losses is a big mistake.
No Key Numbers. Unlike football, which has key numbers for field goals (3) and touchdowns (7), basketball scoring consists of 1, 2 or 3 points. Team totals usually fall into the 90s, which means one "made" basket represents a tiny fraction of the team's final score. In essence, one basket is no more important than any other is, whereas a touchdown in football can have a momentous impact on the final outcome. A spread of 2 as opposed to 4 in football is a huge difference. But in basketball, the difference between 2 and 4 is almost meaningless.
Forecasting Shooting Percentages Is Impossible. The outcome of a basketball game often depends on which team's players shoot better. This is impossible to predict. Inferior teams with a "hot hand" can upset superior teams. The introduction of the three-point line 20 years ago only adds to the unpredictability of NBA scoring and point spread handicapping.
Inconsistent Officiating. The most important people on the basketball court are not players or coaches. They are referees. A few ill-timed whistles can completely turn around the momentum of a game and determine the outcome. Personal fouls can be called on just about every play, which means games (and the outcomes of wagers) are often determined by officials. If you pride yourself on good handicapping, this is not good.
Despite many challenges that make NBA games tough to predict, there are ways to make a profit. I recommend three areas of focus for NBA bettors.
Concentrate on Trends and Angles. This is especially true with totals betting. Sports betting guides and Internet websites post many trends and angles, which are useful in handicapping. For instance, one of the most profitable angles in recent years (before it was discovered and widely reported) was to bet under the total when one team was coming off a road game at either Utah or Denver. Apparently, it was difficult for many teams to adjust to the altitude change in the next game, and those games were low-scoring affairs. Oddsmakers eventually caught on, and the edge vanished. But there are others out there that can be profitable.
Bet Halftimes (also called Second Halves). Sixty percent of all my NBA bets are halftime wagers. I like seeing an entire half of basketball and then being able to decide which team is dominating inside, or which team is getting lots of calls from the officials and is (falsely) ahead because of free throws, or which team might have a key player in foul trouble. Second halves do not necessarily mirror the first half, but it's clearly advantageous to have seen the two teams play a half of basketball, rather than blindly speculating on what might happen during the pregame warm-ups.
Bet Moneylines (especially dogs). This is the most important advice in this column. Moneyline odds are often inflated and provide outstanding value. Consider last year's NBA finals when the Detroit Pistons were a huge moneyline underdog to the always-overhyped Los Angeles Lakers. Best of all, moneyline prices are adjusted in "series" bets, so you have options to hedge later and lock up a profit. Furthermore I find it wise to just play a solid underdog to win the game outright, getting a nice inflated bonus price, rather than placing an even-money bet with the points. Concentrate on the so-called live dogs, teams you think are capable of wining the game outright. Bet them on the moneyline.
NBA Betting Tips
Bet against teams that shot 10 percent higher than their season average in the previous game, especially in games played the following night. We are taking advantage of teams that played over their heads in the last game and now have to come into a new environment and try and recapture the momentum. This rarely happens. Teams rarely shoot 50 percent and above in back-to-back games.
Bet against teams that played their starters 40-plus minutes in previous game, especially in games played the following night. The reasoning behind this betting tip is pretty obvious. Starters played more minutes than usual in the previous game and get fatigued when they play the next night. Most box scores list "minutes played" for all players.
In halftime betting, look for games that are blowouts in first half to go over in second half. What happens is, both defenses get lazy in these situations, where one team is ahead by double digits. The losing team often picks up the pace to try and get back in the game and the winning team plays in a more relaxed manner, usually leading to more points.
Bet against teams where an injured player is returning to the starting lineup after a long layoff, now back for the first game. Since there are only five players on the court, any single player who is not "in synch" with his teammates creates a lack of chemistry. Some teams and players have natural chemistry between them. Others do not. Any player who has been inactive with the team in recent games can create defensive breakdowns and offensive inconsistency. Interestingly enough, the bigger the star returning, the better this angle works, since the betting public frequently overreacts to the return of the star player.
Nolan Dalla has been one of gambling's premier writers for more than a decade. He has written extensively for Casino Player, Card Player, and Poker Digest. Dalla lives in Las Vegas.
WHY GAMBLING ON THE NBA IS NO FREE THROW.