WHEN SLOT WORLDS COLLIDE
Online casino slots in the real world
By John Grochowski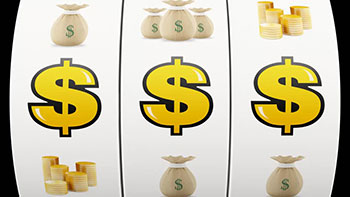 It was a hot summer day, the kind that will wilt you in half the time it takes to get from the back door to the car door. Marcy and I had decided to take one last summer getaway before she went back to work with the opening of school. Forecast temperatures in the 90s led her to favor a casino overnight instead of the fairs, festivals and other outdoor activities we'd considered.
It was not a difficult decision to defer to my wife. Before long, we were wandering the casino floor, looking for adjacent empty seats at penny slots.
Before long, I noticed that a fair percentage of games I was playing were also games I played at home. Where Marcy and I live, wagering on slots is illegal, but both of us while away spare moments on free play at online social casinos such as Slotomania, Caesars Casino, High 5 Casino, Jackpot Party Casino, DoubleDown Casino and Heart of Vegas.
On this day, worlds collided. Among the games I played in the first couple of hours were these:
IGT's, Shadow of the Panther, designed by High 5 games. I'd played this in casinos before once even filling the screen with black panthers. But I've also played it online at High 5 Casino.
WMS Gaming's Super Jackpot Party. It's a longtime casino staple, of course, one I'd played dozens of times in live casinos before the launch of Williams Interactive's Jackpot Party Casino.
Wild Pixies. The first five or six times I played this it was online at Slotomania. The casino version is from Everi, and it is just as entertaining and packed with potential in the real world as it is online.
Wild 70s. Like Wild Pixies, this is a Multimedia Games/Everi offering. And like Wild Pixies, Wild 70s first came to my attention online, at Caesars Casino.
When I sat down at Wild 70s, I told Marcy, "This is just like old home week." She didn't recognize the machine at first – her most frequent online play comes at Goldfish Casino.
As it happened, Wild 70s provided me one of the highlights of the trip. The feel is very 1970s,of course, with hints of the '60s. Video reel symbols include a glittering disco ball, big red lips with a cherry stem between the shiny white teeth, and a red, white and blue, flag- style "J" accompanied by a star-spangled hand flashing a peace sign.
There's both a free spin feature and a pick'em bonus, but my big win of the day came on a fun first-screen feature.
At random times, the reels spin a bit longer than you'd expect until a purple mist starts billowing up from the bottom. It builds up and up until the full screen is a purple haze. Across the haze, a pulsing, rainbow colored rectangle that says "Wild" flips side over side and top over bottom across the screen. It stops on a few spaces, leaving behind wild symbols.
The haze then gradually subsides, the spin finishes and, if you're lucky, the wild symbols are in position to create big wins.
It was during the accumulation of the purple haze that Marcy recognized the game. "OK, I've seen that before. Win something big." Not this time. The haze left behind only two wilds and they weren't in particularly good positions. My win was less than my bet – the common video slot player's lament.
My credit meter hadn't reached the "time to move on" stage, and Marcy was doing well at her game, so I kept plugging. About 15 spins later, the purple haze started to rise again.
"Wish me better luck this time," I told Marcy as she stopped to watch.
This time, one card flipped and flopped across the screen and left three wild symbols. Then a second card appeared and after its flips, there were three more wilds. Two wilds on the second reel and two on the third had the potential to share multiple paylines, and with a little luck, this could be a big pay.
The first reel symbols were relatively low payers – A, J, 10 – but there were matching symbols elsewhere, and even a couple of more wilds. I got the "big win" sign on the screen, and the credit meter rolled up 3,500-plus credits.
Even on a penny machine, that's a nice win at $35,and my meter that had been down to $35 after a $50 first buy-in a couple of ma- chines earlier, now topped $70.
I deemed this live casino-online slots crossover a success. Alas, there was less success in an encounter with Wild Pixies.
There are four pixies, each a different color, and if they land in the right position, they can take up a full reel. Normally, they are not wild, and the green pixie does not form a winner with the pink, yellow or blue pixies.
At random times, a "Wild Pixies" symbol appears on the fifth reel. When that happens, it turns all pixies wild. When you have pixies taking up big spaces across the reels and that Wild Pixies reel turns up, the wins can get huge. I know – I've done it online.
In the casino, not so much. Early in the session, I had four unmatched pixies taking up spaces up and down the first four reels. That would have been a great time for the Wild Pixies symbol to show up. It didn't. It did come up a little later when there was nary a pixie in sight and nothing to turn wild.
So it goes. We've all had sessions like that on many machines, so it was a familiar outcome – just about as familiar as some games have become as online and live casino worlds collide.