VINTAGE SLOTS
Want to beat back those nostalgia blues and play slots like in the good old days – with coins, buckets, and levers?  Here's where you can go
By Sean Chaffin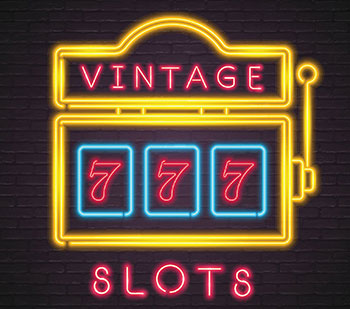 Today's slot machine is largely an electronic experience– a mix of random number generators, video and light displays, computer processing, card readers, and every technological gizmo imaginable. Even that pull lever that inspired the name "one-armed bandit" is simply an aesthetic mirage with no real use other than to initiate a random number generator that ultimately determines if a player chalks up a win or strikes out.
Many of today's machines don't even offer that lever as an option – just a button to place another wager. For the most part, real spinning reels and any actual mechanical parts are gone. And don't even think about finding a slot machine that accepts coins or slot tokens like you may have dropped in a machine in Las Vegas or Atlantic City even as late as the early 2000s. Most coin-operated machines were phased out as casinos turned to a cash-only system.
A technology boom changed those machines into more of a video environment. A pit boss no longer gauges whether a player is deserving  of comps. Instead, rewarding those freebies is determined by a player's loyalty card inserted into a machine. The slot machine modernization was like transitioning from an Old West stagecoach to the space shuttle.
Some gamblers, however, long for a little bit of that old-school action. They reminisce about that fun "plink-plink-plink" sound after hitting a big win and hearing those tokens spit out of a machine into that stainless steel pay receptacle. It was kind of fun carrying those winnings around the in little buckets as you searched for another luck machine. For those who reminisce about the old days in Vegas, a few options for some classic ma- chine gambling remains. Here's a look at a few places to find some vintage machine gaming.
Old Vegas –
Some Reel-Spinning Downtown When it comes to vintage machines, the Strip is not where a gambler should start the nostalgia trip. Instead, take a trip to downtown Las Vegas and get the feel of visiting an old gambling hall. It's a step back in time when names like Bugsy Siegel, Benny Binion, and Howard Hughes were synonymous with the gambling mecca.
Players heading to The Plaza will find plenty of older machines. The casino has more than 700 slot machines including a complete section devoted to classic machines. It's become a popular destination with players trying their luck all day and night.
"The Plaza no longer has vintage coin-operated games as it became increasingly more difficult to maintain them and the older machines will not work with today's technology," director of slots Casey Adras says. "However, the casino has recreated many of the games that came from the vintage era of coin machines on modern cabinets, such as Catch the Heat and Joker Poker. The casino also still has a handful of one-arm bandit non-coin games on the floor."
While there may not be any coin-in versions of these classic machines, in January the Plaza introduced two machines giving guests a chance to win some unique coins. The classic game Silver Strike dates back to the early 1990s and became popular because they dispensed a collector coin to winners.
At the Plaza, the completely refurbished Silver Strike machines award four specially-designed $10 silver-clad coins. Players can decide whether to keep the Plaza collector coin to try and complete the complete set or exchange it for cash. Now considered an historic game, only a handful of machines are still in existence. Adding the two Silver Strikes complements the property's efforts at providing a real ambience of old Vegas.
"We continually look for ways to enhance our casino experience with not only the latest technology but also games that pay homage to our gaming history," Plaza CEO Jonathan Jossel says. "Retro games like Silver Strike are increasing in popularity today, just like vinyl records are in the music industry. We know our guests will enjoy the opportunity to play Silver Strike machines, and we are excited to bring them back to our casino floor."
El Cortez
When it comes to vintage, El Cortez fits the bill entirely. The casino was built in 1941 and it's one of the last remaining properties offering classic coin-droppers. That plink-plink-plink has become a part of El Cortez's place in the market – appealing to players looking for a vintage vibe. The property attracted players from around the world eager to grab a coin cup, take a seat at a Double Diamonds machine, and take a trip back to classic Sin City.
The D Las Vegas
This popular casino is the sister property of the Golden Gate, both owned by casino mogul Derek Stevens. The D screams  vintage Vegas but in a hip environment, and has a complete second floor devoted to vintage slots.
The highlight is the Sigma Derby, a classic simulated horse-racing game. Gamblers pop in a few coins, take a look at the odds, and pick a horse or even a quinella. The action can get rowdy as players sip a cocktail and cheer on their tiny horse mechanically moved around the track. It may not be the Kentucky Derby but it's a lot of fun. An added feature is the D's "throwback jams" played throughout the day.
Main Street Station
This casino offers visitors a look at even more historic machines. Gamblers will find antique "fruit" machines dating back to the 1930s. Many of these early machines rewarded winners with cigars, candy, and other non-cash re- wards, but playing isn't allowed on these gorgeous machines. However, Main Street offers some coin-in slot machines as well. Unfortunately, the casino remained closed at press time but hopefully that will change soon.
Here's a look at a few other vintage options downtown:
Golden Gate – Built in 1906, this casino is the oldest casino in Las Vegas. The property also boasts a nice display of classic fruit and 777 ma- chines. The collection features machines from some of Las Vegas's early years – before the glitz and glamour of megaresorts. These machines are amazing examples of true craftsmanship.
California  – Fans of coin-in video poker are in luck at this casino. The California offers several quarter and dollar coin machines. Drop in some silver and hope for a royal flush.
Four Queens – Check out nine classic Silver Strike machines paying out collector coins valued from $10 to $300.Those ten-dollar might be keepers, but gamblers might be quicker to cash in those worth a few hundred bucks.
Going Old School Away from Sin City
While downtown Vegas may offer the most options for classic slot fans, there are some other locations offering vintage games. Players may want to check out the Boulder Highway area to- ward Henderson and head to the Skyline Casino. The Skyline may be one of the best spots in the country to check out some classic slot machines.
The property offers one of the biggest collections of coin-in slots with 80 machines when the casino is at full capacity. Vintage game fans will also find numerous examples of antique machines on display throughout the casino. The games feature brilliantly-detailed wooden housings and offer a look into the early days of casinos. Some are even available for playing with half-dollars. Gamblers can win some cash just like a Vegas gambler from decades past.
In Colorado, gamblers will already feel a bit of the Old West in the state's three old mining towns – Black Hawk, Cripple Creek, and Central City. In Black Hawk, the Golden Gulch is a real throwback to another era– the property is a complete all-coin operation. The Golden Gulch may be one of the last in the country offering 100 percent coin-in slot machines. Gamble in style among amazing views of the Rocky Mountains – cashing in some coins in the process.
Whether you're looking to relive some coin-dropping memories or an avid fan of gambling history, passing some time at a classic machine can make for plenty of fun. Grab some friends, maybe some coins too, and plan that next trip. Hopefully that plink-plink-plink jackpot is in your future.
Sean Chaffin is a freelance writer in Crandall, Texas, and senior writer for Casino Player and Strictly Slots magazines. Follow him on Twitter @PokerTraditions or email him at seanchaffin@sbcglobal.net for story assignments.