Video Poker Wasteland
Atlantic City used to offer great choices for the video poker player. No more.
By Frank Legato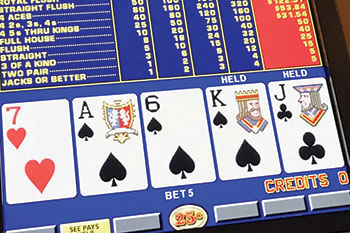 A few weeks ago, I stayed at the Tropicana Atlantic City. I love the Trop, now owned by Caesars Entertainment, because of the Quarter dining and retail attraction. After dinner at Carmine's in the Quarter, my wife went to look for her favorite video slot machines, and I, as is my nature, went on the hunt for good video poker.
I have fond memories of video poker at the Tropicana. It was one of the two places in my life where I was dealt a royal flush—a one-in-600,000 occurrence.
Back when I was editor of Atlantic City Insider in the late 1990s, the Tropicana had an entire room near the hotel's North Tower that was dedicated to video poker, as well as a good selection on the main slot floor. I had my favorite machine back then, a 50-cent Jacks or Better game with the 9/6 paytable (9-for-1 for the full house; 6-for-1 for the flush), which has a payback percentage of 99.54 percent with perfect strategy.
Eventually, the pay tables tightened up a bit, but there was always a great selection of games at the Tropicana. During my recent visit, though, I wandered the floor looking for the video poker—and wandered, and wandered. Never mind full-pay games; I couldn't find any video poker machines. Eventually, I asked a slot attendant, who told me the new Caesars-owned Tropicana removed all video poker except around a dozen Joker Wild games near the Boogie Nights nightspot. I don't play Joker poker, and the pay tables offered hovered around 98 percent in any event.
I ended up playing slots, which certainly are fun, but come with a caveat in that, on most of the interesting newer slot machines, the player returns hover around 90 percent or lower.
My bad experience at the Trop was part of a trend in Atlantic City. Casinos have stopped offering the best pay tables because today's operators look only at that optimal return achieved through expert play and decide their "hold"—the percentage of wagers kept as casino win—is too low. Thus, by and large, good video poker has all but vanished in the Boardwalk casino town.
In the old days, Atlantic City was a paradise for the video poker enthusiast. Full-pay schedules—the pay tables that return 99 percent-plus with optimal strategy—were everywhere. I spent hours at a time playing video poker at the old Claridge, where they had the second-floor casino (there were three levels) decked out with rows and rows of full-pay games. Trump World's Fair, the annex to Trump Plaza that was in the one-time Playboy casino building, was another of my favorite video poker spots.
Those casinos are long gone, but even after they closed, it was still comparatively easy to find good video poker in Atlantic City. There were good games at Caesars, Bally's, and especially the Borgata. When it was a joint venture between MGM and Boyd Gaming for its first seven years, the Borgata offered rows and rows of full-pay games in all denominations.
Several factors led to the end of those glory days for video poker in Atlantic City. After the Great Recession of 2008, everything tightened up. In 2010, MGM bought out Boyd's interest in the Borgata, and immediately, all the full-pay video poker there disappeared. By 2014, former favorite haunts like Trump Plaza and the Atlantic Club had closed, and finding the best video poker became more difficult.
Still, if you knew where to look, you could find two or three decent games in a given casino. I knew where to find the good games. The Jacks or Better games have been hard to find more recently, but I had transitioned to Bonus Poker anyway, because I love the bonus payouts for four of a kind. I still knew where to find 8/5 Bonus Poker, with its return of 99.17 percent, in a few places.
Then Covid-19 hit. The casinos shut down for months, and when they reopened, most of the remaining nuggets of good video poker had vanished. These days, you're lucky to find Jacks or Better games with the 8/5 pay schedule, which returns 97.25 percent. If you're a quarter player, or even a dollar player in many places, you're looking at Jacks games with 7/5 (96.17 percent) and 6/5 (95.12 percent) pay schedules, along with 6/5 Bonus Poker (96.87 percent).
There are still a few good machines, if you treasure-hunt. Caesars Atlantic City has three machines in the video poker area near the Toga Bar that have both 9/6 Jacks and 8/5 Bonus Poker in the dollar denomination. Harrah's has one dollar game with both of those offerings. Bally's still has two machines near the Boardwalk entrance with 9/6 Jacks and 8/5 Bonus, in both quarters and dollars.
Ocean Casino offers a 9/5 Jacks or Better in dollars, both at the video poker bar (one of few bars left in Atlantic City where they comp your drinks while you play) and on the floor. That schedule returns 98.33 percent—not the best for expert play, but certainly playable.
Just about everywhere else, it's 8/5 Jacks, 7/5 or 6/5 Bonus, and other low-returning games.
These lousy video poker returns are designed to discourage expert play, but what they do is freeze out the mid-level gambler. In Las Vegas, locals casinos like the South Point, my favorite, offer great video poker. They know that few players can manage perfect strategy to achieve the top return, and that many more players think they know perfect strategy, and seek out the top-paying games.
Moreover, they know that good video poker encourages customer loyalty in the form of return visits—and that those players will return with spouses or friends who will more than compensate for any expert play by frequenting the lower-returning slots.
The stinko pay tables do not encourage customer loyalty. They are tourist games, just like those on the Las Vegas Strip, where players may visit once or twice a year.
Atlantic City, in its quest to become more of a destination resort, has forgotten the local player. For video poker, it's now the Strip of the East.
I miss the old days.