VIDEO POKER FAQ
By John Grochowski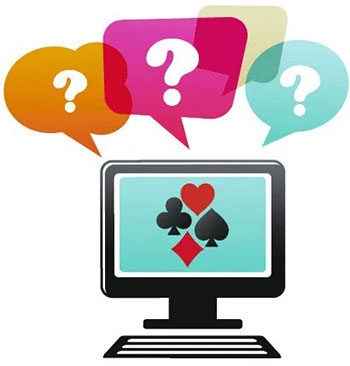 Many table and slot players are switching to video poker because it's possible for average players to have an advantage over the casino when they play. What follows are the most frequently asked questions about video poker that I've received and my responses.
Isn't playing a video poker machine the same as playing a slot machine?
Nope. When you play a slot machine, it's pure luck because you have no idea what the machine has been programmed to return to players. With video poker, all the information you need to
determine the theoretical return of a machine is advertised right in front of you; namely, the pay table. Based on the pay table and probability, mathematicians have developed accurate playing strategies that allow players to achieve the theoretical returns. In short, a player can win more money in the long run than playing the slots.
Is playing video poker the same as playing table poker?
No. In table poker, you are trying to get a higher hand than your opponents or bluffing them into thinking you have a "strong" hand. With video poker, you are just trying to achieve one of the winning hands posted in the pay table from an initially dealt five-card hand with one opportunity to draw as many replacement cards as you wish. The strategy for video poker is, therefore, different from table poker.
How are cards dealt in a video poker machine?
A software program known as a Random Number Generator (RNG) randomly shuffles a deck of 52. cards (53. for Joker Poker). This shuffling goes on continuously, 24 hours a day, seven days a week. At the precise moment that a player hits the "deal" button, the RNG will stop shuffling and display the five cards at the top of the deck. Then it keeps shuffling the remaining 47 cards (or 48 for Joker Poker) until a player decides which cards to hold. When the player hits the deal button for the replacement cards (i.e., the draw), at that precise moment, the shuffling stops again and the discarded cards are replaced with the cards on the top of the 47 deck of cards. That completes the player's hand. After the hand is completed and the software displays the amount won (if any), the RNG goes back to shuffling the 52. cards for the next hand.
The RNG is tested and highly regulated to ensure that every card in the deck has the same probability of being selected just like selecting a card from a shuffled deck of plastic cards. This ensures a fair game for players.
What is a Class II vs. Class III video poker machine?
Video poker machines in most major gambling jurisdictions (e.g., Las Vegas, Atlantic City, Biloxi, etc.) and in casinos on Indian reservations that have a compact with their respective state (e.g., Foxwoods, Mohegan Sun) have Class III machines, meaning the results of a hand are determined by a random number generator, and playing skill can influence the final outcome of the hand. Class II machines, which are predominately in casinos on Indian reservations that don't have compacts with their respective states, don't have an RNG; instead, the machine is connected to a central computer server whose function is to draw bingo balls. The results of the bingo game are what determine the outcome of your video poker hand. Therefore, with a Class II machine, there is no way to determine the return of the machine from a given pay table, and playing strategies have no effect on the final outcome.
Is there such a thing as a "hot and cold" video poker machine?
No, at least not mathematically. It's true that streaks occur when you play video poker (good and bad) but they can't be predicted because the RNG that is dealing the cards is unpredictable. Remember this fact: There is no way to predict a "random number" because "random" means unpredictable.
Why are there so many different video poker games?
The first video poker game that appeared in casinos (1979) was Jacks or Better. Not much was known back then about optimum playing strategies and returns. When players became more astute, video poker manufacturers started changing the pay table (which in most cases required a modification to the playing strategy). To keep video poker games "exciting and fun" for the public,
they also created new games with increased payouts on some hands (e.g., four aces), added payoffs for certain hands that have specific "kickers" (e.g., Double Double Bonus), included wild cards (e.g., deuces wild), increased the number of lines from one to three or more (e.g., Triple Play), and more. Don't let the large number of different video poker games intimidate you; skillful players only focus on playing a few games accurately and ignore the other games.
Can casinos cheat at video poker?
It's illegal for casinos to have non-random (Class III) video poker machines. If they cheat, they risk losing their gambling license, so it's highly unlikely they would resort to cheating.
Should you bet one coin or more than one coin when you play video poker?
If you can afford it, you should bet the maximum coins on every hand to get the maximum return from the game, especially if you are playing with a monetary edge (i.e., includes the return on the game plus cash back, bounce back, and the value of comps). The reason you get the maximum return by betting max coins is because of the bonus payout per coin wagered for a royal flush.
What's the best way to learn a video poker playing strategy?
In my opinion, the easiest and quickest way is to practice playing video poker on your home PC using a video poker software program. You can play any number of video poker games with this software and when you make a playing mistake, the software will alert you and show you the correct play. The software will keep track of your playing accuracy while you practice. You want to keep practicing at home until your playing accuracy is consistently over 99%. The two programs I recommend are Video Poker for Winners and Optimum Video Poker.
Are video poker strategy cards legal?
There is no law or regulation that says you can't bring and use a strategy card when you play video poker. Therefore, doesn't it make sense to invest in one so you can play every hand accurately?