UNVEILING THE FUTURE: INTERBLOCK DEBUTS NEW ELECTRONIC TABLE GAMES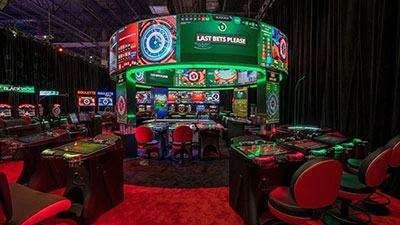 With an unwavering reputation for over 30 years, Interblock has built a reputation as an industry leader when it pertains to table game innovation. At this year's Global Gaming Expo (G2E) in Las Vegas, Interblock unveiled a groundbreaking portfolio of products, designed to redefine the Electronic Table Game sector.
At this year's G2E, Interblock introduced a new product offering to the  gaming industry. As the industry leader, Interblock continues to push the boundaries, revolutionizing the gaming landscape and delivering unparalleled entertainment to casinos and players alike. This year, Interblock launched a new product category within the traditional table game segment, designed to bring a Technology Umbrella to the global gaming industry. This, combined with over 40 new features, functionalities, new product offerings and distribution methods, made this year's G2E one of the more revolutionary exhibitions Interblock has attended.
A Look into their G2E Line-up
G2E 2023 promised an unforgettable experience as attendees immerse themselves in the world of gaming innovation through Interblock's live demonstrations. Their new and updated products take center stage, featuring evolved features and functionalities that redefine the gaming landscape. As a testament to their innovative commitment, Interblock unveiled an exciting new product segment, expanding Interblock's already impressive portfolio.
Smart Pit
Recognized as the "Table Game of the Year," the Smart Pit is a blend of traditional table games and futuristic gaming. Seamlessly integrated into live pits, it empowers dealers with more decisions per hour, increases betting opportunities, and enhances house advantage. Smart Pit's technology umbrella ensures real-time player session valuations and advanced game protection, addressing industry losses due to dealer mistakes. The integration of cutting-edge technology and the live table games themselves offer an engaging experience for players, while operators enjoy optimized staffing, heightened profitability, attraction of new demographics—fostering a new level of customer service. The Smart Pit is an innovative solution that bridges the gap between classic table games and advanced gaming technology, reshaping Live Table Game Pits forever.
Bonus Wheel Roulette
Awarded the prestigious title of "Best Electronic Table Gaming Product," Bonus Wheel Roulette breathes new life into the timeless classic. Featuring a captivating dual-wheel bonus system, mesmerizing design and dazzling LED graphics, it immerses players in an authentic and thrilling gaming experience. This innovative version of roulette elevates the excitement with increased betting opportunities, offering astonishing payouts of up to 500X the bet, surpassing traditional double-zero roulette standards. Bonus Wheel Roulette represents the pinnacle of combining timeless tradition and groundbreaking invention, earning its place as an essential addition to any gaming floor.
Pick2Win Craps
Honored as an exemplary innovation in the world of casino gaming, Pick2Win Craps enables players to choose their dice and have a level of control never seen before within the Electronic Table Game segment. This enhancement can either stand alone or integrate into larger gaming arenas, showcasing Interblock's commitment to versatile and Innovative solutions. With its captivating and distinctive design, Pick2Win Craps guarantees an immersive experience, providing players a new level of control.