Undersea Adventure: Shark Reef Aquarium at Mandalay Bay
Get up close and personal with the real Vegas sharks!
by Lisa Robertson-Dziedzic
Click Here to Read an Interview with the Director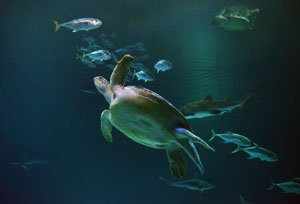 Las Vegas offers a little something for everyone, from luxurious hotels, high-end shopping, and ultra-chic nightclubs to top-notch spas and hot gaming action. It's even become a foodie's paradise with world-class restaurants led by a sea of celebrity chefs. But today, seeing the sights and attractions are still some of the "best bets" anywhere in the world. Visitors to the Strip can stay overnight in a pyramid, gaze from their hotel windows onto a mini-city or a half-sized version of the Eiffel Tower, or marvel at an azure lake with finely choreographed dancing waters. From one end to the other, the Strip offers a huge variety of entertainment experiences to match any traveler's taste.
One of the favorite and most unique attractions is the Shark Reef Aquarium at Mandalay Bay. This under-sea adventure is the only institution in Nevada accredited by the Association of Zoos and Aquarium; and it's not your typical aquarium. From various fresh water varieties to unique fish from the warm waters of the Caribbean, the Shark Reef is home to more than 2,000 animals encompassing 240 species including sea turtles and 12 types of sharks. These animals are housed in 14 different exhibits that hold up to 1.6 million gallons of water. Just walking through this fascinating underwater wonderland makes you feel as you have been transported to the realm of the deep.
Visitors journey through a replica of an ancient temple ruins and a sunken galleon surrounded by schools of exotic fish and more than a few varieties of sharks. A tunnel takes you to the largest exhibit that contains more than 1.3 million gallons of water and houses some of the larger animals, including a rare pair of Bowmouth Guitarfish, more commonly referred to as Shark Rays. There are less than 10 of these beautiful creatures on display at aquariums in the U.S.—and the Shark Reef is home to two of them.
And if that's not enough, visitors now have the opportunity to get up-close-and personal with these amazing creatures thanks to the Animal Encounters Experience. With this program, guests are treated like a VIP and receive an expert guided tour that gives insight into the daily operations and a unique behind-the-scenes tour of the facility. After the private tour, guests are invited to roll up their sleeves and assist in feeding the aquarium's most-admired residents— stingrays, green sea turtles and zebra sharks. At the conclusion, participants receive a souvenir keepsake photo to take home and show off to family and friends.
The one-hour Stingray Feed Experience takes place daily at 9:15 a.m. and is limited to four guests per session. Tickets are $50 per adult and $40 for children ages 5-12. The Sea Turtle Feed is a 45-minute experience that takes guests above the Shipwreck Exhibit to meet the 300-pound turtles who eagerly wait to be served. Here you will meet O.D., the sea turtle that captured hearts and headlines after a cross-country journey to Mandalay Bay's Shark Reef Aquarium last summer. This experience takes place Sunday-Friday at 12:45 p.m. and is limited to four people per session. The program is open to participants 13 years of age and older. Tickets are $80 per person.
Last but certainly not least, the Shark Feed Experience is a one-hour interactive experience (also limited to four guests per session) where staff members demystify myths and truths about nature's most intriguing marine animal. Participants can then grab a feeding tong and serve lunch to the stunning zebra sharks while Aquarists demonstrate the feeding technique for the larger species. The program is open to participants 13 years of age and older and tickets are $80 per person for this very exhilarating experience.
Contact the hotel in advance to book this unique (and toothy) encounter by calling (702) 632-4555. For more information, visit www.mandalaybay.com/ shark-reef/animalencounters/.
Click Here to Read an Interview with the Director