TWENTY-ONE WAYS TO HAVE NO- OR LOW-COST FUN IN LAS VEGAS
Time Out from the Tables
By Barbara Nathan
In the adrenalized atmosphere of Las Vegas, tearing yourself away from the tables or machines isn't always easy. When we're winning we want to keep playing, trying to squeeze every last dollar from our hot streak. When we're losing we tell ourselves it's only temporary, and that we're due for a run of good luck any moment now. In either case, it's all too easy to spend too much time playing in a single stretch—and as many of us have learned the hard way, that's not conducive to good results.
Besides, if you spend all your time in a gambling frenzy, you're missing out on some of the best bargains that Las Vegas has to offer. Taking frequent breaks to partake in other activities not only makes sense financially but also makes your trip more enjoyable and memorable. And you certainly don't need to spend hundreds of dollars on entertainment, whether you're out on the town with your spouse or traveling with the whole family. Las Vegas remains a place where you can keep yourself and your children occupied and entertained inexpensively, provided you know where to look. And in some cases, the fun is absolutely free.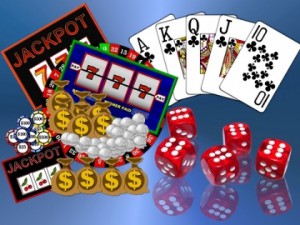 Here are 21 suggestions for no- or low-cost fun things to do in Las Vegas.
1. Cut coupons.
Although none of the suggested activities in this article are expensive, why pass up the opportunity to save even more? The Friday "Neon" section inside the Las Vegas Review Journal and free weekly guides like What's On, Showbiz and Today, which you can pick up in any casino hotel, are filled with coupons for discounts and freebies. You'll often find 2-for-1 show tickets, $5 restaurant discounts and free or reduced admission to popular tourist attractions. If you're vacationing in Las Vegas with your family, you can even make coupon cutting a joint project. Have each family member thumb through a different magazine looking for bargains. Many casinos also have their own fun books and promotional flyers. Just check at the front desk or at casino services.
2. Ride the trolleys and monorails.
First-time visitors, looking at a map of the Strip or out the window during the cab ride from the airport to their hotel, usually misjudge the distance between properties. Although the casinos may appear bunched together, they're farther apart than you think. Venturing from one Strip resort to the next is a journey that often requires you to navigate escalators, bridges and walkways. (You didn't think they were going to let you get away that easy, did you?) You probably want to check out a number of the magnificent Strip resorts, but in the scorching heat of summer, walking up and down the congested Strip can quickly become exhausting. Taxis are expensive, and buses usually entail long waits in the heat and are crowded and slow moving.
Fortunately, you have other options: trolleys and monorails. Strip trolleys cost $1.75 per ride or $5 for an all-day pass (exact change required), and run a loop between the Stratosphere and Mandalay Bay at 15-minute intervals between 9:30–1:30 a.m. daily. Another trolley, costing 50 cents a ride, runs between the Stratosphere and downtown between 7 a.m.–11 p.m.
Currently there are only two free monorails in Las Vegas. One goes back and forth between the Mirage and Treasure Island. The other makes stops at Mandalay Bay, Luxor and Excalibur. Or for $3 a ride, or $10 for an all-day pass, you can take the Las Vegas Monorail, which is now operational after a series of setbacks and delays. It stops in back of the Sahara, Hilton, Convention Center, Harrah's/Imperial Palace, Bally's/Paris and the MGM Grand.
The monorails are a quick and easy way to get from one casino property to another while avoiding the heavy Strip traffic. The chief drawback is the long walk to get to them. Also, the schedules are subject to change and, like the trolleys, the monorails might not be running very late at night or early in the morning.
As of this writing, the Flamingo Hotel is offering LV Monorail riders $5 in free slot play (limited to one redemption per day) upon presenting a same-day monorail ticket stub and a Connection Card at the Promotions Booth.
3. Take a trip back in time.
Not everything in Las Vegas is ultramodern and high-tech. There are places where you can sample a taste of life in another era. How does making merry in a medieval castle sound? Head for the Excalibur. Watch jugglers, musicians and puppets perform on the Court Jester's stage and play medieval carnival games in the Fantasy Faire.
To travel even further back in time, enter the 30-story pyramid next door, the Luxor, and fork over five bucks to see a museum replica of King Tut's tomb.
If the glory of ancient Rome intrigues you, head for the recently expanded Forum Shops shopping mall within Caesars Palace. Just steps away from upscale retail emporiums, statues of ancient Roman gods "come to life" next to spectacular hourly fountain shows. At the Festival of Fountains, the statues talk and move as Bacchus, the god of wine, throws a party. At the Fall of Atlantis show, Atlas's children fight for control of the legendary lost city.
4. Look at memorabilia.
Las Vegas is a paradise for fans and collectors of memorabilia. For $16.95, until October 31, you can view Titanic, the Artifact Exhibition at the Tropicana. Or visit the Las Vegas Historical Gambling Museum and Store inside the Neonopolis mall (located downtown) for just $2.50. A mere $2 will get you inside the Houdini Museum at the Venetian.
Elvis fans won't want to miss the Elvis-A-Rama Museum on Industrial Road (behind the Fashion Show Mall), where you can browse a huge array of the King's possessions (including some of his most beloved cars), then duck into the tiny showroom to watch an Elvis impersonator perform a few famous tunes. Another Las Vegas icon, Liberace—whose tastes in jewelry and costumes made Elvis look frugal—has his own museum on Tropicana Avenue, down the street from the MGM Grand. And for those interested in rock 'n' roll through the ages, a trip to the Hard Rock is mandatory. This casino, located on Paradise Road around the corner from the Strip, is filled with memorabilia displays. The walls and walkways surrounding the casino are filled with famous stage costumes, guitars and rare photographs of music stars past and present.
Last, for anyone interested in vintage cars, more than 200 antique and classic automobiles, including ones that once belonged to celebrities, are on display at the Auto Collections at the Imperial Palace. Before you go, cut out the free admission coupon appearing in most weekly Las Vegas magazines, or go to www.autocollections.com/free.cfm and print one out to save $6.95.
5. See an art exhibit.
If you appreciate fine art, check out the world-class offerings at the Wynn Collection, Bellagio Gallery of Fine Art and Guggenheim Hermitage Museum at the Venetian. If the $15 admission price is too steep, stop by the Centaur Art Galleries in the Fashion Show Mall. Here, a free exhibit features paintings from some of the art world's most famous names.
6. Hang out with (wax) celebrities.
Chances are, some very famous people are visiting Las Vegas at the same time you are. But the likelihood of an actual up-close encounter with any of them is rather remote—unless you let Madame Tussauds handle the introductions. Madame Tussauds Interactive Wax Attraction at the Venetian allows you to interact with more than 100 sports, music and Hollywood celebrities (or an eerily similar wax reproduction, at least); you can say "I do" to George Clooney, or sit down at a game of hold'em with Ben Affleck. Admission is $22.95.
7. Attend a fashion show.
With its multitude of A-list retail stores, Las Vegas is becoming a world-class destination for fashionistas and high-end shopping. But you don't need to spend a fortune on designer threads to keep up on the hottest new fashions. Instead, head over to the spectacular Fashion Show Mall (across the street from Wynn Las Vegas). Every Friday–Sunday, six or seven times a day, a free live fashion show takes place along its retractable runway, with gorgeous models prowling the catwalk.
8. Experience Venice in Vegas.
One surefire way to set a romantic mood is to pretend you're in Venice, Italy. For $15 per person, why not take a gondola ride down the replica of the Grand Canal inside the Venetian, while a gondolier serenades you. For couples, this striking attraction is sure to be one of the more memorable moments of their Vegas vacation. Hours of operation are Sunday–Thursday, 10 a.m.–11 p.m. and until midnight Friday and Saturday.
9. Sharpen your table skills.
Many casinos have scheduled times of day when free lessons for beginners are offered for games such as blackjack, craps, roulette and poker. Circus Circus, Excalibur, Imperial Palace, Palms, Stardust and Tropicana are a few of the casinos where you can receive a free crash course; just inquire with casino personnel about the types of lessons they offer. If you're a novice player, or haven't played in a while, attending these lessons may help you fare better. The casinos are glad to offer this kind of free instruction, since it encourages more players to take a shot.
10. Watch a poker or blackjack tournament.
While tournaments can be expensive to enter, they're free to watch. In addition to being good entertainment, watching tournaments will help you pinpoint the shortcomings in your own play.
Although this year's major poker tournament, the World Series of Poker, is over, smaller tournaments take place daily all over town. High-stakes hold'em tournaments are a frequent occurrence in the large poker rooms of the Mirage and Bellagio. Or check out the daily no limit hold'em tournaments (with lower entry fees, if you want to play) at the Imperial Palace, Binion's, Harrah's, the Rio, Sahara, Circus Circus and other casinos.
Blackjack tournaments are harder to come by, but the Silverton has one every Wednesday at 6 p.m., and the Cannery in North Las Vegas has one every Friday with a mere $10 entry fee.
Casinos also hold special invitational tournaments that are often open to the general public for viewing. If all else fails, you can always watch champion and celebrity poker and blackjack on the Travel Channel and other cable stations in the privacy of your hotel room.
11. Enjoy the beauty of nature.
Las Vegas may be smack in the middle of a sun-blasted desert, but that hasn't prevented its casinos from creating (or re-creating) beautifully scenic environments—from tropical jungles to lush gardens and forests. In the garden behind the Flamingo Hotel, you'll find a unique and tranquil setting filled with waterfalls and foliage. You can have your picture taken with flamingos, penguins, swans and other wildlife. Try to time your visit so you can watch the penguins being fed, at 8:25 a.m. or 2:55 p.m.
Perhaps the most stunning display of natural beauty on the Strip is found within the Bellagio Conservatory, which features amazingly creative displays of flowers and plants that are changed with the seasons. The mastermind behind that enduring attraction, casino developer Steve Wynn, took the concept even further with his new multibillion-dollar resort, Wynn Las Vegas. Inside, you can stroll past remarkable floral displays; outside, a towering mountain, surrounded by a forest of trees, creates a man-made barrier between the property and the Strip. Once you're inside the resort, for the price of a beverage you can gain admittance to an outdoor patio on the edge of Wynn Las Vegas's man-made lake that overlooks the mountain and forest. Sipping a cocktail in these miraculous surroundings, you might forget you're in Las Vegas altogether.
12. See amazing animals.
Las Vegas does have a zoo, but it may be too far off the beaten path for most visitors, especially on a hot summer day. Instead, you and your family can enjoy a similar experience within certain casinos. From the Lion Habitat at the MGM Grand to the White Tiger Habitat at the Mirage, there are plenty of opportunities to view and photograph an array of beautiful creatures.
Bird lovers, don't miss the free bird shows that take place daily in the Tropicana Tropics Lounge (11:30 a.m. and 1:30 and 2:30 p.m.) and outdoors in the Hawaiian Marketplace, Thursday–Tuesday (11 a.m. and 1, 3 and 5 p.m.). Then go see the Bird Girls of Mandalay Bay parading around the lobby daily (except on Tuesday), showing off colorful, exotic birds.
If you don't mind spending a few bucks ($15 for adults, $10 for children 4–12 and free for kids 3 and under), I highly recommend the guided tour of Siegfried and Roy's Secret Garden and Dolphin Habitat at the Mirage. The Secret Garden is home to a variety of rare animals including white lions, Bengal tigers and an Asian elephant. The Dolphin Habitat features big underwater windows where you can watch the spellbinding dolphins at play in their clear blue pool. Allow yourself at least an hour for an unforgettable and highly educational tour that will leave you in awe of some of the world's fascinating creatures.
Another fascinating animal habitat worth visiting is Shark Reef at Mandalay Bay. Shark Reef is the only "predator-based aquarium" in North America and home to some 2,000 aquatic animals, including 15 different species of sharks. With hallways made of glass where you're literally surrounded by sharks of all sizes, kids will absolutely love it (and will go bonkers once they reach the gift shop). Open daily 10 a.m.–11 p.m., Shark Reef is well worth the $15.95 admission price.
13. Be a kid again.
Whether or not you're traveling with children in tow, sometimes you feel like being one yourself. In Vegas, you can indulge those fantasies to your heart's content.
What kid doesn't enjoy the circus? From 11 a.m.–midnight daily, aerialists, trapeze artists and clowns perform right before your eyes from the Midway Stage in the Circus Circus hotel-casino.
And what kid (or kid at heart) doesn't love Coca-Cola, M&Ms and video games? Next to the MGM Grand, get your fill of all three at the World of Coca-Cola, M&M's World and Gameworks.
If you prefer an educational activity, visit the Las Vegas Museum of Natural History or the Lied Discovery Children's Museum, both located on the far north end of Las Vegas Boulevard. Be sure to partake in some of the hands-on interactive exhibits.
14. Seek adventure.
I'll admit, it's been years since I've been on a roller coaster or scary ride of any kind, but if you're up for a major adrenaline rush, Las Vegas is the place. Adventure seekers of all ages will love the massive Adventuredome at Circus Circus. Or combine your visit to the top of the Stratosphere tower with a mind-blowing ride on the Big Shot, High Roller, X Scream or their newest offering, Insanity. You can also "Speed" your way around the Sahara on its winding roller coaster, or climb aboard the Manhattan Express as it twists and turns around the mock-Manhattan skyline of New York-New York.
The newest twist for thrill-seekers is the virtual ride. There are plenty to choose from: the NASCAR simulators at the Sahara, Magic Motion Rides at the Excalibur, and motion simulator rides like "In Search of the Obelisk" at the Luxor and "Race for Atlantis" at Caesars. None cost more than $10.
15. Have all you can eat for $10 or less.
While Las Vegas grows ever more expensive and evolves as a gourmet dining destination, fear not—you can chow down on a good buffet or coffee shop meal for less than $10. Some of the best bargains are coffee shop "graveyard specials" served late-night or in the wee hours of the morning.
In fact, there are still so many places in Las Vegas to grab a cheap meal (specials are often advertised on their giant marquees) that you should have no trouble finding some on your own. But here are a few of my favorites.
If you want a breakfast, lunch or dinner buffet, you can't go wrong with any of the Station Casinos. They all serve a nice variety, priced at under $11. At Main Street Station, in the heart of Downtown, breakfast costs just $5.75 and lunch just $7.75, while dinner and Saturday and Sunday brunch are also reasonably priced at $10.79 and $9.95, respectively.
Other casinos that offer bargain-priced buffets—but don't skimp on quality—are Sam's Town, Gold Coast, Sahara and Terrible's.
On the Strip, the Boardwalk Casino Surf Buffet's big selling point is that it's open 24 hours a day. Its $8.99 steak-and-eggs buffet is served nightly from 11 p.m.–6 a.m.
The Stardust Island Paradise Cafe offers four signature specials between 11 a.m.–11 p.m. daily: steak and lobster ($12.95), steak and shrimp ($11.95), prime rib ($9.95) and orange-glazed chicken ($6.95). Bring along the discount coupon you'll find in the weekly magazines and subtract $3 from the cost of any of these.
For an even cheaper meal, order the graveyard special at the Circus Circus coffee shop: two eggs with bacon or sausage, hash browns, toast and coffee is just $3.99 (before tax). The special is available from 11 p.m.–5 a.m., Sunday–Thursday.
16. Go bowling.
Okay, time to work off some of those extra calories. Bowling is a fun way to work in some exercise. The Gold Coast, Suncoast, Orleans and Sam's Town all have bowling lanes open 24 hours a day. For night owls, the Gold Coast offers a graveyard special from midnight–8 a.m. Games and drinks are only $1 each!
17. Enjoy free entertainment, 24/7.
For all the various ways you can spend money in pursuit of a good time, some of the most entertaining attractions in Las Vegas will cost you precisely nothing. The more time you spend here the more you'll realize just how much free entertainment is packed into many of the casinos—not only in the lounges but also on the casino floor itself. The Tropicana Air Show, featuring aerial acrobats, takes place daily, every other hour, from 11 a.m.–9 p.m. At the Rio, its staff of talented "Bevertainers" not only serve drinks but also break into dance numbers around the clock. Several times daily, the Rio also presents Masquerade Show in the Sky. You'll feel like you're at a Mardi Gras party as you watch the colorful floats go by and try to catch one of the beaded necklaces that the performers throw out to the audience.
At the Silverton Casino, three miles south of Mandalay Bay, a free mermaid show (featuring synchronized swimming) takes place hourly every evening (except Tuesday) in a gigantic fish tank outside the Mermaid Restaurant and Lounge. At the Hawaiian Marketplace, besides the bird show mentioned earlier, you can check out fire-knife dancers, hula dancers and drummers.
Finally, one of the most popular free attractions is the "Sirens of TI," the high-octane pirate show that occurs in front of Treasure Island four times every evening. Check the exact show times (see our "Entertainment Listing" toward back of magazine), then arrive at least 30 minutes early to secure a good viewing spot.
18. See a light and sound extravaganza. No trip to Las Vegas is complete without stopping to see the majestic dancing fountains in front of the Bellagio. The free water shows take place every half hour, Monday–Friday from 3–7 p.m. and on weekends from noon–7 p.m., then every 15 minutes from 7 p.m.–midnight.
Another light and sound show worth seeing is the Sunset Stampede at Sam's Town. This casino, very popular among Las Vegas locals, is a few miles from the Strip but accessible by free shuttle from several Strip hotels. The shows, also free, take place at 2, 6, 8 and 10 p.m. daily.
Last, but certainly not least, there's the not-to-be-missed Fremont Street Experience located Downtown. The free "Viva Vision" light and sound shows begin nightly at dusk (or at 8:30 p.m. in the summer) and continue every hour on the hour until midnight.
19. Catch an inexpensive afternoon or evening show.
Besides all the free entertainment, there are other shows that, while not exactly free, won't cost an arm and a leg. Here are some of my picks; you're sure to discover your own.
At Harrah's, the Mac King Comedy Magic Show takes place at 1 and 3 p.m. daily, except on Sunday and Monday. This afternoon delight normally costs $18.65, but if you're a guest of the hotel or a regular Total Rewards player, you may get in for just the price of a drink.
Viva Las Vegas is the name of the long-running revue now taking place at 2 and 4 p.m. daily (except Sunday) at the Stratosphere. Tickets are $16.85, but coupons are available for free admission with a drink.
Downtown, you can see singing impressionist Larry Jones perform at the Plaza at 6 p.m. from Saturday–Tuesday for a mere $6.95 plus tax. Or, if you're in the mood for comedy, check out the offerings at the Riviera Comedy Club, Comedy Stop at the Tropicana, Laugh Trax at Palace Station and Improv at Harrah's.
Then there's the V Theater inside the Aladdin's Desert Passage shopping mall. In addition to the free hourly entertainment (and rain showers) within Desert Passage, you can go inside the theater at 6 p.m. every day (except Friday) to see the "Fab 4" do their dead-on Beatles impression. The show costs $19.95.
20. See a spectacular view.
The best way to take in the glittering lights of the Las Vegas Valley is from high above. Assuming you're not interested in braving the crowds and high-priced drinks of the various nightclubs on top of hotel towers, there are a number of low-key spots where the views are equally striking.
The Stratosphere's tower, visible from all over town, has both indoor and outdoor decks, which offer panoramic views of the city. The tower is open from 10–1 a.m., Sunday–Thursday, and from 10–2 a.m., Friday and Saturday. Admission is $9. The Top of the Tower Lounge, which slowly rotates 360 degrees, is a nice place to relax and unwind over cocktails while you savor views of the Strip and the entire valley.
You can also enjoy stunning views of the city from the top of the Eiffel Tower reproduction at the Paris. The tower is open from 10–1 a.m. daily and costs $9 to enter. Another option is the newly renovated VooDoo Lounge at the Rio, which has a similar cover charge but an expansive outdoor deck and an indoor lounge where you can sip exotic specialty cocktails and listen to music.
If you want to avoid paying an admission charge, try the Polo Lounge on the 19th floor of the Polo Towers at Harmon Avenue on the Strip, open most nights until 4 a.m. Enjoy a relaxed, romantic atmosphere, live music and breathtaking views.
21. Sing and dance the night away.
There are clubs and lounges in Las Vegas that cater to every musical taste and budget. If you seek an evening of live music and dancing at a low cost, practically every casino has decent (if not excellent) lounge acts where the only money you'll spend is on drinks. If you want to try something a little different, here are a few suggestions.
The outdoor Carnaval Court at Harrah's offers free live music, singing and juggling bartenders, and other lively entertainment from noon until the wee hours of the morning. Feel free to join in the karaoke fun, or hit the dance floor and boogie under the stars. Would-be karaoke stars can also check out the nightly scene at Tequila Joe's inside Imperial Palace.
Other recommended spots for couples who want to enjoy dancing and cocktails (without having to contend with crowded and expensive nightclubs) include Cleopatra's Barge at Caesars, Roxy's at Sam's Town and the Shimmer Cabaret at the Hilton.
So there you have it: 21 no- and low-cost fun things to do in Las Vegas. The bargains (and even the freebies!) are still available; you just need to know where to go, and be willing occasionally to venture off the beaten path.
Here's to good luck in the casinos and never a dull moment between sessions.
TWENTY-ONE WAYS TO HAVE NO- OR LOW-COST FUN IN LAS VEGAS.