TRIPLE TREASURES
The Triple Coin Treasures family of games from AGS stacks up the bonus wins
By Frank Legato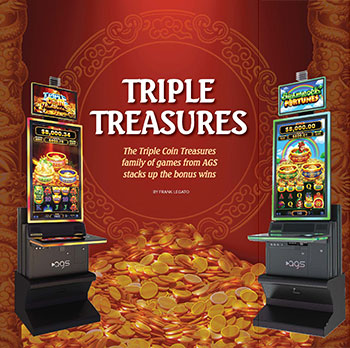 These days, there are many player-favorite features you'll find in a lot of new slot games. The ones that stand out are the games that serve up clever ways of combining popular features and presenting them in a fun, new way.
The Triple Coin Treasures game family from AGS is one of those offerings that combines several great features into one fun package. The new base titles, Long Bao Bao and Shamrock Fortunes, both feature fun animated characters hosting game actions and interacting with one another.
The base game is a five-reel video slot available in versions with 15 and 30 pay-lines. Central above the main game screen—it starts out with five reels, three symbols each; more on that later—are three pots of gold, colored green, red and blue. As green, red and blue ingot symbols land on the reels during game play, they send coins up to the like-colored pot over the reels.
In Long Bao Bao, the characters are animated green, red and blue dragons. Shamrock Fortunes, of course, is hosted by a leprechaun. They hang around the three growing bonus pots above the reels in each game.
"Both games have these fun, cartoonish characters," says Mark DeDeaux, general manager and senior vice president, slots, for AGS. "The cool, fun animated leprechaun does a jig dance around the pots, and makes all kinds of entertaining things happen with the coins and the pot. The cute animated dragons interact with each other. There is a lot of fun animation that enhances the overall entertainment with these games."
The pots grow larger (the game character cheering the process on), and eventually, one will burst, triggering one of three distinct free-spin rounds, each with a different special enhancement. While they grow large, they can explode to trigger a free-spin round at any time, and those free-spin rounds also can be triggered by a red or blue wild symbol in the primary game.
To the player, though, a full-to-spilling pot larger than the other pots is a good indication it's ready to pop. When the pots are triggered, each color brings its own special enhancement on five free spins. The good news is that two or even three of the free-spin pots can trigger at the same time. You also can trigger another bonus within the free spins.
The green pot awards five free spins with symbols added granting one or two extra free spins. The blue pot awards five free spins on an expanded five-by-five reel array (five symbols on each reel) including cash-on-reels symbols that pay when on adjacent reels, left to right. Also added is a multiplier up to 5X on reel 5 that can increase the win when adjacent with the cash-on-reels symbols.
The red pot triggers a "Symbol Upgrade," for five spins on reels enhanced with large cash-on-reels awards. On the fifth reel, as a substitute for the cash-on-reels symbols, jackpot symbols corresponding to four prizes—static prizes of $200 (Mini) and $500 (Minor) and progressives, reset at $800 (Major) and $8,000 (Grand). Combined with adjacent cash-on-reels symbols, even the top Grand can be won on one of the five spins in the "red" feature.
You can also win more than one jackpot.
"You could win any of the progressives on any of the free spins," says DeDeaux. "The way we execute that is with the cashon- reels symbols, which are these little pouches of gold coins, and can have coins, multipliers and progressives associated with them.
"So when you trigger the free games, you're looking for left to right bags of gold coins that will either have a credit amount, a multiplier or a progressive on them. As long as they're adjacently connected, left to right, you will win the sum total of what's showing up in the gold bags."
In both of the cash-on-reels free-spin rounds, all adjacent symbols pay off, including stacked symbols on several reels. This can be particularly lucrative with the reels expanded to five rows.
"The big chase is to get all three of those enhanced free games," says DeDeaux. "The growing reels, the extra spins, and the symbol upgrades. You can trigger any one of the three, two or all three. On the expanded reels, you have more of the cash-on-reels symbols, and then of course you have multipliers, which give you really good kickers, and you can land progressives as well."
Overall, these games offer a great play experience, which is enhanced even more by the fact they are offered on the new AGS Spectra cabinet—an elegant new 43-inch cabinet designed, says DeDeaux, with comfort in mind. "It really does have an elegant design to it," he says of the Spectra.
"One of the things we think players will really enjoy is that it has a very large button deck, and the way it's oriented really leaves you a lot of room, and adds comfort. I can put a drink down, I can have my phone sitting there on the button deck, and it's not crowding where I'm making my wagers.
The ergonomics of the cabinet in general lend themselves to a lot of comfort."
HITTING THE FLOORS
The Triple Coin Treasures games, Long Bao Bao and Shamrock Fortunes, are out in casinos now, in almost every gaming jurisdiction. According to DeDeaux, they've been a quick hit with players. "There are casinos adding to them, whether it's their first, second or third installs," he says.
"Casinos in every major market are carrying them now, and we are adding to that daily, literally. They're very popular, and in very high demand—most casinos that have them are adding second and third banks."
You'll be able to spot them. As DeDeaux notes, the colorful presentation makes them stand out on a slot floor.
But the real appeal lies in the mix of bonus features. "Outside of entertainment factor with these cute characters interacting with the game, what's most appealing is the fact that you can trigger one, two or all three pots from the base game, and you still have a chance to trigger the other pots. Even though you may only trigger one pot with five free spins, you're still in the game and you can still trigger the second and the third pot, which will add to your prizes and your award."
By the way, those pots that grow large when they're close to bursting for a bonus? They stay that way if the player leaves the game. So before you play, you can scout the bank for the one with the largest pot.
Just another fun thing. Lots of them here.