Trickster Moves
Cheating scandals rock high-stakes poker world
By Sean Chaffin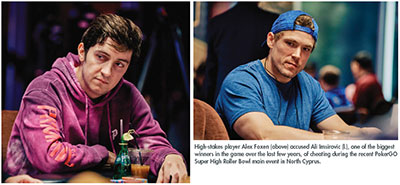 The summer brings plenty of news in the poker world with the World Series of Poker getting underway as well as numerous tournaments around Las Vegas. That includes some nice events geared toward women and some other major events in the works. Here's a look at some poker headlines including some interesting cheating allegations.
Allegations of cheating among some of poker's best-known players came to light in April. High- stakes player Alex Foxen accused Ali Imsirovic, one of the biggest winners in the game over the last few years, of cheating during the recent PokerGO Super High Roller Bowl main event in North Cyprus. Foxen posted screenshots on Twitter of where it appeared Imsirovic looked at an opponent's cards, which would have helped him win the pot.
Video appeared to show Imsirovic looking down and to his left when his opponent's cards were dealt. Whether he was looking at his opponent's cards is difficult to prove from the video. The accusations went even further, however. Foxen alleged more examples of cheating and unethical play against Imsirovic. That included getting banned from GGPoker for multi-accounting and using real-time assistance (RTA) software. RTA is software that assists a player in live hands as he plays and is banned by most online poker operators. Multi-accounting involves using multiple accounts on an online site, a violation of online poker operators' terms of service.
"Ali is known as a cheater to almost all in the high roller community, however without much ironclad proof, most stay silent," Foxen alleged on Twitter. "After watching this hand on the SHRB live stream, enough is enough."
Imsirovic hasn't commented on Foxen's accusations, but even more cheating allegations followed. Poker pro Martin Zamani alleged all-time live poker winnings leader Bryn Kenney engaged in numerous acts of cheating over the last few years, including multi-accounting and even engaging in cult-like control of his staked players with seemingly bizarre scenarios. Kenney ran a stable of players, staking them in online tournaments. Zamani was one of those players and said on poker pro Doug Polk's podcast that cheating was a major part of the stable of players.
"Brynn knew he was cheating," Zamani noted on the show. "It wasn't like it was a secret." According to Zamani, that also included ghosting, in which another player besides the registered user helps and directs another player how to play during a tournament, a terms of service violation.
He also alleged Kenney and his accomplices played on other players' accounts and colluded in tournaments.
"The idea is to always do what's best for the team," Zamani recalled on the podcast.
Beyond those allegations, Zamani described some truly bizarre behavior expected of those in the group. He says Kenney sent players to a "shaman" to help players' approach to poker and "get their energy right." This involved visiting a woman in Las Vegas and being taken to her "ritual room." The woman referred to herself as a "murderer" and a "warlord." For Zamani, the shaman prescribed a cleanse called "the Kambo." HealthLine.com describes the procedure as "a healing ritual used mainly in South America. It's named after the poisonous secretions of the giant monkey frog. The frog secretes the substance as a defense mechanism to kill or subdue animals that try to eat it. Some humans, on the other hand, apply the substance to their body for its alleged health benefits."
The shaman wanted to drop a small amount of the grog secretion into a small wound on his body, Zamani says. He didn't go through with it, but players who did became violently sick with diarrhea, vomiting and swollen faces. Zamani also alleges drugs were a big part of the group and players were encouraged to participate in drug use with Kenney or they could face discipline from the backer.
"'Oh, don't want to do mushrooms with Bryn?' Dropped in stakes," Zamani noted on Twitter. "'Oh you don't want to see my retard psychic?' Dropped in stakes. "'Oh I heard you're not eating healthy and you eat grass-fed organic meat instead of vegetables from a shitty Mexico store? Heard you didn't do yoga?' Dropped."
Zamani later released text messages allegedly with Kenney that appeared to at least back up some of his accusations. That included allusions to multi-accounting, ghosting and colluding. Kenney has denied all charges against him, including on Twitter and in a podcast interview with PokerNews.
"Dear all of my friends and fans, there have been accusations made about me, the most important to me is me being involved in any type of cheating," he noted on April 24. "There is zero evidence of this and everyone who knows me knows it is not true."
Sean Chaffin is a freelance writer and senior writer for Casino Player and Strictly Slots magazines. Follow him on Twitter @PokerTraditions or email him at seanchaffin@sbcglobal.net for story assignments.