TRENDING FOR 2020
Holding and re-spinning, king-sized machines and lots of progressives are among the trends to watch on the slot floor this year
By Frank Legato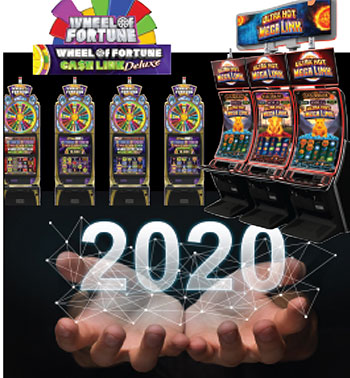 This month, our sister publication Casino Player is publishing a roundup of many of the new slot games coming your way in 2020. The information for that feature was compiled after all the major slot manufacturers displayed the year's coming new games at the annual Global Gaming Expo trade show in Las Vegas.
Last fall's trade show was a typically amazing showcase of new game styles and new technologies, but it was still distinctly different from what the same show revealed, say, a decade ago.
There are definitely several trends on the slot floor that have developed in the decade just completed. Some trends reflect the evolution of game styles to which players have flocked recently. In the slot business, perhaps more than most businesses, the phrase "Imitation is the sincerest form of flattery" applies, and in fact, is a way of life. Slot manufacturers take care not to step on the intellectual property of their competitors, but that care does not prevent a popular game style or mechanic from being copied and presented in a new way.
Other trends reflect the evolution of technology, as slot-makers mine the rich vein of consumer tech to create new experiences for slot players. Still others reflect the evolution of the casino customer, with games that move away from the traditional spinning reel to reflect more of the games that young players grew up playing in arcades, on video systems and, more recently, on their phones.
This year's collection of new slot games reflects all those trends and more, but here are 10 that will stand out as affecting the experience you will have on the slot floor in the coming year.
Popular brands are thriving. We've been covering the big trade show each of the 20-plus years this magazine has existed, and if there was one constant over the years, it was that the slot manufacturers used each show as a showcase for the latest new branded theme. Whether it be movies, TV, music stars or other themes, every year, we watched for the next icon of popular culture to be made into a slot machine.
     For the last few years, though, the new licensed brands coming from slot makers have slowed to a dribble. The vast majority of the new games, regardless of style, reflect a trend with the manufacturers to give you more of what you've already proven you love. Wheel of Fortune. Monopoly. Game of Thrones. James Bond. Deal Or No Deal. All of them have new versions coming out, and most of them incorporate many of the other trends you'll see in this feature.
Even without popular-culture licenses, we're seeing the tried-and-true slot brands proliferating. Whether it be Aristocrat's Buffalo franchise or Scientific Games' Hot Shot or other proprietary brands, the slot-makers are giving us what we love—before they search for something new in the theme area.
Everyone has a new cabinet. Technology is moving at lightning speed on the slot floor. Before we've digested features like smartphone chargers and surround-sound, we encounter something new in the hardware surrounding the games that we have not encountered before. It's come to the point where slot-makers are one-upping each other in the presentations of their games. Monitors curve in new ways. Graphics become more intense. There are large single monitors, setups with two or even three screens, cinematic presentations that create your own little private slot zone, and new features from 3D graphics to midair haptic technology.
The days of rows and rows of cookie-cutter slot cabinets are long gone. Many of these new formats can't even be placed in rows; you'll find them in circular "pods" of three or against walls in a presentation to be seen across the floor.
There will be more changes to come, and you can be sure it will be fun to watch.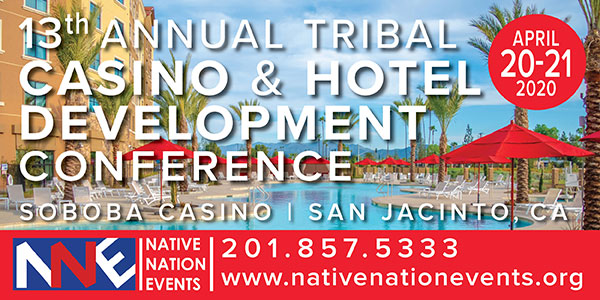 There's a new size of slot machine, built for two. In the old days, most of the major slot manufacturers had their version of what was known as the "Big Bertha" style of cabinet. You've seen these. They're the ones with 42-inch reels, a ridiculously large handle, and people gathered not for the game, but for the novelty. On the other side of the spectrum, each manufacturer has a core slot size that is similar to others on the floor.
For the past few years, we've seen growth of a new size of slot machine. In the trade, they call these "large-format" games. They are in between the core size and the Big Bertha, with a main monitor perhaps 48 inches, 60 inches or more. On the front panel, you'll find dual "bash buttons"—aka, spin buttons. In front, there's a bench seat. What players love about this game style is that two spouses or partners can play a king-sized version of their favorite game, with all the features they already love, in a shared slot experience.
Perfect for Valentine's Day!
The bar-top evolves. For decades, the choice on bar-top gaming machines has been the same: video poker, more video poker,
"Caveman Keno," and still more video poker. Some of the units out there have multiple keno games, but video poker has always been the big draw at the bar.
The preponderance of video poker at the bar is not going to change soon—there's still a video poker culture, particularly in Nevada. However, more variety is coming, thanks to the fact the most popular games on the floor in general are not video poker, but multi-line video slots. And the maker of most of the bar-top gaming machines out there, IGT, is facing new competition at the bar that incorporates those video slots.
Leading the group of new bar-top units is one from Aristocrat that features two video slots in the "Buffalo" franchise, which is consistently one of the most popular slot brands in any casino. Scientific Games has a bar-top coming out that includes its popular Asian video slots "Dancing Drums" and "88 Fortunes." IGT is responding with bar-tops that include "Scarab," "Ocean Magic" and other video slots.
Welcome to variety at the bar.
Hot game mechanic: the hold-and-respin. There are some game mechanics that appear on a legendary new machine and become standard fare on games from a variety of manufacturers. (See No. 6 below.) For the past few years, there has been one game feature that has become ubiquitous on the games of every manufacturer: the so-called "hold-and-respin" feature.
First popularized by Aristocrat's mega-hit "Lightning Link," hold-and-respin features contain a goal that will make you keep playing for want of achieving it. A bonus feature will put forth the goal of collecting scattered coins, or bonus symbols, or whatever, on the screen.
It usually occurs in a free-spin round. An initial spin will land several scattered symbols, which will remain in place while you re-spin the remaining reels for the remainder of the free games. In many of these features, you'll start with three free spins and a meter will return the remaining free games to three every time you land at least one of the special symbols. You play out the feature until there are no spins left or the screen is full of the chosen symbol. You'll get an accumulated award for all the symbols you collect, and you'll get an extra award for filling a screen with the symbols.
These features are everywhere these days, on games from just about all of the manufacturers. The powers that be know you love to hold and respin, so they're going to keep this feature coming.
Still hot after all these years: The wheel. If there is one game feature that keeps renewing itself year after year, it is that oldest of bonus features, the spinning bonus wheel. IGT's Wheel of Fortune first came out in 1996, and since then, every major manufacturer has come out with its own version of the bonus wheel.
This year's batch of games typically is populated by as many new wheel games as any style of any game on the casino floor.
Don't expect this trend to die, maybe ever. We love to spin that wheel.
Progressives, and more progressives. Progressive jackpots have been around since the 1970s, and big-money, multi-site progressives have been a part of just about every game library since Megabucks was launched in 1986. But the big trend these days is for games to offer multiple progressive jackpots.
Whether they are won through a wheel bonus with progressive levels as the slices, or achieving increasing levels of a certain jackpot symbol to take you up a ladder of increasing progressive amounts, or straight line combinations that yield various levels of progressives, it's almost a requirement these days for video slot machines to have a top display that shows the incrementing meters of two, three, four or more progressive jackpots. Even the big-money, multi-site progressives are usually accompanied by a few lower-level progressives networked through a specific game brand at a casino.
We love progressive prizes. Almost as much as the wheel.
And now, for something completely different. The old spinning-reel model of slot games, whether it features three mechanical reels with a single payline or multiple paylines in a penny game, is certainly not going anywhere. However, slot manufacturers are taking note that the youngest players on the slot floor are not enamored of watching spinning reels.
Thus, one of the big new trends this year reveals numerous games that go completely away from the spinning-reel model. In lieu of spinning reels, there is an entertaining bonus or a skill-based game ("skill-influenced," really, because all of them involve chance in some way)—games that are more similar to choices on their smartphones. Puzzle games, candy-crushing games, first-person shooter games and other mobile-style games are appearing from an increasing number of slot-machine manufacturers. This trend is just getting started, so, particularly if you're looking for something different, keep an eye out for this new way to play.
Electronic table games become a thing. Young players love social interaction, so naturally, the younger demographic has often gravitated toward table games. At the same time, the technology of gaming machines has evolved to where a live table game can be streamed via video to any number of electronic play stations.
The electronic table game (ETG) is now offered on the slot floor, often in special areas with blaring disco music and lots of social interaction. They are offered in what's called the "stadium setup," in which live games are beamed to hundreds of terminals at once. This style of gaming machine started in Asia, where table games are king and table counts are limited. It's safe to say it has spread to North America. And slot manufacturers are increasingly including ETGs in their product mix.
Cashless slots and cardless loyalty programs. In the drive to bring consumer technology to the slot floor, perhaps the most rapidly evolving is the technology available to pay for your play. Several of the big slot manufacturers that also produce the systems have come out with options (where permissible by regulation) that will allow you to use your smartphone to buy credits at the machine—just like you now use it to buy fancy coffee.
There are several systems emerging for cash-free slot play. Some require you to set up a deposit account at the cage, which you fund in person and then tap with your smartphone to withdraw funds for gambling. Others coming soon will allow you to use your phone to tap a bank account through debit, or even a credit card.
A few of these systems also feature card-free loyalty play. It will require you to register your loyalty card perhaps at the club booth, or more likely, by downloading an app. But once that's done, you'll be able to dispense with the plastic mag-stripe loyalty card altogether, simply tapping your smartphone near the card reader to begin earning points, with the point-earning ending when you stop playing.
Wait, was No. 10 two trends instead of one? No matter; there are plenty more to come in this brave new world, including trends we couldn't fit here. Be sure to enjoy them all. •