TOURNEY TIME!
Everi's National TournEvent of Champions continues to redefine the slot tournament
By Frank Legato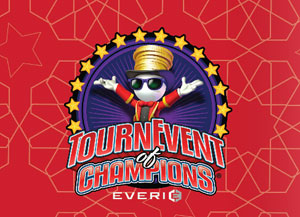 It was not that long ago that a slot tournament was simply about the money—more specifically, scoring enough to make money.
The actual mechanics of a tournament were just that: mechanical.
For decades, casino slot tournaments exuded a mind-numbing sameness. Loyalty club members registered at a kiosk or automatically through play, were assigned their 10-minute contest period, and got in line to wait for a session on one of a group of roped-off tournament machines,typically ancient three-reel video slots.
Back then, the experience was all of pushing a button. Again and again. Like a jackhammer. And hoping luck would return enough winning combinations for a good score. Sometime later in the evening, the scores would be posted, and the winners would quietly collect their cash.
Then, in 2011, everything changed.
That was the year that slot supplier Everi Holdings, then called Multimedia Games, held the first of what would be called the "TournEvent of Champions." But to be accurate, everything really changed a couple of years before that, when the former Multimedia introduced the instant tournament system called TournEvent.
With TournEvent, casinos would no longer have to rope off a section of old, un-played slot machines in a tournament area, since the games could be switched between tournament mode and regular play instantly. But what really grabbed the attention of the playing public was some- thing else: The games, and indeed the tournaments themselves, were actually fun to play.
The dedicated tournament games required what you might call audience participation. Instead of hammering a spin button for 10 minutes, you had to watch the screen intently, because balloons, stars or other icons would periodically float from the bottom of the touchscreen monitor. Touch the balloon and boost your score.
Other special game events that required you to pay attention included one of the system's most popular features— at any time, the trademark TournEvent "Money Man" character (basically a stack of coins with a face and a top hat) could appear on your screen and boost you to a first-place score. In other words, you always had hope. Even if you had an abysmal showing in your session, there was no despair, because you knew the Money Man could help you steal a victory in the final seconds.
Soon, there were cameras on each machine, and an overhead screen and leaderboard that would keep track of the leaders and flash their images on the big screen during the contest. Casinos would often have a host who would serve as master of ceremonies/play-by-play announcer as the session went on, transforming what once was a mundane button-pushing fest into something between a game show and a sporting event.
Bottom line: TournEvent made the slot tournament fun, and things progressed from there at lightning speed.
"TournEvent has been reinventing slot tournaments on the casino floor for over a decade, turning everyday players into slot superstars on the casino floor," says Linda Trinh, the Everi vice president of marketing and promotions who has nurtured TournEvent for five years.
"TournEvent has standardized tournament system functionality across the industry with its seamless ability to switch from in-revenue gaming to out-of-revenue tournaments in seconds. The award-winning system continues to set itself apart with the evolution of interactive bonus features and striking animations that keep players coming back for more."
That pivotal year of 2011 saw the first TournEvent of Champions, a six-month, multi-casino tournament involving satellite events at casinos equipped with the system, followed by finals at a specified location. The first event involved casinos in California, with 13 finalists competing for a $100,000 prize in finals held on a cruise ship.
After that first event, the contest grew quickly. By 2013, it went national, with players in 70 casinos in 20 sates sending players to the finals at Lagasse's Stadium sports bar at the Venetian in Las Vegas. It was now the National TournEvent of Champions.
By the time of last year's event, the National TournEvent of Champions had gone international, with two casinos in Peru among the 100 participating properties sending finalists to Las Vegas. According to Trinh, in addition to perhaps three Peru casinos this year, participating Ontario casinos could add Canada to the league of TournEvent nations.
Casino operators have nothing but praise for the tournament. "Wildhorse sent two winners to Las Vegas to participate in the 2015 TournEvent of Champions finals," comments Juana Reed, promotions manager for Oregon's Wildhorse Resort & Casino. "Our players returned home with nothing but rave reviews, and loved the experience from start to finish. Wildhorse looks forward to participating again in 2016."
EVERYONE'S A WINNER
The TournEvent of Champions keeps growing because the entire process was designed to award the participants for success in the preliminaries, by making the trip to the national finals an award in itself. Each finalist gets an all-expense- paid trip for two to Las Vegas—airfare, hotel, spending money—and a guarantee that no finalist will walk away with less than $500 in winnings.
"There's nothing quite like the energy and excitement of playing in the TournEvent of Champions finals in Las Vegas," says Michael Gibbons, a 2015 TournEvent finalist who represented Emerald Queen casino in Fife, Washington. "I had an awesome time, and made a lot of friends who stayed to cheer me on to the end. Everi really knows how to make its TOC finalists feel like VIPs, and it was a memorable experience that I hope to be a part of again this year."
This year's National TournEvent of Champions repeats the prize structure from last year, when the event awarded its first $1 million prize to Wisconsin's Rita Kellerman, who bested a field of 182 after six rounds of competition at the XS nightclub in the Encore Las Vegas resort.
This year's $1 million top prize will again be joined by $400,000 in prizes spread among all other finalists, with the finals at Encore's XS club for the third year. The event is a party in itself, with tournament sessions hosted by Michael Conway, Everi's creative director who has become the voice of the TournEvent of Champions.
The company also will reprise its charity TournEvent tournament the day before the finals, with national celebrities joined by local and trade media in a tournament session with $10,000 going to the winner's chosen charity and $1,000 to each participant's chosen cause.
But other changes this year will enhance the Tourn- Event experience. For instance, Everi has added cumulative scoring—contestants will be given cumulative scores for several sessions, as opposed to the prize going to the highest single session score as in the past.
Additional technological advancements mean smoother communication with players as they are assigned sessions, new display signage, and, according to Trinh, a new look, with new TournEvent games on the company's sleek Core SDX cabinet now used for its other popular casino slots.
New base games will be launched for next year's tournament, she says, but this year's event will feature the very popular Cash Boom Bang, which periodically goes into "Frenzy Mode" during the contest, giving players the chance to boost scores by touching balloons and other targets in rapid succession.
MAGIC BUS
For now, Trinh is concentrating on her annual role of helping out in preliminary events all around the country. Those satellite events have been another contributor to the wild popularity of the TournEvent of Champions. A team from Everi travels to these events in the official TournEvent of Champions Bus, a giant rock-star-style caravan which arrives at each property with fanfare to start the on-property party, conducted by Everi hosts—and, of course, the Coin Man himself.
For years, Trinh has been at 50 or so of these events each primary season. She says she's scaling that back as the team of hosts has perfected what they do, but one event she was looking forward to at press time was the property final event at the Muckleshoot Casino in Auburn, Washington. Officials from the Guinness Book of World Records were set to attend the TournEvent contest, to record a new world record for slot-tournament participation.
Billed as the World's Largest Slot Tournament, the Muckleshoot TournEvent finals aimed to claim a new record of 3,002 or more unique tournament players for a 24-hour period, beating the 3,001-player record set several years ago at Connecticut's Mohegan Sun casino.
(The Muckleshoot contest was April 30, too late for our May issue. But here's betting they made it.)
At press time, 70 casinos and more than 110 players had signed up for this year's National TournEvent of Champions, on pace to match or exceed last year's record attendance. Meanwhile, on TournEvent's fifth anniversary, Trinh and company continue to concentrate on one thing:
"We're going to continue to explore ways to make it more beneficial for the casinos," she says, "and fun for the players."