TournEvent Takes Off
Multimedia Games' national slot tournament soars into its second season
by Frank Legato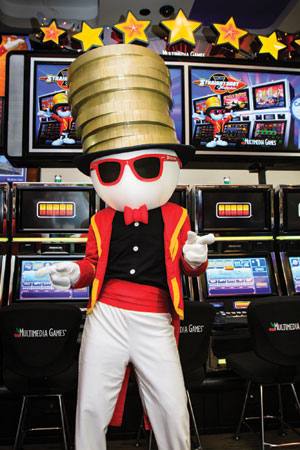 If you thought nothing new could happen on the slot floor, slot-maker Multimedia Games could definitely convince you otherwise.
How about augmenting that bowling league you belong to with a slot league, complete with embroidered shirts? Or slot players who follow tournaments around to different casinos like Deadheads following the Grateful Dead?
What about getting a prize of an all-expense-paid vacation for two to a luxurious Las Vegas casino resort, free meals at the resort's restaurants, and $500 in cash—for losing a slot tournament?
It's called TournEvent of Champions, and Multimedia Games is just kicking off its second year as a nationwide slot tournament. Developed as an instant tournament for dedicated banks of slots, TournEvent was a hit out of the gate for Multimedia because it was not like the typical, boring slot tournament. Instead of 10 minutes of monotonous button-pushing, it's more like a game show or a sporting event.
Add-ons by Multimedia since the first system was released have made the tournaments even more fun. A little camera in each machine records the contestant, and beams video onto a large screen. There is a "host," either via animation on the screen or a live person shouting encouragement. There is a video leader-board that keeps track as the lead changes hands.
There are pop-up balloons that float up the screen and burst on touch to boost your score. There is a "Money Man" character that can appear at any time during the contest and boost your score to the top of the pack.
People gather around whenever one of these TournEvent sessions occur, on a bank of slots designed specifically for the tournament. (Say goodbye to those ancient video slots that casinos rope off for normal contests.)
The excitement surrounding these contests led Multimedia officials to the great idea of staging a multi-casino tournament, which they did on a statewide basis for two years—first in California, then in Washington. Individual casinos hold satellite events, and the winners of those are sent, all-expense paid, to the finals at a single, fun location. (It was a cruise ship in the inaugural event.)
Last year, TournEvent went national, with satellite events at 77 casinos nationwide sending finalists to Las Vegas for the finals of the "TournEvent of Champions" at Lagasse's Stadium, a huge sports bar in the Venetian. The player who won the title of "Nation's Best Slot Tournament Player" took home a grand prize of $100,000.
But what makes TournEvent of Champions special is not the big payoff for first place. Everyone who even makes it to the finals is a winner. Each finalist gets a fully paid vacation for two—the finalist and a guest get airfare and a paid room for five days and four nights in Las Vegas. This year, finalists will stay at what is arguably the most luxurious casino resort in Las Vegas, the Wynn.
"We're really excited about that," says Linda Trinh, director of marketing and promotions for Multimedia Games, who has been the point person for TournEvent of Champions. "They've been great partners to us; they're throwing a lot of extra effort in to make sure this event is top-notch for our players and our guests."
For starters, Wynn and the adjacent sister resort Encore are making sure their week is full of activity, throwing a warm-up tournament the night before the championship and a going-away tournament the day after the big event. What's more, contestants get a $500 food and beverage credit for the week at the Wynn's unmatched restaurants and bars. That's in addition to the money the finalists win in the tournament.
The total money being given away this year is $500,000, with $200,000 to first place. According to Trinh, at least 105 finalists will be flown to Las Vegas for the finals, and not one of them will leave with less than $500 in prize money, guaranteed. The big event will be held at the Wynn's XS nightclub. "It's a really great venue," says Trinh. "It's a larger venue than Lagasse's, buy it's got the same feel, with elevated seating surrounding the stage in the middle."
The bank of TournEvent slots for the contest figures to be from 16-20 machines, compared to last year's 10. Of course, notes Trinh, with a nice vacation, $500 worth of F&B and at least another $500 in cash, every one of the hundred-plus contestants sitting at those machines will have won already.
Fun Quest
Of course, half the fun in this contest is getting there. The finals of the National TournEvent of Champions constitute the dessert of what has already been a fun ride of preliminary events at casinos around the country.
Trinh and her team from Multimedia Games will have been at many of those events. Starting this month and lasting until the fall, the Multimedia TournEvent takes "Money Man," the mascot that symbolizes the whole affair,  climbs aboard the TournEvent of Champions tour bus, and hits the road to visit the casinos holding preliminary events and in-casino finals—the events that pick the finalists that will go to Las Vegas in October.
The Multimedia team hosts preliminaries at sites all summer. "The goal is to replicate what you see at the finals at every single one of these casinos," says Trinh. "A lot of them will do a welcome reception for players, and then do multiple tournament rounds with the players, ending with an awards ceremony at the end."
Many casinos stretch the preliminaries out over several weeks, and get creative in making the contest fun. "At Rolling Hills in Corning, California, they started this whole revolution of slot tournament leagues," says Trinh. "For several weeks, they run a slot league that leads up to the in-casino finals. They've been really successful at getting a group of people to come back week after week to build on their scores.
"We now have other slot leagues that have started up around the nation, because we shared this idea with a number of our casinos. We have some leagues that actually have created their own slot-league shirts, like bowling leagues. We're hoping we can start this fun revolution of slot leagues across the country, with people playing together and rooting each other on."
Valley View Casino near San Diego stretches its preliminaries for four months, during which players win prizes and, hopefully, enough "Golden Tickets" to land a spot in the August finals.
Rita Contreras, director of promotions and events at Valley View, says the contest stirs excitement in the casino beginning with the first round in May.
"Every month, we will have 140 winners," she says. "Each winner will walk away with cash and prizes, and a bag full of goodies, with a chance to win $1,000 at the end of the tournament on top of what they already won," Contreras says. "The best part is the all-around excitement. We will be giving out over $65,000 in cash in prizes for the TournEvent of Champions, and then, the shot at winning the trip to Vegas and the opportunity to win $200,000."
At Michigan's Grand Traverse Resort and Turtle Creek Casino, there are 12 weeks of semi-final tournaments. According to Johnny Barrientoz, director of slot operations, the casino jump-starts the excitement halfway through the preliminary rounds by announcing the finalist prize of the Vegas trip and the prizes to be given away at the finals.
"Since our finale last year, players couldn't wait for the opportunity this year," Barrientoz says. "The tournaments themselves are very much fun, and different from any other slot tournament we have ever hosted. Our semi-final rounds have been full, and we will be announcing that we will be sending two lucky players to Vegas this year."
He says the casino originally announced that only one player would be going, so the announcement of two finalists "created that excitement all over" for the rest of the semi-final round.
Barrientoz says the cash is only part of the excitement of winning. "For the guests, (the other part is) the feeling of representing their home casino," he says. "Our guest last year was so disappointed that she did not win in Vegas, that she started crying because she wanted to bring that title back to Turtle Creek."
TournEvent of Champions has drawn nothing but praise from the players themselves, of course.
"The people who represent the National TournEvent of Champions and Multimedia Games are such fun people!" gushes Lori Makowski, last year's finalist from Turtle Creek. "The slot competitions at Turtle Creek were a blast, but nothing compared to the finale in Vegas. That day will go down as one of the most fun and exciting days of our lives."
Susan McCown, who won first prize at L'Auberge Baton Rouge last year, concurs. "Not only did I win a lump sum of money, but I won a fabulous trip for two to Vegas, where we were treated like royalty by Multimedia. I will never forget the wonderful treatment by Multimedia personnel while I was there. Everyone mad sure we enjoyed ourselves, and I will forever be grateful for the royal treatment."
Ron an Cindy Howerton followed the bus to eight different preliminaries in the state of Washington last year—reaching the in-casino finals at nearly all of the events. "We continue to enter as many competitions around the state as we can fit into our schedule," Cindy Howerton wrote to Multimedia officials. "Your slot machine setup with the leaderboard above the machines makes the rounds very exciting, and watching your place as the rounds are played keeps you involved. And you keep adding more and more money—keep it up!"
Howerton will no doubt be pleased this year, and even more so next year—according to Trinh, in 2015, the Nation's Best Slot Tournament Player will rake in a cool $1 million.
But again, getting there will be half the fun. •