TOURNAMENT TIME
Slot competitions offer plenty of fun and a shot at some BIG paydays
By Sean Chaffin
3 … 2 … 1. Go!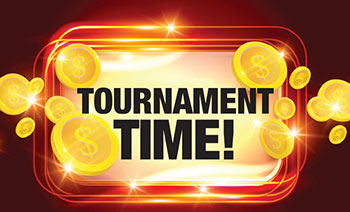 The casino buzzes with excitement as gamblers begin tap, tap, tapping those buttons on their machines. The sounds, bells, whistles, and pulsing lights fill the room as rows of players keep those reels spinning. It's not just another busy Saturday night, but a pool of players competing in the casino's slot tournament. Big bucks and plenty of fun are on the line.
A slot machine tournament offers a unique opportunity to battle it out at the machines against other players for cash and prizes. There's plenty of excitement, high-fives, and smiles from the winners. Those new to the concept may not know how the whole idea works. Strictly Slots has all the ins and outs of this gaming trend covered.
How does a tournament work?
In a typical slot tournament, entrants play one or more rounds – hitting those buttons to keep the reels going. Competitors usually play either with a set number of credits on their machines or a set time period each round.
During play, free game rounds and bonuses only help a player's cause. Each combination that hits, scores a predetermined number of points. Scores are added up to determine the winners or players who advance to another round.
"So, a player is striving to hit the more valuable combinations, not that they have any control to make that happen in most cases," says Anthony Curtis, publisher of LasVegasAdvisor.com.
What makes these tournaments so much fun? They tend to be fast and easy to play. They're also much more social than a traditional night out playing slots. Gamblers enjoy the competitive spirit, but also chit-chatting with fellow contestants and cheering on friends.
"Players form friendships with other tournament players and a tournament is an opportunity for them to get together," Curtis says.
There's very little strategy involved so everyone has a chance to win.
"The only strategy in a slot tournament is to play fast when there's a timer," Curtis says. "If you can get more spins, you have a small edge. This doesn't come into play when the format calls for everyone to play the same number of spins."
Some properties even offer video poker tournaments. Those definitely involve more strategy and anyone competing should have a grasp of basic video poker strategy to compete. There are also some other aspects of this type of tournament to consider.
"If you're including video poker tournaments, then there's strategy in altering your holds to maximize your chances of hitting a combination that will put you in the lead, such as four of a kind or a royal flush," Curtis adds.
In other words, it's important to play those cards right.
What's on the line?
Many casinos use slot tournaments as a way to reward regular players or to offer something unique and different for slot players. Properties often offer a welcome event before the tournament gets underway and an awards banquet afterwards to offer players the VIP treatment.
The Hard Rock Hotel and Casino in Atlantic City ran weekly slot tournaments throughout July and August, which are usually open to a select group of invited customers. Players can qualify by signing up for a player card or can also receive invitations based on their play. There can be a big reward for getting in on the action.
"Our tournaments are a quick sit and go tournament with a $25,000 prize structure," Hard Rock director of special events Laurie Hankinson says. "We have the Everi slot tournament machines that are fun and interactive and we are able to change the themes on our machines."
The Everi system allows casinos to completely customize a tournament to cater to its customers, and has become a popular software solution for operators.
In recent years, tournaments have become more popular and properties have been hosting tournaments more because they tend to bring in some of their bigger players. Some tournaments may charge entry fees and some take a percentage out of the prize pool for the house, but it's the player prize that most are after.
For those interested in the numbers behind the action, Curtis says the most important factor for players is "equity," the percentage of the entry fees that are paid back in prize money. If all the money collected is being returned, it's called an "even-equity" or "100 percent-equity" tournament – certainly a plus for any player.
If 10 percent is being taken out of the prize pool for the house, it's known as a "90 percent equity" tournament and obviously not as good for the player. The higher the equity – the better the tournament.
Where to play and what to expect?
While slot tournaments may not involve a ton of skill, they offer some group dynamics and competitiveness similar to a poker tournament but with a lot more energy. Like at the Hard Rock, the Beau Rivage Resort and Casino in Biloxi, Mississippi, also offers slot tournaments for its guests.
The property runs private, high-end tournaments but also events open for all levels of player provided that they earn a certain number of points on the day of the tournament. Playing on site the day of the tournament offers a player not just a shot at a jackpot at his or her favorite machines, but also a shot at some nice cash in the tournament once they've qualified.
"MGM and Beau Rivage offer creative events and unique opportunities for players," the property's special events director Kosta Kagiavas says. "Each tournament offers each guest an experience – all tournaments are themed and are made to be fun. Events vary, some come with a dinner or an awards banquet and bonus opportunities. Tournaments are high energy, fun, and get our guests excited for their chance to win."
Other properties offer similar opportunities for gamblers. Chances are your local casino offers a tournament, or maybe it's time to check one out on that next trip to Las Vegas, Atlantic City, or Biloxi.
And while most slot tournaments don't require any certain skills or strategy, a pair of quick eyes and hands can help bring in those extra bucks.
"Some tournaments are set 'old school' on a three-reel machine and you just tap the button," Kagiavas says. "On newer machines there are tournament bonuses like popping balloons or hitting a jump at the first opportunity. For those you still need a lot of luck, but require a bit more speed and alertness."
Grab your lucky charm and your player's card! The slot tournament awaits and your favorite machine is ready – spin, spin, spin… and hope- fully win.
Sean Chaffin is a freelance writer in Crandall, Texas, and senior writer for Casino Player and Strictly Slots magazines. His work appears in numerous websites and publications. Follow him on Twitter @PokerTraditions or email him at seanchaffin@sbcglobal.net for story assignments.