TO THE XTREME
AGS launches the frequent-hitting Xtreme Jackpots series
By Frank Legato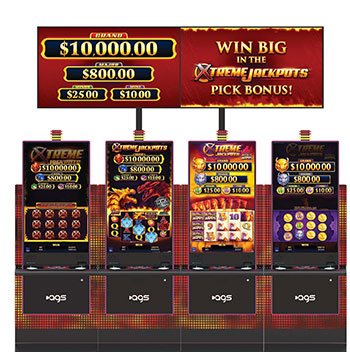 Slot manufacturer AGS is good at a lot of things—entertaining slot and table games, innovative cabinets, that big red slot machine they call Big Red.
But one of the things the Las Vegas-based company is best at is progressives.
The company started out as a supplier of Class ll machines, which behave like normal slots but actually are electronic bingo machines. For those who don't understand the class system, created by the Indian Gaming Regulatory Act of 1988, traditional slots, identified as Class Ill, require Native American tribes to negotiate an agreement, or compact, with a state that involves them making payments to the state for the right to operate them. Class ll refers to bingo, which tribes have an unrestricted right to offer. Class ll technology has advanced to the point where most players can't tell the difference between them and a traditional Las Vegas-style slot machine, but in the old days, the Class ll games played a bit slower than their traditional counterparts. One of the first ways slot-makers generated excitement in Class ll was with progressive jackpots. As the technology improved, so did the popularity of progressives with Class ll players.
"One of the key things we learned in our Class ll gaming business is to offer linked progressives that drive the concept we call 'achievability'" says Andrew Burke, senior vice president of slot products for AGS. "The more games you have linked to a single progressive, the faster that progressive's going to hit."
AGS engineers have kept that concept in mind as the company expanded from Class ll to what is now one of the fastest-growing Class lll manufacturers in the business. This year, the progressive concept gels in a new product called Xtreme jackpots.
"Xtreme Jackpots was us taking that concept that really worked well for us in Class ll and expanding it in Class ||l," Burke says. "When you have lots of games on one link in a casino, you can really drive the frequency of that jackpot. That creates achievability for players. They start asking each other if they've ever hit that $1 0,000jackpot, for example, and the more games you have on one link, the more players there will be to share that jackpot experience."
That $10,000 number is the startup level for Xtreme jackpots, but Burke says the jackpot on the links in the field so far typically hits in the $30,000-$40,000 range, and it has gotten as high as $100,000.
And this is just the beginning. Xtreme jackpots links the progressive prize among different AGS games, and works on nearly all of the various AGS cabinets. The initial games are on the sleek new Orion marquee-style cabinet, but casinos will be able to link the same jackpots to games on the standard ICON cabinet as well.
And as Burke says, the more games that are linked, the higher and faster the jackpots come. The first games in the field were launched at casinos in California and Mississippi, but Xtreme Jackpots will soon be found at casinos across the country that are served by AGS—and thanks to the company's rapid growth, there are few U.S. jurisdictions where the company is not licensed.
Initial releases are progressive versions of some of the company's most popular games, including Fire Bull Xtreme jackpots, Gold Dragon Red Dragon Xtreme jackpots and Fu Panda Xtreme Jackpots. According to the company's website, there are now also new Xtreme jackpots (or XJP) versions of Longhorn jackpots and Buffalo jackpots.
The Xtreme Jackpots base games feature jackpot Pick and Free Spins Bonus events. When a full stack of wild symbols land on any of the middle reels during the base game, players have a chance to hit the jackpot Pick Bonus and are guaranteed to win one of the four Xtreme jackpots levels. Each game in the series also features a unique scatter-initiated Free Spins Bonus in the base game.
"The big benefit is that they are all linkable between cabinets, including ICON, with some of our most popular titles," says Brett Vela, associate product manager for AGS. "That includes games like Golden Wins and Jade Wins. We can link those all together with Xtreme jackpots, and then you're building this whole ecosystem of a linked jackpot that's really going to grow rapidly and hit frequently."
The games are the same ones fans of AGS normally flock to, but because so many games are linked to a single jackpot, there are that many more spins—meaning more chances someone will hit. According to Burke, that's already causing jackpot fever on the first Xtreme jackpots titles, which are taking off in popularity.
Burke says the Xtreme jackpots games will be easy to find, thanks to bright sign packages that blare the jackpot levels across the casino floor. "lt's our hope to make it very obvious to the players where the progressives are at currently," he says. "We know players like to progressive-shop. If you get something that's more achievable, and players catch on to that, they're always going to be looking for it."
Vela adds that the progressive display syncs up with the bank lighting of the new Orion cabinet. "When these Xtreme jackpots games are banked properly, they react with the Orion lighting and sync together," he says. "It creates this really cool firewall effect behind the games."
In the end, Burke says, Xtreme jackpots games are loaded with pluses for the player. "For one, if players ever liked or played some of our original hit titles—particularly Gold Dragon Red Dragon and Fire Bull, which are good games for us with a ton of installs—we're going to have a lot of the same artwork and symbols the players were familiar with the first time around built into the Xtreme Jackpots version.
"Two, if players like progressives, this is a game designed for them. If players like to win a good-size jackpot, this is the kind of game that can deliver that."