TIME TO LOOSEN?
Casinos are bringing in record slot win.  It's time to loosen the percentages
By Frank Legato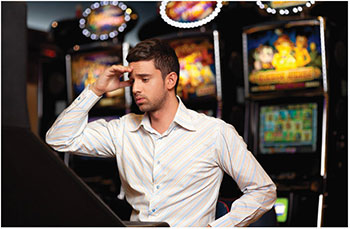 It's a fact that slot hold—the percentage of wagers on slot machines that is held by the house—has grown over the past half-decade. That means the return-to-player, also known as payback percentage, has declined, and it has remained lower than in the past for some time now.
The tightening up of slot machines first appeared in response to the Great Recession of 2008. Casinos bought more penny games, the lowest-returning category, and purchased lower-returning slot programs in other denominations, as a way to compensate for fewer visits due to lower disposable income.
The economy did recover from that recession. However, with few exceptions, the tighter slots have remained. The pandemic and subsequent casino shutdowns gave nervous casino managers more reason to keep those high-holding games on the floor, and pennies have remained popular, so overall, the casinos are keeping more of the money we pump into the slots than ever before.
Last month, the Nevada Gaming Control Board issued a report showing that the state's casinos won a record $14.8 billion from players in 2022, holding $10 billion on slots and $4.8 billion on table games— a 10.5 percent increase year-over-year.
That's a second straight year in which Nevada casinos set a record for slot win—aka, the amount of all wagers kept by the house. After a rebound year in which pent-up demand contributed to record win, the high revenue numbers have been sustained, and they continue to grow.
So why are the overall slot holds still so high? Isn't it time to swing the numbers in the players' favor?
The Nevada report shows that slot hold is down slightly in popular denominations such as pennies, but only a fraction of a percentage point. Penny slots held 9.81 percent of wagers in 2022, compared with 9.85 percent in 2021. The $5 slot machines won 5.46 percent in 2022, compared with 5.48 percent in 2021.
"The 2008 recession is history. The pandemic problems are largely over. It's time to loosen up the slots."
Other categories saw a tightening of slots. Multi-denomination machines won 6.13 percent in 2022, compared to 5.87 percent in 2021. The $25 slot machines won 5.86 percent of the money last year, compared to 5.71 percent for the same period a year earlier.
Basically, the return-to-player numbers in Nevada have remained stagnant across the board. There was a study released by a prominent university a couple of years ago that concluded that a player can't tell the difference between a tight version and a loose version of the same game.
Researchers placed players in front of, say, Cleopatra with the 87 percent payback program and Cleopatra with the 92 percent payback, and the players could not tell the difference between the two.
I've always agreed with that premise—on any one given play session, no one can identify an isolated game as loose or tight when it comes to payback percentage. However, I could not disagree more with the recommendation tagged to the end of the study—that operators should place lower-paying games on the floor to earn the highest possible revenue, since no one knows the difference.
Players do notice the difference. Maybe not in one or two visits, but in the longer term, they know they're not winning at the slots nearly as often as they did 15 years ago. Countless letters to this magazine and sister publication Strictly Slots have borne that out. Our readers are constantly complaining that the slots are too tight nowadays, and many have said they play less because of it.
What should be most important to casinos is that these readers include their most frequent customers—repeat players. Those who play the most will be the first to notice that payback percentages are lower. That university study's authors are saying, in effect, that casinos should simply concentrate on transient players—tourists or one-time visitors who will play, lose, and come back in a year or so to do it again.
Casinos can't be sustained by transient slot play alone. The smartest slot managers in the business court the repeat players, whose word-of-mouth advertising to their friends and over social media make those casinos known as the most generous in terms of payback percentages.
Readers of this magazine and Strictly Slots, of course, have one more gauge of where to get the fairest shake for the slot dollar—our monthly payback charts, or better yet, the annual "Loosest Slots" issue of Casino Player, which logs an entire year of publicly reported statistics on payback in various denominations. When you view that report, it's easy to see where to find the loosest slots. Here's hoping these charts will begin showing lower casino slot wins and higher returns to players.
The 2008 recession is history. The pandemic problems are largely over. It's time to loosen up the slots.
Wicked Mad Hot Red Hot Winnings
ECLIPSE GAMING
If you play slots in tribal casinos in Washington State, the South and Midwest, you're probably familiar with the games of Georgia-based Eclipse Gaming Systems. Eclipse games have been in tribal casinos for 15 years, and the company, a leader in the Class II tribal casino market, is in an expansion mode that no doubt eventually will see its games in the commercial casinos.
For now, though, the company's footprint in tribal markets continues to expand, with long strongholds like Washington, Oklahoma and Alabama joined last year by California, and expansion into other Class II markets to follow.
Along with the expansion has come an evolution of new games. Eclipse Gaming introduces Wicked Mad Hot Red Hot Winnings, an exciting new spin-off of the classic player-favorite Wicked Mad Hot.
You will feel like you are on a red-hot streak of fun as you engage in familiar gameplay, a new and more robust three-level progressive, and the Red Hot Winnings Free Spins Bonus feature that offers big- win excitement highlighted by added multipliers and re-triggered play! The exciting Red Hot Winnings Free Spins feature is awarded when you collect two, three, four, or five scattered Wicked Winnings Ruby symbols to award five, 10, 20, or 50 free spins, from 2x, 10x, or 50x bet. The three-level progressive jackpot feature is won with three, four, or five Wicked Mad Hot scatter symbols during base gameplay for the potential of big wins!