The Ultimate Rush
Incredible Technologies' Ultra Rush Gold combines a wealth of proven features to supercharge a popular game
By Frank Legato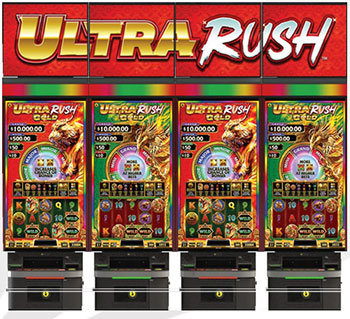 When designing new slot games, supplier Incredible Technologies has always banked on what has been proven successful with players before. Think the "Money Catch Bonus" of the Crazy Money game family, which has been reprised on a wealth of games in the 10 years IT has been producing casino slots.
IT, which is one of the legendary amusement game suppliers as the creator of the Golden Tee Golf tavern game, has consistently followed the credo of repeating and augmenting these fun game features in new games—as in its successful amusement game business, the new features are ones that have already proven popular with players.
Such is the case with IT's newest game family, Ultra Rush Gold.
This new series augments the popular "hold-and-spin" game mechanic, a feature that has been hot with players for the past several years and has been utilized by just about every major slot-maker. It uses the math of Ultra Rush, introduced two years ago on the company's Skybox cabinet.
Ultra Rush was IT's first stab at a hold-and-spin feature, in which credit symbols stay in place for a given number of spins, collecting toward a big reward. Ultra Rush has been one of the manufacturer's hit games over the past year—which, for IT, means its main game feature is likely to be repeated and improved upon.
Caitlin Harte, IT's director of product marketing, says players have embraced the hold-and-spin style of bonus because of its simplicity. "A lot of the games have been so complicated over the last couple of years, trying to innovate on top of each other with features," she says. "There is something so sticky about a feature that's so clear, with just credits on the reels. Now, because there are so many different ones out in the market, players are more educated on how it works… Players are more open to it now that they've become used to it."
Ultra Rush Gold makes the Ultra Rush hold-and-spin feature the center of a game that offers just about every fun bonus feature you can imagine. There's a persistent collect feature that increases the likelihood of landing the bonus. There's a wheel bonus that can lead to multiple progressive jackpots. There's a free-spin bonus with its own unique features.
It's what Harte calls a "perfect storm of elements," or a "kitchen sink" game—meaning it has everything but the kitchen sink in there. "Ultra Rush Gold has a hold-and-spin, a persistent feature to help the player trigger the bonus, free spins, progressives at any bet level, a player-selectable multi-denomination bet," Harte says. "It has a lot of hot features that are trendy right now, in a combination that really works. It's definitely a great mixture of all those elements."
THE TIGER AND THE PHOENIX
The Ultra Gold Rush series is being launched with two sister games— Tiger Run and Mythical Phoenix. Both are five-reel, 30-line video slots on IT's V55 and Infinity Summit cabinets. Each cabinet features a 55- inch 4K video monitor that provides ample real estate for the wealth of features in this game series.
The game character—a golden tiger or a phoenix—is the main difference between the two base games. Like the original Ultra Rush game, each base game awards eight free spins for three scattered bonus trigger symbols. During the free games, all royal symbols are wild, and there are "nudging" wild symbols—wilds that land just above or below a pay line and nudge to the line, potentially forming a win.
The hold-and-spin Ultra Rush Bonus also is reprised, but with a new base-game feature that increases its frequency.
The goal of the bonus is to collect scatter symbols over three spins. Each symbol bears a credit amount, some rising as high as several thousand credits. The feature starts out with three spins on a special set of reels. Each time a scatter symbol lands, it remains in place and the number of available spins resets to three. If three spins occur with no additional scatters, the feature ends with the player awarded the cumulative total of the credits displayed. If the entire 15-space grid is covered with the symbols, the player gets a bonus of $600 (on the penny version at max bet), in addition to the accumulated credits.
Normally, the Ultra Rush Bonus is triggered when six gold or white "orb" symbols land scattered on the reels. In Ultra Rush Gold, the primary game includes normal game symbols that are also orb symbols—they appear as an orb with the game symbol at the bottom. These symbols combine with other game symbols to form the normal line combinations, but they also lock in place to count toward triggering the bonus, in a persistent feature called "Gold Lock Spins."
This persistent feature mimics the main hold-and-spin feature in a three-spin sequence. Every time one lands in a paid game spin, it locks in place and lights up one of six blocks above each wagering button on the button panel, and the Gold Lock Spins return to three. These symbols count as scatter symbols toward triggering the bonus. So, if you collect, say, four orbs with Gold Lock Spins remaining, you only need two of the scatter symbols on the next primary-game spin to trigger the bonus.
The symbols, like the main feature, all include credit amounts on them. When you trigger the bonus, they shift to the right of the bonus grid and display the credit amounts.
There are other twists added to the main hold-and-spin bonus. During the feature, in addition to the scatter symbols bearing credit amounts, there are symbols labeled "wheel." At the end of the feature, each of those symbols triggers a spin of the progressive wheel above the reels on the top screen. There are four awards on the wheel. There are static Mini and Minor jackpots of $10 and $50, respectively, plus two progressive jackpots—a Major resetting at $500 and the Grand, resetting at $10,000.
The progressives are available at any bet level, including the minimum 50-credit bet. After the main feature ends, you get as many spins on the progressive wheel as you've accumulated. That means you can win multiple progressives on each feature.
But there's more. Randomly during the feature, the tiger or phoenix character will come alive to give you a boost—more bonus spins, another scatter, etc.
Ultra Rush Gold is one of the first IT games to include a playerselectable denomination. The player can pick between penny, 2-cent, 5-cent and 10-cent denominations. According to Harte, it is possible for operators to set each denomination at a different payback percentage. She says most are following the traditional practice of offering higher returns for higher denominations.
Ultra Rush Gold was released at the end of 2020 into test banks at a handful of test locations, and tested at those locations through the first quarter of 2021, "to prove itself before we release it in a nationwide rollout," Harte says. As of press time, it was in the top 10 games in industry earnings reports. In other words, players have been flocking to the games, even given the restricted capacity due to the COVID-19 pandemic.
"This game has a lot of features players will be comfortable with, but it also takes what we've learned math-wise about how to keep players interested," Harte says. "Between the free spins and the hold-and-spin bonuses, something is happening every 50 spins, which we found is a pretty sweet spot."
Adds Dan Whelan, IT's vice president of product development and the lead designer of Ultra Rush Gold, "With every game we develop at Incredible Technologies, we try to create a new experience for players. Given the success of the Ultra Rush brand on our Skybox cabinet, it only made sense to bring it to the V55 and Summit.
"The new experience in the Gold versions that I created are the gold locking scatters. The scatter features along with big line wins via the wilds and a relatively low entry bet makes for a fun experience for any slot player."