THE TOP 10
A subjective view of the top offerings among this year's new slots
By Frank Legato
As you probably know, every fall, the slot manufacturers show their new "model year" at the annual Global Gaming Expo trade show. These are the slots that will be coming to casinos over the coming year. As you also may probably know, every year, I offer my own opinion concerning what was the best among the new slot games coming out.
My annual Top 10 slot games are not chosen on the basis of how much they will earn for the casinos (a few of my past choices even tanked!), or even the fact that I've been writing about slot machines for more than 39 years. These choices are based on what I liked as a player. It is a subjective review by someone who has been around slot machines nearly four decades.
I would also note that other than perhaps the top three, the rankings themselves are a bit arbitrary. The numbers can be mixed and matched.
So here is what I liked in the new crop of slot games coming soon to a casino near you.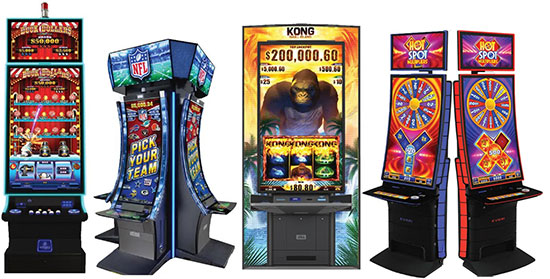 DUCK DOLLARS • Eclipse Gaming Systems
It may surprise many that my pick for the "Best of Show" this year is not from one of the giant and well-established slot manufacturers—and that it is a Class II game, available only in tribal casinos. But this game is plain fun. The three-reel base game is almost an afterthought to the bonus, in which you are shooting at ducks and targets on a moving video replica of a carnival shooting gallery displayed on a big portrait screen. For all the hold-and-spin bonuses and pot collection features that are ubiquitous on slot games these days, shooting ducks in a gallery is an entertaining departure from the norm.
NFL • Aristocrat Gaming
Aristocrat displayed six games in its series of slots based on a license with the National Football League. At the beginning of play, you are invited to choose your team from the logos of all 32 NFL teams. When you pick, all graphics and reel symbols change to reflect your team, and video footage in the bonus rounds switches to depict actual game video from that team's most recent season. Bonuses reflect football events, from a "four-quarter" hold-and-spin event to "Interception," which instantly changes a losing spin into a winning one. Each game in the series is in a different format. If you're a football fan, don't miss this one.
Kong: Skull Island • Light & Wonder
This is the best depiction of a screen monster since Light & Wonder's last one, last year's Frankenstein. What makes it special is the cabinet. Called Horizon, it is a 75-inch portrait monitor in front of an integrated LED wrap-around display, all integrated into a totally immersive game. On this format, the footage of the giant ape from the 2017 Warner Brothers film just jumps out at you. It's a compelling play experience, to be sure.
Hot Spot Multipliers • Everi
I've always loved games that get away from the standard reel setup, and no one does that better than Everi. (Crush is one of my favorite games.) On this game, instead of reels, the screen displays a large bonus wheel over "X"- and "Y"-shaped reel arrays (depending on the base game). Values landing in the center reel are increased by multipliers appearing on the reels that form the edges of the "X" or the "Y." It's a fun departure from the five-by-three reel array.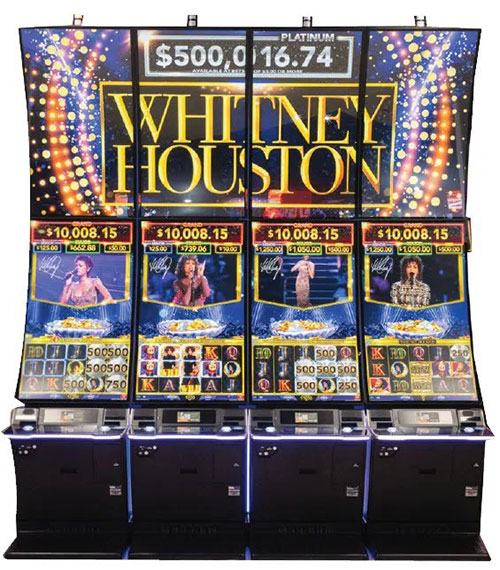 Whitney Houston • IGT
Outside of Everi's great Willie Nelson games, there hasn't been a huge music-themed slot series for a while. This is it, and it's one of the best. As with Light & Wonder, the cabinet is the reason—the SkyRise, with two stacked 55-inch monitors creating a giant canvas on which is displayed an array of footage of Houston performing her most memorable songs. The visuals here are spectacular, and the sound system does not disappoint.
Puzzle Time • Gaming Arts
This game has one of the most clever bonus rounds we've seen in quite some time. The object is to complete a jigsaw puzzle. Featured on the big Vert-X Grand cabinet, the game displays three unfinished puzzles at the top of the screen. The reel symbols include hundreds of puzzle pieces, and letters. The three puzzles behave like collection pots, and the goal is to form clusters of puzzle images on the reels to complete a puzzle for a bonus prize. The unfinished puzzles remain in place when the player leaves the machine, so new players can scout the bank for nearly complete puzzles.
Devil's Lock All-In • Bluberi
Anyone who enjoyed last year's hit Bluberi game Devil's Lock will love this one. Called Devil's Lock All-In, it is featured on a new cabinet, the Beacon Elite, featuring a 49-inch J-curve portrait monitor. The graphics of the Devil's Lock series have been improved, and new characters have been added to the game's story, including the devil's "Evil Twin," the "Devil's Mom," and "Pig Princess," who add fun and lucrative features to the lock-and-spin bonus from the original. All appear on the screen periodically to enhance the bonus features.
Stuffed Coins • Konami Gaming, Inc.
I always loved community-style bonus events, and this game has a good one. Featured on the new "43×3" cabinet—that's three stacked 43-inch monitors—the Stuffed Coin series reprises the popular "Big Coin" mystery feature first seen in the game Ocean Spin. The top screen streams bonus awards and four jackpots across all machines on the bank. Randomly, the game's main character—pig or toad—will appear on the screen to award one or two of the amounts streaming across the top, in a bank-wide community play experience.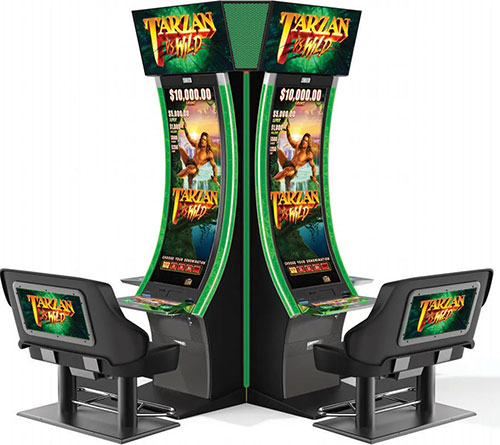 Squid Game • Light & Wonder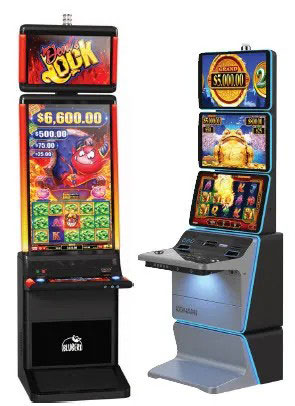 This game is based on the Netflix series Squid Game. The program is a fantasy series depicting teams of contestants playing children's games—for their lives. Losers of the competitions, including a tug-of-war, Red Light/Green Light and Glass Bridge, fall to their deaths in a fantasy drama not unlike Hunger Games. L&W has boiled all these fantasy competitions into bonus rounds in four inaugural base games, in which players watch competitions wrapped into different slot mechanics.
Tarzan vs. Wild Aristocrat Gaming
Aristocrat's Tarzan series has always been popular, but this game is special because it is presented on the new King Max cabinet— the same oversized cabinet that houses the first NFL game. The big screen is used for sweeping visuals of Tarzan swinging through the jungle, to stunning effect. The game centers on a twolevel wheel feature in which a wheel spin can yield credits, jackpots or free games.
An outer wheel awards multipliers that increase the inner-wheel prize by 2X to 20X.