THE SLOT INFLUENCER:
Brian Christopher turns playing slots into a successful business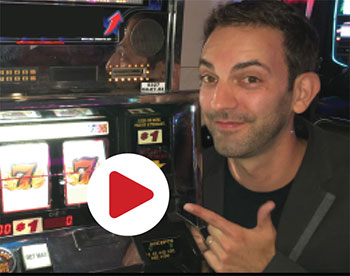 Most people play slots as a form of entertainment. They know that, while they may win from time to time, in the long run the house has got you beat. But there is another way to make money from the slots, and Brian Christopher has tapped into that rich vein. He travels from casino to casino playing his favorite games, just like so many of us. The difference is, he shares his adventures on YouTube.com—and makes money doing it.
How popular is he?
"I have quickly become the top influencer for slot machines and casinos on YouTube," said Brian.  "I average 2 million views per month—with millennials accounting for more than half of my viewers—and my videos are watched in 213 countries worldwide, with the U.S. representing 73 percent of the traffic.
"Who would have thought that watching someone else play slot machines would be so popular? But when you think of it, it makes complete sense. The #1 channel on YouTube with 57 Million subscribers is Pewdiepie – a guy who plays video games. So me playing slot machines is basically the same thing… only more elevated, because it involves money! You could say I'm like a Pewdiepie of Slots, only with G-Rated language."
Of course, it takes a lot of hard work and dedication to get to the top—and even more to stay there.
"I upload at least one video every day, and each week I'll throw in additional live streams either gambling in a casino or as a Q&A from home. I came up with regular daily themes like Millionaire Mondays where I play games with jackpots over a million dollars, Thousand Dollar Thursdays where I gamble with $1000 cash, or Get High Fridays where I only play High Limit Games.
"My friends are shocked by my success. I mean, all I do is play slot machines. What they don't see is that managing a massive YouTube Channel is a full-time job and I have had to hire a talented Editor and a hard-working Social Media Manager, just to keep up! I'm not complaining though, I love what I do – I was born to be online."
Beyond regular gambling videos, Brian often partners with casinos and slot
manufacturers to showcase new games, online apps, host special events or feature new and exciting amenities. It's the perfect win-win scenario for all parties, because it allows the most progressive companies in this space to tap into their ideal market base—gambling millennials.  "No other platform, be it TV, radio, or billboard advertising, has the ability to engage their target audience the way that I do. Everyone who watches me is a gambling and casino enthusiast, or is interested in joining in the experience,"  said Brian.
If you watch his channel, don't expect some sugar-coated video, where it's all winning all the time. Brian takes viewers on a fun, and sometimes raucous, but realistic journey with him as he plays.
"My channel is all about keeping it real. I show all of my wins and losses and don't hide the fact that statistically,  I will lose in the long run. My fans love that they can literally see themselves in me. In fact, I treat all of my recordings as if I'm playing right beside them, with sayings like 'I hope WE get the bonus' or 'WE won!' It also helps me not feel as crazy talking to myself at a machine.  And yes, I get a lot of stares."
To get in touch with Brian Christopher and invite him to visit your showroom or property, please email contact@BrianGambles.com, visit BrianGambles.com, or just search Brian Christopher on YouTube.