THE OLD AND THE NEW
Skill based slots with familiar themes
By John Grochowski

As casinos and game manufacturers ease toward an age of skill-based slots, I'll admit to a small amount of trepidation.
That's age-related, of course. In my college years, the games at the back of the bar were electro-mechanical pinball machines, not video games. Home gaming systems weren't even a twinkle in an inventor's eye.
I did catch on to video games a little later with Pong, Breakout, Space Invaders, Pac-Man and onscreen trivia contests. So I'm looking forward to the spread of Scientific Games' new Space Invaders slot machine, I enjoyed Pong and Breakout when Bally had them in casinos several years ago, and the Ripley's Believe It or Not slots, first from Mikohn and more recently from American Gaming Systems, were right in my wheel-house.
Just outside my wheelhouse but still familiar was Frogger, which Konami Gaming has turned into a slot machine with a skill-based bonus event.
The original Frogger debuted as an arcade game in 1981. Graphics were simple, as you would expect with the technology of the time, but graphics, sound and game evolved through several incarnations for arcades and for home video systems.
Even in its most basic version, Frogger offered up a large measure of fun. I'm afraid I left many a frog icon splattered across a busy video highway. No doubt I'll endanger a few frogs in the casino version, too.
In the slot version, Konami takes one of the most popular arcade games of all time and brings it to casinos in retro style, though with high-grade graphics, animation and resolution.
There are two Frogger slot themes: Great City Wilds and Woodland Wilds. Both have four-level progressive jackpots, but the bonus gamers will anticipate most eagerly is the Frogger bonus.
Those who have played Frogger in arcades and on home gaming systems will remember the object of the games. You had to guide the frogs to their lily pad homes, dodging obstacles along the way. The frogs had to cross a busy highway, then had to navigate a stream while being careful to avoid alligator jaws.
With a strong tie to the arcade game, the Frogger bonus will be instant nostalgia for longtime players and fun for everyone. It launches randomly with a mystery trigger, and it takes you to the classic Frogger course, crossing roads and rivers – watch out for cars, trucks, motorcycles and other vehicles, and for goodness sake, don't get squashed by a bulldozer.
You get three lives at the start of the bonus as you collect credits and get a chance at the progressive jackpots.
It's a splendid time for anyone who loves creative video slot bonuses, but it's extra fun for those with fond Frogger memories.
Konami is a natural for games with skill-based bonuses. Through its Konami Holdings parent company, Konami Gaming has access to a great catalog of popular arcade games. We started to see them adapted for casino play a couple of years ago with the debut of Neo Contra, based on Contra.
Of course, other manufacturers have access to other titles. Bally worked out a license with Atari for its Pong and Breakout games. Space Invaders originally was distributed by Taito in Japan and Midway Games in the United States. Once a division of Bally, Midway later was a separate company that spun off WMS Gaming, which since has joined former competitor Bally Technologies under the Scientific Games umbrella – all very circular.
International Game Technology has created its own skill-based games such as Tulley's Treasure Hunt and Blood Life Legends, but it also licensed Atari's Centipede.
Skill-based slots of the new school such as Danger Arena from GameCo will entice me to step outside my comfort zone at some point in the near future. But so far, my skillbased slot play has been grounded in the familiar: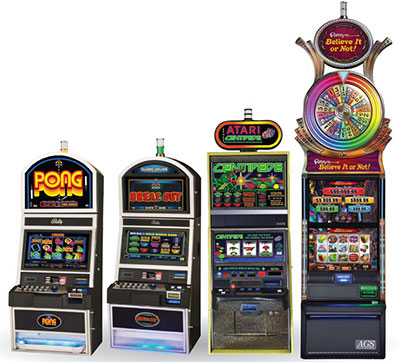 PONG: It has been years since I'd played the arcade version, but it all came back to me the first time I reached for the control of Bally's slot a little more than a decade ago. Granted, Pong is as easy as a video game can be: Position your white-line paddle to bounce the ball back to the other side. Play the angles, don't miss, and you're fine. Never once did I wish I'd let the random number generate play for me.
BREAKOUT: Instead of hitting the ball back to an opponent, you knock it toward a wall of differently colored bricks. Each brick you hit is eliminated and gives you an opening to knock out a higher scoring brick behind it.
Take out enough brinks in the same area, and you break out – the ball goes all the way through the wall and, if you're lucky, comes back at an angle where it bounces off bricks at the back again and again, rolling up our score and bonus.
It's not sophisticated by today's video game standards, but I enjoyed it, both in arcades and its brief casino stay.
CENTIPEDE: The rust was evident the first time I played the slot version, but it was a good time nonetheless. You use a joystick to move in position to use one of four buttons to fire at the Centipede all wall trying to avoid falling fleas, spiders and other creepy crawlies. In my first attempt, I finished off the Centipede and moved up a level to try for a bigger bonus. Alas, I quickly succumbed to a critter at level 2. Experience matters.
RIPLEY'S BELIEVE IT OR NOT: I may falter on the joystick, but I can answer trivia questions with the best of them. Ripley's always was a niche game, not for everyone, but I'm firmly in its niche.
Now comes Frogger. I can't wait to hop to it.