The Loosest Slots Award for 2013
The 20th annual edition of our report on the most generous slots in the business

By Frank Legato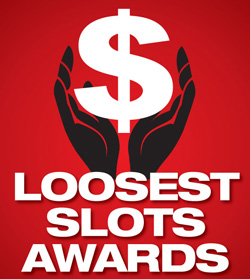 The mission of Casino Player has always been to equip players with the information they need to get the best chance at winning. In the area of slot machines, that has always meant two words: Loose slots.
Even the term is inextricably linked to this magazine. No one talked about "loose slots" before Player began, in the late 1980s, to publish monthly charts showing the percentage of all wagers on slot machines that casinos or casino regions were returning to players as slot payouts.
Casinos in commercial jurisdictions—at that time only Nevada and Atlantic City—had always been required to publicly report their "slot hold," which is the portion of slot wagers kept or "won" from players after all the accounting was done. Player's editors decided to take those numbers and flip-flop them to achieve a "payback percentage." It wasn't long before casino operators—who had been horrified at first that statistics once considered proprietary business information was now out in the public domain—began to use the fact that they had generous slots as a marketing tool.
It's still a big foggy who actually coined the term, but soon after Player began publishing payback percentages, casinos were advertising their "loose slots." There was still one problem, though—payback percentages for any one month were not really instructive when looking at how generous a casino was with its players. Payback percentages are set at the factory, the result of how many numbers each symbol was assigned in the program. It takes several months of play in the field for a slot machine to reach its "true" theoretical payback.
This was particularly true with the higher denominations. (The casinos report the hold numbers by denomination.) If a few lucky players hit the $5 or $25 slots for big jackpots, the monthly payback percentage number could be more than 100 percent, a number that obviously would be unworkable for casinos in the long term. Within several months, enough players would lose on these machines to even out the percentage and reflect the comparatively small house advantage.
That's why in 1994, Casino Player compiled its first "Loosest Slots" issue, combining the statistics from a full 12 months to reflect an accurate portrayal of the overall payback percentages offered by each particular casino or region. The casinos used our "Loosest Slots Awards" as a badge of honor, trumpeting the "loosest" designation from billboards and in media ads.
Welcome to the 20th annual edition of our Loosest Slots report. Over two decades, this report has been viewed by casino operators as a competitive gauge for marketing purposes, but more importantly, it has afforded players a good picture of which casinos, by policy, offer the most fair shake to the players on their slot floors.
That's because there's nothing "theoretical" about these payback numbers. They are based on actual, historical statistics—this is how much real money was given back to players out of the thousands wagered each month on the slots. And, because it covers all 12 months of the previous year, it is quite simply the most accurate picture you will find of who offers the best returns on the slots.
As usual, there are common questions we receive from players that are best answered up front in this report. Why aren't all denominations included? Why isn't video poker broken out?
The answers to all of these questions are the same: We include the statistics as they are publicly reported. That's why some places are reported as casino regions and other places are reported as individual casinos. The reports from regulatory agencies are the only place these numbers are available, including the divisions each agency requires concerning denominations. For example, the penny denomination—currently the most popular—was only added to the statistics by most jurisdictions recently.
Denominations like 10-cent and 50-cent slots are often wrapped into a special category for multi-denominational slots. Other jurisdictions include an "Other" category for all of these stray denominations.
The fact that we can only report statistics as they are publicly revealed is also the reason you won't find a separate payback category for video poker. Video poker and slots are combined in all reports. (However, in reality, the casinos with the highest overall payback percentages almost always have the best video poker pay schedules as well.)
Finally, you may not find your own jurisdiction in the reports. Some jurisdictions—notably, most Native American markets—do not require casinos to report hold percentages. Where it is not required, casinos consider this proprietary information.
And the Winners Are…
There are many parts of our annual survey that result in no surprises. The top of the survey is one. For the sixth year in a row, Reno, Nevada, gets the award for Loosest Slots in the Nation.
In fact, the best even got better. The combined 2012 payback of Reno's gaming halls—led by the Atlantis, the Peppermill, the Eldorado, the Silver Legacy, the original Harrah's, the Grand Sierra and others—was 95.13 percent, up from 95.07 percent in 2011. The second- and third-highest slots in the nation, again repeating last year, are also in Nevada, with Balance of County second at 94.81 percent and Boulder Strip third at 94.42 percent. The latter two switched positions from last year, but it was essentially a dead heat.
("Balance of County" refers to off-Strip casinos like the Orleans, Hard Rock, The Palms, Gold Coast, Palace Station, Silverton, South Point, M, and the Primm casinos. "Boulder Strip" refers to those casinos on and around Boulder Highway— Sam's Town, Boulder Station, Cannery East, Arizona Charlie's, etc.)
The three Nevada regions were each a full point "looser" than any other region in the nation. However, the other thing that hasn't changed is the casino registering the highest payback among casinos in jurisdictions that list the numbers of individual properties. For more than a decade, the winner there has remained the Casino Queen in East St. Louis, Illinois, which receives another crown this year for the loosest slots among individual casinos, and the loosest in Illinois, at 93.23 percent.
Other notable results this year could be found in Pennsylvania, where the top three casinos—The Meadows (92.02 percent), Parx (90.59 percent) and Mount Airy (90.52 percent—were unchanged from last year, but the top figure from Meadows, south of Pittsburgh, was higher than last year—and higher than any of the Atlantic City casinos.
Additionally, in Iowa, Prairie Meadows moved from last year's third place to top the survey, getting the Loosest Slots crown at 91.85 percent.
Finally, there was a new entry in this year's survey—Ohio, where, with eight months' results reported Hollywood Columbus edged out Hollywood Toledo, 90.9 percent to 90.81 percent.
The remaining entrants in the survey represent mostly repeat winners. In Atlantic City, the Borgata (91.68 percent) retains the Loosest Slots crown followed closely by Harrah's and Resorts. Repeat awards go to Cripple Creek in Colorado, Mohegan Sun in Connecticut, Hoosier Park in Indiana, Lake Charles in Louisiana, Isle of Capri Booneville in Missouri, and the Mississippi Gulf Coast casinos.
Congratulations to all of our winners—you've proven that you give your players a fair shake. And thanks to our readers for allowing us to give you the industry's most comprehensive report on slot percentages for a full two decades.
| | | |
| --- | --- | --- |
| ATLANTIC CITY | 2012 | |
| | YEAR END | |
| 1-CENT & 2-CENT | AVERAGE | |
| HARRAH'S | 90.31 | |
| GOLDEN NUGGET | 89.02 | |
| BORGATA | 88.53 | |
|   | | |
| 5-CENT | | |
| ATLANTIC CLUB | 93.36 | |
| TROPICANA | 92.26 | |
| BORGATA | 91.68 | |
| | | |
| 25-CENT | | |
| TROPICANA | 93.03 | |
| ATLANTIC CLUB | 92.97 | |
| TRUMP PLAZA | 92.00 | |
| | | |
| 50-CENT | | |
| HARRAH'S | 140.37 | |
| TRUMP PLAZA | 94.58 | |
| SHOWBOAT | 93.91 | |
| | | |
| $1 | | |
| BALLY'S PARK PLACE | 93.63 | |
| ATLANTIC CLUB | 93.58 | |
| TRUMP TAJ MAHAL | 93.02 | |
| | | |
| $5 | | |
| ATLANTIC CLUB | 94.33 | |
| RESORTS | 94.19 | |
| TRUMP TAJ MAHAL | 94.06 | |
| | | |
| $25 | | |
| ATLANTIC CLUB | 97.70 | * |
| TROPICANA | 97.59 | |
| BALLY'S PARK PLACE | 94.48 | |
| | | |
| $100 | | |
| RESORTS | 102.80 | |
| REVEL | 93.68 | **** |
| SHOWBOAT | 93.58 | |
| | | |
| Multi-denominational | | |
| BORGATA | 94.71 | |
| ATLANTIC CLUB | 93.97 | |
| CAESARS | 93.74 | |
| | | |
| Other | | |
| CAESARS | 95.44 | |
| TROPICANA | 95.29 | |
| GOLDEN NUGGET | 94.88 | |
| | | |
| Total | | |
| BORGATA | 91.68 | |
| HARRAH'S | 91.39 | |
| RESORTS | 91.21 | |
| | | |
| COLORADO | 2012 | |
| | YEAR END | |
| 1-CENT | AVERAGE | |
| CRIPPLE CREEK | 91.71 | |
| CENTRAL CITY | 90.48 | |
| BLACK HAWK | 89.93 | |
| | | |
| 5-CENT | | |
| CENTRAL CITY | 93.86 | |
| CRIPPLE CREEK | 93.40 | |
| BLACK HAWK | 93.32 | |
| | | |
| 10-CENT | | |
| CRIPPLE CREEK | 101.67 | |
| BLACK HAWK | 94.03 | |
| CENTRAL CITY | 0.00 | |
| | | |
| 25-CENT | | |
| CRIPPLE CREEK | 95.36 | |
| BLACK HAWK | 93.94 | |
| CENTRAL CITY | 93.72 | |
| | | |
| 50-CENT | | |
| CRIPPLE CREEK | 94.27 | |
| BLACK HAWK | 93.18 | |
| CENTRAL CITY | 92.68 | |
| | | |
| $1 | | |
| CENTRAL CITY | 95.63 | |
| CRIPPLE CREEK | 95.18 | |
| BLACK HAWK | 94.48 | |
| | | |
| $5 | | |
| CRIPPLE CREEK | 95.35 | |
| CENTRAL CITY | 94.93 | |
| BLACK HAWK | 94.83 | |
| | | |
| Multi-denominational | | |
| CENTRAL CITY | 96.09 | |
| BLACK HAWK | 95.27 | |
| CRIPPLE CREEK | 95.16 | |
| | | |
| TOTAL | | |
| CRIPPLE CREEK | 93.64 | |
| CENTRAL CITY | 92.84 | |
| BLACK HAWK | 92.75 | |
| | | |
| CONNECTICUT | 2012 | |
| | YEAR END | |
| 1-CENT | AVERAGE | |
| FOXWOODS | 90.17 | |
| MOHEGAN SUN | 89.35 | |
| | | |
| 2-CENT | | |
| MOHEGAN SUN | 89.10 | |
| FOXWOODS | 74.23 | |
| | | |
| 5-CENT | | |
| FOXWOODS | 90.16 | |
| MOHEGAN SUN | 88.43 | |
| | | |
| 25-CENT | | |
| FOXWOODS | 92.73 | |
| MOHEGAN SUN | 91.48 | |
| | | |
| 50-CENT | | |
| MOHEGAN SUN | 91.77 | |
| FOXWOODS | 86.25 | |
| | | |
| $1 | | |
| FOXWOODS | 94.23 | |
| MOHEGAN SUN | 93.08 | |
| | | |
| $5 | | |
| FOXWOODS | 94.72 | |
| MOHEGAN SUN | 93.87 | |
| | | |
| $10 | | |
| MOHEGAN SUN | 95.87 | |
| FOXWOODS | 91.85 | |
| | | |
| $25 | | |
| MOHEGAN SUN | 94.13 | |
| FOXWOODS | 94.03 | |
| | | |
| $100 | | |
| FOXWOODS | 95.03 | |
| MOHEGAN SUN | 93.30 | |
| | | |
| Multi-denoninational | | |
| FOXWOODS | 95.13 | |
| MOHEGAN SUN | 95.12 | |
| | | |
| TOTAL | | |
| MOHEGAN SUN | 91.74 | |
| FOXWOODS | 91.62 | |
| | | |
| ILLINOIS | 2012 | |
| | YEAR END | |
| 1-CENT | AVERAGE | |
| CASINO QUEEN | 89.23 | |
| ALTON BELLE | 89.05 | |
| JUMER'S | 88.87 | |
| | | |
| 2-CENT | | |
| HARRAH'S METROPOLIS | 89.25 | |
| PAR-A-DICE | 88.32 | |
| HOLLYWOOD JOLIET | 88.13 | |
| | | |
| 5-CENT | | |
| ALTON BELLE | 94.22 | |
| CASINO QUEEN | 94.08 | |
| JUMER'S | 93.87 | |
| | | |
| 25-CENT | | |
| CASINO QUEEN | 95.49 | |
| JUMER'S | 95.03 | |
| ALTON BELLE | 94.92 | |
| | | |
| 50-CENT | | |
| CASINO QUEEN | 96.18 | |
| JUMER'S | 93.82 | |
| ALTON BELLE | 93.12 | |
| | | |
| $1 | | |
| CASINO QUEEN | 95.06 | |
| JUMER'S | 95.03 | |
| HARRAH'S JOLIET | 95.02 | |
| | | |
| $5 | | |
| ALTON BELLE | 96.77 | |
| CASINO QUEEN | 96.00 | |
| GRAND VICTORIA | 95.20 | |
| | | |
| $10 | | |
| CASINO QUEEN | 96.43 | |
| HOLLYWOOD JOLIET | 95.46 | |
| GRAND VICTORIA | 94.76 | |
| | | |
| $25 | | |
| JUMER'S | 96.71 | |
| CASINO QUEEN | 95.09 | |
| GRAND VICTORIA | 94.00 | |
| | | |
| TOTAL | | |
| CASINO QUEEN | 93.23 | |
| ALTON BELLE | 92.23 | |
| HARRAH'S JOLIET | 91.81 | |
| | | |
| INDIANA | 2012 | |
| | YEAR END | |
| 1-CENT | AVERAGE | |
| RISING STAR | 90.63 | |
| FRENCH LICK CASINO | 89.48 | |
| HOOSIER PARK | 88.91 | |
| | | |
| 2-CENT | | |
| FRENCH LICK CASINO | 90.82 | |
| HOOSIER PARK | 88.91 | |
| MAJESTIC STAR | 88.82 | |
| | | |
| 5-CENT | | |
| MAJESTIC STAR | 94.86 | |
| MAJESTIC STAR II | 94.47 | |
| FRENCH LICK CASINO | 93.77 | |
| | | |
| 25-CENT | | |
| MAJESTIC STAR | 94.36 | |
| AMERISTAR | 94.26 | |
| BELTERRA | 94.25 | |
| | | |
| 50-CENT | | |
| BLUE CHIP CASINO | 93.13 | |
| MAJESTIC STAR | 92.87 | |
| RISING STAR | 92.13 | |
| | | |
| $1 | | |
| INDIANA LIVE | 94.78 | |
| HOOSIER PARK | 94.38 | |
| MAJESTIC STAR II | 93.94 | |
| | | |
| $5 | | |
| HOOSIER PARK | 95.86 | |
| RISING STAR | 95.30 | |
| INDIANA LIVE | 95.28 | |
| | | |
| $10 | | |
| HOLLYWOOD | 96.32 | |
| AZTAR EVANSVILLE | 95.93 | |
| INDIANA LIVE | 94.75 | |
| | | |
| $25 | | |
| MAJESTIC STAR | 97.73 | |
| HOOSIER PARK | 97.58 | |
| BLUE CHIP CASINO | 96.12 | |
| | | |
| $100 | | |
| HOOSIER PARK | 99.21 | |
| AMERISTAR | 98.74 | |
| RISING STAR | 98.65 | |
| | | |
| Total | | |
| HOOSIER PARK | 91.96 | |
| RISING STAR | 91.73 | |
| BLUE CHIP CASINO | 91.60 | |
| | | |
| IOWA | 2012 | |
| | YEAR END | |
| 1-CENT | AVERAGE | |
| WILD ROSE EMMETSBURG | 90.36 | |
| WILD ROSE CLINTON | 90.25 | |
| ISLE OF CAPRI MARQUETTE | 89.88 | |
| | | |
| 5-CENT | | |
| GRAND FALLS CASINO RESORT | 94.57 | |
| DIAMOND JO | 94.43 | |
| RIVERSIDE CASINO RESORT | 94.33 | |
| | | |
| 25-CENT | | |
| PRAIRIE MEADOWS | 94.01 | |
| DIAMOND JO WORTH | 93.98 | |
| RHTHYM CITY | 93.83 | |
| | | |
| $1 | | |
| RHTHYM CITY | 95.46 | |
| MYSTIQUE | 95.08 | |
| DIAMOND JO WORTH | 94.63 | |
| | | |
| $2 | | |
| RHTHYM CITY | 96.33 | |
| AMERISTAR II | 95.77 | |
| WATERLOO | 95.55 | |
| | | |
| $5 | | |
| RHTHYM CITY | 98.01 | |
| PRAIRIE MEADOWS | 96.22 | |
| LAKESIDE | 95.93 | |
| | | |
| $10 | | |
| ISLE OF CAPRI BETTENDORF | 96.81 | |
| WATERLOO | 96.40 | |
| PRAIRIE MEADOWS | 96.07 | |
| | | |
| $25 | | |
| WATERLOO | 96.36 | |
| PRAIRIE MEADOWS | 95.93 | |
| ISLE OF CAPRI BETTENDORF | 95.18 | |
| | | |
| $100 | | |
| AMERISTAR II | 99.09 | |
| PRAIRIE MEADOWS | 98.97 | |
| WATERLOO | 90.78 | |
| | | |
| Other | | |
| RIVERSIDE CASINO RESORT | 94.46 | |
| RHTHYM CITY | 94.18 | |
| WATERLOO | 93.14 | |
| | | |
| Total | | |
| PRAIRIE MEADOWS | 91.85 | |
| RHTHYM CITY | 91.67 | |
| WATERLOO | 91.53 | |
| | | |
| LOUISIANA | 2012 | |
| | YEAR END | |
| 1-CENT | AVERAGE | |
| LAKE CHARLES | 88.78 | |
| BATON ROUGE | 88.53 | |
| SHREVEPORT/BOSSIER | 88.53 | |
| | | |
| 2-CENT | | |
| LAKE CHARLES | 89.78 | |
| NEW ORLEANS | 89.53 | |
| BATON ROUGE | 89.38 | |
| | | |
| 5-CENT | | |
| NEW ORLEANS | 92.48 | |
| BATON ROUGE | 91.71 | |
| SHREVEPORT/BOSSIER | 91.58 | |
| | | |
| 25-CENT | | |
| BATON ROUGE | 93.36 | |
| NEW ORLEANS | 92.75 | |
| LAKE CHARLES | 92.64 | |
| | | |
| 50-CENT | | |
| LAKE CHARLES | 94.31 | |
| NEW ORLEANS | 92.24 | |
| SHREVEPORT/BOSSIER | 89.57 | |
| | | |
| $1 | | |
| BATON ROUGE | 93.70 | |
| LAKE CHARLES | 93.41 | |
| SHREVEPORT/BOSSIER | 93.33 | |
| | | |
| $2 | | |
| BATON ROUGE | 95.35 | |
| NEW ORLEANS | 88.64 | |
| LAKE CHARLES | 87.85 | |
| | | |
| $5 | | |
| LAKE CHARLES | 94.61 | |
| NEW ORLEANS | 94.55 | |
| BATON ROUGE | 94.40 | |
| | | |
| $10 | | |
| BATON ROUGE | 95.64 | |
| LAKE CHARLES | 94.33 | |
| NEW ORLEANS | 92.39 | |
| | | |
| $25 | | |
| LAKE CHARLES | 94.63 | |
| BATON ROUGE | 94.11 | |
| NEW ORLEANS | 93.86 | |
| | | |
| $100 | | |
| SHREVEPORT/BOSSIER | 96.33 | |
| NEW ORLEANS | 93.37 | |
| LAKE CHARLES | 90.63 | |
| | | |
| TOTAL | | |
| LAKE CHARLES | 91.47 | |
| SHREVEPORT/BOSSIER | 90.77 | |
| BATON ROUGE | 90.69 | |
| | | |
| MISSISSIPPI | 2012 | |
| | YEAR END | |
| 1-CENT | AVERAGE | |
| COASTAL REGION | 91.29 | |
| NORTH RIVER REGION | 91.23 | |
| CENTRAL REGION | 91.15 | |
| | | |
| 5-CENT | | |
| CENTRAL REGION | 94.78 | |
| COASTAL REGION | 94.28 | |
| NORTH RIVER REGION | 93.78 | |
| | | |
| 25-CENT | | |
| COASTAL REGION | 94.51 | |
| NORTH RIVER REGION | 93.38 | |
| CENTRAL REGION | 93.28 | |
| | | |
| 50-CENT | | |
| COASTAL REGION | 94.31 | |
| CENTRAL REGION | 93.52 | |
| NORTH RIVER REGION | 93.50 | |
| | | |
| $1 | | |
| NORTH RIVER REGION | 94.76 | |
| CENTRAL REGION | 94.69 | |
| COASTAL REGION | 94.08 | |
| | | |
| $2 | | |
| NORTH RIVER REGION | 95.61 | |
| CENTRAL REGION | 95.18 | |
| COASTAL REGION | 0.00 | |
| | | |
| $5 | | |
| NORTH RIVER REGION | 95.22 | |
| CENTRAL REGION | 95.18 | |
| COASTAL REGION | 95.07 | |
| | | |
| $10 | | |
| CENTRAL REGION | 96.33 | |
| NORTH RIVER REGION | 95.07 | |
| COASTAL REGION | 93.63 | |
| | | |
| $25 | | |
| NORTH RIVER REGION | 95.80 | |
| CENTRAL REGION | 94.78 | |
| COASTAL REGION | 92.80 | |
| | | |
| $100 | | |
| NORTH RIVER REGION | 94.32 | |
| COASTAL REGION | 93.99 | |
| CENTRAL REGION | 88.36 | |
| | | |
| TOTAL | | |
| COASTAL REGION | 92.78 | |
| NORTH RIVER REGION | 92.36 | |
| CENTRAL REGION | 92.27 | |
| | | |
| MISSOURI | 2012 | |
| | YEAR END | |
| 1-CENT/1-CENT TOKENIZED | AVERAGE | |
| ST. JO FRONTIER | 90.18 | |
| MARK TWAIN | 89.87 | |
| ISLE OF CAPRI | 89.21 | |
| | | |
| 5-CENT | | |
| ISLE OF CAPRI | 95.44 | |
| ISLE OF CAPRI BOONVILLE | 95.09 | |
| LUMIERE PLACE | 94.98 | |
| | | |
| 25-CENT | | |
| ST. JO FRONTIER | 95.42 | |
| ISLE OF CAPRI BOONVILLE | 94.22 | |
| RIVER CITY | 94.21 | |
| | | |
| 50-CENT | | |
| MARK TWAIN | 95.85 | |
| RIVER CITY | 95.20 | * |
| LUMIERE PLACE | 94.57 | * |
| | | |
| $1 | | |
| RIVER CITY | 94.31 | |
| AMERISTAR ST. CHARLES | 93.69 | |
| ARGOSY RIVERSIDE | 93.33 | |
| | | |
| $2 | | |
| RIVER CITY | 100.47 | * |
| LUMIERE PLACE | 98.28 | |
| ISLE OF CAPRI BOONVILLE | 96.43 | |
| | | |
| $5 | | |
| AMERISTAR KANSAS CITY | 95.15 | |
| ST. JO FRONTIER | 95.07 | |
| AMERISTAR ST. CHARLES | 94.85 | |
| | | |
| $10 | | |
| RIVER CITY | 95.23 | |
| AMERISTAR ST. CHARLES | 95.05 | |
| LUMIERE PLACE | 94.80 | |
| | | |
| $25 | | |
| AMERISTAR KANSAS CITY | 96.24 | |
| LUMIERE PLACE | 95.71 | |
| HARRAH'S MH/HOLLYWOOD | 94.12 | |
| | | |
| $100 | | |
| HARRAH'S NORTH KC | 99.23 | |
| HARRAH'S MH/HOLLYWOOD | 98.31 | |
| RIVER CITY | 96.45 | |
| | | |
| Total | | |
| ISLE OF CAPRI BOONVILLE | 91.34 | |
| RIVER CITY | 91.06 | |
| ST. JO FRONTIER | 91.04 | |
| | | |
| NEVADA | 2012 | |
| | YEAR END | |
| 1-CENT | AVERAGE | |
| RENO | 92.42 | |
| MESQUITE | 91.22 | |
| NORTH LAS VEGAS | 90.88 | |
| | | |
| 5-CENT | | |
| BOULDER STRIP | 95.83 | |
| MESQUITE | 95.81 | |
| BALANCE OF COUNTY | 95.39 | |
| | | |
| 25-CENT | | |
| BOULDER STRIP | 96.80 | |
| NORTH LAS VEGAS | 96.53 | |
| BALANCE OF COUNTY | 95.77 | |
| | | |
| $1 | | |
| NORTH LAS VEGAS | 96.31 | |
| BOULDER STRIP | 96.30 | |
| RENO | 96.08 | |
| | | |
| $5 | | |
| RENO | 96.58 | |
| LAUGHLIN | 94.80 | |
| BOULDER STRIP | 94.73 | |
| | | |
| $25 | | |
| LAS VEGAS STRIP | 96.12 | |
| BOULDER STRIP | 95.20 | *** |
| RENO | 94.03 | |
| | | |
| Megabucks | | |
| DOWNTOWN LAS VEGAS | 87.70 | |
| LAS VEGAS STRIP | 87.26 | |
| MESQUITE | 87.23 | |
| | | |
| Multidenomination | | |
| BALANCE OF COUNTY | 96.04 | |
| RENO | 95.91 | |
| MESQUITE | 95.55 | |
| | | |
| Total | | |
| RENO | 95.13 | |
| BALANCE OF COUNTY | 94.81 | |
| BOULDER STRIP | 94.42 | |
| | | |
| OHIO | 2012 | |
| | YEAR END | |
| | AVERAGE | |
| HOLLYWOOD COLUMBUS | 90.90 | ** |
| HOLLYWOOD TOLEDO | 90.81 | ** |
| | | |
| PENNSYLVANIA | 2012 | |
| | YEAR END | |
| | AVERAGE | |
| THE MEADOWS | 92.02 | |
| PARX | 90.59 | |
| MOUNT AIRY | 90.52 | |
| | | |
| | | |
| *6 months reported | | |
| **8 months reported | | |
| ***9 months reported | | |
| ****10 months reported | | |