THE GAMES WE LOVE
A look at the slot games our readers have identified as their favorites
By Frank Legato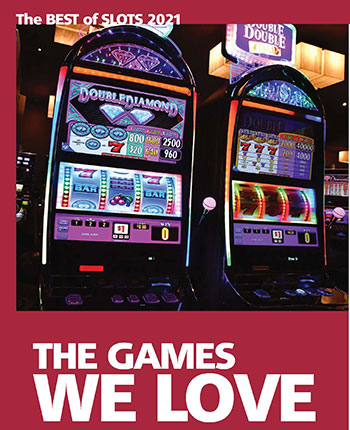 Last month, we published our annual "Best of Slots" issue, in which our readers picked their favorite places to play slots, and gave their valued opinions on where to find the best slot offerings, from variety of games to the best hosts.
Delving into the games themselves, our readers gave their opinions on where in each of some 26 jurisdictions to find the best games in a variety of categories—best reel machines, best video slots, best video poker, best penny slots and the rest.
However, there was one part of our annual survey that we thought deserved a separate feature of its own. We asked our readers to single out their favorite individual slot games in each of eight different categories. Those results are highlighted on the following pages.
These are the games you told us you return to again and again— your opinion of the best the slot floor has to offer. Your answers were, in many cases, the same games that players have loved for years, even decades. Even many of the newest games on your list of favorites draw on themes to which players have flocked for years, from Wheel of Fortune—which celebrated its 25th anniversary this year—to Monopoly, Wizard of Oz and Buffalo.
Your opinions are important to us in the respect that we like to highlight your favorites. However, these answers also are vital to the slot manufacturers that produce these games. Player surveys are among their most important research, and this particular survey is not of a few players brought into the slot-maker's offices to try games, but players across the United States frequenting a variety of casinos in venues from local casinos to racinos to integrated megaresorts.
Here's a close look at what you've told us are your favorite slot games in a variety of categories.
Favorite Reel Slot Machine
Your favorite game in the reel-spinning category has been a mainstay on casino floors for years. 88 Fortunes from Scientific Games has been one of the most popular Asian-themed slots in the business, its 243-ways-to-win scatter-pay format augmented by a wealth of extra features, like five gold bars you can activate for huge jackpots, "Fu Bat" wild symbols, free spins with only high-paying symbols on the grid, and a progressive picking bonus that returns one of four jackpots.
Coming in second was Quick Hit, also from Scientific Games but with a longevity that goes back nearly two decades to when the supplier was known as Bally Gaming. Quick Hit is known for its simple multiple progressive setup based on the title symbol—three, four or five Quick Hit symbols return static jackpots, but six or more Quick Hit symbols anywhere on the screen return progressives. There are six progressives tied to the symbols, visible on a jackpot ladder—on the most basic version, six Quick Hit symbols trigger a progressive prize resetting at $50, and the prizes go up from there, to a top prize resetting at $5,000 for landing 11 Quick Hit symbols.
Bringing up the rest of the Top 5 in reels: Double Diamond, the legendary IGT three-reel game that initiated multiplying wild symbols in slots (one wild in a winning combination doubles the pay; two wilds multiplies it by four); Crystal Star from Everi, a classic three-reel, nine-line game featuring two progressives; and Cleopatra, another legendary IGT title that was one of the first really popular multi-line video slots, transferred to a three-reel mechanical format.
88 Fortunes, Scientific Games
Quick Hits, Scientific Games
Double Diamond, IGT
Crystal Star, Everi Holdings
Cleopatra, IGT
Favorite Reel Slot Theme
Many of the same games that appeared as your favorite reel-spinners also were identified as your favorite themes in the reel-spinning genre. Your favorite reel-spinning theme is the No. 5 game in your overall favorites, Cleopatra from IGT. The most popular version is a five-reel, nine-line mechanical reel-spinner that mimics all the best features of the original video version.
That means lots of small-to-medium hits, and a re-creation of the popular free-spin bonus round that made the original Cleopatra so popular in the early 2000s. One of the cool features in transferring Cleopatra from video to reels is the flashing of light behind the reel symbols in winning spins, showing you how you won on that particular payline.
Coming in second in the reel-slot theme category is Quick Hit, which we describe above. This is followed by a game that has appeared on every favorite-theme list that we ever did, the venerable Wheel of Fortune from IGT, which established the spinning wheel as a favorite bonus feature and has applied aspects of the world's favorite game show in dozens of different ways in dozens of different versions since its 1996 introduction.
Rounding out the list for favorite reel-slot themes are Scientific Games' Leprechaun's Gold, another to bring a favorite early multi-line video theme over to reels; and Blazing 7s from Scientific Games— another multi-decade favorite, and one of the first games to deploy multiple "7" combinations when it first appeared from Bally in the late 1990s.
Cleopatra, IGT
Quick Hits, Scientific Games
Wheel of Fortune, IGT
Leprechaun's Gold, Scientific Games
Blazing 7s, Scientific Games
Favorite Progressive Slot Machine
There has never been an edition of this slot survey that did not have the same game in the No. 1 or No. 2 position as player favorite. No. 1 this year is Wheel of Fortune from IGT, which initiated the era of themed slot games 25 years ago, and has spawned more than 20 versions in the ensuing time.
IGT launched the multi-site progressive slot in 1986 with Megabucks, but the problem with that game was that, unless you hit the life-changing jackpot, nothing much happened. Wheel of Fortune changed all that. The base game is typically something like Double Diamond, with multiplying wild symbols spicing up the action. But boy, do players love to spin that wheel. The theme selected for the first TV-themed slot couldn't have been executed better: Land the "Spin" symbol, hear the audience chant from the TV show—"Wheel… of… FORTUNE!"—and spin to chase that 1,000-credit prize. Still a favorite on the floor after all these years.
Coming in second in the progressive category is Aristocrat's Buffalo Grand, which adds a progressive to one of the most popular slot themes of all time. The best version has a ways-to-win format with a unique reel setup, five progressive jackpots, and the familiar Buffalo "stampede" feature, on Aristocrat's immersive and imposing new Neptune Double cabinet—a total of 98 inches of monitor that places you inside the game in cinematic fashion.
No. 3 in progressives is Monopoly from Scientific Games—there are many progressive versions of this theme, including the Munchkin Land version that came out last year, and this year's "Cheater's Edition," in which you're helped out by Mr. Monopoly with a variety of bonuses. Rounding out the Top 5 in this category are Dollar Storm from Aristocrat, which brings the popular "Hold & Spin" feature to a progressive; and Wizard of Oz from Scientific Games, another legendary theme that appears in several progressive versions.
Wheel of Fortune, IGT
Buffalo Grand, Aristocrat Gaming Technology
Monopoly, Scientific Games
Dollar Storm, Aristocrat Gaming Technology
Wizard of Oz, Scientific Games
Favorite Video Slot Machine
The top two games identified by our readers as their favorite video slots are actually sister games from Aristocrat—Dragon Link at No. 1 and Lightning Link at No. 2. Both games are centered around a feature that has become one of the most popular with players of all slot machines—and one that has been copied by virtually all slot manufacturers since Aristocrat introduced it: the hold-and-re- spin feature, branded by Aristocrat as "Hold & Spin."
The feature is triggered by three special paying symbols that lock in place when they appear. Three free spins are awarded, and every time another one of those symbols appears, it locks in place and the number of free spins returns to three. The bonus feature continues as long as the special symbols appear, hopefully until the symbols cover all the reels on the screen.
The other three games that are your favorites in video are each legendary games in their own right. Dancing Drums Explosion from Scientific Games takes the ways-to-win theme and the accumulating bonus "pots" from one of the supplier's most popular titles and adds multiple progressives and other features. Fu Nan Fu Nu, one of the most popular games from AGS, plays out a traditional Chinese theme centered around the title characters, "Fu Nan" (Mandarin for "Lucky Boy") and "Fu Nu" ("Lucky Girl") in a ways-to-win format with a jackpot picking bonus leading to one of four progressives. And No. 5 is Aristocrat's original Buffalo game, one of the most popular games of all time.
Dragon Link, Aristocrat Gaming
Lightning Link, Aristocrat Gaming
Dancing Drums Explosion, Scientific Games
Fu Nan Fu Nu, AGS
Buffalo, Aristocrat Gaming Technology
Favorite Video Slot Theme
Aristocrat's Buffalo is a no-brainer for the top of this category. It has been Aristocrat's hands-down top theme for years, and players can't get enough of it. It is a 1,024-ways-to-win game with a theme that is one of the most copied in the business. Everything centers on the Buffalo stampede free- game feature, in which you're trying to fill the screen with buffaloes.
Interestingly, Aristocrat's famous slot theme is the only one on our list that is a proprietary theme of the slot-maker. All the other ones are based on movies, TV shows and games in popular culture that provide a wealth of opportunities for bonus events.
Second on the video slot theme list is The Wizard of Oz from Scientific Games, in which the classic 1939 film of the same name has inspired a rich well of bonus ideas in a collection of sequels.
Rounding out the top five video themes are three other iconic game groups: Scientific Games' Monopoly, which has used the legendary board game to spawn its own collection of unique bonus events drawing on the famous game board; Aristocrat's Game of Thrones, which has created a sequel for each season of the epic fantasy TV series, all presented in grand style; and Willy Wonka from Scientific Games, which has mined one of the most popular family movies of all time to create bonuses that recall the most memorable scenes from the legendary chocolate factory.
Buffalo, Aristocrat Gaming Technology
Wizard of Oz, Scientific Games
Monopoly, Scientific Games
Game of Thrones, Aristocrat Gaming Technology
Willy Wonka, Scientific Games
Favorite Video Slot Bonus Round
The favorite video bonus round of our players is found in a great version of their favorite theme, Buffalo Gold. The free-spin round in Buffalo Gold centers around collecting Gold Buffalo symbols. The Gold Buffalo symbol changes other animal symbols into the high-paying main Buffalo symbol, multiplying the number of buffaloes that land in subsequent free spins. The feature also randomly adds spins to the round, typically resulting in huge bonus payoffs.
Coming in second is The Wizard of Oz from Scientific Games, which, as noted above, has used various aspects of the classic film for a large collection of bonuses in a still-growing portfolio of titles. Arguably the best use of the theme in a bonus is the random appearance of Glinda the Good Witch, who appears in most versions of the Wizard game when the familiar bubble from the movie floats across the screen to award bonus credits, multipliers and any number of other payoffs.
Rounding out the Top 5 in video bonus events are Scientific Games' Dancing Drums Prosperity, which takes bonuses from the original game like free spins and the "Fu Babies" picking bonus and takes them to new heights with the Random Drum Feature, which expands the reels up to eight rows and 7,776 ways to win; Aristocrat's Game of Thrones, which uses cash-on-reels symbols, cascading screens and other bonus features to re-create aspects of the particular season of the TV series being depicted; and Rakin' Bacon! from AGS, which features cash-on-reels symbols and a hilarious golden pig pot feature that sees the piggy on the screen grow until it bursts into a shower of coins.
Buffalo Gold, Aristocrat Gaming Technology
Wizard of Oz, Scientific Games
Dancing Drums Prosperity, Scientific Games
Game of Thrones, Aristocrat Gaming
Rakin' Bacon, AGS
Favorite Video Poker Game
Not surprisingly, all five of your favorite video poker games are from IGT, and all are long-standing favorites. At the top of the list is Double Double Bonus Poker. This is the video poker game that returns big for four Aces and even bigger for four Aces with a kicker.
The standard Jacks or Better video draw poker game returns 25- for-1 for any four-of-a-kind hand, or 125 credit at max bet. Double Double Bonus returns 50-for-1 for four 5s through Kings; 80-for-1 for four 2s, 3s or 4s; 160-for-1 for four Aces or four 2s, 3s or 4s with an Ace, 2, 3 or 4 kicker; and a whopping 400-for-1—2,000 credits at max bet—for four Aces with a 2, 3 or 4 kicker. To be sure, the other side of the pay table takes away a bit, returning even money for two pair and making this a very volatile game. But those big quad payoffs can turn a losing night into a winning night pretty fast.
Coming in second on your video poker list is Triple Double Bonus Poker, which adds to the four-of- a-kind payoffs of Double Double Bonus—four 2s, 3s or 4s with a kicker of 5 through King pays 80- for-1; and four Aces pays 160-for-1 with a kicker of 5 through King; four 2s, 3s or 4s with an A-4 kicker pays 400-for-1; four Aces with a kicker pays 800-for-1 like Double Double Bonus. (More takeaway from the lower end—three of a kind returns only 2-for-1.)
Rounding out the video poker category are Deuces Wild, with all its wild symbols and lucrative quad Deuces payoff; Jokers Wild, the other popular wild-symbol game; and the original Bonus Poker, with its 80-for-1 four Aces payout and a nice, low volatility that keeps you playing.
Double Double Bonus Poker, IGT
Triple Double Poker, IGT
Deuces Wild, IGT
Jokers Wild, IGT
Bonus Poker, IGT
Favorite Multiplay Game
The multi-hand video poker style has injected new life into the genre by adding volatility with multiple hands per game. All of these games have the same basic play—one hand is presented in multiple rows, the discards apply to all hands, and the draw cards come from a separate deck for each hand (with the discards removed). As usual, all the favorites are from IGT.
Our readers' favorite in this category is Ultimate X Poker, which for a 10-coin-per-hand wager causes multipliers of up to 12X to be applied to the hand following any winning hand. On multi- hand versions, frequent multipliers can appear on more than one of the hands on each play. The first sequel to this game was Ultimate X Bonus Streak. In this version, any win of three of a kind or higher (no wild cards) awards up to five multipliers to future hands in that position—beginning with 2X, and rising sequentially as high as 12X.
The newest entry in the series, Ultimate X Gold, adds yet another twist to the game. Instead of applying the multipliers to hands in the same position of a multi-hand game, this version applies the multiplier to a hand on the pay schedule, and it sticks until the player lands that hand.
Second on the list is Triple Play Poker, the original multi-hand game, with triple hands applied to all of the standard video poker games. Next is Multi Strike Poker, which, on a winning hand, deals a new hand from a fresh deck and double the pay table value on the second rung. Win three times in a row, and the payout is eight times the normal amount.
Rounding out the Top 5 in multiplay games are 100 Play Poker, the ultimate multiplay with 100 hands for each play; and Spin Poker, which combines video poker with the spinning reels of a video slot.
Ultimate X, IGT
Triple Play, IGT
Multi Strike Video Poker, IGT
100 X Play, IGT
Spin Poker, IGT