The Face of the New Online Poker Movement
The "Magician" Antonio Esfandiari is Ultimate Poker's Brand Ambassador
By Paul Wilson
There were a lot of things that happened in the poker universe that brought a lot of headache, worry, and financial turmoil to players.  Many still don't have their money from their Full Tilt accounts from over a year ago.  That's just unacceptable.  I never wanted to be a part of anything like that.  I'm part of a company where I know that the players are always going to be paid back 100 percent.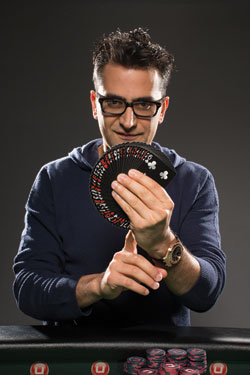 Among his many talents, poker professional and self-proclaimed "calculated risk taker" Antonio Esfandiari has added the role of brand ambassador for Ultimate Poker's website to his growing poker resume.  In case you missed it, online poker is no longer an illusion in the United States.  The State of Nevada legalized online poker early last year, making ultimatepoker.com the first legal, online poker site in the United.
Esfandiari is poker's all-time tournament earnings leader thanks in large part to his record-breaking victory at the one-million dollar buy-in "Big One for Big Drop" where the tournament champion brought home a record $18,346, 673 cash prize. Esfandiari recently spoke with Casino Player about his career and role with Ultimate Poker and to share his views on the future of online poker in the United States.
Casino Player: Could you provide a brief history of your poker career and tell our readers what made you become a professional poker player?
Antonio Esfandiari: I was 19 years old and doing magic for a living.  I was a professional magician and I was also waiting tables on the side.  That's how I made my contacts for my magic business.  In the course of doing that, I met a guy that I worked with at the restaurant who was a poker player.  He was basically the reason why I got into poker.  I was very fascinated by it, so I wanted to start playing.
CP: What has been your most memorable poker moment?
AE:  It has to go without saying when I won the One Drop Tournament.  When the diamond on the river did not come…  I had trips and he had a flush draw.  If he catches a diamond, now we're even in chips and in for a long battle, heads up.  Here we are playing for the greatest prize in the history of poker.  There was so much riding on this.  So when a diamond didn't come on the turn, that was the moment I knew all I had to do was face one more card, none diamond.  And when it didn't come, that moment when I saw the river card, was the greatest moment in my career.
CP: How does it feel to be the face of the first legal online poker room in the United States?
AE: It feels almost as good as that river card not being a diamond.  That good!   If you're going to be part of something, why not become part of the first company to do it?  Everybody wanted to do it.  Everybody wanted to try it.  We are the ones that actually did it.  To be a part of that is fantastic.
CP: What made you decide to sign on with Ultimate Poker as their brand ambassador?
AE: For one, the Fertitta brothers (Frank and Lorenzo) have probably the best reputation in the business.  Clearly they're entrepreneurs beyond any level of measurement.
I've been friends with Tom Breitling (Co-founder and Chairman of Ultimate Gaming) for about 10 years.  He's always been my buddy, but I've kind of looked up to him as a kind of older brother figure I never had.  I really respect him in the business world.  When you're doing business, you want to do business with people you trust 100 percent. We all know it's very difficult to have those relationships in life where you trust non-family members 100 percent.  I can say that I trust Tom and the Fertitta brothers a 100 percent.
There were a lot of things that happened in the poker universe that brought a lot of headache, worry, and financial turmoil to players.  Many still don't have their money from their Full Tilt accounts from over a year ago.  That's just unacceptable.  I never wanted to be a part of anything like that.  I'm part of a company where I know that the players are always going to be paid back 100 percent.  It's regulated, legal, secure, and it's safe.  My name is attached to that.  I care about my name and my brand.  So it was an absolute no-brainer to go with people I trust and I know that everything is on the fly.
CP: Online poker has been criticized in years past because of cheating scandals and limited industry regulation.  What should players know about Ultimate Poker to allay their fears and make them feel at ease?
AE:  Well, imagine you're going to a casino and playing.  The casino is never going to jam you.  You are always going to get paid.  You have nothing to worry about; there are cameras everywhere. Playing Ultimate Poker is kind of like walking into an actual casino because it's regulated by NV Gaming Control.  You know that they look at every single nook and cranny to make sure everything is on the fly.  You really can't ask for better security.
Yes, poker got a bad rap.  Look what happened when we had a market that wasn't regulated. Full Tilt Poker being one example. It's about time we had some regulation.  Nevada was the first to come out and do it.  Other states are following suit. I think, and hope, that it's just a matter of time before every state in the US realizes that poker is clearly a game of skill and that everyone should have the right to play poker.
CP: Where do you see online poker five years from now?
AE: I see it in every state, hopefully.  I think the end result would be federal regulation. I think it's headed in that direction.  I think it's only a matter of time before everyone sees the purity of the game.  Everyone knows it's a game of skill and fun, as long as you are careful and not betting the whole farm, obviously.  Just playing it for fun and recreationally online from the comfort of your home, I think it's going to be played by many, many Americans.
CP: What makes Ultimate Poker superior to online poker sites of the past?
AE: Behind every company is who's running the company. Apple, with Steve Jobs for example, just an incredible visionary.  It's like that at Ultimate Poker.  The Fertittas clearly have established themselves in the world of business.  Tom Breitling clearly knows what he's doing.  Joe Versaci (Chief Marketing Officer) is probably the best guy in the business as far as poker, shows, marketing, tools, and things like that.  Tobin Prior (Chief Executive Officer) has done so many different business ventures.  We basically have the sharpest guys in the business.  When you put all that brainpower together working on a product, then provide your own software and can do whatever you want to it, I don't really see what could get in the way.
CP: Do you be playing on the site and will players have the chance to play against you online at Ultimate Poker?
AE: Absolutely. If you want to play with me, you can come on to Ultimate Poker. I'll be there very frequently.  Just don't try to bluff me!
CP: Are there any major events planned for Ultimate Poker in the near future that you can tell us about?
AE: Yeah.  We have a lot of sponsors and the UFC (Ultimate Fighting Championship) is also our partner.  So there's a lot of cross promotion stuff, given that it's the same demographic.  A lot of cool things are in the works and you'll hear about them real soon.
SIDEBAR: Borgata Crowns New Jersey's Next Poker Millionaire
One man's life was changed forever in January as the first ever New Jersey's Next Poker Millionaire was crowned in a momentous online tournament that culminated in a televised championship event played live at Borgata Hotel Casino & Spa.
Myroslaw Woroch had never won more than $7,000 playing poker before the event, but that all changed when he flopped a straight in the definitive hand against his heads-up opponent, Steven Edwards, effectively making Myros the Garden State's newest millionaire.
"It was truly a surreal experience when I knew that I had him beat," said Woroch. "When that final card came out my emotions were just running wild; I have to thank BorgataPoker.com for putting on this awesome tournament and the Poker Players Alliance for bringing poker back to the United States."
The 40-year old Cedar Knolls, NJ native won his way into the Next Poker Millionaire Semi-Final through a BorgataPoker.com 1 Point Entry
Tournament on December 19th, and then outlasted a field of 2,177 players on January 5th to secure his seat at the final table at Borgata. Woroch bested four other participants who qualified through BorgataPoker.com, and an additional three from its partner site, PartyPoker.com to win a once-in-a-lifetime dream poker package that includes a WPT Alpha 8 super high roller seat, a WPT World Championship seat, two entries into $3,500 WPT events held at Borgata, 52 tournament entries into the online Sunday $50K and $8,000 in live tournament entries at Borgata.
"New Jersey's Next Poker Millionaire signifies a historic event in the evolution of internet gaming," said Borgata Director of Poker Operations Vince Alonge. "We are ecstatic to be able to offer our online community the opportunity to compete for a million dollar prize package here at Borgata, especially in a tournament of this magnitude.