THE CASE FOR SPINNING REELS
Some manufacturers are increasing their output in the classic mechanical reel-spinning slot genre. Here's why they are a good choice
By Frank Legato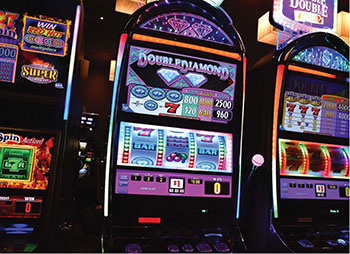 If you're a frequent reader of my columns, you know that when it comes to playing slots, I'm something of a dinosaur. I don't look for penny games with a gazillion paylines. I don't look for the so-called "persistent" bonus features that are popular these days. I don't look for any elaborate bonus features that lead to multiple progressive jackpots.
I look for the game style I've enjoyed since I first walked through the doors of a casino in the mid-1980s.Three mechanical reels—reels that physically spin. Wagers of three, five or, at the most, nine credits per spin. Quarter or dollar denomination. My personal all-time favorites are Double Diamond and TenTimes Pay, both IGT games with multiplying wild symbols. However, lately, there are more and more of this style available from several slot manufacturers, who feel fans of this game style have been under- served for years.
With that point, I agree.
I love a lot of entries in this modern traditional game, from new versions of the IGT games, or the Bally classic Blazing 7s, to a number of games from Everi, which has brought new talent to the genre with games like Blue Ribbon and Double Ruby.
I understand the appeal of the newer game styles. They dole out lots of low-level hits, and the persistent bonus features—for instance, accumulate a certain symbol for eight spins, and collect the combined value of the symbols on the ninth spin—are fun and engaging. Elaborate bonus events leading to progressive jack- pots also are fun.
The problem I have with the newer types of games is that more often than not, the elaborate bonuses and multiple paylines mask a very low payback percentage. The penny denomination has made many of these games as volatile as the traditional quarter and dollar games, doling out big credit awards on a fairly frequent basis.
But ask yourself why they're able to do this. The answer is: It's pennies! The lights and celebration videos blare to herald, say, a 1,000-credit award. Any way you slice it, that's 10 bucks worth of pennies—and chances are that you spent more than 10 bucks to get it.
That allows the casinos to offer multiple games with low overall returns to the player—85 percent or 88 percent, as opposed to the mid-90s you find in traditional games at higher de- nominations. Some people love the game anyway, and that's fine. Not me.
Many manufacturers have taken the "vibe" of the traditional reel-spinner and presented it in a multitude of games that have five mechanical spinning reels and 30,40 or more paylines. To me, there's nothing traditional about that. It's a modern multiline video game with spinning reels substituting for the video presentation.
My ideal traditional-style game has three reels, a dollar denomination, and paylines numbering five or fewer.  And it will have wild symbols that multiply the payoff when they land in a win. Some of the newer ones add video-style free-game rounds, which is fine. But to me, this type of game doesn't need free spins.
The joy of playing the traditional style of game is the joy of a traditional gambler. The house edge you're giving away is miniscule compared to pennies, so you spin those reels, looking to beat that lower edge. Because you're betting large denominations, those occasional big wins you have are that much more juicy.
And you will get those wins. I love watching  for those multiplying wild symbols to land—one for double the pay, two for four times the pay on the original Double Diamond. Get two wilds on a line with a high-paying game symbol, and a three-7 win that normally pays $100 suddenly returns $400. Or on Ten Times Pay, $1,500 or more.
Boom. I just turned a losing session into a winner.
The fun on this kind of game is in the chase, by the way, and to get the most out of that chase, you'll need a sufficient bankroll—start with, say, $100 for a quarter game and $300 for a dollar game, as a minimum.
Many people play the lower denominations because of bankroll, and that's fine. Many people just find them entertaining, and don't mind ultimately losing most of the time if they've had good fun during the ride. That's fine, too.
But from the completely subjective perspective of a crusty, old veteran slot player…
Give me that old-time reel-spinning!