The Best of Dining & Nightlife Awards 2023
Food, fun and so much more—Casino Player once again takes a look at some of the best dining establishments in the entire casino industry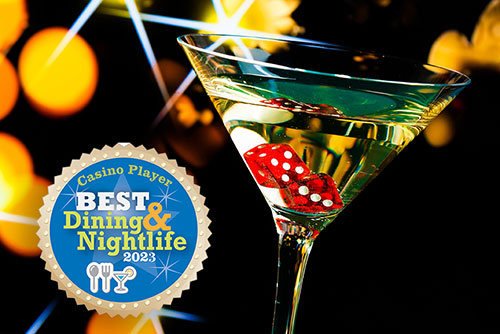 There's nothing quite like a great night out with friends—whether getting together for some cocktails, meeting up with someone special for a tasty dinner with a glass of wine, dropping in to a club for some dancing or grabbing a beer while checking out some great live music. Casinos now offer so much more than just a chance to spin some slot reels or hit the craps table. A modern casino is a complete adult entertainment zone, and that includes some of the best dining and nightlife options.
For three decades, Casino Player has also highlighted some of the best aspects of the entire gaming experience and dining and nightlife is a huge part of that. This issue once again focuses on some great properties with amazing experiences beyond the casino floor. Thumb through these pages for some of the finest dining experiences available at casinos across the country. Our focus incorporates everything from the grandest of Las Vegas mega-resorts and vintage properties, to new casinos, regional favorites and hidden gems. But we simply can't be everywhere at once and definitely need your help.
Every year, readers vote for their favorite casinos around the country and across numerous categories. Readers show up in force each year with their own insight and help crown the winners for our special "Best Of" survey. That effort includes dining and nightlife as well. These "Best Of Dining & Nightlife" awards focus on categories beyond the gaming floor, awarding eateries and hot spots ranging from steakhouses and coffee shops to happy hours, lounges, sports bars and much more. The Best of Dining & Nightlife covers just about anything and everything other than gambling, but these aspects are also key to that perfect casino getaway.
As with our other "Best Of" awards, this is when your voices are heard by the entire casino industry. Some properties will be thrilled with the results, and go on to tout their achievements over the next year in media campaigns and advertising. Others may use the results to see where they stack up and possibly determine what they can do better to improve—creating even better casino options for future guests.
These awards are once again the result of your votes, your choices for this year's best of the best in casino food, beverage and beyond. Is your favorite restaurant included? Or are there some winners you've been considering? This may be the perfect time to check some of them out. These results offer readers some great spots when planning that next casino vacation. Bring a healthy appetite and plan for some fun beyond the restaurant as well.
Congratulations to all of the 2023 winners for pleasing every palate, providing excellent service and some real attention to detail! Once again, Casino Player readers have taken notice.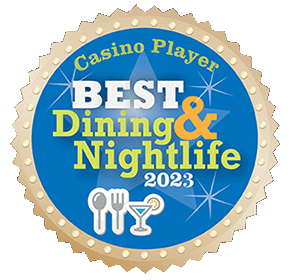 Click the links below to see if your favorite casino was one of the winners.
To view the Digital Edition, click here