THE ALPHABET GAME:
 Everything Slots From A To Z
By John Grochowski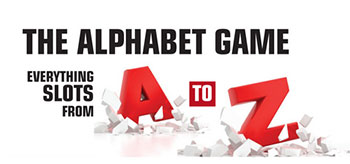 Playing slots is as easy as 1-2-3. We also can have a little fun with an alphabet game, running through slot features A-B-C.
A is for Aristocrat, Aruze and Ainsworth, slotmakers that put their own creative spin on the games. It's also for Australia, the home base where Aristocrat devised the five-reel and video bonus slots that have been so influential over the last couple of decades. American manufacturers – another "A," have acknowledged that they knew video slots would work here because they were already popular on the Pacific Rim.
B is for Bonus Events, those special events and games within the game that add excitement and anticipation to the slots. The first to gain massive popularity was Anchor Gaming's Wheel of Gold, which later begat IGT's Wheel of Fortune. Regardless of whether the bonus comes as free spins, pick'em events, wheel spins, dice rolls or some other creation, the bonuses are a big share of the fun in playing slots.
C is for Coin Cups, once an integral part of the slot playing experience but now mostly relics of the past and low-cost collectors' items. Younger players who don't remember when slot machines paid out in coins right at the machine might not remember these plastic cups and buckets, emblazoned with casino logos, used to carry coins to the change booth or to another machine. A few coin-using casinos still have the cups. So does eBay.
D is for Double Diamond, the venerable IGT three-reel slot with its special diamond symbols that offer double payoffs in winning bar combinations as well as serving as jackpot symbols. Its classic look, elegant styling and multiplier format is ever-popular and has inspired successor games such as Double Diamond Deluxe, Triple Diamond, the video game Double Diamond 2000, Triple Double Diamond Deluxe With Cheese and many more.
E is for Everi, a rebranding after merger of slotmaker Multimedia Games and cash handling company Global Cash Access. Everi brought Rick and Ilsa to the game floor with its Casablanca slots, and its latest including Dreamscape, with mystery wilds and up to 97 free spins. E also is for Elvis, the King of Rock and Roll who also is slot machine royalty through a series of comeback performances on slots from Scientific Games.
F is for Fishing, a popular theme for WMS from its original Reel 'Em In! to the communitystyle Reel 'Em In: Compete to Win. One cool take was angling for the legendary Elvis fish in Reel 'Em In Cast for Cash. Aruze also went the fishing route with its Paradise Fishing, with a controller shaped like a reel handle – you could feel the fish tug when they struck.
G is for Game Maker, Bally Technologies' pioneering multiple-game video machine. Everyone has such machines now, but when Bally first put video slots, video poker and blackjack on the same machine in 1992, it was a sensation. In updated versions, it still is. At the time of Game Maker's release, video was mainly for video poker, followed by video keno and video blackjack. But several years before video slots became a rage, a small niche of players showed they would play slot games on the Game Maker.
H is for Hyperlink, Aristocrat's trendsetting four-level progressive jackpot system that debuted with Cash Express. Whether you win the mini jackpot of a few bucks, the grand of thousands or the minor or major in between, it's a fun trip aboard the express. Hyperlink has been one of the most influential products in modern casinos. Today, nearly every slot manufacturer has games with multi-tiered progressive jackpots.
I is for IGT and Incredible Technologies, the former a giant in the slot industry and the latter a smaller competitor with big creative know-how. IGT, the world's largest slot manufacturer, got its start in video poker, where it remains the nearly unchallenged dominant force. Think of a market segment, and IGT is there, whether on reel slots (Double Diamond, Wheel of Fortune, Red White and Blue), video slots (The Hangover, Sphinx 3D and 4D, Star Wars, The Dark Knight – too many to name), or in behind-the-scenes systems. Incredible Technologies is newer and smaller, but has captured players' imaginations with hit games such as money rain.
J is for Jackpot Party, WMS' long-popular game of picking on-screen gift boxes to reveal bonus rewards. From three-reel slots with the bonus round on an orange Dotmation screen to video games with enhanced animation, Jackpot Party has been one of the most durable slot favorites. With successors such as Super Jackpot Party and Jackpot Block Party where you can unlock up to four simultaneous parties, the good times keep rolling.
K is for Konami, which has just started to bring the video game library controlled by Konami Holdings to wagering formats. Neo Contra was a special treat for video gamers, and now Frogger promises bigger and better things as casinos begin to add skill-based games to their floors.
L is for Lines for winning symbols, with video slots giving players more and more ways to win. Players used to reel slots with single paylines at first were confused by five-line video slots. Now they'll play 100-line games with reel enthusiasm. They'll also play games with no lines at all, such as Aristocrat's Reel Power series, where symbols anywhere on adjacent reels can form a winning combination.
M is for Megajackpots, IGT's wide-area progressives linking jackpots and multiple casinos and offering prizes in the millions. Megabucks was the first, but now everything from Wheel of Fortune to the Beverly Hillbillies, I Dream of Jeannie and The Twilight Zone gets the Megajackpots treatment.
N is for Novomatic, an international presence among slotmakers with an Austrian base. Its presence is larger overseas than in the U.S. but its expertise comes from both operating casinos and supplying games to them.
O is for OMG! as in OMG! Kittens and OMG! Puppies, where the cutesy kitties and doggies can make the credit meter purr. It's also for Once Around, the ever-popular Monopoly bonus event in which you collect properties and credits in a trip around the game board.
P is for Player Tracking, using cards to see how much you play and determine your comps and free play. Player Tracking is growing more sophisticated and casinos today can target specific market segments for special offers. Whichever segment you're in, your path to comps and perks starts with signing up for a rewards card to have your play tracked.
Q is for Quarters, with ranks right alongside dollars as the most popular denominations for three-reel slots, though few actually accept coins anymore. With the rise of video slots, pennies have become the most popular denomination overall, but those who play steppers still love their quarters.
R is for Random Number Generator, the program that determines what you'll see on the reels. It's as random as humans can program a computer to be. That's not perfect, but close enough that you'll never know what's coming next.
S is for Scientific Games which brings longtime slot giant Bally Technologies, WMS Gaming and table games leader Shuffle Master under the same corporate umbrella. Together, they're bringing us fun games such as Seinfeld, The Simpsons and the skill-based Space Invader. S also is for Skill- Based, a format manufacturers and casino operators hope will be popular as the millennial generation starts to play in casinos. S used to be for slots, but most modern machines don't have coin slots anymore.
T is for TITO, ticket-in, ticket-out payoffs with bar-coded slips of paper instead of coins or tokens. As with much new technology, some players were wary of TITO at first, but ticketing systems have basically replaced coins as players have found they don't have to want for hopper fills or hopper jams and casinos have found they don't have to keep coin inventory and have saved on labor costs.
U is for Upright, slots with a narrower base and vertical styling, as opposed to the lower-sitting slant tops. You look straight ahead at the main screen in an upright slot and look down at a slant top screen. The majority of games are uprights, though some players are more comfortable at slant tops.
V is for Video, now the dominant format for casino slot. Twenty-five years ago, who'd have thought we'd see penny slots not as a curiosity or a relic of the past, but as vibrant games that bring in the largest share of slot players? Video, with its multiple paylines, and TITO, eliminating the need to use coins, made it possible.
W is for Wheel of Fortune, as popular with slot players as with game-show viewers. Since the original Wheel of Fortune the original three-reel game with the bonus wheel on top remains popular, but IGT introduces new Wheel games every year both on reel steppers and on video.
X is for Xtra Reel Power, Aristocrat's no-payline system that uses four symbols on each of five reels instead of making the visible portion of the video reels three symbols deep. On most Reel Power games, there are 243 ways to win. Xtra Reel Power ramps that up to 1,024. That doesn't mean you're winning all the time – there's plenty of volatility in Xtra Reel Power games.
Y is for Yahtzee, which has had a couple of slot machine incarnations The first was from Mikohn Gaming, and they had a moment of popularity as well as a small element of skill as you decided which onscreen dice to hold for subsequent rolls in attempt to build five of a kind and other Yahtzee winners. Mikohn is gone from the slot scene, but WMS came out with its version a few years ago.
Z is for Zeus, as well as Zeus II and Zeus III from WMS. When the king of the Greek gods fills a reel and grants you respins, you'll feel as if you're climbing Mount Olympus.