The 25 Best Casino Restaurants in Atlantic City
by Adam Fine
If Vegas was known for shrimp cocktails and bargain buffets in the old days, Atlantic City fared even worse. Oh, sure, if you happened to like salt water taffy, it was great. Ditto for pizza and hot dogs, eaten while strolling the Boardwalk. But fine dining? Not really-and certainly not before the casino era, except for a few seafood houses that came to life only during the summer months.
Post-casino Atlantic City had a few gems, but nowhere near the number it should have, considering how many millions of people flock to the seaside resort. Instead, Atlantic City's casino restaurants were only tolerably good, generally overpriced, and occasionally downright poor. In Atlantic City, restaurants strived for mediocrity.
But that's changed a great deal, partly due to the Vegas influence, and partly due to customer demand. Quite simply, over the past few years, Atlantic City has undergone a drastic change in its food and beverage departments. Tired old restaurants are being tossed, and new chefs are being sought out to develop creative new menus to help develop a sense of culinary identity at each property. Sure, it's a competitive move in this most competitive of cities, but definitely a welcome one.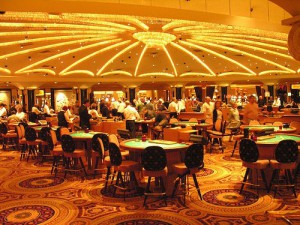 There are no star chefs yet, but some of the casinos are catching onto the idea of leasing space to restaurant developers. This is precisely what Caesars has done with its fantastic Temple Bar and Grill, operated by New York-based Carltun Hospitality. Redesigns, renovations, new menus, new ideas and, above all, a new focus on quality and service. It's the start of a new era for Atlantic City-and it's about time, too.
By the way, there is no salt water in salt water taffy. Legend has it that the name came about after a particularly vicious storm flooded a Boardwalk candy shop with ocean water. When a child walked in and asked the proprietor if he had any taffy, the irritable clerk responded, "Yeah, I got plenty of salt water taffy." The name stuck, and so does the taffy.
Avanti, Tropicana
One of the Tropicana's newer restaurants, Avanti will have purists cheering with its menu dedicated exclusively to Southern Italian cuisine (the dishes are even identified by region). Nowhere else in Atlantic City will you find mushrooms and anchovies baked in parchment, artichoke halves stuffed with ricotta, or codfish marinated in lemon juice and sautéed in the Francaise style. And those are just appetizers. The comfortable room also features a good selection of pasta (check out the penne with pancetta, fennel and puree of fresh fava beans, or the more traditional orecchiette with garlic, olive oil and broccoli rabe), with main courses ranging from a simple assortment of cannelloni or veal scaloppini with prosciutto and mozzarella to grilled whole sea bass or rabbit braised in red wine, sage and rosemary. All this plus a well-chosen selection of regional Italian wines makes Avanti one of the more intriguing Italian restaurants in the city, earning top marks for its focus on authenticity.
Bacchanal, Caesars
People still flock to this twice-nightly orgy of food and special-effects kitsch, and now that the Las Vegas version has closed, it's up to Caesars Atlantic City to keep the temple fires burning. Of course, the traditional Bacchanal elements are still in place-the wine goddesses who pour libations from an impossible height, co-ed massages following the entree (in Vegas, they used to be guys-only), the fanfare entrance from Caesar and Cleopatra, and four to six courses of surprisingly good food, from the olive, cheese and vegetable crudite that starts you off to the flaming bananas that mark the conclusion of the feast. Entrees change seasonally, but the assortment is usually varied enough for everyone. Think of it as dinner theater with a twist.
Look for some major renovations later this year. In addition to updating the decor, the Bacchanal will feature an ongoing show so guests aren't tied into just two seating times. Perhaps this means a return of the Vegas version won't be far away.
Bokoo Grille, Sands
Replacing China Moon at the Sands is the hip and trendy new Bokoo Grille, a restaurant inspired as much by New Orleans as Bangkok, with drunken Mardi Gras swirls of purple, gold and green, glass beads hanging from the ceiling and a vaguely alien sense of unworldliness. The food is excellent, if a little on the eclectic side. Thai chicken salad wraps are spiked with vinegar and red onions, spicy Singapore rice noodles are infused with yellow curry and topped with shrimp, pork and bean sprouts, and fettuccini jambalaya offers the Cajun collection of shrimp, chicken, peppers and spicy Andouille sausage. And where else can you get a salad of iceberg lettuce served with baked tofu and peanut satay dressing? Or even a pork chop reuben?
Tops among entrees is the savory Thai seafood wrap in foil, slow cooked in coconut milk and red curry, and sliced open tableside. This is, of course, a variation on the French method of cooking en papillote, in parchment, which seals in all the juices and flavor with a minimum of fat. Other winners include a grilled flounder with ground pork in ginger and sesame oil, and the Vietnamese skewered veal loin, served like a shish kabob with Asian spices. Very progressive, and very creative.
Brighton Steakhouse, Sands
A classic redone. The Brighton's new look is streamlined and trendy, like an upscale Manhattan restaurant, with mellow, Deco lighting, funky mini-walls for privacy, and gorgeous patterned blends of wood. The lobster popcorn starter is a must, although the Brighton seafood bake (which offers a taste of the lobster, along with other goodies) is also excellent. You don't often see turkey paillards on a steakhouse menu (or whole baked sea bass with root vegetables, for that matter), but that's indicative of the trendy new Brighton. That said, if it's steak you want, it's steak they've got. The 18-ounce bone-in rib eye will reduce meat lovers to tears.
Champagne Charlie's, Showboat
Champagne Charlie's is a soft, feminine room, smooth and lovely, with pale salmon and ecru colors, floral tapestry seatbacks and sage rugs. Oversized hurricane lamps cast a pale glow from wrought iron chandeliers, leggy floral arrangements provide height, and the walls are hung with Parisian murals and framed Toulouse-Lautrec posters.
The menu is small but complete. Seafood is definitely the appetizer of choice here, whether it's a shrimp cocktail served with an Absolut citron sauce or fresh oysters served with a classic champagne mignonette. Mussels are doused with a modern, Thai-influenced sauce of lemongrass, ginger and leeks. An almond-crusted grouper entree with key lime reduction and fragrant Basmati rice is a taste of the Caribbean, and the parmesan-crusted shrimp are served with white truffle risotto and plum tomatoes soaked in fruity olive oil.
Steaks take top place on the menu, whether the 24-oz. bone-in rib eye (referred to as the "paddle steak"), the 20-oz. Porterhouse, a rib eye with caramelized pearl onions, button mushrooms, honey and a Balsamic vinegar reduction, or the exceedingly rich Texas sirloin strip, served on tobacco onions and topped with fried oysters and béarnaise sauce. Also a fantastic house salad, with pancetta and marinated onions that ought to be bottled and sold in the gift shop.
The Deli, Harrah's Atlantic City
With its new location and snazzy urban theme, The Deli at Harrah's is better than ever. Guests stroll through the gardens of Colonial Philadelphia before magically reaching Manhattan's Theater District and Central Park. The 166-seat deli features much the same menu-traditional chicken soup with matzo balls, potato latkes, fried kreplach, stacked sandwiches and a special chicken in the pot. If it isn't on this menu, it isn't deli.
Dynasty, Trump Taj Mahal
The decor is upscale but attractive Cantonese, with red lacquered filigree woodwork and gold dragons, dominated by chandeliers of softly glowing Chinese lanterns. The menu offers a wide selection of straightforward interpretations of Cantonese cuisine, with all the classic beef, chicken, duck and fried rice dishes. The more adventurous need hunt only as far as the marinated fried squab with shrimp chips, delicate shark fin soup, whole sea bass steamed with ginger and scallions, abalone with Chinese black mushrooms and sea cucumber, or the luscious lobster vermicelli. A new sushi bar features a good assortment of standard sushi fare, with a good variety of California-style maki rolls and perfectly fresh fish.
Fantasea Reef Buffet, Harrah's Atlantic City
Atlantic City's first themed "action" buffet caused quite a stir when it opened, and the lines haven't receded yet. This $7 million "eatertainment" concept is a "must experience" buffet, accommodating 400 guests in a spectacular marine setting that features hundreds of live tropical fish in immense, 12,000-gallon aquariums. Subtle undersea videos will leave diners feeling as though they've taken a voyage 20,000 leagues below. Nine food stations over 150 feet long offer fresh pasta, seafood, Asian wok dishes, specialty salads and plenty of desserts. A stunning accomplishment for both Harrah's and Atlantic City, and easily equivalent to the best of the Vegas buffets.
Florentino's, Harrah's Atlantic City
Located where the old Sunrise Buffet was, Florentino's features a high-energy exhibition kitchen at the center of this superb restaurant, which sets the stage for a grand food performance. Expect plenty of leaping flames and kitchen noise while you eat-perfect for this Italian restaurant that replaces the cramped Andreotti's. At the entrance is a beautiful wine bar, the first of its kind in Atlantic City, featuring "flights" of specific varieties for tasting-easily the nicest bar in the city.
Florentino's menu hasn't diverged drastically from Andreotti's, but there are some exciting new dishes, such as the torta di granchio e risotto, a crisp fried risotto cake stuffed with crab and topped with a sundried tomato and chive aioli with capers. Pappardelle is served with sweet Italian sausage, broccoli rabe and roasted peppers, and Chilean sea bass gets sautéed with rock shrimp, asparagus and cherry tomato scampi sauce. Specialties include a grilled filet mignon served on polenta with a wine and shallot reduction, as well as the traditional osso bucco, served on saffron risotto, and the wonderful veal chop, served Milanese style or simply grilled. And just wait till you see the funky desserts. Not only a vast improvement on Andreotti's, but a super restaurant in its own right. Once again, Harrah's is right on the money.
Golden Dynasty, Tropicana
Consistently voted "Best Chinese Restaurant" in Atlantic City by Casino Player readers, the Golden Dynasty at the Tropicana, with its gold decor and sumptuous seating, never fails to delight or impress. The menu is just daring enough to be interesting. All the usual Chinese dishes are here: the spring rolls, the spare ribs, the chow mein, the Peking duck. But there are several intriguing dishes that adventurous diners should consider; certainly, the shredded jellyfish appetizer and abalone with black mushrooms fall into this category. A great experience in a consistently excellent restaurant.
Harbor View, Trump Marina
In addition to great seafood, Harbour View at Trump Marina offers a stunning view of the Frank S. Farley Marina, with its pelicans, fishing boats and millionaire yachts. Beyond that is the full Atlantic City skyline, glittering at night. For the panoramic view alone, this restaurant would be special-but the food here stands out, as evidenced particularly in the seafood and pasta preparations. The wine list is well chosen, too.
Le Palais, Resorts
Resorts may look totally different, but Sun International was wise enough to leave certain classics untouched-particularly the beautiful Le Palais, the grande dame of Atlantic City's restaurants. With its crushed red velvet draperies, flickering candles and marble columns, Le Palais would be just as home a few blocks from the Champs Elysses. Diners can expect French and Continental fare here, perhaps terrine of pheasant and foie gras or stuffed quail over apple coulis. Dinner might be a braised half of Muscovy duck breast, or a perfect rack of lamb noisette. All this and Kit Moran, Atlantic City's most popular chanteuse, who serenades guests nightly.
Luna, Claridge
Tired old Martino's gets swept away for this creative newcomer, ostensibly Italian but daring enough to include ahi tuna and Asian ingredients. Start with roasted red bell peppers stuffed with buffalo mozzarella and prosciutto, or the fantastic roll of grilled asparagus wrapped in thinly sliced sirloin and served on a bed of field greens with a Balsamic vinaigrette. Entrees include a beautiful sliced veal loin with wild mushroom risotto; a pork loin served with fried apples, black beans and heavenly mashed roasted sweet potatoes; double cut lamb chops coated with pine nuts and stuffed with sundried tomatoes, spinach and buffalo mozzarella; or the New York Strip served with Cajun Vidalia onions and beautiful purple Peruvian potatoes. Purge a little more of that old Martino's decor, and Luna will fly you to the moon.
The Oaks, Atlantic City Hilton
This perennial favorite at the Atlantic City Hilton seems to have weathered more storms than the Jersey Shore, with all those new owners and management changes, yet still comes out on top with diners who love its combination of casual elegance with great steaks and seafood. If you're craving surf and turf, this is the place to head. Casual yet elegant, with a good wine list.
Peregrine's, Atlantic City Hilton
Some birds taste good, and some have good taste. The Peregrine Falcons for which this restaurant is named obviously fall into the latter category. For years, they've made the Hilton's penthouse ledge their annual summer home, and like so many millions of people up and down the Eastern Seaboard, they return every year (probably right around Memorial Day). This superb gourmet restaurant, arguably the best in Atlantic City, features perpetually changing degustation and a la carte menus, depending on the season and availability of ingredients. This is a small, classically designed room, very much in the style of a New York Upper East Side restaurant, with a plush library of a cocktail lounge where guests can relax with a martini (or two) before dinner. Call well in advance, as Peregrine's is the toughest ticket in town.
Pickles, Bally's Park Place
Crowded, noisy, and a basket of half-sours on every table-in short, everything a deli should be. Actually, Pickles has long been the Atlantic City favorite for Jewish comfort food-a chicken liver nosh, stuffed cabbage, kasha varnishkas, matzo brei, chicken soup, and, of course, stacked deli sandwiches as fresh as can be (go ahead, have the turkey with the Russian dressing and the cole slaw, it won't kill you).
Portofino, Trump Marina
Like Harbor View, Portofino commands a stunning view of the Frank S. Farley Marina and Atlantic City skyline, made all the more romantic by soft lighting and dark wood trim. This is a large and elegant room, one of the finest Italian restaurants in the city, with prices to match. That said, the traditional menu, featuring a good assortment of veal, chicken and beef dishes, never fails to satisfy-but what makes Portofino special is its wonderful view and lush atmosphere. Consistently excellent service, too.
Prime Place, Bally's Park Place
Prime Place isn't the prettiest restaurant on the Boardwalk, and could probably do with a bit of renovation-but guests seldom notice the decor when faced with a view as spectacular as this one, looking out at Brighton Park and northeast toward the Taj Mahal. A surprisingly diverse menu includes a smoked brisket and barbecued short rib with smashed sweet potatoes and black-eyed pea salad, pan-seared red snapper wrapped in pancetta, breast of chicken with roasted shallots and whiskey sauce, and the usual assortment of steaks and chops.
Primavera, Caesars
This large, almost cavernous room is made attractive with the use of Venetian frescoes, arches and subtle flower arrangements. There's a strong focus on seafood here-such as the pasta with rock shrimp, broccoli rabe, white beans and oven-roasted tomatoes. Plenty of shellfish, too. Meat lovers will swoon over the perfect Veal Milanese, topped with a salad of wilted arugula. A good wine list, too.
Roberto's, Trump Plaza
Trump Plaza is in a state of flux right now, following the closing of the World's Fair and some changes in management. But this is good news for the property, which is all but guaranteed a makeover, and certainly good news for Roberto's, the Plaza's premier gourmet room, located on the 6th floor of the property and overlooking the ocean. The menu at Roberto's (named for Donald's brother, Robert) is a good mix of Northern and Southern Italian-no surprises here, just Trump-style elegance and a great view.
Safari Steakhouse, Trump Taj Mahal
Carnivorous fantasies come true at the Taj Mahal's Safari Steakhouse. The room is dominated by a giant, drooping banyon tree decked in sparkling white lights, and decorated with zebra-striped and leopard-spotted fabrics that provide plenty of African whimsy. Apart from the slightly comedic design, the Safari Steakhouse has an extremely accomplished menu, with a separate listing of dry-aged beef in addition to the steaks, chops, duck and veal. Every dish is accompanied by a wonderful selection of choice sauces and side dishes, including roasted, caramelized Vidalia onions, sautéed wild mushrooms, mashed potatoes infused with garlic and shallots, and thick steak fries. For all the subtle comedy, Safari is a surprisingly sophisticated steakhouse.
Scheherazade, Trump Taj Mahal
Scheherazade is an exquisite restaurant that glows soft pink and amber. It's like being inside the dining room of an ancient palace, or perhaps inside Barbara Eden's "Jeannie" bottle. The tables are strewn with tiny gold stars, and service is from white-gloved pashas who cater to every guest. Food quality and presentation is superb, with no details overlooked. Start with escargot and leek strudel served with wild mushrooms in a cabernet sauce, roasted quail stuffed with sweet potato risotto and served on buttery foie gras, or the pan-fried lobster ravioli with sweet corn marmalade. Entrees include a crispy roasted filet of Chilean sea bass with orzo and acorn squash sauce, roasted chicken with a tomato and Kalamata olive ragout, or the house special sautéed lamb chops. Pure bliss from start to finish.
The Steakhouse, Harrah's Atlantic City
Atlantic City's favorite steakhouse is getting a makeover. Like Andreotti's, The Steakhouse has been shuttered as Harrah's prepares to add additional gaming space. But based on the masterful transition form Andreotti's to Florentino's, it's a pretty safe bet that the Steakhouse will only be improved upon, if that's possible. Look for it to open in a couple of months, where the William Fisk seafood restaurant used to be. And since the seafood restaurant is being removed, word is that the new menu will pick up some of the finned favorites.
Temple Bar and Grill, Caesars
A stunning gourmet addition to Caesars, and one of the hottest new restaurants in Atlantic City. Located in the magnificent new Temple Lobby, the trendy, sophisticated Temple Bar and Grill is a sweeping, stories-high restaurant, with Corinthian columns that seem to climb for miles, and a ceiling fresco that borders on the erotic. The trendy bar is alabaster and lit from beneath, with crystal, candles and lions' heads fountains. An extension serves as a sushi bar.
The food here is innovative and beautifully served. Appetizers include sautéed Sonoma valley foie gras, crispy duck wrapped in scallion pancakes with hoisin sauce, yellowfin tuna carpaccio, and simple wood-fired gourmet pizzas. Entrees range from broiled Chilean sea bass with port wine reduction, mashed potatoes and baby spinach to roasted free range chicken with ginger gremolata and double blanched garlic. Veal lovers will go crazy for the grilled veal chop with shiitake mushroom Madeira sauce, risotto triangles and broccoli rabe. There's also an incredibly sublime angel hair with wild mushrooms and caramelized shallots in truffle oil, which makes a great appetizer for two (the kitchen will also do a half-order for one). Simply outstanding in every way.
Wellington & Chan's, Tropicana
Replacing the banal A.C. Station Steakhouse at the Tropicana is Wellington & Chan's, a smooth as silk fusion of traditional steakhouse fare with Asian ingredients and presentations, in a beautiful if minimal mahogany-trimmed room with a stunning view of the ocean. The quail brushed with cider and grilled shrimp with beer risotto are winning appetizers, as are the fall-off-the-bone smoked spareribs with four tiny steamed clams, and the plump baby lamb chop glazed with pomegranate and soy. The Asian-themed entrees are wonderfully creative, and more inviting than the domestic steakhouse fare. Steak Tai Cu is sliced into a fan and drizzled with a hoisin reduction, served on a mound of gingered mashed potatoes and garnished with fragrant curried chicken sausage. Even the feather-light crab cakes get the Asian treatment, bound with a shu mai-like shrimp mousse and served with black pearl rice and spring onions. Easily one of the most exciting new restaurants in Atlantic City.