THAT'S ENTERTAINMENT
New Residencies Light Up The Las Vegas Strip
By Lisa Robertson-Dziedzic
It's showtime! Entertainment is the lifeblood of a casino, and perhaps no place does it better than Las Vegas. Sin City is known the world over for attracting the biggest names in pop culture and fans flock to this desert destination just to be a part of the excitement and watch a legend in person. Celine Dion, Elton John, Rod Stewart, Mariah Carey have all decorated the stages in Vegas year after year, and the new crop of residencies in 2017 are equally exciting!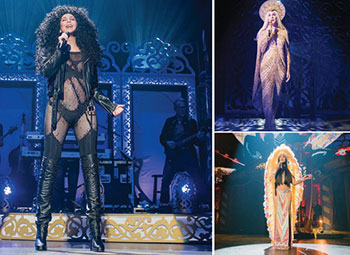 CLASSIC CHER
THE PARK THEATER AT MONTE CARLO
On Feb. 8, the one and only Cher made her highly anticipated return to Las Vegas as she launched her extended engagement of Classic Cher, a celebration of her phenomenal 50-year career, at the new Park Theater at Monte Carlo in Las Vegas.
Known for extravagant stage spectacles, breathtaking costumes and dynamic performances, Cher's all-new show features her charttopping classics has received rave reviews and for good reason.
"I plan to make this my best show ever," said Cher. "I am extremely excited about the new Park Theater – it is state-of-the-art and beautiful."
Fans can expect to dance down memory lane with a string of her Top 10 hits including "If I Could Turn Back Time," "Strong Enough," "The Beat Goes On," "I Got You Babe" "I Found Someone" and "Believe." Featuring a state-of-the-art production and a troupe of 10 dancers, the show will leave audiences breathless and wanting more. Throughout the show, Cher takes questions from the audience, delivers a humorous monologue with many more show-stopping moments, including a moving duet with the late Sonny Bono.
Cher returns to the Park Theater stage in May with a series of show dates on May 3, 5, 6, 10, 12, 13, 17, 19 and 20 (Additional dates to be announced). Tickets range from $60 to $475, not including applicable services charges. Tickets can be purchased online at parktheaterlv. com or ticketmaster.com. Tickets also can be purchased through the MGM Resorts Call Center at 866-740-7711. For more show and ticket information, visit parktheaterlv.com.
RICKY MARTIN
THE PARK THEATER AT MONTE CARLO
International superstar Ricky Martin kicks off his long-anticipated Las Vegas residency at Park Theater at Monte Carlo on April 5.
After performing in all seven continents over the last three years, Martin is well known for his high-energy and thrilling performances that have captivated millions of people throughout the world.
Martin's one-of-a-kind show promises to thrill audiences with non-stop entertainment. The dynamic show is helmed by the legendary director Jamie King, who has directed over two dozen tours for superstars including Madonna, Celine Dion, Britney Spears, Rihanna and most recently wrote and directed the acclaimed Cirque du Soleil Michael Jackson ONE at Mandalay Bay. King previously directed Ricky Martin's 2007 Black and White Tour, and 1999 Livin' La Vida Loca Tour. Martin's compelling repertoire includes his greatest and current hits and multiple costume changes, making it one of the most exciting events to come to Vegas, which will definitely leave you wanting more.
"I'm extremely excited to have my residency in Las Vegas; I have been thinking about it for years and to see it become a reality is just an unbelievable feeling. I've dedicated my entire life to the stage, and there is nothing I want more than to create the best show of my career and make it an unforgettable experience for each person that comes to see me at the incredible Park Theater at Monte Carlo. Throughout my career, I have been fortunate to be able to share my culture through music while creating an exciting atmosphere where you have no choice but to have the best time, to dance and sing until we all forget our problems, to let go and be completely free…this new show will not be the exception. I'm inspired, and I can't wait to show you what we have in store," said Ricky Martin.
The performance schedule is April 5, 7, 8, 11, 14 and 15; June 23, 24, 27 and 29; July 1 and 2; and September 12, 15, 16, 19, 22 and 23. Tickets ranging in price from $59.50 to $175, not including applicable service charges, can be purchased online at ticketmaster.com/rickymartin. For more show and ticket information, visit rickymartinmusic.com. A limited number of VIP packages are available.
THE WHO
THE COLOSSEUM AT CAESARS PALACE
Legendary rock band, The Who, is set to begin an exclusive six-night Las Vegas residency beginning July 29 at The Colossuem at Caesars Palace.
One of rock's most defining bands, The Who joins the home of the greatest entertainers in the world as the first rock band to take residency at The Colosseum since the venue opened in 2003.
Fans can expect the band to take them on an amazing journey through their entire career from the days of 'The High Numbers" to classic albums such as "Who's Next," "Tommy," "Quadrophenia," "My Generation" and "Live at Leeds" up to the present day.
Tickets for the first run of six shows scheduled July 29 through August 11 are on sale now and may be purchased in person at The Colosseum at Caesars Palace Box Office, by calling 866-320-9763 or online at thecolosseum.com or axs.com. Ticket prices are $501/$351/$226/$151 /$100.50/$76 (prices include 9% Live Entertainment Tax as assessed by the State of Nevada). All shows begin at 8 p.m. In addition, $1 from each ticket sold will benefit Teen Cancer America (www.teencanceramerica.org).
REBA, BROOKS & DUNN: TOGETHER IN VEGAS
THE COLOSSEUM AT CAESARS PALACE
Country fans unite! Due to overwhelming fan demand, country music superstars Reba McEntire, Kix Brooks and Ronnie Dunn have extended their residency at The Colosseum at Caesars Palace with a six shows in June and July.
Their hit show, Reba, Brooks & Dunn: Together In Las Vegas is a culmination of the friendship and musical admiration Reba and Brooks & Dunn have shared since first touring together in 1993. The two-hour production features more than 30 action-packed hits backed by a band of 10 players from both of their touring bands. The set includes solo and joint performances of their signature tracks including "Fancy," "My Maria" and "Cowgirls Don't Cry," as well as many surprises.
Show dates are June 21, 24, 25, 28 and July 1 and 2. Tickets can be purchased in person at The Colosseum at Caesars Palace Box Office or online at thecolosseum.com or axs.com. Orders are subject to additional service charges and fees. Ticket prices are $205/ $155/ $105/ $85/ $59.50 (prices include 9% Live Entertainment Tax as assessed by the State of Nevada). All shows are scheduled for 7:30 p.m.
BACKSTREET BOYS
THE AXIS AT PLANET HOLLYWOOD
Backstreet's back, alright! On March 3, the best-selling boy band of all time, Backstreet Boys, proved to be "Larger Than Life" at their premiere performance of the appropriately-titled Backstreet Boys: Larger Than Life. Marking the beginning of their exclusive Las Vegas headlining residency at The AXIS at Planet Hollywood Resort & Casino.
Nick Carter, Howie Dorough, Brian Littrell, AJ McLean and Kevin Richardson all take the stage with a one-of-a-kind production made exclusively for Vegas. Created and directed by one of the industry's most well-respected creative directors, Raj Kapoor, the show features stateofthe- art lighting, visually stunning automation and jaw-dropping choreography by some of LA's top choreographers. With cutting-edge special FX and elaborate video technology, the audience experiences BSB as never before.
This summer couldn't get any hotter in Vegas with the next set of shows set for June 14, 16, 17, 21, 23, 24, 28, & 30. General ticket prices begin at $55, plus applicable tax and fees, and VIP packages and Meet & Greets are also available. All shows begin at 9 p.m. For more information, visit backstreetboys.com. Tickets and VIP Packages are on sale at www.ticketmaster.com/backstreetboys.
PITBULL: TIME OF OUR LIVES
THE AXIS AT PLANET HOLLYWOOD
He may be known as "Mr. Worldwide" but fans of the international music sensation, Pitbull, will be able to see the global superstar in Las Vegas this summer for an eight-night limited engagement. After extremely successful runs in 2015 and 2016, Pitbull will return to The AXIS at Planet Hollywood Resort & Casino with his unique Vegas show, Time Of Our Lives, July 21 through August 5.
Mr. 305 and Mr. Worldwide, known around the globe as Pitbull, is an internationally successful musician, performer, business entrepreneur, fashion icon and actor. His career sales have exceeded five million albums and 60 million singles worldwide, including his most recent album, "Dale." Pitbull has scored #1 hits in more than 15 countries, his videos have over seven billion views, and his world tours have sold out concerts in North and South America, Europe and the Far East.
Tickets on sale now for the following eight performances: July: 21, 22, 26, 28, 29; and August: 2, 4 and 5. Tickets are $39–$169 (plus tax & fees) and can be purchased www.ticketmaster.com. Showtime is 9 p.m.
BILLY IDOL: FOREVER
HOUSE OF BLUES, MANDALAY BAY
When you hear the word "Punk Rock," one can't help but think of anyone other than the legendary British rocker, Billy Idol. Perhaps more than any other artist of his era, Idol was responsible for bringing the style and attitude of punk rock into the American mainstream. Fast forward to 2017, this '80s sensation, along with longtime friend and guitarist Steve Stevens, and the rest of Idol's band, will continue their Billy Idol: Forever residency at the intimate House of Blues Las Vegas at Mandalay Bay Resort and Casino for six dates in May.
Billy Idol: Forever features material from throughout Idol's 30- year career, from his days fronting the seminal British punk band Generation X to his hits the world has come to know and love and will transport fans on a wild ride of punk, rock & pop, capturing the IDOL spirit three decades in the making. Along with legendary guitarist and longtime collaborator Steve Stevens, Billy Idol will be performing songs from throughout Idol's extensive catalog, including "Rebel Yell," "White Wedding," "Dancing With Myself," and many more.
Show dates are May 3, 5, 6, 10, 12, and 13. Tickets range from $79$149 and can be purchased at www.ticketmaster.com.
JOURNEY LAS VEGAS
THE JOINT, HARD ROCK LAS VEGAS
After a widely successful run in 2015, legendary rock band Journey returns to The Joint at Hard Rock Hotel & Casino Las Vegas for a second, nine-show residency, Journey Las Vegas, from May 3-20. For the first time in the United States, Journey will perform its seventh studio album, Escape, and the band's eighth studio album, Frontiers, in their entirety on select dates.
Back by popular demand, the band will once again make the awardwinning venue its home with new shows featuring co-founders Neal Schon (lead guitarist) and Ross Valory (bass), longtime members Jonathan Cain (keyboardist) and Arnel Pineda (lead singer), and virtuoso drummer Steve Smith who returned to Journey in 2016 after nearly 17 years since touring with the band. All Wednesday evening shows (May 3, May 10 and May 17) will exclusively feature performances of Escape and Frontiers in their entirety. Hits from these albums include "Don't Stop Believin'," "Open Arms," "Separate Ways (Worlds Apart)" and "Girl Can't Help It."
Through persistence and raw talent, the band has reached rare heights by selling more than 15 million copies of its Greatest Hits album, earning a total of 19 Top 40 singles, receiving a star on the Hollywood Walk of Fame, producing 25 Gold and Platinum albums and headlining its second residency at The Joint. This year, the band has been nominated for one of the music industry's top honors, the Rock and Roll Hall of Fame 2017 induction.
Tickets can be purchased at the Hard Rock Hotel box office, by calling 888.9.AXS.TIX or online at www.axs.com. For VIP ticket packages including premium seating options, contact jointvip@hrhvegas.com. For Journey VIP packages including premier seats, exclusive gifts, pre-show receptions and more, please visit www.vipnation.com.