TATTOOS AND TUXEDOS
The stories behind the music
By Tim Wassberg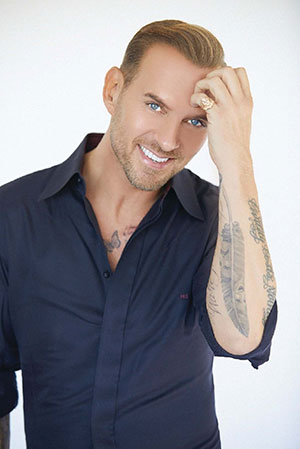 Making it on the Las Vegas stage is an accomplishment, especially if you can maintain energy and mystery. Matt Goss has had international success with his group Bros, but Vegas presents a kind of allure that can't be found anywhere else as his gigs at The Palms & Caesars have illustrated. Goss sat down with Casino Player just after beginning his new residency at The Mirage to discuss history, connection and the essence of the audience.
Casino Player: Can you talk about how you've evolved as an artist but also in the context of Vegas as it's become more your home.
Matt Goss: It was quite an extraordinary turn of events, really. I remember recording an album called Gossy, and it was self-funded. I wrote a song called "Evil" on it. I got a phone call from George Maloof and his team saying that they'd seen the video that I'd made on a Blackberry, and they really wanted my show at their casino… and could I fly in the next day? It came out of left field. I really didn't expect to go down that road. And I gave it some thought. I said, "Yeah. I can come in tomorrow." So, I went to meet with them, and it was a great, great meeting. I met with Mr. Maloof, who's become a friend over the years, his brother, and Michael Greco. I left back to LA, where I lived, and I hadn't heard anything. Then I got a phone call from his entertainment director who goes, "Don't worry. We love you. The meeting went great." And I said, "Well, if it didn't, I'm going to take your Audemars Piguet watch." And he laughed and went, "I know you wiII." And anyway, the next day I get a phone call. He says, "I've got good news and bad news." I said, "What's the bad news?" He said, "You're not getting my watch. [And] Welcome to Las Vegas!" (Laughing.) God's honest truth. So, then we set it up. I did about a five-week rehearsal, built a show, and honestly, we had immediate success with that show at The Palms. It was really, really just the place to be.
And that was at the height of The Palms back in the day, too…
Yeah. In 2009. So, then Caesars came knocking in less than a year. Gary Celesner, the president of Caesars Palace, came [to see the show]. He invited me to lunch the next day, and said, "Do you want to be at Caesars? We'd love to have you here." I said, "l'd love to be here." So, we had a bowl of noodles, we shook hands, and then, that was a six-and-a-half-year residency at Caesars. And then, I was lucky enough to win the Icon Award at Caesars, the same day as Donnie and Marie, and Wayne Newton, and Tony Bennett, and Muhammad Ali. And then I think it was at that point was when l felt like I had done as much as I could do at that incredible casino, and I went on tour myself. I played Wembley. Won Best Show of the Year at Wembley [Arena]. Beat 65 other artists. Then I was in negotiations with a couple of casinos or talking to a couple of casinos in town. Then I did my reunion [with my group Bros] where we played two nights at the O2 — 17,000 people — which we sold out in nine seconds. And during that time, I continued to negotiate with MGM. And we made it happen, and we are now nine shows in. The last show I did on Sunday night was phenomenal. I've got to continuously remind myself that it's not 2000 shows, it's nine shows. So, it's building an audience again. I left the show on Sunday just knowing… and I don't say this lightly… but I just knew with every fiber of my soul that we have something very, very special at The Mirage.
One aspect that is clear is that you have very much the business acumen but the creative has to be engaging and emotional for you as well. Can you sort of talk about balancing those two angles?
I think the backbone and bedrock of what I want to do is that the audience is the most important. And it's still such an honor to be somebody's night out. Strange thing. People are getting dressed up for you, and then it's about the dresses, the suits, your cuff links, fragrance, the choice of drink. I'm a very detail-oriented person. I have a set list on the music stand and I'll just point to it and some of the guys know [what the vibe is].
Is there an ease of intimacy in a room that you don't get in an arena?
I actually think it's easier to play an arena because you have this thing, when you look at the wave around the stadium, and you get that energy to hit the front row, it permeates through [everyone] and you get this one big solid kind of beautiful block of energy. That's what it is, and you've seen it. And to your point, you can't actually interact with every individual, so just by definition, every movement in an arena is to everybody. Now, that's strange because, when there's 500 people in a room, there's that thing called "the whites of their eyes." Every eyeball in Vegas is an emotion. Every eyeball in Vegas is somebody that may have lost their parent, or just got married, or just broken up with a boyfriend or a girlfriend, or just won at the slots, or just lost at the slots. Every single person is an emotion.
I think what I've learned to do over the last IO years is to pick out the right people. And I really give my audience a hard time in a good way. I mean, they're part of my show. I've changed more guys' names than possible, right? They give me a strange name, I'll call them something, T-Bone, Clown, something. I'll tell you a brief story. I met a gentleman. He was in my show, and he kind of looked like Burt Reynolds. And so obviously, I said, "Ladies and gentlemen, let's hear it for… Burt Reynolds." So everyone was laughing and [they give] a round of applause. He didn't laugh at first, which is a red rag to a bull to me. So, then I'm on this guy the whole night. I send him a couple of drinks. We have a laugh. He's with his beautiful wife. They're starting to laugh, and then in the end, they're really starting to laugh. Now the audience is sending him drinks. He's laughing. And at some point, I speak about my mother… and he starts crying. So, I thought here was more to it than what I'd originally thought.
Meet-and-greet comes. He Insists to me…"I've had the time of my life tonight… and what you said about your mom really moved me." And he says, "I actually got very emotional. Both me and my wife got very emotional." [Then] he said, "I lost my mother, too." And I said, "I'm so sorry for your loss. When did you lose your mother?" He said, "Tonight… today." He had lost his mom that day, and he said, "I wanted to be in a show where I could just forget my worries and be in a place that I could think about my mom. This is music that she would love and I love." His name is Chris, and her name is Catherine. And they've stayed at my house now, I don't know, I0 times. They've become dear, dear friends of mine. So, to my point, it is not just a show, it's an experience… it's a connection. I think because I've been a performer for 30 years, I think I've got a lot of life under my belt. I've lost a fuck load of money, excuse my French, and I've made it back, and I continue to work hard.
What's your Vegas?
Where do I start? Vegas is so many things to so many different people. And it's not what you see on the front, it's basically what's underneath and the way everybody interacts. And that's evolved over the years. That's changed. I've seen it. I knew when I wrote "Lovely Las Vegas," for example, that I wanted to put words like Summerlin in that song because that's the maiden name of Howard Hughes' mum. I put the sun sets on Flamingo Road as a lyric because the sun sets – it does set on Flamingo Road. I also wanted to put that it's more than a strip… it's a way of life. People's misconception of Las Vegas is it's one street. Anyone reading this interview, Vegas is not one street.
Have these songs always meant something to you even when you were in London? How did the love of this sort of style evolve with you?
My beautiful grandfather, Harry, used to love Nat King Cole. And I was always mesmerized when my granddaddy would sing "Unforgettable/'just a simple melody, but it's amazing how when you hear that one word sung, Unforgettable —just those notes alone immediately conjure up an emotion in you. So there's such power in melody and lyric. My grandfather, with his sensibility… he was a gunner in the Second World War, and he ended up being a foreman. After that, when we lost our grandmother – she was only 50 — became a healer. One of the toughest men you've ever met in your life and he became a healer. I think that that love – I will say the love of the camaraderie between the fellas – I love women probably more than anyone would ever believe, but I do love the camaraderie of being a man. I love that kind of understanding that men have when we get to a certain point. Who knows what age that is? We get to a point where you're just one of the lads. And I love tattoos and tuxedos. I like a tough guy that also understands how to be a gentleman. I'm still a boy. I'm very much a man but I'm still — if it comes to playing a game of darts or a game of pool or a game of cards, I'm all in. It's good to be a man and know that we're far less complicated than people think. But another thing is that we hurt a lot deeper than people realize, and I think that there's not a lot of songs that sing to men anymore. Those songs, I think, permeate through the emotions of a man's spirit more than probably, arguably, any other time in history. And with my original music, there's always stories behind them, and they're very, very true stories. When I sing, even my stuff, understand that there's always emotion attached to them. And I think that's why the show's lasted as long as it has, to be honest with you. And I'm just starting another five-year run.