Taking it to the Next Level of Casinos
Connecticut's casino titans, Foxwoods and Mohegan Sun, double down on incredible expansion projects
by Rob Wiser
Since opening 15 years ago as New England's first resort casino, Foxwoods has evolved into the largest and most profitable gaming resort in the world. If you've never visited this immense facility, it may be hard for you to wrap your head around the idea that the biggest hotel-casino on the planet isn't found anywhere in Las Vegas or Asia, but in sleepy southeastern Connecticut. Yet Foxwoods is exactly that, a property that is extraordinary not only for its size but for its elegance, luxuries and endless list of venues and amenities.
Now, Foxwoods is poised to enter a new era by joining forces with one of the most iconic brands in all of entertainment. An all-new casino-hotel called MGM Grand at Foxwoods is currently under construction, which will sit adjacent to Foxwoods' existing resort (and will actually be physically connected to it).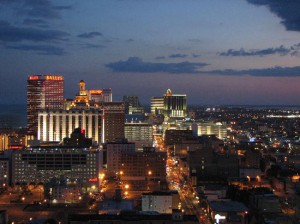 MGM Grand at Fowxoods, budgeted at $700 million, broke ground in November 2005 and is scheduled for completion in spring 2008. It will add two million square feet of space to the 8,000,000-square-foot Foxwoods facility, in the form of a 30-floor hotel tower with 826 rooms and suites; a 26,000-square-foot spa; meeting and convention space; the largest ballroom in the Northeast; a 4,000-seat Performing Arts Theater; additional nightclubs and lounges; four restaurants and four retail outlets; and a casino featuring 1,500 slot machines and 45 table games. This will bring the complex's total number of slots to a nearly 9,000, an astounding figure, as well as 425 table games. Special emphasis will be placed on catering to Asian players, an area in which Foxwoods is already strong, and one that MGM Grand has long been famous for.
The project is part of a multi-faceted strategic alliance between the Mashantucket Pequot Tribal Nation and MGM Mirage, the parent company of MGM Grand and many other top hotel-casinos. "We licensed the use of the name MGM Grand, and they're going to assist us with consulting and advisory services," explains Gary Border, Foxwoods' senior VP of property marketing. Foxwoods will not share the customer database of MGM Mirage, and the Foxwoods players' club will be used with both properties. For customers traveling between the two, Border says the experience will be "seamless," other than the branding.
Border says Foxwoods executives are "very confident" that the marketplace is robust enough to support an entirely new resort on the Foxwoods site. "We already know this is going to appeal to and attract a different audience," he says, "one that is high energy and looking for something very contemporary. The technology in this facility is going to be absolutely state-of-the-art, [whether it's] the meeting and convention space or in the individual guest rooms. It's a 'high definition property' with all of the things that are convenient for the meeting market and young, hip travelers."
As for the new customers Foxwoods seeks to attract through this property, Borders says "we know that we're going to attract a very savvy gambler. There's a crisp image of what MGM stands for, and MGM Grand at Foxwoods has already benefited from that image. People are looking for a completely different image than what they've been finding in Connecticut, and they'll find it here. This is a very modern hotel that borrows from the intellect and experience of the finest people in gaming."
Mohegan Sun
Meanwhile, Mohegan Sun, which opened nearby in 1996, has followed a similar trajectory while becoming one of most successful gaming destinations in the world. It's a total entertainment experience—whether you're gambling in its pair of vast, magnificently appointed casinos, watching a concert or sporting event in its 10,000-seat Mohegan Sun arena, or enjoying its wide array of retail shops and restaurants.
A $740-million expansion is now underway that will elevate the already-immense resort to new heights. Dubbed "Project Horizon," the expansion will add more than 1.4 million square feet filled with new venues and amenities.
"We'd known for a long time that there was way more demand than supply with our hotel rooms, " Mitchell Etess, president and CEO of Mohegan Sun, told Casino Player. "We also knew we had the opportunity to support that with other non-gaming amenities as well as additional gaming space, to continue to establish ourselves as a premiere destination. We've been working on it for quite a while—it became a matter of trying to get the right mix of amenities."
A new 1,000-room hotel tower will feature 300 House of Blues-themed hotel rooms, as well as a lavish Mandarin Spa and a child care center to keep the young ones occupied. In addition, Mohegan's partnership with House of Blues will bring an exclusive, members-only House of Blues Foundation Room to the tower's upper floors; a House of Blues Music Hall where musical icons from a variety of genres will come to perform; and a 300-seat restaurant, blending regional and international cuisine with southern favorites. The new hotel tower will be connected to Mohegan Sun's existing tower by a retail/restaurant complex, which will also include an "adult recreation lounge" offering bowling and billiards.
Project Horizon will also bring 115,000 square feet of additional retail and restaurant space to the resort, as well as the new 64,000-square-foot "Casino of the Wind," which will feature over 900 slot machines, 10 table games, and a 45-table House of Blues poker room. The property's total number of slots will rise to 7,600 units, while the table game total will be boosted to 385.
Improvements will also be made to the existing Casino of the Earth, which will receive a new Asian gaming area (called "Sunrise Square") with 46 table games such as Baccarat, Sic Bo and Pai Gow Poker. This area, scheduled to open in August, will have its own bus lobby and a "Hong Kong" street food outlet.
When asked which aspect of the expansion he's most excited about, Etess says "It's difficult to single one out. Obviously, the House of Blues is very exciting to us; it's a perfect complement to our existing entertainment program. And with 80-100,000 more square feet of restaurant and retail space, it will really allow us to further develop our non-gaming amenities."
The House of Blues concert venue is one component that promises to make an especially strong addition. "It will fill a great niche in our entertainment program, because we really don't have a venue at the 1,500 seat capacity," Etess adds. "And from a demographic standpoint, that 23-35 age group isn't served [here] particularly well. This allows us to hit that niche. We think our brands are very strong together."
The various parts of this landmark project will open in phases. For the new Casino of the Wind, excavation of the site should begin in June with completion scheduled for summer 2008. The House of Blues Music Hall and restaurant are expected to open in autumn 2009; the new hotel's 700 Mohegan Sun rooms are expected to open in the spring, followed by the new retail component in the fall; and the 300 House of Blues rooms should be welcoming guests by summer 2010.
Etess says that currently, about 35,000 customers per day visit Mohegan Sun. He expects the completion of Project Sunrise to bring about 5,000 additional visitors per day. In contrast to Las Vegas Strip resorts, at Mohegan Sun—as in Atlantic City—the lion's share of revenue is derived from gaming rather than non-gaming amenities, and Etess says these percentages should basically remain the same once the various aspects of Project Sunrise are completed.
If you have yet to visit either of these gaming giants, trust us—they've got to be seen to be believed. With the experience at both Foxwoods and Mohegan Sun about to get exponentially more exciting, we expect the gaming kings of Connecticut to continue to soar to new heights.
Connecticut's casino titans, Foxwoods and Mohegan Sun, double down on incredible expansion projects.