Taking A Closer Look at College Football Games
Watch out for college football teams that lose their first game
by Jim Feist
October is the best time of year for sports fans with NFL and college football in full swing. College football provides great wagering opportunities because of homecoming games, rivalries and good teams that will be suffering their first defeat.
The list of college football's unbeaten teams begins to thin in October, and it's important to add this factor into your handicapping arsenal. Statistics and matchups are essential, of course, but don't overlook the subtler aspects of handicapping, like coaching, pride and motivation.
Many above-average college football teams are going to have a good start to the season, such as a 4-0 September or a 6-0 start as the October leaves begin to turn. There are a variety of reasons this can happen: A team may have a weak schedule, a club may get lucky and win a few close games to start 5-0, or an upper-echelon team may simply roll over everyone.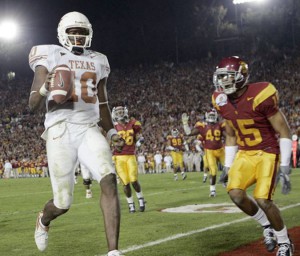 But for a lot of teams, that perfect run will end at some point. Maybe they'll have a tough road trip, sustain some key injuries, have a bad game turning the ball over, or simply get beat by a better team. It's easy to see when this happens, as the team loses its first game. For wagering purposes, the question is: How will that team respond the next week?
Many times a good club will get angry. Their practices will be full of fire because the players have tasted defeat for the first time, the coaches will be impatient with the media having to explain over and over again what went wrong. This can create a great wagering opportunity for the next game.
A year ago Ohio State had high expectations with a ton of talent and a load of returning starters. The Buckeyes started 6-0 and were ranked No. 1 before heading to Big 10 rival Wisconsin for a tough conference test. They failed that test in their first defeat, a 31-18 loss as a 4-point favorite.
The next week Ohio State came home and as a 23-point favorite destroyed Purdue, 49-0. After the game Buckeye players and coaches were talking about two angry motivational points. One was the loss the previous week at Wisconsin, the other was a stunning loss at Purdue the previous year. So they had two chips on their shoulder!
At the time the Coach said, "Some people might have thought this game meant a lot because of last year, others thought it meant a lot because of last week. "But most recent misery probably trumps past misery."
Regardless, it was a great spot for handicappers and bettors finding so much pent up motivation for one game. I recall another four year stretch where Georgia Tech had a nice run going to four straight Bowl games. Notice what happened every time they lost their first game: They won and covered easily the next game against weak opponents. After a 41-31 upset loss to Boston College as a 13-point favorite, Georgia Tech pounded New Mexico State 42-7. The next two years, mighty Florida State gave the Yellow Jackets their first loss, and Tech responded with easy wins, beating Central Florida 41-10 (as a 29-point favorite) and Navy 40-13 as a 16-point favorite. The next year, after losing to Clemson 47-44 in OT as a two-TD favorite, Georgia Tech whipped Duke 37-10 and covered.
Naturally, that first loss hurt a very good team and they had the luxury of running-it-up, if they wanted, against a poor opponent the next week. They wanted to…and they did!
That same season Florida State had a young team that got upset by North Carolina, 41-9 after a 2-0 start. The next week the Seminoles led 42-14 at the half over Wake Forest before settling for a 48-24 win – and a push. That was a good situation to do a first half wager, with a Seminoles looking to come out early playing with fire and passion. But they were loaded with freshman and sophomores, so a better spot is if you have a fired-up veteran team.
Ohio State was a veteran team last season when they got "mad as hell" against Purdue. Look at the veteran Florida State teams from 1998-2000 under QB Chris Weinke: FSU lost 24-7 in 1998 to NC State, then pummeled Duke 63-13 the next week as a 26-point favorite. The next year, the Seminoles started 5-0 before losing a 27-24 heartbreaker to Miami. The next week, FSU covered as a 48-point favorite, smashing poor Duke again, 63-14. Veteran teams with great expectations can be in an angry mood following that first defeat.
But it's not just as simple as a team getting angry and bouncing back. One season Clemson started 8-0 before a 31-28 upset loss to Georgia Tech. But the Tigers were banged up physically with a lot of key injuries and the next week lost 54-7 as a +19 dog to rival Florida State. Clemson certainly wanted to bounce back, but injuries negated their talent level too much.
So make sure you look at as many factors as possible when analyzing games. As October rolls along, you'll find many unbeaten teams facing defeat for the first time, and if circumstances are right, it may provide a savvy handicapper with a good wagering spot the next game.