Rod Stewart returns to Las Vegas with fifth year residency at The Colosseum at Caesars Palace
By Lisa Dziedzic-Robertson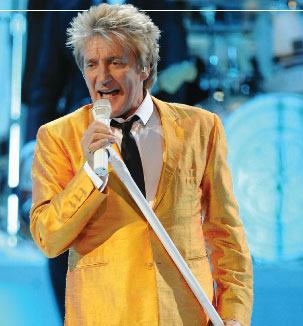 ROD STEWART IS BACK IN VEGAS, bringing his critically acclaimed residency Rod Stewart: The Hits to the Colosseum at Caesars Palace for the fifth consecutive year with a number of shows starting mid-March and running through early April.
In the four years since the show debuted, his awardwinning residency has seen more than 400,000 fans, has remained one of the best shows on the Las Vegas Strip and continues to draw worldwide praise from fans and critics alike. The two-time Rock and Roll Hall of Famer has packed an arena-sized concert into an intimate show experience— with no seat more than 120 feet from the majestic stage.
Known for getting audiences on their feet, Stewart shows his playful side by frequently running through the audience, mixing up his set list with both new and old tunes, while joyfully kicking soccer balls into the audience, often making it to the top levels. Backed by a 13-piece band and plenty of video footage, Stewart performs some of his most iconic hits including "Maggie May," "You Wear it Well," "Hot Legs," "You're in My Heart," "Do You Think I'm Sexy," "Some Guys Have All the Luck," "Young Turks," and "Forever Young" and sprinkled with a few R&B hits and new tracks from his highly anticipated 30th studio album, Another Country, which was released in October.
Stewart recently discussed his fifth year of residency, his time with Caesars, his fans and his life in music.
How is your show at Caesars Palace different from your touring show?
After playing huge arenas all my life it's truly a luxury to play Caesars Salad, as I fondly call it. The sound in the Colosseum is second to none and their really isn't a bad seat in the house. It's an intimate, rock'n'roll show from start to finish.
Did you have to adapt it at all to fit the Colosseum stage?
No, we built the show for that stage. And with enough lights to fill a stadium.
The Colosseum is a much more intimate venue compared to the big arenas you usually play in. Do you like that aspect of being closer to your fans?
I love it. On Fridays and Saturdays the crowds are usually drinking so sometimes a few of them even end up on stage with me.
Are Las Vegas audiences different than other audiences?
They've come from all over the world so I really try and give it my all, especially for the mid-week crowd which sometimes takes a little more to get going. But they can also surprise me—sometimes a Wednesday night audience it my best of the week so you don't ever really know what to expect. My job is the same each night though, to make them leave feeling like they've just been at a great party at my house.
You've had so many hits over the years. How do you choose which ones to include in your show, and do you ever change the songs from night to night? Do you have any favorites that you always have to include?
This show is 90 percent hits, the ones that made me famous. It's the songs the fans love and I love to sing. You can pretty much always count on "Maggie May," "Sexy" and "Hot Legs." We've tried to put in some of the standards but it slows down the show too much. For Vegas, we have added a cool unplugged section and dug out some special rarities that the fans don't often get to hear live like "The Ballad of Georgie" and "Broken Arrow."
Caesars has brought in a lot of big name entertainers for long-term residencies like Celine Dion and Elton John. Why is it appealing for performers to do a long-term engagement here and why did you decide to do it?
It's a great showroom first off— for the fans and for us. And it's about the only place where fans from around the world all love to come. Plus for me it's an hour flight from home so I can actually eat dinner with the family, spend a couple hours on stage with the fans, and be home again by night's end and sleeping in my own bed. It's the perfect fit for me right now.
Do you remember the first time you ever played in Vegas?
Oh yes, it was with the Faces in 1972 and it took an interview with Mike Weatherford in Las Vegas and an old press clip but the memories of Lear jets and playmates have returned. Elvis was even performing next door, I'm told.
Do you ever have a chance to do anything fun when you're in town?
For me, the best fun is being up on stage. I can't wait to get out there every night. There are also some great restaurants, when I get the chance.
You've collaborated with a lot of great musicians on some of your records. Is there any artist that you haven't worked with yet that you really want to?
Well of course the greats like Otis Redding, Sam Cooke and Muddy Waters would have been my dream but unfortunately they're on the wrong side of the daisies. But yes, there are a number of young new talents that I'd love to try collaborating with.
Your new album, Another Country was released this past October and continues the return of original songwriting that began with your 2013 album Time. What inspires you to write new songs after five decades of song-making?
I've found that the only way to write songs is to be as personal and honest as possible. When my last album was so well-received it gave me the confidence to keep on writing, and to examine and write about different things. It also gave me the freedom to experiment with different sounds like reggae, ska and Celtic melodies.
Rod Stewart: The Hits returns to the Colosseum at Caesars Palace March 19 & 20, 23, 25 & 26, 29 and April 1, 2, & 5. Tickets start at $74 per person and can be purchased by calling 866-320-9763 or by visiting www.thecolosseum.com.