Take a Seat in the Ultimate Tournament
The "TournEvent of Champions" will crown the top tournament slot player in the US.
By Frank Legato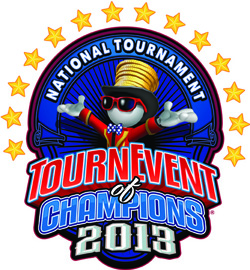 Quick—imagine a slot tournament.
Chances are, you imagined yourself sitting stone-faced with a lot of other slot players, repeatedly hammering a "Max Bet" or "Spin" button on a basic, boring video slot, watching the screen for your credit total to rise.
Now, imagine a slot tournament that is actually fun.  While you're hitting the spin button, little balloons float up the screen that boost your score if you touch them and pop the balloons.  While a master of ceremonies shouts out the standings—also shown on a big video leaderboard—live video of you and the other players is beamed to a big screen and to picture-in-picture monitors on all the games in the bank.
This latter description is not imagination.  It is the way the "TournEvent" system from slot-maker Multimedia Games works.
TournEvent was developed as an instant tournament for dedicated banks of slots, in a system with cameras in each machine that provides an overhead video display of a tournament in progress.  Leaders are displayed on the screen as the emcee calls the slot tournament and crowds gather around the bank of games.
Special features have been consistently added since the original launch of TournEvent, including not only those ingenious cameras and pop-up side games, but a great feature called "Jump To First."  At any time during a tournament—even the last second—the "Money Man" mascot can appear on a player's screen.  Touching the Money Man instantly boosts that player to a first-place score.
The leaderboard, on a huge overhead LCD video monitor, shows player names as the tournament progresses.  Even more appealing to players is the fact that it flashes video of them as they play—switching between contestants, and showing the current leader with his or her name as the host follows the competition.  It transforms the basic slot tournament into something that is a cross between a live sporting event and a game show.
Players love the TournEvent system, which led Multimedia executives to a great idea: a multi-property tournament.
"We had this great product that made slot tournaments easier to run, more fun and more interactive," explains Linda Trinh, the director of marketing and promotions for Multimedia Games who was put in charge of developing the multi-property promotion.  "We wanted to figure how to take it to the next level, and really tie in that competitive spirit that comes with being in a tournament."
The program Trinh developed would be called the "TournEvent of Champions."  The inaugural event took place in California, where 11 casinos signed up.  Trinh structured the contest similar to the way Caesars conducts the events leading to the annual World Series of Poker, with satellite events at properties equipped with TournEvent leading to a final championship event.
Satellite events across the state led to the selection of one finalist from each participating property, and Multimedia took 13 finalists on a five-night vacation aboard Celebrity Cruises' Millennium Wine Tour Cruise from San Diego to Vancouver, including associated accommodations, round-trip airfare and a $200 on-ship casino credit for themselves and one guest.  After the shipboard slot tournament was done, Rolling Hills Casino entrant Julie Ellars walked away with bragging rights and a $20,000 prize.
That event was followed up a year ago by another statewide TournEvent of Champions, with 13 casinos in Washington participating in events leading to a grand-final event held at Lagasse's Stadium, an arena-style sports bar at the Venetian in Las Vegas.  "We had a great following there," says Trinh. "We actually had a band of players who followed us to seven of the 13 casinos to try and qualify for the championship.  We had our own little set of groupies who were following us around Washington State."
The original plan was to follow up the Washington event with a regional TournEvent of Champions that would involve casinos from several states, but Trinh says the level of enthusiasm was so high from players—and casinos, which reported some of their best business of the year during the satellite events—that the next move was obvious: TournEvent of Champions would go national.
Last month, Multimedia kicked off the first National TournEvent of Champions.  According to Trinh, all 140 casinos equipped with the TournEvent system are eligible, and by press time, 67 casinos in 20 different states had signed up to participate.  She estimates that at least 80 casinos will be on board by the time the sign-up period ends in May.
Around 80-100 finalists will go to Las Vegas for a September 25 championship, again at Lagasse's.  "We really liked the stadium effect," says Brad Johnson, Multimedia Games' vice president of product management, of the bar, which has a central amphitheater-style arena where the finals are held. "People are close enough together to generate a lot of excitement and enthusiasm, and to encourage the players. It creates an intimate tournament experience the players won't forget."
Just as with the other tournaments, the finalists have really already won. Just reaching the finals gets you a free flight to Las Vegas for you and a guest, five nights in a luxury suite at the Venetian, a $500 food and beverage credit for the stay, and a guaranteed cash prize of at least $500.
"By the time you get to the championship, you've already got this great trip to Las Vegas for you and a guest," Trinh says. "Everything else is just gravy."
It's good gravy, too—the title of the Nation's Best Slot Tournament Player comes with a grand prize of $100,000 in cash.  The other finalists will split a prize pool totaling another $150,000.
Johnson adds that the limited number of finalists means that along with the free vacation, you've got a very good shot at that top prize.  "They're going in with a sense that they have a pretty good chance of winning," Johnson says.  "This isn't a group of thousands, but maybe a hundred people. Those odds are pretty good."
Entering the Contest
So, how do you enter?  It depends on where you play.  If your favorite casino is one of those participating in the national TournEvent of Champions, you will receive some sort of communication from your slot club about a satellite tournament.
Again, just as with the World Series of Poker, TournEvent of Champions is designed to allow each casino to create its own satellite event or events.  "Some are doing slot leagues, others are doing weekly slot tournaments, or weekly promotions to get into the finals," Trinh says.  "Qualifiers at the participating casinos take place any time beginning four weeks prior to their in-casino finals."
"It's exciting to see how some casinos are treating the event," adds Johnson.  "Some have added extra prizes to what we're offering; some have made it a really big deal with special lunches and dinners and extra giveaways.  This can be as big as the casino wants to make it."
So, watch your slot club mail.  You can also check the National TournEvent of Champions website, www.tournevent.com, or Facebook at tourneventofchampions, for updated lists of the participating casinos and more details on the contest and its satellite events.
The day of each casino's in-house finals—the event that will pick who goes to Las Vegas for the championship—look out for a bus parked in front of the casino.
Yes, there is a National TournEvent of Champions Tour Bus, which will be traveling to all the participating casinos for the final qualifying events. You'll see the Money Man mascot, along with sexy "M Girls" and others.  "It's going to be parked right out in front," says Trinh, who is probably sitting on the bus as you read this.  "We're going to have our Money Man, our M Girls and our tournament staff show up at every casino to amp up the event, hand out swag and talk to players.
"We're going on tour.  It's a rock band hitting the road, hitting these casinos and collecting winners to go to the championship."
Trinh is used to hitting the road with TournEvent.  After organizing the statewide tournaments, she logged miles traveling to more than 30 events in California and Washington, and interacting with some of the more than 20,000 players who participated in the two state contests.  This year, the new tour bus will log around 30,000 road miles.
"The thing I've enjoyed the most," she says, "is talking to our players, and watching them play the game, because it really is very different than the traditional-style slot tournament—they get so animated, and so into it."
The best part for players?  Popping that balloon when it appears, Trinh says. "Players love that interactive element, that extra step besides just pressing the max-bet button.  I've had players walking up to me with a cup of ice, actually icing their hands before the tournament.  Players get so into it that they are sweating by the time the tournament ends."
Johnson likens the effect to reality TV.  "The way we show video of players up on the big screen, and in the picture-in-picture, makes it a very exciting event," he says.
It helps that Multimedia keeps adding new base games to TournEvent—some designed specifically for the tournament, others regular Multimedia base games that are "TournEvent-Ready."
The "Jump to First" feature has been an unqualified hit.  Typically, at least once during a tournament session and sometimes more than once, the Money Man will appear on someone's screen to jump that player to the top of the leaderboard.  It means that even if you're dead last with 10 seconds left in the contest, you can still win.
"You don't want players to get halfway through the tournament and say, 'I can't win,'" says Johnson.  "With this, you've got to keep playing right to the end, because you never know when the Money Man will pop up."
Trinh adds that participants have been "across the board" as far as age and demographics, from twentysomethings to seniors.  "A lady who must have been 95 walked up to me at Agua Caliente (in California) who said this is the one thing that has finally lit her fire back up again—to play in our tournaments!"