SUMMER AT THE SHORE – Atlantic City
Summertime means time for Atlantic City to shine
by Frank Legato
You may have heard that Atlantic City is in trouble. They say the competition from Pennsylvania, Delaware and elsewhere means lights out for the Queen of Resorts.
Not so fast.
Sure, it's no secret that Atlantic City's casino business has been hurt from the double whammy of the national recession and regional competition. But this is a town that keeps coming back, and keeps coming up with new attractions to re-invent itself.
This is the time of year when visitors realize a trip to Atlantic City offers a wealth of possibilities they can't get at their local Pennsylvania racino. The ocean and the beach are only the start of it. From music festivals to great new restaurants, inimitable beach bars, hot night spots, movies on the beach and world-class entertainment in the showrooms and arenas, summer in Atlantic City is worth the road trip.
It's summertime. That means it's time to forget about the racinos. Time for the shore to shine.
Wining and Dining
Most of our readers are, of course, gamblers. However, summer at the shore means the things to do outside of the casinos themselves are as fun as your luckiest night at the slots and tables.
One of the things Atlantic City has over its regional competition is a critical mass of some of the best dining choices on the East Coast. In summer, that fact is celebrated by a couple of the best festivals any foodie or wine connoisseur can ask for.
This month, it's Chefs at the Shore, the annual sampling of the best the city's chefs have to offer. On Thursday, June 23, the best chefs from inside and outside of the casinos gather at Historic Gardner's Basin to showcase the area's finest food with live cooking demonstrations, recipe tastings and delectable dishes to the backdrop of live musical entertainment. The event runs 5:30 p.m. to 9 p.m. The $50 admission goes to fund the Atlantic City Aquarium and the Professional Chefs Association of South Jersey.
Chefs at the Shore, though, is just the warm-up for the culinary event of the year, the four-day Food Network Atlantic City Food and Wine Festival. From Thursday, July 28, through Sunday, July 31, Caesars Entertainment and the Food Network gather some of the world's renowned chefs for events across the four Caesars Entertainment properties—for food tastings, wine-tasting showcases, barbecue cook offs, cooking             demonstrations, and even a cooking school.
Chefs to participate in this year's event include Sunny Anderson, Guy Fieri, Robert Irvine, and Pat & Gina Neely.
The feast of food and wine marks what is a great culinary season in Atlantic City, with new restaurants opening left and right. By late June, Harrah's Resort alone will have opened three new restaurants—Luke Palladino, the latest venture by a chef famous for seasonal Italian cuisine; Bill's Bar & Burger for classic comfort food; and Dos Caminos, an upscale Mexican cantina featuring authentic Mexico City-style selections from executive chefs Ivy Stark and Scott Linquist.
The trend continues at other Caesars Entertainment properties.  At Caesars Atlantic City, check out the new Atlantic Grill, a seafood restaurant featuring fresh fish, a raw bar and sushi.  Atlantic Grill's executive chef is Anthony Amoroso, who has been featured on the Food Network's Iron Chef show.  At Bally's Atlantic City, the newest offerings are Taste of the Shore and Harry's Oyster Bar and Seafood, and Showboat is premiering Scarduzio's Steak and Sushi Lounge.
Elsewhere on the culinary front, Trump Taj Mahal has just brought an Atlantic City institution to its casino. After 65 years in a single location in the city's Ducktown section, the White House Sub Shop opened its second location at the Taj.  The menu is the same one that has kept customers going to the White House on Arctic Avenue since 1946.
Goods on Gambling
Everyone's got the tables and slots, but there are a few gambling spots around town that distinguish themselves as unique. One of them is at Trump Plaza. The new Jezebel's Casino Lounge, on the casino floor, includes plasma TVs and nine bar-top video poker machines, but   recently its blackjack tables—two inside the lounge and three more right outside the lounge—have added what the casino justifiably calls "Atlantic City's hottest dealers." The lounge also offers music and a great dance floor. It's open 24 hours.
There are several places you can go this summer for great poker tournaments. The Borgata holds its Summer Poker Open June 8 through June 24. The Championship Event is June 19-21. It carries a $2,500 buy-in and a $200 entry fee with at starting chip stack of 30,000. There is a $500,000 guaranteed prize pool.
The Borgata poker room also holds tournaments on Wednesdays and Fridays with $30,000 prize pools, and single-table tournaments every day.
The Tropicana Poker Room holds periodic Bad Beat Jackpot tournaments, and has a bad-beat jackpot that runs into the hundreds of thousands of dollars.  Also, every month, the Trop runs a complete schedule of No Limit Texas Hold'em tourneys  And finally, the Trump Taj Mahal's poker room is legendary, with a complete lineup of daily and monthly tournaments, as well as the U.S. Poker Championship in the fall.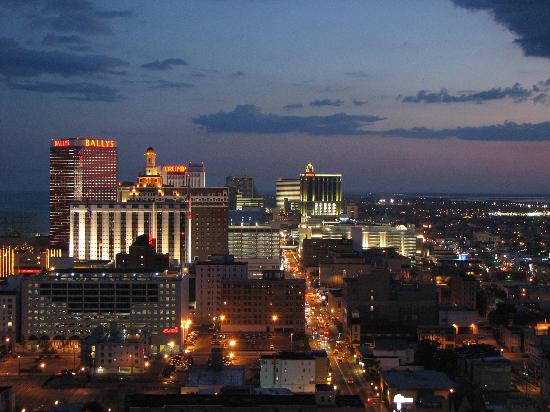 Daytime Dreams
Sure, the beach and Boardwalk are always there, but the summer offers a wealth of other  activities outside the casinos, and many offer a good time for little or no money.
Here are a few of the best bets:Want to listen to free music? The Atlantic City       Summer Concert Series takes place on Saturdays at Historic Gardner's Basin. The concerts start at 1 p.m.  Admission is free.  Among this year's shows are Manhattans with Gerald      Alston and GQ June 25; the Temptations Revue with Dennis Edwards July 16; Russel Thompkins and the New Stylistics August 6; and Sugarfoot's Ohio Players August 27.
If free music isn't your thing, maybe free movies are. Caesars is running its Tribeca Cinema Series, Movies on the Beach, July 7-10. Each of the four nights Thursday through Sunday, a feature-length movie from the Tribeca Film Festival will be aired on the beach at Caesars, beginning at 8 p.m.
The big event every summer on the Boardwalk is Thunder Over the Boardwalk—the Atlantic City Airshow, featuring aerobatics demonstrations and fly overs by the  Air Force             Thunderbirds, the  Army Golden Knights and others. Hundreds of thousands of spectators take this in every year, so get to the center of the Boardwalk early on August 17.
Other good day-trip activities include the A.J. Meerwald, New Jersey's Official Tall Ship, sailing from Gardners Basin on excursions every day but Monday (call 856-785-2060) and the Living History Encampment, a free exhibit at Historic Smithville (609-748-6160) and, of course, the Absecon       Lighthouse, offering the ambitious a trek up the stairs of New Jersey's tallest lighthouse for a small donation.
Into the Night
There are several new spots this summer to drink, dance and take in some live entertainment. The Deck at Golden Nugget Atlantic City (formerly Trump Marina), one of the most popular entertainment bars in town, will host a variety of bands including favorites like The Exceptions, Don't Call me Francis and The B-Street band. Live music will continue with weekend entertainment through June and nightly concerts beginning June 27 and going into September.
It's not just about the music and drinks. The Deck also offers a full dining menu featuring old favorites mixed in with new mouth-watering entrees such as pesto grilled chicken salad and a meatball parmesan sandwich.
Over at Resorts, the 25 Hours casino bar has brought back Blanche the Singing Bartender (see page 74), and recently opened Prohibition, Atlantic City's first gay nightclub. You'll find it on the 13th floor of the Ocean Tower.
Its name inspired by Resorts' new 1920s theme—in turn inspired by the popular HBO Boardwalk Empire series—Prohibition features bright lights, giant palm trees, DJs and dancing into the          wee hours.
Another new nightspot is the Toga Bar at Caesars, the latest Atlantic City "ultra lounge." You'll fined high-energy DJ Kalcutta, live performances from Grecian goddess dancers, and elegant VIP areas with bottle service.
Other nightspots you shouldn't miss: mixx and mur.mur at the Borgata, Dusk at Caesars, Providence at the Tropicana, Club Worship at the House of Blues in Showboat; and the Pool After Dark at Harrah's.
This summer, The Pool will feature "Wired Thursdays," with WIRED 96.5 DJ Kobi, and music by DJ/re0mixer Mike Ferullo and Gino Caporale from Beat Bangerzz Productions. Doors open at 10 p.m.  Admission starts at $10, depending on the event.
Finally, one can't talk about Atlantic City nightlife without             mentioning the Beach Bars.
One of the coolest is Sammy's Beach Bar at Bally's. Created by rocker Sammy Hagar, the bar serves up live music and a Tex-Mex menu featuring "fusion" items like as Spicy Jersey Shore Fries, Sea Salt Spiced Peel & Eat Shrimp and Wabo Wings and Burgers.
Fridays this summer will feature a live rock band, Saturdays play host to a "Top 40 Night," Sundays offer guests Reggae/Industry night, while the rest of the week will highlight an "International Night," "Retro Night," and "Rockstar Karaoke."
The award-winning Beach Bar at Trump Plaza is another of the best in town, recognized as one of the "21 sexiest beach bars" by the Travel Channel and winner of the 2011 Atlantic City Nightlife Awards for Best Beach Bar. The bar will be open weekends through June 26, and seven days a week starting June 30.
Highlights this summer include a special party June 23 to kick off the Dave Matthews Band Caravan, a three-day rock festival headlined by Dave Matthews that is taking place at Bader Field just west of the Boardwalk. Starting in July, there is a 4  to 7 p.m. happy hour. Every night at 10 p.m., the Beach Bar transforms into an outdoor nightclub.
Finally, the Hilton Beach Bar is a favorite of many, offering fruit, salads, shrimp sandwiches and wraps to accompany a menu of exotic drinks. Special events include periodic prize giveaways and other special promotions.
On with the Show
You can, of course, always check out our entertainment listings for the specifics on Atlantic City entertainment, but there are a few new things this summer we've got to highlight.
At Resorts, the opening of the Prohibition bar on the Ocean Tower's 13th floor, a new revue show is running in the Screening Room, an intimate theater on the same floor. Believe—Diva in a Man's World is a Vegas-style revue of female impersonators, featuring "Joan Rivers" hosting "Cher," "Liza," and the rest of the usual diva suspects.
Bally's is hosting a live version of Let's Make A Deal, hosted by Joey Fatone. Contestants will get the chance to win thousands of    dollars in cash and prizes in a total of 36 shows, running Saturday through Sunday in the Palace Theater.
Bally's also is hosting a new version of the popular Legends In Concert this summer. The latest version of what was the longest-running show in Atlantic City history in its first incarnation at Bally's kicks off July 2, with seven performances a week through September 4 with headliners offering up simulations of Whoopi Goldberg, Tom Jones, Donna Summer, Frank Sinatra, Madonna and, of course, Elvis. August performances feature several "Kings & Queens" such as the King of Pop Michael Jackson, the King of Rock 'n Roll Elvis Presley, King of Comedy Jay Leno and Queens of Pop from all generations.
At the Tropicana, the Trop Rocks Concert Series continues through the summer with "Best of Broadway" through June 29; Chris Bottie June 25; Craig Ferguson July 8; Huey Lewis and The News July 15; the Goo Goo Dolls with special guest Michelle Branch July 23; and Andrew Dice Clay July 30.
And don't forget the Almost Angels show at Trump Taj Mahal's Ego Lounge. On a two-year run with no end in sight, the sexy female troupe is a combination cover band/dance show, complete with choreography.
We could go on and on about everything happening in Atlantic City this summer, but if we told you everything, it wouldn't fit in the magazine.
Suffice it to say you might find slots and tables closer to home this summer thanks to all the new casinos surrounding Atlantic City.  But you won't find anything near the complete experience offered by the Queen of Resorts.
In short, you won't find Summer at the Shore. ´
SUMMER AT THE SHORE – Atlantic City.