Strip Search in Las Vegas
The Hottest Deals, Discounts And Hidden Gems In Las Vegas
By Steve Kieva
Since this is my first column for Casino Player magazine, I would like to introduce myself to you. My name is Steve Kieva and I'm a fellow Las Vegas enthusiast. My interest in Las Vegas was the catalyst for my involvement with the AOL Las Vegas Travel Boards over ten years ago. A few years later, I started the online newsletter "Everything Las Vegas." Due to its overwhelming popularity, I moved the newsletter to its current location at www.everythinglv.com.
Each month in this magazine, I'll bring you as much of the latest Las Vegas info as possible. My column will include news articles, money saving offers, links to coupons, and tips on lesser-known shows and restaurants—plus anything else I can find that will make your next Las Vegas visit the best one ever.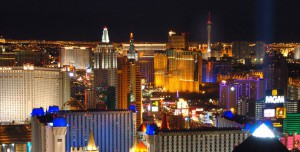 Keeping Up With The Jones'
Not to be outdone by MGM Grand's City Center complex, Caesars Entertainment is starting construction on its Linq project. Caesars estimates that the $500 million dollar project will take about 18 months to complete.
Imperial Palace will receive a full facelift, and once the project is completed it will be re-branded under a new name. As for O'Shea's, it will be leveled to make more room for this massive project. So say goodbye to Burger King and Beer Pong, two of O'Shea's more popular draws.
The project will link the Imperial Palace directly to The Flamingo. The Flamingo is also adding a Margaritaville Casino and a Senor Frogs to coincide with the Linq project. Also underway: the construction of an incredible 550-foot observation wheel and a restaurant entertainment district.
You Can't Keep A Goodman Down
Former Las Vegas Mayor, Oscar Goodman (his wife is the new Las Vegas Mayor), will be opening what is being called a "speak-easy steakhouse" in the revamped Plaza Hotel on Fremont Street. The restaurant will bear the former Mayor's name and will be located in the area previously occupied by The Firefly restaurant. The restaurant will adorned with keepsakes from his time in office, along with classic photographs of the city.
It must be fate that Oscar's ends up as part of The Plaza. After all, it was Goodman who called for its implosion (twice) to make room for his gateway to Symphony Park.
Viva Elvis To Receive Major Changes (Or Else, Elvis Might Really Be Leaving The Building)
Cirque du Soleil officials have confirmed that there will be major changes made to their newest show, Viva Elvis. If the changes don't help the bottom line, you can expect the show to close within two years. The plan is to shift the focus away from the Elvis name and focus more on the acrobatic theme that most Cirque shows already feature.
Take A Trip To The TROPics
I recently toured the remodeled Tropicana Hotel and Casino, and was pleasantly surprised. The claustrophobic feeling I had when I was there a few years back was gone. The hotel is now a vision in white, both on the inside and outside. The addition of Nikki Beach and offshoot Nikki Beach Cafe, along with world class chef Carla Pellegrino's Bacio restaurant, are other very positive changes.
Gladys Knight is the feature entertainer, along with Brad Garrett's Comedy Club and America's Got Talent alumni Recycled Percussion. This makes for an outstanding entertainment line-up. Also housed at The Trop is the Las Vegas Mob Experience, a highly entertaining interactive attraction in which you actually get to "meet" The Godfather!
Las Vegas Hidden Treasures
Every month, I'll mention a few things in Las Vegas that aren't particularly well known, but are well worth the time and effort to check out.
Here are this month's Hidden Treasures:
1- Ginseng 3 at The Imperial Palace
You have to go up to the 4th floor dining area to find this gem, but by all means take the escalators or the elevators to get there. This recently opened restaurant features many different styles of Asian cuisine, including Chinese, Japanese, Thai and Korean dishes. The menu is huge, with most entrees coming in under $13.00. The food is the creation of Chef Chun Lee, who operates several other Asian restaurants throughout Las Vegas. A big plus for Ginseng 3 is that it's open 24/7. We dined there at midnight, and while the service was a bit slow, the food more than made up for that.
2-The Skyline Room at Skyline Casino in Henderson, Nevada
The slogan, "A little out of the way, a lot less to pay," fits this restaurant perfectly. It's about a 25-minute trip from The Strip, but definitely worth the drive. Their signature item is the massive Prime Rib dinner that sells for only $10.95. Nothing on the entire menu will cost you more than $12.95. Daily specials include all-you-can-eat Jumbo Fried Shrimp ($9.95) and BBQ Pork Ribs ($9.95). There's also a daily breakfast special from 6am-11am consisting of bacon or sausage and eggs for only $2.99. The Skyline Room also features huge, homemade, fresh-baked dinner rolls.
If you aren't aware of Skyline Casino, it's quite possibly the most popular casino in Henderson—and for good reason. This place boasts loose slots, friendly staff and great food. It's located on Boulder Highway and Sunset Road. The casino is also starting a major renovation project which will bring new colors, new carpets, new games, and remodeled restrooms.
3-The Paradise Cafe at Las Vegas Hilton.
"Bigger Is Better" should be added as a subtitle to the menu at Las Vegas Hilton's Paradise Cafe. Trust me, I recently received the most amount of food on a single plate that I've ever been served in Las Vegas. My group had a late afternoon dinner there, and no one was able to finish everything on their plate. For a cafe, the food is above average. Signature dishes include Paradise Burgers, Prime Rib, Buttermilk Pancakes, and the biggest and best omelet I've ever had.
In Other Las Vegas News:
Seven Las Vegas hotels have won the prestigious Five Diamond Award for 2012. They are: The Venetian, The Palazzo, Wynn and Encore, Aria, The Skylofts at MGM Grand and The Bellagio. This is the 11th year in a row that Bellagio has been the recipient of this award.
Rock immortals, KISS, will be opening a new Kiss Coffeehouse and restaurant in Las Vegas next year. A venue should be announced soon.
More on the Margaritaville Casino which is slated to open in October at The Flamingo:
The location will be in the former home of Steakhouse 45. It will include a 15,000-square-foot casino floor, 22 gaming tables, 220 slot machines and the flagship attraction, the "It's Five O'Clock Somewhere" bar. It will be built onto the existing Margaritaville bar and restaurant.
Name That Tune has made its debut at The Imperial Place. It's hosted by Las Vegas lounge legends, Zowie Bowie. The show is produced by Adam Steck, who also produces Human Nature, The Australian Bee Gees show and Thunder From Down Under. There will be 100 audience members at each show, with the lucky ones invited onstage to play for a chance at winning thousands of dollars in cash and prizes. Song categories will range from Broadway show tunes to country music and pop. Sounds like a fun time to me!
My friend, Sandy Hackett, has found at new home for his show, "Sandy Hackett's Rat Pack", at The Las Vegas Hilton. This is a great show from start to finish. Sandy is wonderful as Joey Bishop. For now, the entire cast is on a country-wide tour, so the show is only playing on Tuesday nights. Hopefully, more dates will be added after the tour is finished.
Cee-Lo Green (you may remember him from the multi-award winning song, "Crazy," and most recently as one of the judges on "The Voice") will be bring his own show to Las Vegas. The show will be called "Loberace." At this time, there is very little production information available and no venue has been chosen.
Those Aussie guys from "Thunder From Down Under" will be shaking things up at The Excalibur through 2022. The show, which recently celebrated its 10th year anniversary, is now guaranteed to celebrate its 20th in Las Vegas. Twenty years for a show in Las Vegas is a phenomenal accomplishment.
This month, Circus-Circus will open a 10,000 square-foot attraction named The Chuck Jones Experience. Chuck Jones is the creative genius behind such Disney characters as Daffy Duck, Elmer Fudd, Porky Pig, Wile E. Coyote and of course, Bugs Bunny. This will be an interactive attraction where visitors can actually create voiceovers and sound effects. The attraction will also include artwork and historical information.
A new restaurant named The Barrymore, operated by local restaurateur Anthony Meidenbauer, has opened at The Royal Hotel. Meidenbauer is also the driving force behind LBS: A Burger Joint at Red Rock, and Cosmo's Holstein's restaurant. The Barrymore will be open for breakfast, lunch and dinner daily, and will feature an extensive wine list. The Royal Hotel is located at 99 Convention Center Drive.
A new display at Madame Tussaud's wax museum at the Venetian, featuring The Michael Jackson Experience, will run through the end of this year. The attraction will feature three different models of Jackson commemorating different musical stages of his career.
It's Five O'Clock Somewhere
Here are a couple of establishments where I've been enjoying the ongoing Happy Hour specials:
Sushi Roku
3500 Las Vegas Blvd South
Details: Happy Hour deals on sushi rolls, beer, wine, and sake.
Valid Through: Jul 22, 2012
Days Available: Any day of the week
Time Available: 4:00 PM to 7:00 PM
Nobhill Tavern
3799 Las Vegas Blvd South
Details: Late Night Discounts in the Lounge
Valid Through: Jul 19, 2012
Days Available: Any day of the week
Time Available: 10:00 PM to 12:00 AM
If you'd like to print out coupons for these specials, go to this web page: http://www.lasvegasrestaurants.com/index.cfm
And here's one more special worth mentioning. At the Las Vegas Hilton, take advantage of the Benihana Chef's Special For Two (only $46; regularly, it's priced at $89.90). Share two Filet Mignon and Hibachi Chicken entrées, served with Benihana onion soup, Benihana salad, hibachi shrimp appetizer, mushrooms, hibachi vegetables, homemade dipping sauces, steamed rice and Japanese hot green tea, all for just $46! Tax and gratuity excluded
You can visit Steve's popular Las Vegas website at www.everythinglv.com. A new edition of the newsletter is posted just every week. Trust us, you won't lacking for info after reading this. You can also visit his very informative Las Vegas forums at www.everythinglv.com/forums.