Having A Ball On Las Vegas Boulevard
Cheap eats, great gambles and sizzling shows to make your next trip to Vegas your best yet
By Steve Kieva
So you spent the last ten hours having the time of your life at one of your favorite casinos. You glance at your watch, and see it's almost 11 p.m. I guess time does fly when you're having fun. You've got that rumbling feeling in your stomach, and you realize that you are very hungry—but it's late.
Where are you going to get some good food at this time of the night? Well, this is Las Vegas, and I've found some tremendous late-night specials that will satisfy your hunger pains, and won't have a drastic impact on your gambling budget.
Here are some of the fantastic Graveyard Specials at South Point Hotel and Casino which is located at 9777 Las Vegas Blvd. They're served midnight-6 a.m. for guests 21 years old and over.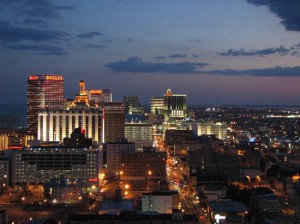 Buttermilk Biscuits & Country Gravy for $1.95
Two Eggs with Bacon or Sausage with Hash Browns, Toast & Jelly for $2.95
Pancake Sandwich:  Two Buttermilk Pancakes with Ham & Fried Egg for $2.95
Ham Steak & Eggs:  Ham Steak, Two Eggs, Hash Browns and Toast & Jelly for $3.45
Steak & Eggs:  7oz. New York Strip Steak, Two Eggs, Hash Browns, Toast & Jelly for $3.95
Cheeseburger:  1/2 lb Burger with French Fries for $3.45
At the Courtyard Cafe at the Orleans Hotel and Casino, 4500 West Tropicana Ave. Served midnight to 6 a.m. (Must Be 21)
Two Buttermilk Biscuits with Country Gravy and 2 Eggs for $3.99.
Two Eggs with Bacon or Sausage with Hash Brown Potatoes, Toast and Jelly for $5.99.
Pancake Sandwich: Two Buttermilk Pancakes with Ham and Fried Eggs for $5.99.
Bone-In Ham Steak and Eggs with Hash Brown Potatoes, Toast and Jelly for $6.99.
Steak and Eggs:  7 oz. New York Steak, Two Eggs and Hash Brown Potatoes, Toast and Jelly for $6.99.
Additional specials served Monday-Thursday • 10 p.m.-7 a.m. $.4.99 each.
Mozzarella Sticks.
Cheddar Jalapeño Poppers:  Zesty Jalapeño Peppers, stuffed with Cheddar Cheese, lightly breaded and fried to a golden brown.
Spaghetti and Meatballs served with Garlic Bread.
Double Cheeseburger and Fries served in a Basket. (Served 24 hours)
There is a $3.99 Late Night Special at Ellis Island Casino and Brewery located at 4178 Koval Lane.
Two Scrambled Eggs served with Biscuits topped with Homemade Gravy and your choice of Bacon or Sausage Served 11:00 p.m. – 6:00 a.m.
Meanwhile, Jerry's Famous Coffee Shop at Jerry's Nugget Casino at 1821 N Las Vegas Blvd. has a great night owl special that is served from 11 p.m. until 7 a.m.
For only $5.89 you get a choice of either an 8oz. New York Steak served with either baked potato, hash browns, French fries or whipped potatoes, choice of soup or salad. This special is also served with your choice of either garlic bread, French bread or a dinner roll.
The other special is an 8oz. Steak and eggs served with eggs any style, hash browns or home fries along with toast and jelly.
For dessert, don't forget about Jerry's Famous Strawberry Ring for $5.00.
At the Iron Rail Cafe inside the Railroad Pass Hotel and Casino located at 2800 South Boulder Highway in Henderson, Nevada you'll find these specials served 11 pm to 7 am daily:
Two eggs, two buttermilk pancakes, syrup and butter or Two eggs, hash browns, toast and jelly for $2.99
You will also find several "Sunrise Express" specials that are served 24 hours a day. These specials range in price from $2.95 (biscuits and gravy) to $7.95 (Steak and Eggs)
Other Late Night specials include:
$4.75 Burger Basket – Includes burger, fries, and fountain soda.
$1.00 Strawberry Shortcake.
$1.00 Draft Beer.
KJ Dim Sum & Seafood Chinese Restaurant is a new restaurant that recently opened at the Rio All-Suite Hotel & Casino (open until 2 a.m.) There are no specials per se, but it's now a late-night hot spot for hungry locals.
Their most popular dishes include the whole imperial Peking duck, house special chicken with soy sauce, crispy spare ribs with garlic, and braised lobster with ginger and scallions.
Appetizers start at $7.95 and you can find numerous entrees starting at $12.95, which is a bargain for an upscale restaurant.
Central Michel Richard at Caesars Palace debuted this September. The menu reflects Richard's signature American cuisine, but it's crafted with French flourishes. Just like the menu and décor inside and out, the experience is unpretentious yet imaginative.
This restaurant, which is open 24/7, is particular popular between the hours of 2 p.m. and 4 a.m. This is when guests seated in Central's expansive bar area can enjoy a delicious array of signature dishes and other bar bites, including Michel's famous bacon and onion tart, deviled eggs and cheese puffs, as well as beer-battered onion rings, fried calamari with marinara, beef sliders with fries, chicken sliders with fries and chicken wings. Bar menu items are regularly priced from $6 to $15.
Central is also pleased to introduce its twice-daily happy hour program. Between the hours of 2 and 4 p.m., and again between 2 and 4 a.m., guests receive 24 percent off all food items on Central's bar menu.
KGB: Kerry's Gourmet Burgers at Harrah's Las Vegas is offering a unique and different  monthly burger and shake special that changes every month. Each flavorful burger and shake creation is crafted by master chef Kerry Simon. The burgers are served with fries and priced at $14; shakes are $6, and the "burger and shake of the month combo" is $18. The restaurant is open from 11 a.m. to 6 a.m. daily. The monthly burger special is always available during operating hours.
Oldies But Goodies (these specials aren't listed on the menu; you have to ask for them)
Don't miss out on the $7.99 steak dinner at Ellis Island Casino and Brewery, which is located just behind Bally's on Koval Lane. This special includes a potato, bread, veggies, and a hand-crafted beer or root beer soda.
Mr. Lucky's at the Hard Rock Hotel and Casino has a $7.77 dinner special that includes steak, three grilled shrimp, potato, and a salad.
At the Bougainvillea Cafe at Terrible's (4100 Paradise Road), you can get a T-bone steak dinner and a beer for $9.99. There are also five other $9.99 specials, and they all include a potato and veggies.
And here are a couple of great dinner and show deals you should take advantage of:
First is a Casino Player special offered by The Jeff Civillico Show at the Planet Hollywood restaurant, inside the Forum Shops at Caesar's Palace.
Every night Jeff transforms the upstairs room at Planet Hollywood Restaurant into his playground. Every show is unique, as he uses his versatility as a master juggler, improvisational artist, and intuitive crowd pleaser to adapt to the personality of each audience. The show is high-energy, fast-paced and guaranteed to win you over.
The walk-up price for Jeff's show is currently $60, but with the Casino Player special voucher, the dinner and show will only cost you $25. Dinner comes with a choice of five menu items, unlimited beverages and a chocolate brownie for dessert.
You can download the coupon here:
http://www.jeffcivillico.com/las-vegas-dinner-show/
The Riviera also has a fabulous buffet-and-show option. For only $22.00, you get to have dinner at the Riviera buffet and then take in the show at the Riviera Comedy Club. Purchased separately, the ticket to just the Comedy Club will cost you over $50.00, so this really is a great deal. Tickets can be purchased at the buffet entrance starting at 4 p.m. daily.
By the way, the Riviera buffet has been upgraded and reviews have been very positive.
This Month's Hidden Treasure: Nora's Restaurant
Gino and Nora opened Nora's Cuisine in 1991, with seating capacity for only 12 people. Over the years, the restaurant has expanded and it's now one of Las Vegas' hottest restaurants, serving locals and guests from around the world.
Marcello Mauro, the restaurant's general manager, has been a part of Nora's Cuisine since the beginning. He's been in the restaurant industry for 15 years, and graduated from UNLV.
Nora's is open for lunch and dinner except for Saturday when no lunch is served. The restaurant is closed on Sunday's.
With over 70+ classic Italian dishes, their dinner menu is sure to satisfy your hunger. House specialties include Chicken Mount Etna, Alla Nora and Crazy Alfredo.
The lunch menu is similar to the dinner menu but offers a few different options such as panini, pizza (Parmigiana, Capricciosa and Spinach are house specialties) or you can order by the slice and there are lunch specials you won't want to miss.
Nora's has won the award for Best Italian Restaurant In Las Vegas from The Las Vegas Review Journal's annual "Best of Las Vegas" readers poll. Nora's is located at 6020 West Flamingo Road. You can reach them at 702-873-8990.
And when you go to Nora's, just mention that you saw them in my "Strip Search" column and you'll get a free glass of wine on Monday or Tuesday.
In other news…
Las Vegas Firsts…
I'm hearing rumors that either Golden Corral, Sweet Tomatoes or CiCi's Pizza will operate the Imperial Palace buffet when the Linq Project is completed. This will be the first time that an outside company will operate a Las Vegas buffet. Golden Corral appears to be the front runner at this time.
Also at the Imperial Palace, the "Silver Sky Wedding Chapel" has opened. The chapel has some very unorthodox options such as "liquid courage" shots, showgirls, celebrity impersonators, and matching couples tattoos.
In another Las Vegas first, The Riviera is now the first casino to offer 1000x odds at its four crap tables. The 1000x odds apply to bets placed on the Pass Line. If you're not familiar with how craps is played, if you bet $5.00 on the Pass Line, you can then bet up to $5,000.00 after the come out number is rolled.
Every Thursday night at the Royal Hotel on Convention Center Drive, you can enjoy a themed show and dinner called "Speakeasy With The Mob." You'll get to dine with famous "mobsters" such as Henry Hill (whom the movie "Goodfellas" was based on), Tony Montana ("Scarface") and infamous hitman Frank Cullota. The price for this experience is $60.00.
American Burger Works will be opening at the Excalibur. Along with their famous burgers, ABW will be offering French fries with the option of 15 dipping sauces.
Staying with the burger theme, Anthony's Gourmet Burgers and Brew has opened at the M Resort. The restaurant offers homemade burgers paired with specially selected craft beers.
The Burger Joint at the Flamingo has closed and will be replaced by an upscale steakhouse.
Look for a version of "Dancing With The Stars" to open at the Tropicana very soon. At last, this on-again, off-again production seems like it's really going to happen.
Who has the best buffet deals in Las Vegas? If you ask locals, their response will often be, "Station Casinos." Here are their latest prices:
$4.99 for breakfast, $6.99 for lunch, and $9.99 for dinner and Sunday brunch at Palace, Boulder, Texas, Sunset, Santa Fe, and Aliante Stations; and $5.99 for breakfast, $7.99 for lunch, and $13.99 for dinner at Green Valley Ranch and Red Rock. (You must show your Boarding Pass card to get these special prices.)
The 650-room Lady Luck Hotel and Casino will undergo extensive renovations and reopen as the Downtown Grand in 2013.
La Cage has closed at the Four Queens and has returned to the Strip at the Riviera Hotel and Casino. This iconic show features one of Las Vegas' lesser-known showbiz legends, Jimmy Emerson. Emerson was one of the stars of the show "Bottoms Up" ran for more than 10 years in Las Vegas.
Avant Garde, a show described as a collection of "music, mirth, magic and mayhem," has opened at the Plaza in downtown Las Vegas. Ticket prices start at $34.95 and the show will perform nightly (dark Fridays).
Illusionist Tommy Wind, 21, is one of the youngest headliners to open a show in Las Vegas. His show is called "Impact: An Explosion of Magic and Music" and is now playing at the Clarion Hotel, 305 Convention Center Drive. Wind was voted Best Magician of the Year at last year's World Magic Awards. General Admission is $39.95 and VIP admission is $49.95.
Gameworks is closing after a 15-year run on the Strip. High rent, too many competing restaurants and a decline in patronage were to blame for the closure.
Singer Cee Lo Green has confirmed that he will star as a resident headliner at Planet Hollywood this fall. The show will revolve around Green's character, "Loberace," which he created as a tribute to one of his idols, the Las Vegas legend Liberace.
"I love Vegas," said Green. "It's always a great time here. We're going to have a lot of fun and a lot of flash. It will be the show that Vegas is all about."
The latest "diva" to join the cast of "Divas Las Vegas" at the Imperial Palace Hotel and Casino is a Katy Perry impersonator. The show stars Frank Marino as Joan Rivers. Impersonators also include "Bette Midler," "Cher," "Tina Turner," and the funniest "Beyonce" you will ever see.