Getting The Most From Your Las Vegas Vacation

Cashing in on the best senior specials, discounts and promotions
By Steve Kieva
You might say "life begins at 50 in Las Vegas," because at this age all sorts of terrific senior citizen discounts kick in. Some are advertised in plain view, while with others, all you have to do is ask for them.
South Point Gives You New Reasons To Skip the Strip
Great rates, fantastic restaurants and free shows make South Point Hotel and Casino a viable alternative to staying on the Vegas Strip. The property is about five miles south of the Strip's hustle and bustle, at 9777 Las Vegas Boulevard South.
It originally opened as the South Coast in December of 2005 and was the first megaresort at the south end of the Strip. Back then, the hotel had 662 rooms. The hotel was renamed South Point in 2006 after  Michael Gaughan sold all his stock in Boyd Gaming in exchange for full ownership of the South Coast.
Since 2006, two more towers have been opened, giving the resort a total of 2,163 rooms and 160,000 square feet of meeting and convention space, making it the largest non-Strip hotel in Las Vegas. Each oversized guest room functions more like a mini-suite, with state-of-the-art LED screens, high speed internet connections, and color patterns inspired by the Southern California lifestyle. Suites range in size from 900 to 2,500 square feet.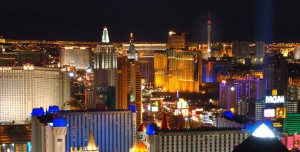 South Point's gaming amenities include more than 2,563 of the most popular slot and video poker machines. The casino pit features over 60 table games including 21, craps, roulette, Fortune Pai Gow Poker and Three Card Poker. Meanwhile, a recently redesigned race and sports book offers more than 300 seats, with separate viewing areas for horse and sports action. The Del Mar Lounge provides the perfect place to grab a beverage and watch the races. Nearby, the bingo room has 600 seats and features Cash Ball and Progressive Double Action Jackpots.
South Point also houses the Equestrian and Event Center, a 64-lane bowling center, an arcade, a 16-screen movie theater, the Costa Del Su Spa & Salon, and eight restaurants. Among them: Don Vito's Italian, Michael Gourmet's Room, the Silverado Steakhouse, and the very popular Garden Buffet.
Entertainment options include The Dennis Bono Show (Thursdays at 2 pm) and 88 Keys starring Wes Winters (Fridays and Saturdays at 6 pm). Both shows are free.
The Dennis Bono show is unique. You never know which entertainers will show up to perform. This guarantees a different show every week. Entertainers such as Clint Holmes, The Coasters, The Lettermen, Rick Faugno (formerly of  Jersey Boys) Sonny Charles (The Checkmates), and Frankie Scinta have all stopped in to perform.
Meanwhile, Las Vegas entertainer Wes Winters' one-man lounge show is built around his acclaimed vocals and Liberace-like award-winning piano skills. The show has a diversified range of songs such as "Will You Still Love Me Tomorrow," "That's Life," and even J. Frank Wilson's one-hit wonder, "Last Kiss." The show is three hours long, so you're bound to hear a few of your favorites.
And here's one more reason to give South Point a try: room rates start at only $49 (Sunday-Thursday) and $79 (Friday and Saturday). You can book these rates online at: www.southpointcasino.com
Senior Citizen Discounts Abound In Las Vegas (And Most Start At Age 50!)
You might say "life begins at 50 in Las Vegas," because at this age all sorts of terrific senior citizen discounts kick in. Some are advertised in plain view, while with others, all you have to do is ask for them. These discounts are available for numerous shows, restaurants and even on your hotel stay.
Here are a few of the better deals I found. At the M Resort, at 12300 Las Vegas Boulevard South, members of the iMagine Rewards club  age 50 or above can participate in a free weekly drawing every Tuesday at 6 p.m. There are 50 winners every week. To enter one of the Tuesday drawings, simply accumulate 100 slot base points within the seven days leading up to it.
Prize Structure
1st Prize  – $1,000 in free play
2nd Prize  – 6th prize  $500 in free play
7th Prize – 14th prize $250 in free play
15th Prize – 24th prize $100 in free play
25th Prize – 40th prize $25 in free play
41st Prize – 45th dinner for two – Anthony's ($125 maximum value)
46th Prize – 50th prize dinner for two – Marinelli's ($100 maximum Value)
You must be present to win. Winners have until 7 p.m. Tuesdays to claim their prize. Free play winnings or any unused portions posted to the participants' account will expire one month after winnings are posted. Example: Postings on March 7 will expire on May 7.
Here are some other discounts and freebies available to M seniors:
Studio B Buffet: Half price with your points for breakfast and lunch on Tuesdays
Marinelli's Italian Restaurant: Half price with your points for dinner on Tuesdays
Free entertainment: Mark OToole every Tuesday at 2:30 – 5:30pm in Ravello
Spa Mio: 35% off Spa and Salon Services on Tuesdays
Also, Hash House A Go Go has just announced a special discount menu for guests over age 50. It's available every day for breakfast/lunch (7 a.m.–5 p.m.) and dinner (5 p.m.–close). On Tuesdays, Hash House also features two-for-one senior meals.
Meanwhile, over at Station Casinos you can take advantage of Senior 50 Plus Wednesdays. On these special days, senior-age players can participate in a free $30,000 slot tournament from 10 a.m.-7 p.m. Also available: Half-point dining from 6 a.m.-6 p.m. at selected restaurants. $1 gets you 10 club points on slot play and 6 club points on video poker play. There's also a 24/7 special: $3 blackjack, $5 double deck blackjack, $3 craps with 10X odds and 50-cent roulette.
Boyd Gaming is also rewarding mature players with its Young At Heart Senior Days. You'll find them Tuesdays and Thursdays at Suncoast Casino. If you've earned 300 points, you're entitled to a free buffet (breakfast or lunch).  You can also enjoy $4 matinee movies Tuesdays, and catch the Hit Parade Variety show for free (every Thursday at 2 p.m). One other senior perk: you can get two free bingo packs with the purchase of two at regular price.
Over at Gold Coast, at 4000 West Flamingo Road, Mondays are special days for seniors. Earn 10 bonus points and you'll get 50% off of the buffet. You also get 10x points on slots. Earn 200 points, and you can score a free entry into  a video poker tournament. And, you'll get a free blue bingo pack with the purchase of one blue bingo pack.
At the Orleans Hotel and Casino, 4500 West Tropicana Ave., senior specials can be had every Tuesday from 7 a.m.–7 p.m. Specials include $4 movie matinees, 7X points, two-for-one breakfast or lunch buffet, and "Swipe and Win" (earn 50 points for your chance to spin the wheel and win a variety of gifts).
At Sam's Town, at 5111 Boulder Highway, senior specials are offered every Thursday. They include 50 percent off the Firelight buffet when you pay with your points; 20 percent off at TGI Friday's; cash drawings at 4:15 p.m.; and a free slot tournament from 10 a.m. to 2 p.m. To enter, you simply need to earn 10 points.
At the Rampart Casino in Summerlin, seniors age 50 and older who are also Rampart Rewards members can enjoy great deals at the Rampart Buffet: lunch for $6.99; dinner (Friday – Wednesday) for $12.99; Sunday brunch for $11.99; and Thursday Deli Night for $15.99.
The Plaza Hotel & Casino in downtown Las Vegas offers 15 percent off room rates with an AARP membership card. Meanwhile, the popular show "Remembering Red" starring Brian Hoffman at the Westin on Flamingo Road is giving seniors a 50 percent discount when they buy their tickets online. Just go this website and use the discount code CPM: www.redskeltoncomedyshow.com.
In Other News…
"The Best Little Whorehouse in Texas" has opened at the Plaza Hotel and Casino. Staking its claim as one of the sexiest production shows in Las Vegas.
"The Best Little Whorehouse in Texas" is based on the true story of the legendary Texas brothel, the Chicken Ranch. The risqué musical chronicles how the town's sheriff (and a regular patron of the brothel) fought to keep the historical whorehouse open as a crusading do-gooder television commentator tried to close it down.
The full production show at the Plaza will take audience members on a trip through history while watching some of the sexiest girls in Las Vegas sing, dance and act. "The Best Little Whorehouse in Texas" is now playing in the Plaza's classic showroom every evening at 5 pm. Ticket start at $59.95 for general admission. You can buy them at the box office next to the showroom, by phone at 702-946-8934 or 800-793-9332, or online at www.plazahotelcasino.com.
CASINO PLAYER SPECIAL: You can get a free ticket to "The Best Little Whorehouse in Texas" when you pay full price for one. To claim this offer, contact the Plaza Hotel Box Office at 702-946-8934 to receive one free admission with the purchase of a full price paid ticket of equal value. Here's your offer code: BLWITCPLYR. (It expires on May 30).
This Month's Hidden Treasure: Center Cut at The Flamingo
First there was Conrad's. Next came Steakhouse 46. Then there was Voga, and now, the Flamingo Hotel and Casino has opened its newest steakhouse, Center Cut, in the former home of the Burger Joint.
Food and beverage guru Dan Mykovich told me Center Cut will be the new standard by which all Las Vegas steakhouses are measured by, and he is particularly proud of its staff.
"We went through a three-step process," he explained to Casino Player. "We interviewed over 150 applicants, until I was satisfied that we had hired only the most personable, upbeat and positive people we could find."
Mykovich describes the decor as "snazzy black and white." There are videos in the room showing films of vintage Vegas, Elvis, Frank, Dean and Bugsy, dating back to the early Vegas days. The steaks are from Aspen Ridge Co., which means high quality meat, no hormones or steroids, and phenomenal flavor. The menu features traditional favorites such as the 20-ounce ribeye and a 24-ounce porterhouse.
Other offerings seafood selections include Maine lobster, Alaskan king crab legs, pan seared Scottish salmon and Diver scallops.
The menu also contains a generous selection of other entrees such as rack of lamb, an all natural pork chop, free range chicken breast and the ultimate Kobe burger.
You'll also find a signature creation called the "Seafood Tower." This three-story seafood lover's dream has a mind-boggling selection of lobster medallions, oysters, shrimp and king crab.
There is an ample selection of sides and desserts on the menu, along with a wonderful selection of cocktails and signature martinis.  Hours are 5:30-10:30 p.m. nightly.
Casino Player Special: Mention you read about this in my "Strip Search" column and you'll get a two-for-One Martini special.
Could This Be Las Vegas' Best Buffet? It's Certainly The Most Unique…
Studio B Buffet at M Resort brings you a buffet experience unlike anywhere else. Integrating a state-of-the-art restaurant with a live-action cooking studio. In the main dining room, chefs prepare delicious appetizers, entrees and out-of-this-world patisserie desserts. Guests can also enjoy beer and wine selections at no additional cost.
The dining experience is made unique by the ever-changing live cooking and technique demonstrations by culinary experts, broadcast on 110′ x 6′ video monitors inside the main buffet so everyone can watch. With continually evolving flavors and entertainment, no two meals are exactly alike at Studio B. Here, you come to eat, but you leave entertained.
The B Buffet has won multiple awards as the best buffet in Las Vegas.
Breakfast is just $10.99.
Lunch is $15.99.
Dinner is $23.99.
Seafood dinner on Fridays is $33.99.
A seafood brunch is served Saturdays and Sundays for $33.99.
Fitzgeralds Casino & Hotel to Become the D Las Vegas
Fitzgeralds Casino & Hotel in downtown Las Vegas is getting a dramatic transformation to become the D Las Vegas Casino. The project is scheduled for completion this.
The new name is accompanied by extensive renovations that will enhance the fresh, energetic attitude and fun atmosphere synonymous with downtown Las Vegas. Upon completion, the D will be one of Vegas' only two-level casinos and will feature 638 remodeled contemporary rooms and suites; daily live entertainment; and two high-energy bars – the LONGBAR and the D Bar – situated in the casino and on the Fremont Street Experience, respectively.
A Glimpse into the D Las Vegas:
Hangin' at the D. When it's time for a cold one, guests can belly up to the LONGBAR – the longest bar in Nevada
Roll the Dice. The D's two-story casino delivers an experience to suit any mood or preference. On the first-floor  casino, guests will groove to today's hottest songs as they enjoy the latest in slots and table games, dancing dealers, 10X odds on dice, and blackjacks that always pay 3 to 2. The second-floor vintage casino will be home to numerous classic coin-operated slots and Sigma Derby, a popular simulated horse-racing game.
Catch Some Dzzz. Guests will enjoy newly remodeled rooms and suites with modern amenities including pillow-top mattresses, flat-screen TVs, iPod docking stations, high-speed wired and wireless Internet access, and more.
Die of Laughter. Marriage Can Be Murder, an award-winning interactive comedy and murder-mystery dinner experience, invites audience members to become a part of the show every night at 6:30 p.m. Comedian Kevin Burke, known for his lightning-quick wit and hilarious exposure of psychic con-games, has guests doubling over with laughter nightly.

D-licious Eats. Offering gourmet cuisine in a comfortable setting, Don B's Steakhouse offers expertly prepared steaks, fresh seafood, lavish desserts and fine wines for an incredible price. For a more casual experience, Courtyard Grill offers fresh American cuisine for breakfast, lunch and dinner.
Elsewhere On (And Around The Strip)…
Strip headliner Frank Marino has become the first female impersonator to have his own personalized gaming tables. Instead of the usual numbers that represent payoff odds, they have been replaced by pictures of the stars of his show.
Look for the Laugh Factory to open soon at Tropicana. Also there are plans for a new Comedy Walk of Fame, a Comedy Wall of Fame and a Stand-Up Comedy Interactive Museum. These are all part of the Tropicana's $180 million transformation.
After a six-year run, the Palms is washing its hands of anything to do with the Playboy Brand. The Playboy casino will close in June. The Playboy Comedy Club has already closed.
Flavor Flav's House of Flavor, has opened at 3333 S. Maryland Pkwy. The restaurant will have traditional soul food items on the menu along with such favorites as fried chicken and shrimp. Items can be purchased individually or as a complete dinner. Dinners range from $6-$10.
Nightlife czar Victor Drai is in talks with Caesars Palace to open what Drai is calling "A huge project."  There are no details as to where this project will be opening, or what it will consist of, but a good guess is that it will coincide with the massive Linq project that will change the face of Las Vegas entertainment.
Cirque du Soleil has announced that Zarkana will be replacing Viva Elvis at Aria. The cast and crew of Viva Elvis will leave the Elvis Theater on Aug. 19. Zarkana will debut with preview performances Oct. 25.
Beer Pong enthusiasts, rejoice: when the fat lady sings her last song at O'Shea's casino, the sacred beer pong tables will be moved next door to the Imperial Palace.
The Tournament Of Kings show at the Excalibur has been extended through 2015. The show is smack in the middle of an upgrade, involving changes to the set and costumes.
There have been rumors about such Broadway shows as Spiderman and Rock Of Ages finding a home on the Las Vegas Strip. Now you can add The Book Of Mormon to the list. We hear Palazzo is very interested.
A word on those "resort fees" we all despise: MGM Resorts has hiked daily resort fees at each and every one of its properties. This annoying fee is added to your bill to help pay for those "extras" you think you're getting for free,  such as the pool, floral gardens and animal habitats.
Here are the current resort fees:
Bellagio, MGM Grand, Aria, Vdara, The Mirage, Mandalay Bay— now $25 (previously $20)
Monte Carlo—now $20 (previously $15)
New York-New York, Luxor— now $18 (was $15)
Excalibur— now $15 (from $12.50)
Circus Circus— now $8.95 (up from $7.95)
Kudos go to Caesars Entertainment for choosing not to charge any resort fees at any of its Las Vegas properties.
A couple more quick items before we wrap things up for this month: Name That Tune has closed at the Imperial Palace after a very short run. And finally, I mentioned in last month's column that the on-again, off-again Las Vegas version of Dancing With The Stars at the Tropicana was on again. The show will feature Carson Kressley, Joey Fatone, Lacey Schwimmer and Tia Carrere. It's scheduled to run through July 7.