STACKING CHIPS
An inside look at an average day at the World Series of Poker
By Sean Chaffin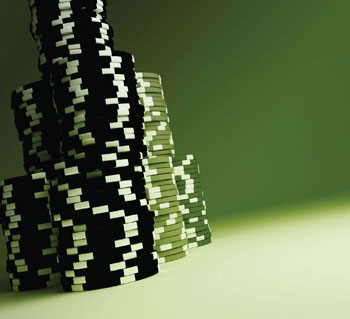 With a sprawling number of tables and games of every variety, the World Series of Poker is a poker player's paradise, a highlight of the year. A month and half of high-stakes tournaments along with the cash games that pop up throughout the series, the WSOP is a true poker spectacle. Casino Player was there for some of the action to take a look into an average day at the WSOP.
It's Sunday, June 12, and the WSOP is in full swing. Today's highlights include two WSOP bracelet ceremonies and Day 2 of the $1,500 Millionaire Maker, which will award one youngster a cool million bucks. Also, big name pro Daniel Negreanu is looking for a second straight final table as he returns for the second day of the $10,000 2-7 Draw Lowball Championship. Two more events also kick off – a $1,000 No Limit Hold'em tournament and the $3,000 HORSE event.
In other words, it's just another exciting day of poker action at the Rio Resort and Casino in Las Vegas. After today's action, 18 tournaments will have been underway with 51 left to go – including the $10,000 Main Event which is broadcast by ESPN each year.
BRACELET TIME
One nice tradition at the WSOP is the daily gold bracelet ceremony and there will be two awarded this Sunday in June. In mid-afternoon, it's 26-year-old poker pro Ryan LaPlante's turn for the spotlight. The 26- year-old Brainard, Minnesota, native took home the title in the $565 Pot Limit Omaha event, which was the largest non-hold 'em tournament ever held. The tournament featured a multi-entry setup and 2,482 entries for a $1.2 million prize pool. LaPlante collected $190,328 and a gold bracelet for his effort.
LaPlante hugged family and friends before accepting his bracelet. The young poker pro grew up playing online poker, fine-tuning his game. LaPlante, who's bracelet ceremony touched on events in the hew that weekend, thanked family and friends the day after the Orlando shooting at a gay nightclub.
"First, there are so many people I am grateful to," he said breaking down. "There are so many people who have been so supportive over the last few years especially my fiancee Chris. Secondly, I am so proud to call myself a World Series of Poker champion. Third, I am proud to call myself an openly gay man. Always be proud in who you are and comfortable with yourself. Please treat each other with love and respect as there is too much hate and anger in this world."
The ceremony made some headlines for the young poker's pro appeal at such a trying time for many. His for tolerance and compassion echoed beyond a mere poker event. After his words, it was back to poker with the riffling of chips echoing throughout the Rio.
The Omaha event that LaPlante won fit in well with WSOP efforts in recent years – attempting to find a balance for attracting "Regular Joe" players, including a few smaller buy-in events such as this one, and a second tier of higher buy-in "world championship" events such as the 2-7 Lowball event in which Negreanu would be featured.
Along with offering a dual-track of buy-in levels, the WSOP has become one of the only spots on the tournament calendar to offer numerous varieties of the game not played anywhere else. On this afternoon, Seattle's Rep Porter was awarded his gold bracelet for topping a field of 461 in the $1,500 Seven Card Razz event for his third gold bracelet and $142,624 in prize money. Razz is a version of Seven Card Stud in which players win by making the lowest hand.
Porter offered a very short speech and held his bracelet over his head in triumph. As the proprietor of ThePokerAcademy.com, he offers poker instruction and analysis and has been playing professionally for 10 years. And while the bracelets are nice, Porter, who has $3.2 million in lifetime tournament winnings, seems more pleased with success on the felt than collecting hardware.
"I keep the bracelets in a safety deposit box," he says. "My bracelets have only been worn two times and that was at a party."
By the end of the series, Porter amassed a total of seven cashes for almost $325,000
– quite a reason to celebrate.
ON THE SCENE
The scope and size of the WSOP is what amazes many. Occupying several massive convention rooms within the Rio, the spaces house more than 500 poker tables with tournaments, satellite events, and cash games. In the halls, several booths feature vendors selling poker books, sunglasses, headphones, and other poker-related items. There is even a poker tax specialist offering his services for those rounders who might need a little help dealing with Uncle Sam.
Around poker tables, spectators check out the action, support friends, and watch some of their poker heroes stack chips. After one hand, WSOP media director Nolan Dalla asks "Kid Poker" if he'd sign one of his books for a fan from Australia. The fan has been playing 18 months and asks Negreanu to address the autograph to his 14-year-old daughter Lucie, who is back in Brisbane and also learning to play.
"In seven years she's going to be here playing," he says cheerily to his poker idol.
Also checking out the action is another Australian visitor, Alfredo Vavallaro. He flew in with his wife Josie, who was playing in the Millionaire Maker (more on that event later), after winning a players package from the National Poker League series in Australia. While Alfredo is retired, his wife works as a secretary when not playing poker.
While she wouldn't walk away a millionaire, Josie did bring home a few bucks in her first-ever WSOP event – a nice accomplishment in an event that featured almost 7,200 entries.
"This is our first time in Vegas, and she actually cashed, which is really cool," Alfredo said. "It's been fantastic."
TOURNAMENT ACTION
The WSOP has come a long way from its days at the Horseshoe in downtown Las Vegas. Each summer, thousands of players plunk down their cash for a chance at poker glory. One highlight is the Millionaire Maker, which was kicking off Day 2 on this Sunday. The event featured a $1,500 buy-in with 7,190 entries over two flights of Day 1 play. This Sunday, players would reach the money with 1,079 players cashing for at least a minimum cash of $2,250.
A few days later, 32-year-old Jason DeWitt, of San Diego, CA, would become poker's next millionaire after winning the massive tournament. The young poker pro snagged his second gold bracelet as well.
"It's hard to get through these big fields," DeWitt told WSOP.com after his win. "I usually play just no- limit and pot-limit and they draw the biggest fields. So, it's not surprising that it would take so long to get back here again. I mean, these fields are so big. To win a tournament with a 7,000- player field is just insane. It's just incredible."
In the midst of the daily events, cash games are a huge part of the poker scene at the Rio during the WSOP. The Rio spreads games for every level of bankroll – with $1-3 No Limit Hold'em games raging and all the way up to $100-200 mixed game.
The WSOP also features several non-bracelet daily tournaments for those looking for some fun, but with a limited bankroll. These dailies with buy-ins ranging from $135 to $365 regularly feature five-figure payouts for first and are held throughout the day. The day's big winner in the $235 event is Michael Coombs, of Tacoma, Washington, who takes home $36,349 – a nice payday for a small buy-in. Coombs, a poker floor supervisor at the Palace Casino, also finished third for $32,249 in the WSOP's traditional first event, the $565 Casino Employees Championship. It was a great series for Coombs, who had been 0-4 in WSOP events and 0-9 total in tournaments at the Rio. His goal had been just to find that elusive cash this summer.
"It was an incredible experience," Coombs wrote on his blog after finishing third. "It was a total blast playing on the final table. And just like that, I crossed off most of my major goals for 2016 and the Rio went from being my all-time worst casino to being my all-time best."
Back to the main tournament action, several big names are battling for titles. Along with Negreanu, big name pros Mike "The Mouth" Matusow and Scott Seiver have made Day 2 and are battling it out to make the money. At his table, Negreanu chats it up with fellow players, commenting on the day's news that a gunman has killed 50 people at an Orlando nightclub. The topic is common at tables throughout the Rio and seems to put poker into perspective for many.
In Event 15 ($1,500 Eight Game Mix 6-Handed), poker pro Paul Volpe is the day's big winner for $149,943 and his second bracelet. A regular on the big tournament scene, Volpe, from West Chester, PA, now has lifetime winnings of almost $5 million.
"With me, poker is mostly about the money," Volpe said after the event. "I know with the World Series of Poker there's so much history and I respect that. But I am here mainly to earn a living, make money, and support my family. For the most part, I love getting gold bracelets. But I'm here mainly to make a living."
Negreanu would make his second straight cash, but come up just short in reaching yet another final table. His 14th place finish would net him $15,464 to add to his $32 million in lifetime tournament earnings. His summer would continue with eight more cashes. Like many pros, Negreanu puts the latest bust out behind him. As he and many players Tweet about the grind through so many tournaments: "On to the next one."
Sean Chaffin is a freelance writer in Crandall, TX. Email him at seanchaffin@sbcglobal.net or follow him @PokerTraditions. His poker book is RAISING THE STAKES: True Tales of Gambling, Wagering & Poker Faces and available on Amazon.com.