Sports 'Netting
The Big Game's in town.
If you want action, it's time to start shopping for the best sites
by J. Phillip Vogel
You've got to love this time of year.
The air is cold; the betting action is hot, and the biggest sports event of the year—the Super Bowl—is ever so teasingly around the corner. At long last it's again time for the gods of the gridiron to suit-up and square off for our gladiatorial amusement.
The culmination of the season, the Super Bowl is arguably the one "must bet" event of the year, whether it's done among friends, in an office pool, or through a bookmaker. For the online sports bettor its coming heralds the search for the ideal site, the one with the best odds, the most betting options and the highest rewards.
So this year, Santa, kindly skip the presents and pardon the lack of milk and cookies; there's really only one thing on my mind: finding that perfect online sportsbook.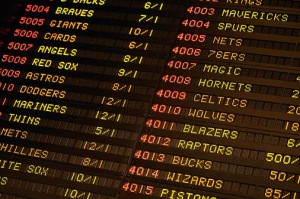 Who needs another pair of socks anyway?
First Things First: The Ideal Site
As any veteran of the action will tell you, sports betting is one of the most challenging gambling venues, requiring a calculating mind, a commitment to success and near endless hours of hard work. It's no place for the passive gambler who's content simply pulling the handles or rolling the dice in search of fortune. But if you've got what it takes to do the research, shop for the best odds and, in the case of online sports betting (or as I sometimes call it, sports 'netting), track down the best sites, it can be one of the most lucrative of all gambling activities.
When talking about online sports betting, I've found that punters vary widely in their "ideal site" criteria. For some, it's strictly about the events covered. Can I wager on anything, anytime, anywhere? If so, then that's the perfect sportsbook. Others seem more concerned with getting comps, 1/2 juice specials, and other promotional incentives than they are about adequate selection; it's all a matter of getting the best deal. Still others need a site that goes beyond sports betting, providing access to casino games, horseracing, poker and more.
For my money, however, the best Internet sportsbooks unite these and other noteworthy attributes to create a convenient, safe, and comprehensive betting service that does more than just book bets and hand out a few pennies worth of comps to overeager punters. To that end, I suggest that you look for sites that offer each of the following features:
1. Comprehensive betting options. Even if you only like to wager on the major events like football or basketball, stick with books that provide comprehensive multinational event coverage and offer a corresponding range of betting options (such as reverse bets, round robins, futures, propositions, straight wagers, parlays, teasers and if-bets.) Such comprehensive coverage is the mark of a premium sportsbook.
2. Competitive odds. Part of your success as a sports bettor is unavoidably linked to getting the best possible odds—which vary from site to site. Always hunt for the best possible price for each bet.
3. Comps and other perks. Although there are some exceptions to the rule, most great sites offer at least moderate incentives to join. These can take many forms, including initial deposit bonuses, VIP points, 1/2 juice specials, referral cash and re-load bonuses.
4. Special options. Strong sites often go the "extra mile" and offer special options like in-running betting (allows the customer to bet while the action takes place) and person-to-person (P2P) wagering (allows bettors to browse and accept betting propositions posted by other site members, or to propose desired bets of their own).
5. Solid reputation. Always make sure that whatever site you select has a lengthy track record or at least has a land-based betting company backing them. If they don't, they may not have the financial backbone to survive a bad week, month or longer.
Once you've tracked down a handful of promising books that meet these criteria (and to get you started check out my list of recommended examples below) start scrutinizing them for these important secondary features.
Secondary Features:
1. Betting resources. Since sports betting involves a lot of research, whenever possible choose a site that provides adequate betting resources such as team, player or event information, histories, free picks, links to quality sports portals and news.
2. Multiple banking options. It's always best that your site provide an array of convenient banking options that includes at least several of the following: NETeller, FirePay, credit cards, Western Union, bank wire, Moneybookers, Federal Express and check.
3. Quality design. Be sure to note your initial impressions of the site's design. Does it look professionally done, or haphazardly thrown together? If the overall design seems lacking and the site is relatively young, the organization may not be in the best financial situation—the last place you want to send your money.
4. Quality customer service. Verify that the site provides knowledgeable customer service agents who can deal with questions in an efficient, timely and polite manner. Call and ask a few questions to see the type of response you get. If your contact is via e-mail, note how long it takes for them to respond, as this will be indicative of their typical response rate.
While this isn't a comprehensive list of features—you'll likely find other compelling attributes in your hunt for the ideal sportsbook—these represent some of the key ingredients found in top sites. Keep them in mind as you go about the business of selecting your "ideal" site.
Recommended Sportsbook
If your criteria are anything like mine—give me everything possible—only a premium sports-betting site will do. Here are my top picks:
Sports betting.com
www.sports betting.com
A true industry leader, Sports betting.com features an exciting combination of sportsbook, casino and racebook, making it a "one-stop shop" for online gamblers. Their sportsbook offers extensive event coverage as well as a wide range of betting options that includes if-bets, progressive parlays, 12-team parlays, 15-team teasers and a large selection of unique props. Sports betting.com also offers a variety of free contests as well as generous comps and player incentives including a 10-percent initial deposit bonus, a 5-percent re-load bonus each Thursday, 5-percent juice every Friday and a 10-percent "refer-a-friend" bonus.
BETonSPORTS
www.betonsports.com
One of the largest and most frequently praised offshore sportsbooks in the industry, BETonSPORTS.com provides great odds and safe wagering on just about every major and minor sporting event. The site also offers extensive coverage of specialty events including cinema and celebrities, stock market, politics, and trials—just about anything of public interest. Other features include great comps, a variety of banking options and a staff of over 1,100 multilingual customer service representatives and over 2,000 inbound telephone lines.
Bodog
www.bodog.com
Another dominating force in online wagering, Bodog features an unparalleled combination of sports-betting action, player incentives, gambling resources and flexible banking options. The sportsbook is replete with betting options—just about every major sporting, political and television event is represented. The site is also known for offering terrific odds, lucrative member incentives, specialty promotions, convenient banking and exceptional customer service.
In Search of the Best Odds
For the sports bettor it's crucial to shop around, compare books and find the best odds—a task that it hasn't always been an easy one. Even with a fast connection and the luxury of jumping almost instantly from site to site, it can be a frustrating and tedious process left to all but the most dedicated punters.
But in the fast-paced world of Internet gambling, there are two immutable facts: (1) Things change constantly, and (2) If there's a niche to be filled, someone's going to come along and fill it.
And when it comes to scouring the Net in search of the best odds, someone—or rather several someones—has comparison sites.
A boon for online sports bettors, odds comparison services save online gamblers time, money and aggravation by removing most of the legwork associated with tracking down the best odds. Punters need only visit a comparison site, look up their desired information and go about their business. It's fast, simple, and in many cases free. Two reliable online odds comparison services are:
Odds Exchange
www.oddsexchange.com
A highly valuable resource for online sports bettors, Oddsexchange.com provides 24/7 real-time information about an exhaustive range of events—with constant updates no matter how small the change is. Services include:
• An accurate odds comparison of some of the largest bookmaker services online.
• Breakdowns of the highest odds from each bookmaker
• Access to the best value bets
• Ability for visitors to subscribe to sure bets, value bets and highest odds from each bookmaker
Oddschecker
www.oddschecker.com
Oddschecker.com is one of the largest and most reliable odds comparison services online. The easy-to-use site allows patrons to instantly compare the odds from the top online bookmakers and markets—for free. The site also offers unique betting information, market reports, guides, and unique specialty tools (bet calculators, hedging calculators, etc.) that will equip any bettor to make the most informed choice.
Betting Exchanges: A New Twist on an Old Theme
It goes without saying that if you use odds comparison services and patronize only premium sportsbooks you'll get the best odds online, right?
Right. Well, maybe.
There's one last betting venue whose lately been making some noise in the online sports-betting industry, claiming to offer better odds than even the best sportsbook: betting exchanges.
The latest evolution of sports betting, online betting exchanges specialize in allowing Internet gamblers to do what was, until recently, unthinkable: to post and accept person-to-person wagers, often at better odds than competing sportsbooks. Or to put it more simply, they allow bettors to act as a sportsbook themselves—posting odds and accepting wagers, or to search for the best odds courtesy of another bettor. The exchange takes no direct interest in any wagers, only a 5 percent commission from winning wagers. There's no cold, calculating bookmaker cranking out accurate predictions—just a group of often wild, and often inaccurate, sports fans coming together to do what they love: bet on sports.
At present, betting exchanges haven't quite dominated Internet sports betting. Only a portion of cutting-edge sites like MANSION.com (www.mansion.com) and Betfair (www.betfair.com) have ventured into the field. It's only a matter of time before many within the online sports-betting industry shift to incorporate this new system into their repertoire.
J. Phillip Vogel is an online gambling expert, editor–in-chief of Casino.com and the co-founder watchdog site TheOPN.com. His next book, The Internet Gambling Companion, will be available in February 2006.
Sports 'Netting.