Spare Change
There's no such thing as free money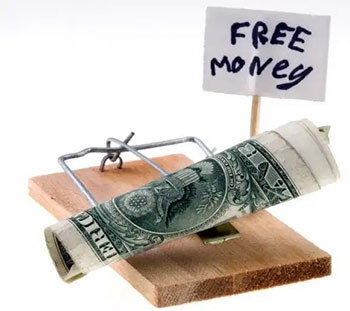 In my quest for finding interesting casino gaming news this month, I came across a recent story in the Review Journal about players in Nevada letting $22 million in unused cashout tickets expire in the fiscal year that ended on June 30. Yep, you heard it right—$22 million!
Being guilty of this crime myself (I'm embarrassed to say how many few-coin vouchers I have stuffed in my wallet when I clean it out after a night of gambling), I can't help but wonder…where did all that money go?
According to Nevada law, players have six months to use the voucher before it expires. Per a 2011 law, the state collects 75 percent of any expired wagering voucher and the casino can keep the rest. When a voucher hits 180 days after issuance, casinos include 25 percent of the redemption value in their reported gross revenue for the month that it expired and remit the remaining amount to the Nevada Gaming Commission, which adds the funds into the state's general fund.
Nevada's expiration process isn't unique. Unclaimed tickets in New Jersey expire one year after issuance and Pennsylvania's expire after three years, respectively.
According to reports, revenue collected from expired tickets in Nevada have increased every year since 2012 (which is the first year the state began collecting revenue from unclaimed tickets). When a gambler fails to redeem their slot voucher the revenue can really add up and the casinos don't mind. Twenty-five percent of $22 million is certainly no chump change.
But why so much? First, most of the unclaimed vouchers are for spare change. Secondly, many casino companies have halted giving change in their TITO (ticket-in, ticket-out) due to the change shortfall and only pay out with bills. Instead, some casinos offer you the option of donating the change to a charity (I love this new feature), OR you receive a ticket for the change amount and you then have to schlep over to the casino cage to cash out. Annoying to say the least, and if you only have a few cents left on a ticket you might just think it's easier to trash it. Many players agree and forego the wasted trip.
Upward of $22 million in a year is a lot of pennies, nickels, dimes and quarters players are donating to the state and casino coffers.
The other side of the coin is the found voucher or leftover credits on a machine. Just know that there's no such thing as finders keepers in a casino. Slot players who pick up a lost voucher for their own use or use credits left in a machine by another player are breaking the law.
Patrons who find credits on a machine, vouchers on the floor or money should turn over the items to casino security. Abandoned balances on slot machines are the casino's property, like it or not, and if they catch you collecting or playing them, you could be in trouble. All casinos have cameras that make it easier to find people and players club cards make it easier to track lost vouchers as well. If you don't follow the rules, it could lead to charges or to being kicked out of the casino. If no one claims the items, the casino must keep a log of the money and eventually it goes to the state.
If you are the one who accidently left credits in a machine or dropped a voucher, don't think that it's lost forever. Go to security, who will look up your players club number and find the machine you were playing on. They can easily pull up surveillance and see who played your credits or who found your voucher. Oftentimes, the perpetrator is met at the door or the casino floor and asked to return the money with no issues. However, if the person resists, more than likely he will be arrested and blacklisted from the casino.
When we first launched Strictly Slots 23 years ago, we'd often get letters from players describing their good luck in finding money left on a slot machine. Today, players are writing about problems even when they didn't realize money was left on a machine. So remember, honesty is always the best policy—aka karma. You get what you give!
What about you? We love to hear your casino stories, both good and bad. Did you ever stumble upon "free" cash or extra credits on a machine when you sat down to play? If so, what did you do? Or what about when you left credits in the machine? Did a casino go out of its way to return the money to you?
Cheers to good health, good luck and winning days!
Lisa Robertson-Dziedzic
Publisher & Editorial Director
lrobertson@casinocenter.com