Sneak Peek
By Frank Legato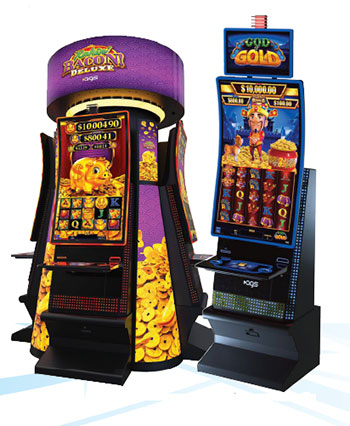 As slot manufacturers return to live trade shows, a multitude of new slot games is about to be unveiled. Here's a sample of what's coming
Slot manufacturers have always synchronized releases of new games with the calendar of casino industry trade shows. Of course, last year, the COVID-19 pandemic threw a major wrench in the normal progression of new game releases, not the least of which was the cancellation of all the regular live trade show events.
This month marks the return of one of the major trade shows, as the National Indian Gaming Association kicks off its Indian Gaming Tradeshow & Convention in Las Vegas. While not all of the slot manufacturers are exhibiting at the show, all are releasing new games in conjunction with the event.
The volume of new games provides the first major public look at what's coming to a slot floor near you, and offers a preview of what to expect this fall when the Global Gaming Expo, the casino industry's primary trade event, provides the complete showcase of new games to be released in the coming year.
We've given manufacturers the opportunity on these pages to highlight some of the new games they are about to reveal. Here is a look at two games each from several of the industry's top slotmakers.
AGS
Shortly before casinos were forced to lock down last year due to the COVID-19 crisis, AGS introduced the Orion Curve cabinet, which highlights 4K graphics on a 49-inch curved portrait-style monitor.
Around the same time, the company launched Starwall, a giant video backdrop display for Orion premium cabinets that frames three or six Orion games in a 4K video display that mimics the theme, colors and features of the game content. AGS introduced "Deluxe" versions of many of its most popular games, presented exclusively with the Starwall display, which creates a vibrant, immersive environment for the game.
Rakin' Bacon Deluxe (Class II and Class III) takes one of AGS' most popular themes and places it in the Starwall display with several new features. With inaugural games Golden Blessings and Pirate Plunder, the Asian-themed game features the familiar gold pig character on a coin landing anywhere on the reels that can award a Jackpot Pick Bonus. The player picks from 12 gold pigs, which reveal icons representing the four-level jackpot.
This Deluxe version of the game boosts symbols in the pick bonus to award larger jackpot prizes, and has a new feature that allows players to collect symbols that expand the reels in free spins up to seven rows. Fully expanded, the reels offer 16,807 ways to win on each spin.
God of Gold (Class III) is the second game in the AGS Coin Bonanza game family, featured on the new Orion Curve cabinet. The main feature in this game family is the "Cash on Reels" (COR) mystery feature, which pays the cash amounts displayed on coin symbols when two land adjacent to one another or stacked.
Three levels of progressive jackpot also are triggered through the Cash on Reels feature. There also is a free-spin feature, plus another bonus feature, Coin Bonanza, which adds a random number of COR symbols ranging from one to 25 to the reel window.
"Operators and players alike should be thrilled about the launch of our new Rakin' Bacon! Deluxe games, spinoffs of the player-favorite Rakin' Bacon! with the happy golden pig," says AGS Vice President of Marketing Laura Olson-Reyes.
"In addition, AGS continues to add new game families for our successful Orion Curve cabinet, including the recently launched Coin Bonanza games God of Gold and Lucky O'Reilly, featuring Cash-on-Reels and a lucrative free-games bonus. We will continue to roll out other exciting new games for the remainder of 2021 with a focus on bolstering our Orion cabinet family."
Gaming Arts
Two years ago, Las Vegas-based Gaming Arts, a well-established bingo supplier founded by inventor David Colvin, entered the casino slot market with its first group of games, designed by a collection of industry veterans Colvin had assembled specifically for the task.
Early in 2019, the company placed its first games in California in the Pop'N Pays series, a group of fun games with inventive mechanics and high-volatility math. Later in the year, the company began delivering the Da Fa Ba Series of Asian-style games. The Dice Seeker group of games that use rolling dice as bonus game mechanics was next.
But COVID-19 intervened.
Even though the industry's casinos were shut down due to the pandemic, the company continued game development efforts. With the industry back to work and moving toward some sort of normalcy, Gaming Arts is picking up where it left off. At the Indian Gaming Tradeshow, the company will unveil its new VertX Grand 49-inch portrait cabinet. This includes an entire library of new games dedicated to the VertX Grand.
As the development of the VertX Grand cabinet began in 2019, the Gaming Arts' game studio simultaneously began work on a new Class III game library. This library of new games debuts with 11 innovative themes that are designed to delight players of all game preferences. More exclusive games will be added to the VertX library on a regular basis after launch.
"By any measure, our new VertX Grand 49-inch portrait cabinet is state-of-the-art in the gaming industry, and serves as the flagship platform of Gaming Arts' new VertX line of cabinets moving forward," says Jean Venneman, chief commercial officer of Gaming Arts.
"Just two of the many new VertX games are Let's Spin and Let's Spin Vegas (Class III) from the Let's Spin series. These are fast-paced, exciting new games that will bring out the true gambler in any player. Everyone is in for an exciting math ride coupled with exceptional entertainment and fascinating wheel animations. These VertX games feature four levels of multipliers, which are sure to thrill players as the anticipation grows."
Gaming Arts' game library for its Phocus line of cabinets continues to expand rapidly with multiple new themes being released for the Indian Gaming Tradeshow. Just two of the many new games in the library are the Quick X series, including Quick X Old Glory and Quick X Clear Cut (Class III). These games are designed to capture and keep the players' attention from the minute they see the games.
Keith Kruczynski, vice president of game development at Gaming Arts, comments, "We are very excited to release the Quick X series. These games include many successful, time-tested game characteristics blended with new innovative twists to produce a family of games that will excite and amaze players from the moment they hit the play button.
"The new series is also fast-paced, and provides a thrill a minute for players including five-level progressives, all of which are designed to hit at excellent frequencies for the player. Easy to play and easy to win, Quick X will instantly become a players' favorite new game."
IGT
IGT, like most other slot manufacturers, kept game development humming along during last year's lockdowns, and in fact, previewed many new games at various "virtual" trade shows, and even took to the road with its own mobile trade show while casinos were still shut down.
The new game rollouts continue with the Indian Gaming Tradeshow this month. Nuttin' To It! (Class III) is a waterfall-style game offering loads of bonus features, including free-spin bonuses and a dynamic progressive award.
Multiple features award instant bonus awards, such as the "Acorn Feature," which awards four re- spins when four acorns fill up a chute. The mystery feature is triggered when four mystery acorns, either golden or rainbow, fill up a leafy chute to award even more free re-spins and twice the guaranteed credits.
The "Watch and Win" feature can result in 10X or higher awards that repeat winning combinations. The "Auto Spins" free-spins bonus awards four free spins with a guarantee to win on every spin and a 50/50 chance to re-trigger for four more free spins.
The game is available on IGT's reel-spinning S3000 cabinet, featuring enhanced interactive sound, LED lighting and reel technology.
"There is plenty to enjoy about Nuttin' To It!," says Anthony Baerlocher, IGT's vice president of innovation and mechanical reels. "This highly entertaining and energetic waterfall-style game has a low denomination and loads of features, including free-spin bonuses and a dynamic progressive award. Its high hit frequency creates a fun and action- packed communal environment with lots of appeal for new audiences."
Magic of the Nile(Class II) features an ancient Egypt theme with multiple features that increase wins. Scarab symbols are collected on reels 2 and 4. Each symbol collected awards up to three gems, with each gem filling one section of a "Pure Recharge" feature meter.
When all three sections are filled in a meter, one feature spin is awarded with the respective power- up activated. Multiple power-ups can combine on a single spin. The number of sections in each meter is saved separately for each bet level, even after players cash out.
The meter collection mechanic enhances players' engagement as they progress toward features. Players can shop meter levels at different bet levels. The free games bonus awards up to 12 free games depending on the number of initiating bonus symbols. The game is available on IGT's CrystalCurve cabinet.
Incredible Technologies
Incredible Technologies not only maintained game development during last year's industry shutdown; it actually increased the volume of games being designed, resulting in a wealth of new titles, many of which will be showcased at the Indian Gaming show.
Super Scroll Isles of Gold and Super Scroll Grand Finale (Class II) use Eastern-inspired symbols to generate big wins. Three Super Scroll scatters trigger the massive Super Scroll bonus event, in which players spin a wheel for credits, progressives or an interactive pick bonus event. Credit awards on the wheel get the "Super" treatment—a second wheel emerges to apply a multiplier or give players a re-spin for larger prizes.
"Super Scroll takes one of our most successful Class III math models, and has made its debut as a Class II game family," says Caitlin Harte, director of product marketing for IT. "The Super Scroll bonus triggers very often for a chance at extra prizes and bonus events. Players also love when Instant Stacks slam down onto the reels for an unexpected instant win."
Ultra Rush Gold: Mythical Phoenix and Ultra Rush Gold: Tiger Run (Class III) bring the smash-hit Ultra Rush feature to an upgraded, 4K display. Ultra Rush Gold retains the original hold-and-spin mechanic players love from Incredible Technologies' original Skybox iteration—six or more scatters must land on the reel set to trigger the bonus.
However, the gold scatters change the game. Gold scatters lock on the reels for three Gold Spins, granting players more chances to accumulate the six scatters needed to initiate a bonus. Should another gold scatter land while Gold Spins are initiated, the spin count is reset back to three.
Once six scatters land, the ultra-popular Ultra Rush bonus is initiated. Players are given an initial three spins to land scatters on a reel set of all credit awards and wheel scatters. Once a scatter lands, the spin count is reset back to three. Players who fill the grid are awarded an extra credit bonus based on their bet level. Progressive awards are won within the wheel, triggered by wheel scatters that lock during the Ultra Rush bonus. Each scatter grants players one wheel spin for progressive and jackpot awards.
Each title also has a free-spin bonus, triggered by three scatters. "We're seeing a lot of players recognize the feature from our original Ultra Rush Skybox title and jump right in on Ultra Rush Gold," says Harte. "These themes combine many of the trending features on slot floors right now. Progressives at any bet, multi-denom, and a short-cycle persistent feature are checking all the boxes for players."
Konami Gaming, Inc.
Konami has a rich library of games to launch this year as live trade shows resume. Ocean Spin (Class III) features an undersea adventure with plenty of bonus events. This original linked progressive slot series by Konami showcases synchronized animation effects—enveloping explorers in an underwater seascape of fluorescent coral reefs, butterfly fish, and even a mermaid.
At the top of each game screen, animated bubbles float seamlessly across every connected machine, filled with potential bonus opportunities. Whenever any three or more clam symbols are collected, the Ocean Spin Feature is awarded, and you're invited to spin the animated bonus prize bubbles that float horizontally across all screens. Swipe your hand across the screen to spin, and prize bubbles whiz across the entire bank or pod, until the spinner lands on a credit award, free games or instant progressive jackpot.
The series also includes a symbol-trigger Wheel Spin Bonus. Collected coin symbols that trigger the Wheel Spin Bonus display random credit prizes, which upgrade the available wheel spin prizes for exceptionally rewarding win opportunities. Ocean Spin is launching with two original base games: Ocean Spin Kingdom's Treasures and Ocean Spin Pirate's Riches.
"Ocean Spin has a wide mix of bonus experiences to enjoy, including unique symbol-driven events for each of the compatible base games," says Tom Jingoli, executive vice president & chief operating officer at Konami Gaming, Inc. "This game's big wheel spin bonus, transportive seafloor environment, and outstanding presentation on the casino floor, all come together for a winning slot experience."
Fortune Mint (Class III) debuts a random Question Mark Feature to amp the mystery and anticipation. It randomly places big red question mark symbols over the coin symbols in the center reels. Each Question Marked coin is revealed one-by-one to award an instant Maxi, Major, Mini, 10X, 3X or 2X prize.
This linked progressive series also features random multipliers for coin symbols that land in the center three reels, granting wins up to 1,000X.
Fortune Mint offers two original launch titles: Fu Gui You Yu and Fu Xing Gao Zhao. "Fortune Mint is a must-see for any slot fan who enjoys multipliers," says Jingoli. "Anytime throughout game play, there's a possibility for wins up to 1,000X. This linked progressive is filled with luck, luster, and large-scale multipliers." Scientific Games
Scientific Games is highlighting new games in its popular Willy Wonka and 88 Fortunes game groups at the Indian Gaming Tradeshow.
Willy Wonka – Dreamer of Dreams (Class III) is featured on the massive Mural cabinet, to present a larger-than-life display for bonuses that include player-favorite Oompa Loompa Feature with a multiplier reel that stretches all the way to the top, a giant Wonka double-wheel that can award a credit prize and a multiplier, and Fizzy Lifting Free Spins with a reel set and wilds that float up the displays.
"When developing this latest Willy Wonka game, we wanted to recreate the movie while taking advantage of the dramatic new Mural cabinet," says Michael Tucker, senior game designer. "We did this by creating a larger-than-life Willy Wonka and including memorable mechanics with great winning potential that can reach the top of the massive displays—and that players would dream about when they left. The game is not called Dreamers of Dreams for nothing."
Also on the Mural cabinet, Emperor's Coins – 88 Fortunes (Class III) takes the familiar elements of one of Scientific Games' most popular Asian games into a community gaming experience in which players race for three levels of "must-hit-by" progressive jackpots. Players collect Fu Bat symbols to award each of the three jackpot levels.
There also is a unique free-game feature, the number of free games logged by collecting gold coin symbols in the primary game. The freegame round is triggered either through bonus symbols or automatically when the gold-coin meter reaches 18.
"We are really excited about Emperor's Coins – 88 Fortunes because it adds new, innovative features to the beloved 88 Fortunes brand while taking advantage of our incredible new Mural cabinet," says Josh Jacob, director of game development for Scientific Games. "Fans of 88 Fortunes still have the familiar elements of the original game, but now have the chance to experience some new, thrilling features. Players not as familiar with 88 Fortunes will get the opportunity to experience it on sensational hardware and become fans themselves."
Class II or Class III?
As this month's trade show and game releases are all about Indian casinos, we've identified the games highlighted here by their classification. The Indian Gaming Regulatory Act of 1988 created three classifications of games permitted to be offered by Native American tribes:
Class I refers to raffles and pull-tabs that have always been offered by tribes on reservations, which are not subject to regulation or oversight by non-tribal entities.
Class II refers to the game of bingo, also offered on reservations for many generations. Tribes are not required to share revenues or pay taxes on income from Class II bingo games. In the 1990s, major tribes partnered with slot manufacturers to create electronic bingo, which has evolved into games that are nearly identical to traditional slot machines.
Class II slot machines are actually a form of electronic bingo. All games in a Class II casino are linked to a prize pool, and unlike regular slots where each game is a player versus the casino, Class II players compete against each other, just as in bingo. Manufacturers have worked out the program math so each time a spin button is pushed, numbers on an electronic bingo card are generated.
The bingo prizes on the card (it is usually visible in a corner of the screen) are instantly converted to slot-machine results from the slot game's pay table.
Advancements in computer speed mean all this occurs in an instant. So, to the player, the experience is virtually identical to playing a standard casino slot machine. Tribes offer Class II games either because commercial casinos are not legal in their jurisdiction or because they can offer the games without having to share revenue with states where they are placed.
Class III refers to all traditional casino games.
To offer Class III games, tribes must negotiate an agreement, called a compact, with a state that channels a portion of the slot income to the state in exchange for the right (often exclusive) to offer regular casino games.
Many tribal casinos offer both Class II and Class III slot machines, as a way to keep more of the income from games.