SLOTS OF EXCITEMENT
Airports, dinosaurs, a crook gets caught, and much more
By Sean Chaffin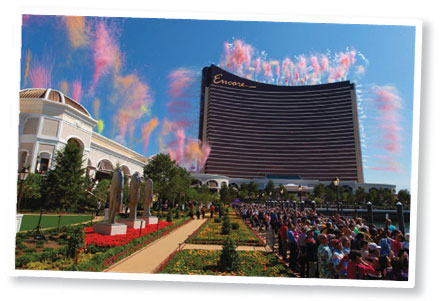 There has been plenty of news in the casino and slot machine world lately. This month Spinning Reels takes a look at the situation in Massachusetts, including a slot-related crime, as well as some other news in the industry. From slots at Chicago airports to dino-slots to the Hard Rock Casino in Las Vegas to some major jackpot winners, this edition brings you plenty of interesting notes.
JETS AND BETS:
AIRPORT SLOTS, NEW CASINO POSSIBLE IN CHICAGO
Plans to add a Chicago area casino seem to have stalled in Illinois, but legislators are also considering adding slot machines to the city's two airports. A new study shows that 500 games at O'Hare and Midway airports could generate as much as $37 million. The Chicago Sun-Times reports the total could top revenue from airports in Las Vegas and Reno, the only two in the U.S. allowing slot machines.
However, the new study notes that revenue projection depends on the state lowering its 72 percent effective tax rate under Illinois' new gambling expansion. The study argues that rate would be too high to attract developers. The machines would be run by the casino that is eventually approved for the city.
That seems quite a way away at this point however.
ENCORE HITS JACKPOT WITH OPENING
After its opening in June, Encore Boston Harbor management has to be happy with the new casino's initial reception from gamblers. Massachusetts has three casinos, which generated $81.4 million in revenue in July, and the Everett property produced about 60 percent of that.
"In its first full month of operations, the Wynn Resorts property pulled in more than $48.57 million in table game and slot machine revenue," WBUR reports. "Table game revenue accounted for more than half of Encore's July haul, totaling $27.42 million while slots brought in another $21.15 million last month."
The new $2.6 billion, 33-acre development resort houses 3,158 slot machines, 143 table games, and 88 poker tables. The unique property also features a 671-room luxury hotel, numerous dining options, shopping, a spa, an outdoor Harborwalk with views of the waterfront, a picnic park, bike and walking paths, viewing decks, waterfront restaurants and retail, a performance lawn area, and boat docks. The project seems to be a hit with area gamblers so far.
MORE MASS MANIA?
The Encore opened to great fanfare, and now gamblers in southern Massachusetts may have a new property to hit the slots and table games. A developer has pro- posed a new horse track in Wareham that would also include a casino.
The $300 million project would be located on 275 acres and also include restaurants, sports fields, and other entertainment venues. The project is expected to bring 1,000 jobs to the area. However, the proposal would still need approval from the state's legislature and gaming commission.
HARD ROCKIN' NO MORE
Slots fans who enjoy some guitars and drums when they head to Sin City will have one less option beginning in February.
The Las Vegas Review-Journal reports that the Hard Rock Hotel & Casino will be closed for business beginning in February as it's renovated after the recent purchase by Virgin Hotels.
The renovation of the new Virgin Las Vegas is expected to cost up to $200 million and includes upgrading its 1,500 guest rooms, expanding the five-acre pool, and freshening up the property's popular rock concert venue, The Joint. The property is expected to reopen by the end of 2020.
IN A SLOT OF TROUBLE
Casinos have been the subject of plenty of films – often involving big heists or crazy criminal schemes such as Ocean's Eleven and Casino. Plenty of crooks have also made casinos a target for theft through the years and history is littered with those hoping to tip the odds in their favor and make off with some "easy money."
That was apparently the case with a former MGM Springfield slot technician who was indicted in August for stealing $22,000 from the Massachusetts casino. Prosecutors allege Salvador Montalvo Jr., 54, of West Springfield, made false entries in corporate books between August 2018 and January 2019 while performing tests on some of the property's machines. After the test, Montalvo then deposited the funds into his checking account, according to MassLive.com.
"Additionally, Montalvo is alleged to have forged his supervisors' signatures on the forms he needed to withdraw the funds from the casino cashier," the state attorney general's office alleged in the indictment.
Unlike most of those Hollywood caper flicks, it looks like this crook was caught and won't live an easy life on a beach somewhere.
Sean Chaffin is a freelance writer in Crandall, Texas, and his work appears in numerous websites and publications. Follow him on Twitter @PokerTraditions.