SLOT TRENDS 2021
New cabinets, more progressives, more hold-and-spin games, and much more on tap in the new year
By Frank Legato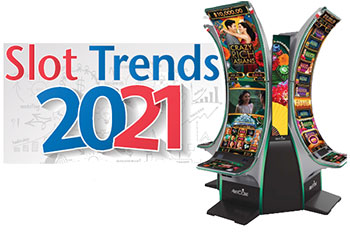 As we have completed a year that was as unprecedented for the casino  business as any other  business in the U.S., we look forward to casinos reopening—a second time, in many  cases—and returning  to full capacity, and  a more "normal" environment on the slot floor.
As we look at the trends likely to meet you when you return to your favorite slot machines in your favorite casino, the COVID-19 pandemic figures prominently in many.  However, we're also looking at trends in slot game design that have been building for years.
Here are 10 trends that will give you an idea what you'll find when you return to casinos this year—hopefully, soon.
Safe Returns
One thing you'll notice immediately, particularly if you haven't been to a casino in a while, is a collection of products to make sure you are socially distanced from your fellow players, at least  as the COVID-19 virus  persists. Plexiglas dividers, plenty of hand sanitizers and every other slot machine being disabled are factors you've gotten used to if you have visited casinos while capacity has been limited. On the horizon, however, are slot cabinets equipped with UVC lighting that automatically sanitizes all surfaces. It's still in the experimental stage, but if this technology pans out this year, it will eliminate the need for all that hand sanitizer.
Social distancing will remain, but increasingly, it is being achieved by positioning slot machines in circular pods rather than disabled machines in a row. These pod configurations, which already were popular as casinos deployed fewer machines following the Great Recession, have one advantage beyond the roomy look they give a slot floor: It turns out that circular pods organically keep people six feet or more apart. Expect more of these configurations as casinos continue to reopen.
Cashless Play Arrives
Suppliers of slot machines and systems have been aiming for years to move toward payment technology similar to what you'll find in Star- bucks, Uber and other consumer businesses—in other words, eliminating cash from the equation. The casino business has been well behind other consumer-facing businesses in this respect, as cash has remained king on the gaming floor. Now, many people would rather not handle cash, for obvious reasons. The pandemic has accelerated the move toward cashless payment technology on the casino floor.
This year, expect to at least have the option of opening a digital wallet with your casino, or otherwise using your mobile phone to pay for slot play. You will still have the option to simply use the bill acceptor and redeem your cash-out tickets at a kiosk, but more and more casinos will be offering the contact-free option as well.
Lose the Club Card
Along the same lines as cashless play, more and more casinos are offering the option to use a smartphone to activate carded play on the slot machines. Plastic cards are not going away anytime soon, but don't be surprised if your casino offers an app to activate "carded" play without having to mess with a player's club card.
Most technology of this kind is coming from the major slot manufacturers that also provide the casino management systems that record carded play. With the new technology, you simply wave your smart- phone in the vicinity of the machine's club card reader to activate your player's club account. When you're done playing, you simply leave the machine and the system automatically cards you out. Cool stuff!
More New Cabinets
Every year for much of the past decade, the slot manufacturers have used the big fall trade show, Global Gaming Expo, to introduce a cavalcade of new slot cabinets. Last fall, even though the trade show was canceled, the slot-makers kept cranking out those new cabinets.
Most are launching the new form factors this year.
Watch for Aristocrat's Neptune Double, an immersive new cabinet that is the sequel to the imposing Arc Double. IGT is launching the PeakSlant49 and PeakSlant42. Scientific Games is launching Kascada, the next generation of the popular TwinStar J43 cabinet. Konami is introducing three new cabinets in its Dimension series. Everi has the Empire Flex, AGS has the Orion Rise and Orion Portrait, and on and on. Most are launched with games designed specifically for the new cabinets, so expect a lot of new play experiences this year.
Hold-and-Respin—Again
If imitation is the most sincere form of flattery, there's a lot of flattering going on among slot manufacturers with respect to one type of game feature, the "hold-and-respin" game mechanic. Manufacturer after manufacturer is following the recipe first established by Aristocrat's "Lightning Link" series with a variety of games including some form of the mechanic, in which coins or other icons with credit values land on the reels and hold in place for a set number of free respins, usually three. When another coin lands, the free-spin meter goes back to the beginning, and the feature continues until no spins remain (the player collects the accumulated value) or the entire reel array is filled up, often for the game's top progressive jackpot.
This style of game play, known as "persistent-style play" in the trade, has been popular regardless of the game brand, so expect to see it everywhere for some time to come.
Progressive Progression
For most of the past decade, the libraries of all the major slot manufacturers have been replete with multiple progressive jackpots. First offered in the 1970s and gaining big popularity with the 1986 launch of IGT's Megabucks, progressives have taken on increasing importance in modern slot design. The idea of a progressive, if you don't know, is that a portion of each wager goes to augment the progressive jackpot on top.
These days, the progressives come in bunches. Typically, you'll see two or three static jackpots of $10, $50 or $100 ("Mini," "Minor," etc.) offered beneath two larger incrementing linked progressive prizes (typically "Major" and "Grand"). And unlike the past where progressives were always tied to a line combination on the reels (like three Megabucks symbols), these days you're likely to find the progressives awarded as part of a bonus feature—a pick bonus, a wheel spin, or, as noted above, for filling up all reel spots in a hold-and-respin feature.
Also, many games you'll see this year offer bonus rounds, in which more than one of the progressive prizes can be won.
Homegrown Brands
Because the slot manufacturers were hurt from the pandemic shutdowns just as operators were, one way many of them are keeping costs down is to double down on existing slot brands, as opposed to shelling out licensing fees to bring in new brands. You'll see a few new brands— check out Aristocrat's "Crazy Rich Asians" on the Neptune Double—but more and more slot-makers this year concentrated on bringing new games into established brand groups.
This year, look for new versions of Aristocrat's Buffalo, Scientific Games' Dancing Drum, and other games for which licensing fees had long ago been absorbed, like IGT's Wheel of Fortune and SG's Wizard of Oz.
Spinning Reels Hang In There
Even as the hold-and-respin mechanic and the penny denomination feed consistent expansion in the video slot genre, mechanical reel-spinners show no signs of fading away. for new versions of this most traditional style of game from a variety of manufacturers, most notably Everi, IGT and and IGT specialize in the classic three-reel format, while Scientific Games combines this style with a variety of five-reel stepper formats offering a classic twist on games that otherwise could pass for multiline video.
Online Play Increases
One major effect of the pandemic shutdowns of physical casinos has been an increase in players turning to online casinos. The number of states where you will be able to gamble online is rapidly growing. The initial iGaming states of New Jersey, Delaware and Nevada (poker only) have been joined in offering internet casinos by Pennsylvania in 2017 and West Virginia in 2019. Michigan is expected to join the party early in 2021, and there are bills to authorize online gaming active in New York, Massachusetts, Nebraska and elsewhere.
As the iGaming business has grown, so has the number of slot manufacturers linking up to servers to spread their game content across the internet casino world. Game brands like IGT, Scientific Games, AGS, Konami, Everi, Ainsworth and others are being joined by Aruze, Novomatic and other casino slot machine suppliers eager to get their games in front of online players. Consequently, the styles of games available online are more varied than ever. And it will only grow from here.
Corner-Bar Gaming
Slot machines located outside of casinos—in the trade, the genre is known as "distributed gaming" —have been on the rise, and again, thanks to the pandemic, states are looking to replace the tax revenues lost while they were closed. Going outside of the casinos is one way that's growing. Pennsylvania and a few other states are seriously looking at video gaming terminals or video lottery terminals in bars and taverns, using Illinois, and its 30,000-plus VGTs, as the model. Pennsylvania already has added VGTs to truck stops, and several groups are lobbying lawmakers to enact a VGT provision to put the machines in bars and taverns as well.
Another direct result of the pandemic in this area was that several states are looking to shore up their tax revenues by legitimizing so-called "skill games" that have widely been considered unregulated, illegal ma- chines. The games add a dubious "skill" factor, and use it to claim they do not fall under the regulated gaming category. While casinos were shut down during the pandemic, these games continued to operate in pizza shops, convenience stores, even laundromats.
Virginia already has legalized skill games for at least a 12-month period, and lobbyists from the skill manufacturers are using the mountain of revenue they make from not having to pay state taxes to fuel a lobbying effort to legalize them in Pennsylvania, Wyoming and elsewhere. Casino operators have lobbied hard against these machines, but at least this year, these games are ubiquitous in certain states. They claim to be skill-based, but they're really just slot machines, and not very good ones at that. Stick to the casinos.