Slot Spotlight
Cash Meteor
BALLY TECHNOLOGIES
SLOT TYPE
Five-reel, 50-line video slot; wild symbol; multiple second-screen bonus events; all denominations available
PAYBACK % RANGE
88.05%—95.97%
AVERAGE HIT FREQUENCY
82.73%
TOP JACKPOT
25,000 credits times line bet
AVAILABILITY
AZ, CA, CO, CT, FL, IL, IN, IA, KS, LA, MI (tribal), MN, MS (tribal), MO, ND, NM, OR, SD, WA, WI
COMMENTARY
This game uses the BALLY "V32" cabinet—the one with the long, vertical video screen used for video roulette, "Fireball" and other popular Bally games—and uses it to maximum advantage to create a Buck Rogers-style, space-themed, retro-sci-fi game.
First of all, because of the long screen, there are five rows of symbols across the five reels—the norm is three rows; some games have four. None have five. What's more, you don't have to touch the spin button to start a reel spin. You just swipe your finger in any direction across the screen. This causes a small rocket ship to appear which flips the individual squares—which spin independently in the direction you swipe, revealing various payout combinations. (Very cool.)
The game itself is a 50-line video slot with great hit frequency, available in all denominations but most likely to be found in a penny or 2-cent setup. The rocket-ship view screen symbol is wild, substituting for all but bonus-trigger symbols.
There are two separate bonus events, called "Rocket Rescue Bonus" and "What Does This Do?"
The Rocket Rescue bonus is triggered by "Rocket Pack" symbols scattered on the middle reels. A "holding cell" containing eight prisoners appears on the screen. The object is to release at least five of the prisoners by touching the doors to the cell. Cash flies into each door on the screen after you touch it, revealing a credit award.
One prisoner door has an extra bonus attached that will trigger a third screen, revealing three "Treasure Pods." Touch one of those for an extra award. The bonus ends when five prisoners are freed. Total credits are multiplied between 27 and 67 times for the player's award.
"What Does This Do?" is a funny take on a novice (the player) trying to operate a spaceship. An asteroid is sailing through space toward the rocket ship, and the player has to touch controls to activate five weapons to destroy it. Each weapon blast registers a bonus award. If the asteroid still has "energy" after five weapon zaps, a character called "Fang the Ferocious" is sent toward the asteroid in a "Space Yacht" to finish it off—and to reveal a multiplier amount for the bonus award.
This one's campy, kitschy and funny.
Diamond Vault
INTERNATIONAL GAME TECHNOLOGY
SLOT TYPE
Three-reel, multi-line video slot; second-screen/top-box bonus event; multiple progressive jackpots; all denominations available
PAYBACK % RANGE
89.99%—98%
AVERAGE HIT FREQUENCY
Approximately 25-30%
TOP JACKPOT
Progressive; $10,000 reset
AVAILABILITY
AZ, CA, CO, DE, CT, FL, IA, KS, PA, MI, MN, MO, NV, OK, WI, WY, BC, SASK, MAN, Alberta
COMMENTARY
This is a sleek new version of IGT's classic reel-spinner "Diamond Jackpots," employing a unique reel configuration and the AVP format ("advanced video platform"), configured as a stepper game with the MLD (multi-layer display) technology, which replicates spinning reels using layered video screens.
It may look like a reel-spinner, but the layered video screens permit animation on the reels, and a bonus game played out in the same space with 3D animation. The base game displays a three-reel configuration using a "3x4x3" setup—three rows of symbols in the outer reels flanking a four-symbol center reel. This game is likely to be out in casinos in several different versions—the casino operator can configure the game as a three-line, six-line, 18-line or 30-line slot.
The game is designed for what IGT calls "mid-denominational" play. This means that although the denomination is operator-configurable, you are likely to find the slot in quarter or dollar denominations.
The slot features a tall, flashy top-box tower with seven jackpots displayed—the top three are progressive, with the top prize a multi-site MegaJackpots progressive. When three bonus symbols land, the reels transform into a configuration in which the player spins bonus reels to collect diamonds for a "Diamond Vault." The bonus jackpot is determined by how many diamonds are collected:
The non-progressive jackpot levels are named for various cuts of diamonds: the "Heart" level pays 15 times the total bet; "Pear" pays 20 times the bet; "Marquee" pays 30 times the bet;  and "Princess" pays 50 times the bet. The progressive levels include "Emerald," resetting at $2,500; "Oval" starting at $10,000; and the top "Brilliant," hit by a line combination, and also resetting at $10,000.
The brightly lit and colorful format makes this a fun game to play, and the format enables a classic reel-spinning experience with frequent big payouts, including the three different progressives. If you're a classic reel player, you'll love this game.
Godard's Rockin' Olives
ARISTOCRAT TECHNOLOGIES
SLOT TYPE
Five-reel, 25-line video slot; wild symbol; second-screen and free-spin bonus rounds; multiple progressive jackpots; penny and 2-cent denominations
PAYBACK % RANGE
Without Max Bet:
88.98%—92.34%
With Max Bet:
92.49%—95.82%
AVERAGE HIT FREQUENCY
Approximately 50%
TOP JACKPOT
Progressive; Resets $1,500 or $3,000
AVAILABILITY
AZ, CA, CO, CT, FL, IL, IN, IA, KS, LA, MI (tribal), MN, MS (tribal), MO, ND, NM, OR, SD, WA, WI; NV Pending
COMMENTARY
Aristocrat is introducing its new, space-age cabinet, called "VERVEhd," with an intriguing game. The inaugural game in the artsy cabinet features, well, art.
VERVEhd, which features 21.5-inch monitors, panoramic digital audio, interactive LCD buttons and an ergonomic design that promotes player comfort with features like a flat button panel, makes its debut with "Godard's Rockin' Olives," featuring the work of world-famous Las Vegas-based artist Michael Godard—also known as the "Rock Star of the Art World."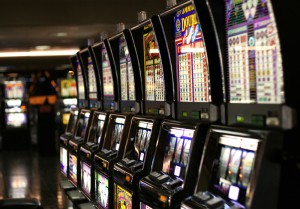 Godard, known for whimsical works in which fruit, plants and inanimate objects are personified as cartoon-like characters, has done many works involving casino gambling—he is, by all accounts, an avid gambler—and in particular, olives are recurring characters in his paintings (Olives Gone Wild, Justice; Hi-Limit Blackjack features gambling olives). His famous olive characters make their first casino appearance in this slot game.
The artist hand-painted every frame in the game.
The game itself is a five-reel, 25-line video slot designed for penny and 2-cent denominations. The minimum bet to activate all the game's features is 25 credits plus a 10-credit ante wager. The olive, of course, is wild.
The game features four progressive jackpots—three minor prizes exclusive to each machine plus a grand-prize progressive shared by the entire bank. When flaming dice appear on reels 1, 3 and 5 with a wager of at least 70 credits, the dice roll to award one of the lower three progressives. The top progressive—resetting at $1,500 on the penny version of the game and $3,000 on the 2-cent version—is won by lining up five olives on a active payline with the maximum wager (175 credits).
There is a sixth video reel that is activated by any symbol appearing on both reels one and five with a lightning symbol. When that happens, the sixth reel spins to one of four bonus features:
"Rock Show" displays speakers, which the player touches to reveal a credit award up to 500. "Risky Rhythms" displays a drum-playing olive character, who does a solo to reveal a credit amount—players can take the amount or risk it for a higher (or lower) award. "Guitar Battle" features two olives going head-to-head with battling guitar solos until a bonus of up to 400 credits appears. "World Tour" awards 15 free games.
But the real story of this game is Godard's famously fun artwork, animated to create a great atmosphere, and lighting up an already bright new cabinet from Aristocrat.
Press Your Luck
WMS GAMING
SLOT TYPE
Five-reel, 20-line or 40-line video slot; free-spin and mechanical top-box bonus events; all denominations available
PAYBACK % RANGE
87%—96%
AVERAGE HIT FREQUENCY
20-line: 36.43%
40-line: 59.44%
TOP JACKPOT
50,000 credits
AVAILABILITY
AZ, CA, CO, CT, FL, IL, IN, IA, KS, LA, MI, MN, MS, MO, ND, NM, NJ, NV, PA, OR, SD, WA, WV, WI
COMMENTARY
WMS Gaming has given a definite game-show feel to this, its take on the classic TV game Press Your Luck. The slot has a tall top box that is a replica of the board used on the show, with award levels ranging from 25 credits all the way up to 4,000 credits surrounding a vertical video screen.
The base game is either a 20-line or 40-line video slot. The manufacturer makes it available in any denomination, but you're most likely to find it in penny or 2-cent setup. When bonus symbols appear on the first, third and fifth reels, the player either receives a straight credit award or one of two bonus events:
The free-spin bonus carries unique aspects drawn from the TV game show. For instance, the "Whammy"—the devilish character that ends game rounds for contestants on the TV show, is a wild symbol in the free spins, appearing on the second or fourth reels. Once they appear, they stay in position for subsequent free spins—unless they randomly "backfire," which removes a previously collected Whammy.
The free-spin round continues until four Whammy symbols are collected.
In the "Big Board Bonus," a player is awarded from one to three turns. The video screen displays 30 "hot spots," from which the player selects. The spots reveal either accumulating credit amounts, additional turns, multiplier numbers, or a Whammy. Players select until a Whammy is revealed, which starts the bonus awards flashing around the Big Board. A stop button appears on the video screen, and the player hits it to stop the flashing on an award. The player receives that bonus, plus any accumulated awards, and multiplied by any multiplier numbers gathered during the first phase of the bonus. If the player has been awarded more than one turn on the Big Board, it all starts over again after that.
Press Your Luck is a fun, lively take on the game show, with lots of great animation and sounds, and a variety of possible outcomes on every bonus round. (For more information on the game, check WMS' Facebook page—Facebook.com/WMSSlots.)
Royal Riverboat Run
SPIELO
SLOT TYPE
Five-reel, 30-line video slot; primary game wild symbol; free-spin bonus round; penny through 50-cent denominations
PAYBACK % RANGE
85.05%—94.94%
AVERAGE HIT FREQUENCY
28.4%—28.76%
TOP JACKPOT
3,000 credits times line bet
AVAILABILITY
AZ, CA, CO, CT, FL, IL, IN, IA, KS, LA, MI (tribal), MN, MS (tribal), MO, ND, NM, OR, SD, WA, WI
COMMENTARY
This is a fun video slot themed with artwork reel icons and bonus events reflecting the world of 18th century Mississippi gambling riverboats.
The base 30-line game includes a wild symbol that substitutes for all but the bonus trigger. When three, four or five scattered bonus symbols appear, it triggers a free-spin round. According to the manufacturer, the number of bonus symbols determines the size of the bonus award,
There is a unique twist to the free-spin bonus round. Whenever a card-deck symbol appears onscreen during the free games, the player receives a playing card. Once seven cards are collected, the best poker hand determines the size of a multiplier to be applied to all the credits accumulated during the free spins. If the hand is a royal flush, the accumulated bonus winnings are multiplied by 50.
The bonus round is highly volatile, often resulting in huge credit wins. The primary game, on the other hand, features low volatility. This means you will have a steady stream of lower-level wins, with the occasional meaty win. However, you will be able to play a good, long session on a minimal investment.
The statistics from the manufacturer show that the game is made available to casinos in denominations ranging from pennies to 50 cents, but you will probably find this in either pennies or nickels—the volatility is much like the nickel multi-line video games that were popular several years ago. Again, the best feature: long play on low investment. And of course, player comfort, which is one of the most attractive features of all of Spielo's newest video slots.
Slot Spotlight.