SLOT FUTURES 2016
Our annual review of the "new model year" of slot machines coming soon to a casino near you
By Frank Legato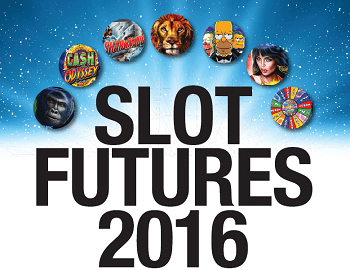 The slot-machine universe is changing. As technology continues to improve the game styles slot players have come to know and love, the world's manufacturers of slot machines are seeking to broaden their audience.
For slot enthusiasts, that means a constant flow of new ways to play slots, and of games that stretch the definition of a slot machine.
It all comes to roost every autumn, when the casino industry throws its annual dance, the Global Gaming Expo trade show. This is where the world's slot-makers roll out their new model year—the new games that will appear in casinos over the coming months. And this fall, like every fall, we at Strictly Slots are presenting your first look at those games.
Welcome to our annual rundown of the best to come in the slot world. This year's batch of new games come in innovative new cabinet styles and game configurations, with everything from multiple progressives to 3D technology to vastly entertaining new game themes set to bring a new year of fun to slot players.
We never have enough room to convey everything that's coming, so without further delay, here, in alphabetical order by manufacturer name, are many of the best games that are coming to the slot floor over the next year.
AGS
AGS (formerly American Gaming Systems) launched a new era last year with the introduction of its Icon cabinet with an initial library of 50 titles. Icon became a player favorite, its dual video monitors augmented by state-of-the-art lighting and sound.
This year, AGS launches Orion, a new premium cabinet featuring a 42-inch flatscreen, high-definition monitor—forming a huge, continuous screen for expanding reels and bonus features.
Over the coming year, fans of AGS slots will see plenty of new titles on both formats. Around a dozen new games will be launched on the new Orion format, highlighted by FireWolf II, one of the games available on both the Icon and Orion cabinets.
The FireWolf series was originally a hit for the former Cadillac Jack, now incorporated into AGS. It is a PowerXStream game, a popular format originated by Cadillac Jack that uses a 3-4-4-4-3 reel setup (three rows of symbols on the outer reels; four rows on the inner reels) for 576 possible ways to win on each spin. Wins for adjacent symbols register both left-to-right and right-to-left.
FireWolf II adds dual "Must-Hit-By" progressives—each meter plainly states the level at which the progressive must hit by, injecting a kind of jackpot fever into the game. It also features "Reel Surge," a random expanding reel feature that is particularly suited to the big 42-inch vertical monitor on Orion. The game yields more ways to win depending on how high the reels go in the random expansion. (On Icon, the Reel Surge animation combines the dual monitors into one.)
Another launch game for Orion that also is available on the Icon cabinet is a new version of the popular Gold Dragon Red Dragon game, which combines the PowerXStream format with another popular AGS game mechanic, Fierce Factor. This raises the wins on certain combinations according to the level of the player's bet.
On Orion, the new version will be called Gold Dragon Red Dragon Extreme Jackpots. Other games available on both cabinets include Fire Bull, Fu Panda and Wolf Queen.
Other new Icon games include Shadow Sirens, another PowerXStream/Fierce Factor game—this one featuring Streaming Stacks. Prior to each spin, a random symbol is selected to appear in a stack each time it lands on a reel. This applies to wild symbols as well as game symbols.
Many of this year's new AGS video slots feature some combination of these game mechanics. The game Great Gorilla is centered around a feature AGS calls Dynamic Streaming Stacks. In this format, multiple large stacks of symbols are randomly inserted from spin to spin.
AGS also is launching a new version of its popular giant slot Colossal Diamonds, on the cabinet commonly called Big Red.
Ainsworth Game Technology
Ainsworth is a name you're going to be seeing on a lot more slot machines over the coming year, as the Australian company firmly establishes its presence in U.S. casinos. The company's games, on cabinets featuring dual 24-inch video monitors, feature advanced technology and great features.
The A600 and A640 cabinets will be the format of many of the company's new games this year. The A600 cabinet uses dual 24-inch monitors framed by a matte black finish that makes the graphics pop with a cinematic feel.
The new cabinet debuts with Cash Odyssey, a series of three games based on literary classics— Gulliver's Travels, Huckleberry Finn and Robinson Crusoe.
All slots in the Cash Odyssey series feature base games on two separate reel sets, on each of the cabinet's dual 24-inch monitors. Each monitor has a "Blue Zone" and "Red Zone," on which a credit prize is awarded every time a Cash Odyssey symbol lands.
During free spins, appearance of the symbol on the second or fourth reel triggers a re-spin feature.
Other A600 launches include two series of multiple-progressive video slots, under the themes Quackpot and Thunder Hits. (The latter includes base games Thunder Gold and Thunder Money.) Both series use stacking symbols in line combinations to award progressives.
The games exclusive to the new format will be joined by successful legacy titles on the new cabinet, as well as a complete lineup of games on the legacy A560 cabinet, including Gold Awards, which brings six proven A560 titles to the tallscreen A560SL. Popular games Dragon Lines, Mustang Money, Roaming Reels, Twice the Money, Glitter Diamonds and Dolphin are being released on the new tall cabinet.
By the end of the year, the company will release win-at-any-bet progressive games, and in the first quarter of 2017, "hit-before" progressives, in which progressive jackpots must hit before a predetermined threshold.
Finally, Ainsworth will be releasing premium titles based on licensed brands, a type of game in which has grown for the company over the past few years with releases including The Three Amigos, King Kong, Showgirls and The Sound of Music.
Aristocrat Technologies
Aristocrat has spent the past few years rolling out innovative new cabinet styles including the Helix, Arc Single, Arc Double and the giant Behemoth.
But while formats like the Arc Double, its imposing twin 42-inch vertical monitors defining games like Britney Spears and Game of Thrones, continue to gain popularity, Aristocrat is continuing its march to redefine slot-machine presentation with more new formats—including "The Flame," a radical new take on the curved-monitor cabinet that uses a vertical LCD monitor formed in the shape of an "S," the bottom and top of the monitor both tilted toward the player.
The Flame—which comes equipped with a "sound bench" and an optional setup with two spin buttons—is being launched housing the new version of Game of Thrones and a game featuring Mariah Carey and her music.
Aristocrat also has produced some of the greatest entertainment-themed games of the past few years, and this year will be no exception with games like My Cousin Vinny, based on the 1992 comedy starring Joe Pesci and Marisa Tomei in which a Brooklyn ambulance-chaser ends up defending his cousin against murder charges in Alabama.
The slot will include numerous clips of the movie's funniest moments, woven into bonus events on the Arc Double cabinet, with a base game in the Extra Reel Power ways-to-win format.
Another popular film being brought to life on the Arc Double is The Big Lebowski, based on the 1998 comedy starring Jeff Bridges as Jeffrey "The Dude" Lebowski, a laid-back, aging L.A. hippie and avid bowler who is assaulted when he is mistaken for a millionaire who shares his name.
Other big branded games include Sharknado, based on the TV disaster film series about sharks set loose across flooded streets in Los Angeles; Downton Abby, based on the British period TV hit; and Tim McGraw, placing the songs and performances of the country star up on the Arc Double.
As for home-grown Aristocrat brands, highlights this year include Fast Cash, a quick-hitting multi-site progressive. The company calls it an alternative to million-dollar progressives that almost never hit. Fast Cash has an average jackpot of $40,000, and the company estimates it will hit every two or three days.
On the video side, the company is launching new entries in all of its game groups. Highlights include Wonder 4 Wonder Wheel, the new multi-play product Quick Fire Flaming Jackpots, and the new Spin It Grand, a four-level progressive family.
Aristocrat also rolls out its first mechanical reel-spinning series this year, thanks to the incorporation of former Class II company VGT. Aristocrat will show reel-spinning versions of its own games on the VGT platform, and will show high-denomination reel-spinning versions of VGT hits Mr. Moneybags, Hot Red Ruby, Lucky Ducky and Polar High Roller.
Finally, Aristocrat is rolling out Dragon Link, which is the next generation of Lightning Link, the linked multiple progressive product brought from Australia to score a hit over the past year in the U.S.
Lightning Link combines a highly innovative jackpot mechanic with a multiple progressive jackpot link that is triggered an average of every 100 spins, with the top Grand Jackpot hitting every 25 days on average.
Dragon Link places the high-hitting multi-progressive on a brightly lit carousel of games on the Arc Single cabinet, topped by a 360-degree, animated sign.
Aruze Gaming America
This year, players have been flocking to games on Aruze's Cube-X cabinet, a millennial friendly slot format designed with an ergonomic and aesthetic appeal to the younger demographic— and an ultra-fast processor driving intensified lighting, high-definition LCD touch-screen monitors and button panels, and customized LCD toppers.
The company is doubling down on the Cube-X in a new premium cabinet. Cube-X Vertical features a 42-inch vertical monitor in a brightly lit upright presentation. It is being launched with a pair of games, Tower Stack Lion and Tower Stack Dragon.
Both games use the extralong top monitor—a full 10 inches larger than standard vertical portrait monitors—to display three individual four-by-five reel sets, stacked vertically. The player can activate up to all three of the 50-line "frames," for 150 paylines on every spin.
Betting the "Plus Factor," an ante wager, adds a selectable play area according to reel angle, and turns all symbols on the fifth reel wild.
The first two Tower Stack games will be in casinos by the end of the year.
In the new Cube-X Ultimate cabinet, Aruze's first reel-spinning cabinet with a mechanical bonus wheel, watch for more games in the 999.9 Gold Wheel series. The next games in the progressive reel-spinning group will include Super Vault, Diamond Desire, Money Rush, Royal Crown, The Gold Legend and Bags of Cash.
They are all equipped with roulette-style bonus wheels, with four levels of progressive jackpot included as slices on the wheel and won through the wheel-spin bonus.
The base games incorporate Aruze's "Radiant Reels," with large reels dynamically illuminated by multi-colored LED lights within, spinning at variable speeds that build anticipation for winning combinations. A 24-inch LCD monitor sits over the base game for bonuses using "photo-realistic color," 3D technology and customized sound with a built-in subwoofer.
On the Cube-X Ultimate reel-spinning platform—which also features Radiant Reels—Aruze is launching Infinite 7 Diamond, a five-reel mechanical with the top monitor and reel backdrop displaying a beautiful interstellar scene, behind a basic multiple-7 game in which 7 combinations initiate free spins.
In the basic Cube-X Innovator reel-spinning series, Aruze is launching two games in the Red Dice series. Red Dice Wild and Red Dice Wild Deluxe are threereel, five-line games with a wild die symbol multiplying up to 36X when substituting in a win.
Everi Holdings
Everi has been known for hilarious games like Yardbirds, intricately crafted, artsy games like Carnival in Rio, and the most successful tournament system in the business in TournEvent. This year, the slot-maker moves into branded entertainment games in a big way with Penn & Teller.
The game, on a new premium cabinet called Empire MPX, showcases the legendary duo, Penn Jillette and Teller (he legally dropped his first name, Raymond), whose act combining comedy and magic has headlined at the Rio in Las Vegas for the past 15 years, in arenas throughout the country, on TV, in their own movie, and even in video games.
The slot machine captures many of Penn & Teller's best illusions along with the pair's special brand of comedy in a collection of video clips and voice-overs woven into bonus events on a wide-area progressive game.
Another high-profile licensed brand to be launched at G2E is a nod to the current trend toward skill-based casino games—Fruit Ninja, based on the popular mobile fruit-slicing game, which has around 70 million active users. The company is using the license for two separate games— a video slot on the High Rise cabinet with a skill-based bonus round, and a full-blown skill tournament version that will be incorporated into the popular TournEvent system.
In the near future, watch for more TV-themed games from Everi, using a license the company just secured from Dreamworks Classics, owner of classic animated TV series including Casper the Friendly Ghost, Underdog and Hot Stuff.
In the meantime, expect more of what Everi has done best—entertaining, funny and artful video slots.
Take Lucky Pony, for instance. The game revolves around cute animated pony characters in different colors. You pick your pony at the beginning, and at various points, you get to accessorize the character with tiaras, jewelry and other costume pieces. There's even an Easter egg in which you touch your pony on the screen and the character breaks wind—spewing a rainbow out of its backside in a hilarious break from game action.
Another great video offering is Honey Bear, which features irresistibly cute animation in a picking bonus that has the bear character searching for the beehive with honey revealing the best bonus. Bears and bees will actually foreshadow big wins by scampering across the screen at the beginning of a spin.
The video offerings are joined by a complete lineup of reel-spinning products using the tall Skyline cabinet. Blazin' Gems is a nine-line game with a classic look. High Voltage Electric Lines is a five-line game that changes the "electric line" with each spin. Hit a line combination on the electric line and win a progressive.
Triple Threat is the first reel-spinning game to feature Everi Bet, with denominations available from penny through $25 and bets ranging from a nine-coin minimum to a 480-coin maximum, with game volatility remaining constant.
On Everi's majestic new Tower 370 cabinet is 7 Spins, a wheel product— the company's first on a video slot—featuring frequent wheel spins on a portrait-style vertical top monitor. Players entering the bonus round can get up to seven spins on the big bonus wheel, with multipliers rising up to 7X by hitting a slice on the wheel.
The Game Crown top box was introduced earlier this year with the game Sushi Sushi Bang Bang. Next year, it will be home to the sequel to last year's comical Yardbirds game. Yardbirds 2: Foxy's Revenge uses the same funny music and animation as the original, in an entertaining bonus in which the player picks eggs to hatch over the backdrop of goofy barnyard music.
Other Everi highlights this year include unique twists on reel setups, game mechanics and progressives, and of course, more improvements to the industry-topping TournEvent instant tournament system.
Novomatic Americas
Austria's Novomatic Group will be much more present in North American casinos this year as its U.S. subsidiary Novomatic Americas spreads its games to more American slot floors.
Perhaps the hottest product to watch from Novomatic this year is the V.I.P. Lounge. This presents Novomatic games to the player in a plush, lounge-style seating environment, ergonomically designed for comfort and adjustable for optimal reach and leg room, and the perfect angle to view two 32-inch full-HD LED screens.
The V.I.P. Lounge joins the Dominator and other Novomatic formats to launch games that will include Full Moon and Eclipse.
Full Moon is a five-reel, 50-line video slot with a top prize of 250 times bet per line. A wild "Wolf" substitutes for all symbols except the "Moon" scatter symbol, which can trigger up to 20 free games.
Eclipse is a six-reel, 50-line video slot with payouts up to 1,000 times the bet on a single line. The "Moon" substitutes for all symbols in the base game, with three or more of them triggering 10 free games.
Other standouts this year from Novomatic include Jackpot Edition, an innovative stand-alone progressive that runs off a variety of proven Novomatic titles in a highly animated setting where players collect "coins" in the base game that pile into a "tray" in the top screen.
When enough coins are collected—and you can up your bet to increase them—they spill out from the tray and tip it over. This triggers the "Jackpot Chance" feature, where players get to pick from five "treasure chests." If they pick one that has a "Jackpot Wheel" hidden inside they win a spin for a progressive prize.
Four Seasons is a five-reel, 40-line title themed around a beguiling "Queen" (for each of the seasons, of course), and each offers a distinct play experience.
Incredible Technologies
Incredible Technologies has made a splash in the casino slot market since entering it only six years ago, before which the company was known as the top coin-operated amusement game manufacturer in the U.S.—creator of the arcade and tavern hit Golden Tee Golf.
In the casinos, IT has made its name on games like Crazy Money, Money Rain, Big Prize Bubble Gum Deluxe and others have become sustaining brands in themselves. The company has capitalized on the popularity of these games with a constant flow of new games using their most popular features in different ways.
Last year, IT launched the Infinity Skybox cabinet package, the company's first new premium product segment. It features a 55-inch vertical monitor in a modular package. Matching 55-inch displays on banks of Infinity Skybox titles form what looks like a giant billboard for that particular game. This year, the company makes that multi-game "billboard" into a single display tied to the base games in a bank.
Infinity Super Skybox leverages four side-by-side 55- inch Infinity Skybox displays to create a single, 123-inch wide-screen display, linked via a controller to all the base games as a common bonus screen. The new linked bonus game on Infinity Super Skybox will be from IT's most popular game series, what's known as the "Money Family" of games, all of which use the reel icons—cash, in various denominations, with the presidential or Founding Father portrait from each denomination playing starring roles.
All of them also have the second-screen bonus event inspired by the original game in the brand, Crazy Money—the "Money Catch Bonus," in which players touch the screen to "grab" flying dollar bills, revealing credit values behind each bill.
The company is launching Infinity Super Skybox with two games from the "Money Family"—Crazy Money Super Sky Wheel and Money Rain Super Sky Wheel.
The Super Sky Wheel spins across that big 123-inch display.
The base games retain all the features of the originals, but during that trademark Money Catch Bonus, players can grab an icon that will win spins on the Super Sky Wheel, which is actually two concentric wheels— the outer awarding a credit award or one of five progressive jackpots, the inner awarding extra spins of the big wheel. It's possible to win two progressive jackpots on one wheel-spin bonus.
The company also will launch new games this year for the surging Infinity Skybox platform, from the same familiar game family: Crazy Money Deluxe and Money Rain Deluxe, each with the original "Sky Wheel" display in the tall top box, yielding credit awards, re-spins or one of four stand-alone progressive jackpots.
Also watch for two new dedicated game families for Infinity Skybox—Sky Ball and Sky Reels will be added to what is now the "Sky Wheel" group.
Sky Ball uses the big display to show a pinball/pachinko-style bonus game. Pinballs drop through openings in concentric circles, dropping a ball into one of three prize pockets at the bottom of the screen. Each pocket represents a progressive jackpot, and the one that fills first with three balls awards the corresponding prize.
Sky Reels transforms the monitor into a giant games-how- style prize wheel, which the player spins for credits, re-spins or a progressive.
Finally, the company this year expands its popular Infinity Link progressive product, with the new game Leonidas II. This sequel to the popular Leonidas linked progressive product features two-game banks under a common LCD "Epic Progressive" display.
The three-level linked progressive is won through the "Epic Progressive Bonus," a video-game-style bonus. (Think Medal of Honor with Roman soldiers.) This is added to the "Respin Battle with Locking Wilds" and the "Free Spins War with Locking Wilds."
International Game Technology
This year, IGT is rolling out one of its very best collections of new games ever, thanks to a rededication of the management of the newly merged company (GTECH bought IGT two years ago) to recapture the kind of dominance of the slot market the company enjoyed in the late 1990s and early 2000s.
The new games come on some of the best hardware in the business, including the new CrystalCurve Ultra, featuring huge monitors in a unique configuration.
The main screen is a 32-inch monitor—situated horizontally, rather than the usual vertical portrait-style orientation used with that size screen. On top of that is a super-size curved vertical monitor—a full 50-inch screen, ergonomically situated toward the player.
IGT is launching CrystalCurve Ultra with a new game in the Ellen franchise—the series of slots based on the daytime talk show of Ellen DeGeneres that helped launch the CrystalCore 42 cabinet two years ago—and The Goonies, a new branded slot franchise based on the 1985 adventure comedy film starring Sean Astin and Josh Brolin.
Other new formats include the CrystalDual+ Stepper, a top box housing the kind of mechanical bonus events that were a staple of IGT's lineup before it sold its British subsidiary Barcrest in 2011. For this new game group, the company is bringing back the hit former Barcrest game Top Dollar, a classic reel-spinner featuring a simple bonus event in which lights flash behind images of stacks of cash representing bonus awards.
IGT also is celebrating the 20th anniversary of the introduction of the groundbreaking Wheel of Fortune slot, which ushered in the era of themed slot games. IGT is honoring that milestone with a complete lineup of new entries in the Wheel of Fortune franchise.
The first event of the celebration occurred a few months ago with the first placements of Wheel of Fortune Gold Spins, on the CrystalWheel+ Stepper cabinet. This latest in a long line of Wheel of Fortune reel-spinners was released in July—along with Wheel of Fortune New Orleans, on the Crystal Wheel Video cabinet.
Gold Spins uses a three-reel base game in quarter or 50-cent denomination, but offers incentives for raising the bet beyond three credits. Betting five credits per spin or 10 credits per spin increases the frequency of the signature wheel spins, up to an average of a wheel bonus every 36 spins. The game also offers an extra way to win the wide-area progressive jackpot—a bonus spin on a video wheel with a jackpot slice.
But as usual, the biggest splash from IGT this year will be in the entertainment themes. Watch for Jurassic World 3D, a followup to last year's Jurassic Park game on the CrystalCore cabinet. This one, though, uses the "True 3D" technology pioneered by GTECH prior to the merger with the game Sphinx 3D.
True 3D is quite simply the best 3D effect to be found on a slot machine. 3D images jut out of the game regardless of where your head is positioned, making for a mesmerizing slot experience.
Now, imagine that technology used to make a dinosaur chase you in the slot bonus, and that's Jurassic World 3D.
Another entertainment-themed game comes in Baywatch, bringing the legendary beach series starring David Hasselhoff and Pamela Anderson to life. Also debuting this year is Sherlock Holmes: A Game of Shadows, a new premium game based on the second Holmes film starring Robert Downey Jr. and Jude Law.
The company also is releasing a slot series themed around beloved comic TV star Betty White. No details on that series yet, but IGT officials say the star's popularity measures off the charts with players.
But one of the best to come out this year surely will be TMZ, a hilarious video slot based on the entertainment-gossip TV series. While this was previewed last year, IGT went back and perfected the technology— including a camera that takes a picture of the player and actually places him or her in the bonus round, an animated sequence of a head-bobbing clip-art TMZ crew that travels around Hollywood. Great stuff.
Meanwhile, IGT is doubling down on the popularity of the True 3D technology by extending it to other games, including the licensed series based on the online and mobile PopCap Games. The company is launching a new version of Zuma 3D, based on one of PopCap's most popular games.
The new Zuma 3D game has a "Dynamic Attract" sequence that actually beckons passing players, inviting them to play. This game follows the game-play sequences familiar to players of the mobile version, including a bonus involving balls shot from the mechanical frog character in the game, the object being to match the colors for a bonus.
The specialty games by no means detract from IGT's new core video slots. Highlights this year include Valley of Gold, featuring a "must-hit-by" dual mystery progressive with a dynamic jackpot reset— the jackpot does not always reset at the minimum levels when hit. Ocean Magic includes "Bubble Boost," a feature activated with an ante wager in which random bubbles appear to add wild symbols.
Then there is Keystone Kops, an entertainment- based video slot built around the famous silent-film slapstick police comedies of the 1920s. The main bonus is a hilarious sequence of cartoon cops clumsily chasing bad guys around the city. (There are Easter eggs added that have the cops giggle or otherwise react when you touch them on the screen.) Keystone Kops also includes a feature called "Shuffle Scuffle." When major winning symbols stack on the middle reel, all symbols on the screen shuffle for additional wins.
Among the highlights in the S3000 reelspinning line this year is another game with an anniversary—next year marks the 25th anniversary of Double Diamond, a game that defined the reel-spinning category for IGT. The company celebrates with Double Diamond Deluxe, a new version of the classic multiplying- wild three-reel game including a nudge feature to increase the overall hit frequency.
Other S3000 highlights include the It's Raining Cash series of three-reel, five-line games; Super Silver 7s, a three-reel, 27-line low-denomination game; and the stepper games associated with the Spin Ferno tournament system.
Additionally, IGT is launching a multilevel progressive product on the S3000 platform, Super Red Hot Jackpots.
To all of these traditional games, IGT adds new entries in its collection of games that employ various levels of skill. This year, Texas Tea Pinball hits casinos. Previewed last year, the game has been improved with the addition of a second "flipper" button for the skillbased pinball bonus—the bonus now plays much like a traditional pinball game.
Also added to the game is "Wild Rush," a mystery feature that multiplies wild symbols landing on the reels.
A second pinball entry revives another classic IGT video title. In Cleopatra Pinball, the base game is exactly like the classic video slot, but a pinball bonus is added in which the player aims at objects to add blocks to build a pyramid.
Also on the skill-based side is Atari Centipede, a slot with a bonus recreating the famous arcade game with an integral joystick; and other skill bonuses in the Video Reel Edge series.
Additionally, watch this year for a game that awards skill more than any previously, Lucky's Quest. This one will play much more like a mobile video game than any previous IGT slot.
As for the original skill-based casino game—video poker—IGT dominates the space as always. One standout in video poker this year is Ultimate X Poker, promoted in an optimal Ten Pay Poker in a nickel denomination. In Ultimate X, any three-of-a-kind or better is followed by random multipliers applied to the following three hands.
IGT also is launching Ten Play Multi- Race Keno, a super-fast multi-card keno game with 10 different ball draws per play—the first game to apply the multi-hand, fast-play concept to the game of keno.
Scientific Games
Like most of the major manufacturers, Scientific Games is bringing out great new content on both existing platforms and several new cabinet styles—like the TwinStar J43, which features a 43-inch vertical highresolution video monitor curved toward the player at the bottom, like the letter "J." It also includes millennial-friendly features like a USB port for smartphone charging.
The new format will be launched with a new entry to the popular Bally Quick Hit franchise, which pioneered the scatter-symbol-based multiple progressive in which the range of progressives is tied to the number of jackpot symbols scattered on the reels.
On the J43, Scientific Games is launching Quick Hit Ultra Pays, a non-payline video slot with a reel configuration resulting in 776 ways to win on each spin.
Other exclusive games for the J43 include the WMS title Bier Haus: Heidi's Haus, a new version of a longtime WMS hit with fun animation centered around a German tavern.
On the new TwinStar Slant cabinet, the company is launching Bright Lights and Girl's Best Friend. The base games feature the "Lock It Link Heart" re-spin feature. If fewer than three triggering symbols for the progressive bonus feature land, they lock in place and the reels re-spin for a second chance to trigger the bonus.
Other highlights on the video side include a new series of games from the company's Asian design studios, called Tree of Wealth. Games including the launch title, Jade Eternity, are in a 243-ways-to-win format, with a four-level progressive jackpot triggered through a picking bonus.
The new TwinStar 3RM cabinet (for three-reel mechanical) is being launched with a collection of classic reel-spinners based on triedand- true Bally and WMS game brands. Front and center is Blazing 7s Gold, a beautiful new version of the classic Bally game with a free-spin feature added. Wild Times Rising is classic stepper with free games and multipliers.
TwinStar 3RM also provides new versions of Bally classics Black Gold and Hot Triple 7s, the WMS game Life of Luxury, and the first reel-spinning versions of the hit Bally video multi-progressive Fu Dao Le and WMS' 88 Fortunes.
All the new proprietary content is great, but as usual, players will watch for the new entertainment-themed games. And Scientific Games has a ton of them.
One branded game previewed last year that has since been perfected is The Simpsons, on the unique GameScape cabinet. GameScape uses triple LCD panels to create what is almost a private theater for the highly entertaining game, which uses a wealth of the funniest clips from the long-running animated comedy woven into bonuses.
These improved current brands will be joined this year by a strong lineup of branded premium games. Leading the way will be Anchorman: The Legend of Ron Burgundy, which wraps the best of the popular 2004 comedy film starring Will Ferrell into a customized top-box version of the TwinStar cabinet, the TwinStar 24/43. The central feature takes the player up a film ladder display in the vertical top-box monitor, randomly landing on clips involving all the main characters in the film, which spoofed local news anchors.
The other big movie-themed premium slot this year is National Lampoon's Vacation, which uses a version of the premium WMS wheel cabinet to tell the hilarious story of the Griswolds, and patriarch Clark Griswold's struggles to get his family across the country for a vacation at Walley World in the iconic 1983 comedy directed by Harold Ramus and starring Chevy Chase.
All the high points in the movie are wrapped around bonus events—from Clark's highway encounter with Christie Brinkley in the convertible to his encounter at the amusement park with the Walley World guard played by John Candy.
On the TV brand side is The Bachelor, a wide-area progressive with a mystery bonus featuring clips from the popular dating reality show. On the music side, Cash, featuring the music of country legend Johnny Cash, will be a major release on the Blade Stepper with Mechanical Wheel.
Footage and audio of all of Cash's most famous songs are woven into bonuses in a stepper game with a video top box and a wheel bonus that can lead to one of four levels of progressive jackpots. In a clever touch, the four levels of the jackpots are marked by images of Cash at different stages of his career, from his early days at Sun Records in the 1950s through his time as the elder statesman of American roots music.
On the Pro Theater cabinet is Wacky Races, based on the 1968- 71 cartoon series. Characters from the Saturday morning mainstay appear in reel symbols and wild reels, with audio and clips from the cartoon featured in bonuses, the main one a bonus race on an overhead display that fronts two individual machines.
Scientific Games is not forgetting its other legacy brand, Barcrest. This line of games, distinguished by carnival-style mechanical top-box bonus events, will be highlighted with new high-denomination titles Flipping Out! and Psycho Cashbeast.
Finally, Scientific Games' entry in the new skill-based slot area this year is Space Invaders, a slot that brings the classic arcade game to the slot floor in a game that rewards the most skilled at shooting those alien spaceships out of the sky.