SKILL THIS
Gimme that old-time slot play
By Frank Legato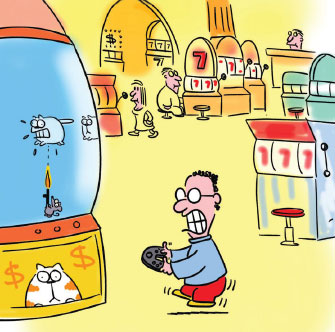 Recently, I was at the big casino-industry trade show in Las Vegas, which is where we all put on suits, and do "roundtable discussions," and look at new slot machines.
Sometimes, we even have roundtable discussions about new slot machines. Always with the suits on. Even worse, they make me wear a tie.
Which is my very point. Wearing a suit and tie is… Wait. That's not my point at all. I was going to talk about the new slot machines. After 32 years writing about the things, they are starting to look, well, different. This company called GameCo, for instance, has this slot machine that actually is a first-person-shooter video game, complete with a controller. It could be in an arcade at the movie theater.
It is one of the newfangled "skill-based" gaming machines, and it is far from the only one. Konami showed a casino version of its Frogger game, in which you can use your old arcade skills to move that digital frog across the digital street—only for money this time, instead of just high-score bragging rights at the pizza shop.
Scientific Games showed Space Invaders for the casino. IGT showed a game called Lucky's Quest that is basically a mobile-phone game on a big screen. Everi did the same with a casino version of Fruit Ninja.
All of these games let you use skill to win more money than people who aren't good at arcade games or mobile-phone games. And they all made me realize one thing: I'm no good at arcade games or mobile-phone games. My Frogger frog got squished, I had trouble cutting even a digital watermelon in half, and I absolutely suck at Space Invaders.
By the way, if alien spacecraft ever do come down out of the sky, get someone else to shoot at them. If it's me, we're all screwed.
Thank goodness there is still a huge supply of slot machines out there on which positive results can be achieved by me, or, alternatively, by a chimpanzee. But even those games are getting more fancy. There was one demonstration at the big trade show by a company called JCM Global of a slot machine that lets you multi-task. The machine prints and redeems lottery tickets, ties into the race and sports book for wagers, does currency exchanges, prints out tax forms, makes coffee, does your laundry, plays the bassoon and dances the jitterbug in a zoot suit.
OK, I made the stuff up from making coffee on, but it does do all that other stuff.
No problem, though—I can still find plenty of the simpler kind of slot machines, with three reels, that actually go "ding ding." It used to be "ding ding, clang clang," but they quit using coins in machines. Ah, but you can still find even those. Several casinos on the Las Vegas Strip offer old-timey three-reelers with handles, on which you use actual coins. Circus Circus has the most, with 30.
Imagine that. I wonder if they have people pushing coin carts around at all these places. Hey, if you like the traditional kinds of machines, there's nothing like a rickety old three-reel dollar game, maybe with one of the lights out behind the reels, which go all wobbly while spinning to those two 10X wild symbols with a "7."
Well, that's the kind of slot machine I've always seemed to win on.
I could do without the coins, though.I remember thinking when they were first talking about coin-free slot machines that I'd miss handling coins, and getting my hands filthy scooping dollars into buckets, and taking the filthy lucre over to the redemption booth.
No, I don't miss it. Not even a little bit. Bill acceptors, yes. Can't do without them. But cash-out tickets weigh less than coins. It's physics.
I'm certainly going to take another crack at these skill games. The problem is, I've never practiced. I never played arcade games or home video games, and I don't play games on my smartphone. Heck, I'm lucky I can make calls on the thing. (I'm kidding. I text and have apps and stuff. Mostly so I can watch sports on my phone.) Of course, they say that you get better and better as you play these skill games again and again.
Nah. It's easier to just go find a wobbly old three-reel slot that's been in service since around 1998. Landing wild symbols and 7s is something that can be done easily, with no practice, by me.
Or, alternatively, by a chimpanzee.