SKILL AND REGULATION
Casino operators and slot manufacturers launch a battle against unregulated slot machines
By Frank Legato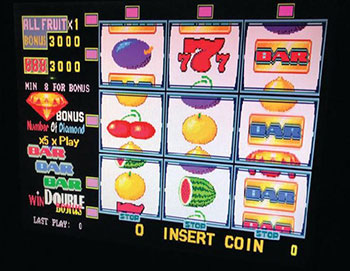 I've written in this space about the new "skill-influenced" gaming machines that are beginning to appear in casinos, but the casino gaming industry is currently battling the spread of a different kind of game purporting to be "skill games."
The Association of Gaming Equipment Manufacturers (AGEM), the association representing slot manufacturers, and the American Gaming Association (AGA), the national lobbying arm of the casino industry, have launched an educational campaign directed at state legislators and law enforcement officials in an effort to halt the spread of unregulated gaming machines in several states. Their operators claim they are "skill games," and therefore don't have to be licensed as slot machines by the state gaming authorities.
The "skill" feature on these machines is dubious at best. One AGEM official told me the "skill" on the "Pennsylvania Skill" games constitutes using your brain when you see one reel result to determine whether or not you want to wager on the next spin. Others use the "skill stop" feature, in which two reels spin and you decide when to stop the third reel—which may be valid in a North Carolina casino, but a lot of these games give the player the option to bypass the skill feature. Their developers claim they are legal simply because the option to use skill is available.
Skill or not, the machines are illegal, or soon will be, thanks to legislators in states like Virginia who recently passed a bill to specifically outlaw the skill slots that are pervasive in that state, which is expected to legalize real casinos before too long.
The worst part of the trend is where these machines are popping up—laundromats, gas stations, convenience stores and other locations where they are available to play by anyone—even children. And make no mistake: They may say they're amusement games, but if you play them, you can't tell the games from a real slot machine. And while you may turn in a printed ticket after your session, you're still getting a cash payout.
Any way you slice it, these are slot machines, and they're popping up everywhere in several states.
You may see them at your local laundromat. But don't play them. And I'm not just saying that because I'm associated with the gaming industry. I wouldn't trust these games. Casino slot machines go through rigorous testing to make sure they are fair to the player. The stated payback percentages must be verified through millions of simulated spins, and regulators in each jurisdiction verify that all wins in every game's program are available to the player.
The casinos they are in have problem gambling prevention programs, many through self-exclusion programs and risk-minimization that is automatic, thanks to advancing technology.
The operators of legitimate slot machines must undergo the most strict background and licensing requirements that exist in any business. Convicted felons or people with ties to organized crime do not get a license to operate slot machines. All the casinos have to demonstrate compliance with strict federal anti-money laundering regulations.
These "skill games" have no such consumer protections. The manager of your local gas station or laundromat offers no assurance that he or she is honest, and has not demonstrated that his operation is not vulnerable to money laundering from some drug cartel.
Most of all, you have no way of knowing you're getting a fair shake if you play these machines.
The casino operators hate the spread of these machines, because they have all gone through the above scrutiny and paid millions for their licenses, not to mention forking over up a hefty portion—70 percent or more in states like Rhode Island—of their revenues to the state. The gas station owner down the street just buys the machines and puts them out. In Pennsylvania, there are even gas stations throwing up unregulated gaming machine parlors.
"The spread of these machines represents a serious threat to the overall regulated market that has invested billions in infrastructure while also creating thousands of jobs and substantial tax benefits in the communities they serve," said AGEM Executive Director Marcus Prater in a press statement. "Moreover, unregulated machines prey on confused players who see slot machine symbols and think they're getting a fair chance when they absolutely are not."
"Stamping out the illegal market that threatens the safety of consumers will always be one of the gaming industry's highest priorities," added Bill Miller, president and CEO of the American Gaming Association. "We are proud to work with the Association of Gaming Equipment Manufacturers and our fellow industry partners to combat the spread of illegal machines."
Bottom line: If you want to play slot machines, go to your local casino. It's the only way to be sure you're getting a fair shake and value for your wagering dollar.