RICHES TO RAGS
A look at 5 poker pros who went broke and what became of them
By Sean Chaffin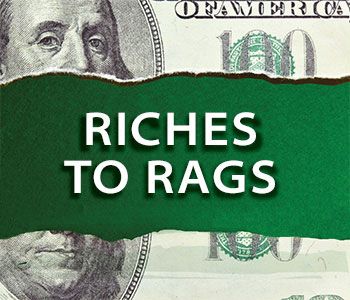 Going broke certainly isn't fun. While it may seem like a rite of passage among professional poker players, the reality is a tough situation. Poker players still have rent or a mortgage, bills to pay, and need a bankroll to keep winning at the tables and hopefully turn that downward spiral around.
While there's no pride in going broke, many players have experienced that feeling of no longer having a bankroll and having to  restart altogether. Going bust has become a bit of a stereotype in the game. Some overcome it and begin managing their funds better. Others continue to struggle.
Here's a look at a few players who went broke to one degree or another. Their tales can be a learning experience for every aspiring poker pro.
ERICK LINDGREN
This player from Burney, California, found early success during the poker boom after winning two WPT events at the Bellagio and aboard a cruise. He also had four other final table appearances on the tour and scored two WSOP bracelets as well. When it came to poker in the 2000s, Lindgren was a fresh-faced poker pro who became a regular on televised events, accumulating more than $10.5 million in live tournament winnings.
Lindgren even authored the book World Poker Tour: Making the Final Table, detailing his tournament strategy for an eager public embracing live and online poker in droves. An online poker site made him a team member, and he seemed to be living a poker player's dream. But all wasn't as it appeared when it came to his personal finances.
After Black Friday, it was revealed he owed the poker site millions of dollars and lost his regular paycheck when it imploded. In a 2013 interview, Lindgren detailed to Bluff magazine his mounting losses in sports betting and the money he owed other players.
"I've had a gambling problem for a long time and I've finally got the opportunity to address it," Lindgren told the magazine from a two-week treatment for gambling addiction. He noted: "I'd had a really tough year, I lost way too much money in football last year and couldn't pay some fantasy football bets at the end of the year. I owed people a bunch of money, and it's something that I've been working on for a long time, but I definitely slipped up, made some really bad mistakes and I needed to address that."
With a wife and child, Lindgren hoped to change his life and pay back those he owed. No word if that has happened in the intervening years. He said he wanted "family to be the number one priority." Lindgren continued playing poker, and found some success at the tables. In April 2018, he finished runner-up in a WSOP Circuit event for $181,864. Some might be shocked he still gambles at all. It's certainly debatable whether it's wise for someone who's sought treatment for gambling addiction should be playing poker and regularly visiting casinos.
In 2015, Lindgren filed Chapter 11 bankruptcy in Las Vegas, detailing assets of less than $50,000 and debts of over $10 million to more than 20 people and entities including an IRS tax lien for $3.8 million.
CHRIS MONEYMAKER
While times may have been good since his historic win in the 2003 World Series of Poker Main Event, fans may be surprised at Moneymaker's financial situation before he won the event for $2.5 million. When thinking of players going broke, most might conclude a player found some early success and then played above his means. A series of big losses might lead to a reversal of fortune. For Moneymaker, those losses actually came before his big win at the WSOP.
"If I had to take a stab at it, I'd say before I really started playing poker, I was down about $30,000, lifetime, as a gambler," he notes in the book The Moneymaker Effect. "Which, back then, was a huge amount of money for me."
Poker history tells an everyman tale of a player who won an $86 online qualifier and turned that into a dream come true. But Moneymaker says that wasn't exactly how things went. While he was a losing gambler, that was mostly in sports betting. He had been winning at poker, and with only $60 left in his account after cashing some money out to pay some bills, he clicked on a $39 tournament on PokerStars. He didn't realize at the time that it was a qualifier to another tournament to win a seat into the Main Event.
Moneymaker won that first qualifier and then found himself at the final table as one of the chip leaders. The top three earned Main Event seats and fourth earned $8,000.With debt and bills to pay, Moneymaker was angling for fourth. He noted in his autobiography Moneymaker, just how bad things were for he and his wife at the time.
"Every time we'd climb out of the hole, by cutting corners and setting money aside to pay down our bills, I'd dig us a new one, and it's a wonder Kelly didn't run me out," he notes. "We were in every kind of hole, in every which way, pretty much all the time, and it was all on my gambling."
Needing money, a friend offered to pay him $5,000 for half of his action in Las Vegas. Moneymaker went on to win the seat, but his friend backed out. His brother ended up paying $2,000 for some of his action, and another put down $2,000 for a chunk. That second backer had a fitting last name – Gamble. It certainly paid off.
DAVE "DEVILFISH" ULLIOT
Some players are known for going broke, perhaps numerous times, and some are known for how they respond. Ulliot, who passed away in 2015 at 61, was known for his steely determination with his financial well-being on the line. Born in Hull, England, he learned to play the game as a teenager.
After an early career as a safe- cracker and thief, Ulliot served some time in prison. When a planned bank robbery was foiled when the planner was arrested beforehand, Ulltiot decided to go straight in his late-20s. He returned to poker and began finding success. In the 2000s, he became a mainstay on televised poker and won a WSOP bracelet in 1997 He added World Poker Tour title in 2003 and accumulated $6.2 million lifetime tournament winnings.
While Ulliot was certainly a gifted player, a bigger testament to his skills may be how he played facing financial struggles. Friends describe a man who played at another level when he needed the money. The Devilfish truly came out.
"Dave's strength is that when he's broke, or for some other reason under real pressure to win," friend and poker layer Paul Macfield noted in the book Swimming with the fish. "When he's broke, and I've seen this time after time, plays out of his skin. He plays absolutely brilliantly. When he's not broke, he doesn't play as well as he can, because he likes gamble. But when he's broke, I'd have my last $100 on him, whether it's to play in a tournament or a cash game, because he's absolutely fantastic."
STU UNGAR
While he may have been immensely talented at the tables, the story of Stu "The Kid" Ungar may be one of the saddest among players who struggled with the day-to-day financial side of the game. A brilliant player, Ungar is one of only two players to have won the WSOP Main Event three times (along with Johnny Moss). He was one of only four players to win the title back to back, along with Moss, Doyle Brunson, and Johnny Chan.
Growing up in New York in the 1960s and '70s, Ungar began gambling at a young age. He was a stellar gin rummy player, but later transitioned to poker when he could no longer get action on gin. By the late-1970s he was living in Las Vegas, and was a natural, at the poker felt. After winning the Main Event in 1980, he became the youngest player to ever win the title at the time.
Ungar won the championship again in 1981, but drug addiction and loose spending haunted him throughout the '80s and '90s. He lost much of his winnings betting horse races and sports. Deep in debt and strung out, friend and poker player Billy Baxter bought Ungar into the 1997 Main Event. He took a massive chip lead into the final table and won the title for a third time. The $1 million in winnings was split with Baxter.
In the months that followed, he lost much of that on sports betting and drug use, which caused him to miss the 1998 Main Event. On Nov. 20, he checked into a $60 a night hotel on the Vegas Strip and was found dead on his bed two days later. Drugs were found in his system, but Ungar died of a heart condition attributed to continued drug use. He was posthumously inducted into the Poker Hall of Fame in 2001.
After winning millions in his lifetime, Ungar was left virtually penniless and a collection was taken up to pay for his funeral. In the book about his life, One of a Kind, Ungar reflects on his own situation after having no money, deep in debt, and drug-addled. With big games raging at the Mirage, he was stuck in a Vegas hotel room.
"It's three o'clock in the middle of the afternoon, and this is the last place on the face of the earth I want to be. Right this very second, a half-mile away, they're playing in the highest-limit poker games in the world." He then adds: "Half the people in that game are donkeys. They don't have a fucking clue. It's the rich tourists and big movie producers from L.A. God bless 'em. I can whip every one of them. But instead of being at the Mirage, I'm here, out of action. Broke."
MIKE MATUSOW
After years of working his way along the poker rungs, Mike "The Mouth" Matusow moved from dealing poker at Sam's Town in Las Vegas in the '90s to playing part-time in lower stakes games to moving on to some of the biggest stakes around. But even players who watch their bankroll and win at the tables can have losing trends. For Matusow, it came at big stakes.
By 1999, everything seemed to be going well. He was winning at cash games and performing nicely in tournaments. He bought a house and added a pool and hot tub. In his autobiography Check-Raising the Devil, Matusow admits that winning his first WSOP bracelet for more than $265,000. His bankroll was swelling.  And then it all came crashing down.
"I went on an eight or nine day losing streak," he notes in the book. "I never backed off or slowed down. I never refused a seat at the biggest game or took one minute to consider what I was doing.
In eight or nine days, I lost $400,000. In less than two weeks, I lost the bankroll I had grown and protected for three years. It was gone, all of it."
After borrowing $100,000 against his house, Matusow moved down a bit in stakes, but was back winning. He won $180,000 in the next six weeks and paid back the loan. The Mouth then built his hubris entered his mind and took over. He felt as if he couldn't lose despite some hard lessons along the way.
"I changed from being the ultra-hungry kid with something to prove," he writes. "I became a poker player with a dangerously big ego."
Matusow certainly had reason to be proud. He was fresh off bankroll to $200,000 and eventually added three more WSOP bracelets and made final tables in Main Event in 2001 and 2005. It was quite a turnaround and a lesson in perseverance.
Sean Chaffin is a freelance writer in Crandall, Texas, and senior writer for Casino Player and Strictly Slots magazines. His work appears in numerous websites and publications. Follow him on Twitter @PokerTraditions or email him at seanchaffin@sbcglobal.net for story assignments.