RETURN OF PAC-MAN
Ainsworth continues its winning slot series based on the most popular arcade game of all time with PAC-MAN DYNAMIC EDITION
By Frank Legato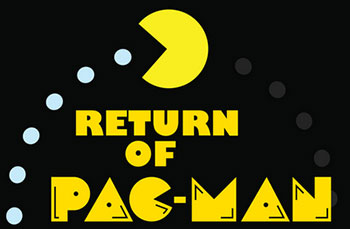 When slot manufacturer Ainsworth Game Technology first announced its partnership with arcade game producer Bandai Namco Entertainment to bring the arcade classic PAC-MAN to the slot floor, many were excited to see the iconic arcade game on the slot floor, affording folks who loved gobbling pac-dots and avoiding ghosts to experience the game on a casino floor.
The advent of skill-based games on the slot floor has, in fact, been dubious at best, and Ainsworth has kept its focus on making traditional slot machines, and in the case of licensed themes such as this, it's all about mining the various features of a theme and transforming them into good gambles.
In the case of PAC-MAN, it's hard to imagine a theme with a richer collection of features that easily translate to the slot floor, starting with PAC-MAN himself—a video critter shaped like a pizza with a slice missing, running around a video maze gobbling digital dots—and continuing with Pac-Man's nemeses, the four ghosts named Blinky, Pinky, Inky and Clyde, which, if they catch Pac-Man enough times, prompt the dreaded "Game Over" message, along with that deflating end-game digital music.
Ainsworth, in fact, has already successfully mined this rich vein of sounds and images. PAC-MAN WILD EDITION, released last spring, has been a roaring success, still popular with players wherever it has been placed. Distinguishing that game is not only the multiple progressive jackpots, but an extra row of reel symbols above the main reel array. When PAC-MAN appears on that extra row, he drops down to make every symbol on the corresponding main reel wild. This month, players will be treated to what promises to be the first of many sequels to the iconic brand, PAC-MAN DYNAMIC EDITION.
Like PAC-MAN WILD EDITION, the new game is featured on Ainsworth's A640 cabinet, featuring a high-definition, 40-inch vertical touch-screen video monitor, a 5.1 surround-sound system and a touch-screen button deck. The game itself is a five-reel, 30-line video slot which, like its predecessor, includes an extra row of reels above the main three-row, five-reel array.
From there, the idea was to produce a different but equally compelling way to use the extra row of symbols, says Cody Herrick, director of game development for Ainsworth. "What we've changed up in Dynamic is that, instead of getting those drop-down wilds, you get a PAC-MAN symbol that's going to correspond to the three-by-five reel below it," Herrick says. "And anywhere a ghost appears on that reel, a blue Pac-Man is going to come through and eat those up, and you're given a multiplier depending on how many of those ghosts have appeared on the screen."
During base-game spins, the number of ghosts gobbled up by Pac-Man translates into multipliers applied to the total bet. "This occurs quite regularly," Herrick says.
This feature is super-charged during a unique free-games feature. Three or more bonus symbols scattered on the reels trigger eight free games. Before the free games start, the bottom reel array expands from three rows of symbols to nine, tripling the number of pay lines. During the free-spins, the extra top row includes only PAC-MAN and "Pattern" symbols. When PAC-MAN lands on the extra reel row, ghosts Blinky, Inky, Pinky and Clyde are transformed into "Ghost Prize" symbols on the main reels.
The player is awarded a bonus prize of the total credits bet multiplied by the number of Ghost Prize symbols appearing. "Changing the reel array to a nine-by-five creates a huge stack of these symbols coming across, and you're going to get big stacks of the ghosts as well," Herrick says. "So, you're going to get 25, 30, 35 times your bet when that PAC-MAN shows up on the extra reel." Three or more bonus scatter symbols on a free spin trigger an additional five free games.
Multipliers also are prevalent in a spinning bonus called the Mega Roulette feature. When a "Key" symbol appears on the extra reel, a roulette wheel appears on the screen. The player spins the wheel for prizes of the total bet multiplied by two, three, five, 10, 15, 20 or 50. The other slice of the roulette wheel is the "Jackpot Game," which guarantees one of the three progressive prizes.
In the jackpot Game, the screen displays nine blue ghosts, each hiding a "Mini, Minor" or "Major" jackpot icon. The player selects ghosts until matching three jackpot icons. The Mini resets at $50; the Minor at $400. The Major resets at $4,000.
Ainsworth has not only translated aspects of the classic PAC-MAN game for the slot game, but has adeptly recreated the feel of the arcade game. "PAC-MAN DYNAMIC EDITION is really a partnership with Bandai Namco, following their art and animation with PAC-MAN, the ghosts and the chase sequences," Herrick says. "But we've used the audio as well. One of the cool 'Easter eggs' in the game is that, as you're getting lower and lower on the free spins, the music speeds up—just as it does in the arcade game when you have fewer and fewer pellets to eat."
PAC-MAN DYNAMIC EDITION was launched in late December and will be in most jurisdictions in early 2018. "The original PAC-MAN game is still doing extremely well, and we feel Dynamic is going to fit right in behind that," says Herrick, "and we'll continue our partnership with Bandai Namco with more titles down the road."
He adds that a skill-based version of PAC-MAN is not out of the question, once the market proves that players will in fact embrace skill gaming. But for now, he says, players can enjoy all those multipliers in Dynamic Edition. "When you hit those giant stacks of ghosts and get 35 times your bet on a single spin, it's a great win; then two spins later, you do it again," Herrick says. "The frequency of this feature is what will really astound players."
Astounding, yes, but at its core — a lot of fun.
Slot Type: Five-reel, 30-line video slot;
three-level progressive jackpot;
wheel-based, free-spin and picking bonus events;
penny through $10 denominations
Payback % Range: 90%-95%
Average Hit Frequency: Approximately 50%
Top jackpot: Progressive; $4,000 reset