Reinventing the Deal – Red Rock
Station takes Red Rock to innovative new heights
by Rob Wiser
On April 18, Station Casinos, the juggernaut of the Las Vegas locals gaming market, opened its 15th property in Southern Nevada. Officially titled Red Rock Casino Resort Spa—but commonly referred to as Red Rock Station—this $925-million property represents the company's greatest achievement to date. But in the grander scheme of things, it's much more than their largest and most expensive resort: from a design standpoint, this is one the most innovative gaming properties ever created.
That's a bold statement, indeed, but Casino Player's sneak preview of Red Rock—several weeks before its opening, as armies of construction workers raced to complete the finishing touches—proved it to be quite unlike any resort we've ever toured.
In truth, for all of the wildly imaginative themes and spectacles within the resorts of the Vegas Strip, their interior designs all follow certain fundamental principles: the gaming floors are fashioned like climate-controlled cocoons that block out views of the outside world, while the layouts are so confusing that they ought to hand you a compass along with your room key. The operating principle seems to be as long as you're completely insulated from sunlight and fresh air, and never quite sure how to locate anything besides the slot machines, you'll keep donating towards the ol' casino power bill.
We'd like to believe that today's gaming customer (especially a Casino Player reader) is too savvy for these mousetraps, yet casinos—in Las Vegas and beyond—invariably follow this same formula to some degree. Las Vegas mega resorts are many things—fun, thrilling, overwhelming to the senses—but let's face it, the word "convenient" has never been big in their lexicon.
Red Rock shakes up this paradigm to create something entirely original. The key word here, above all else, is convenience—and throughout the resort there is an abundance of bright natural light, streaming through windows that allow views of the neighboring mountains. Its restaurants feature indoor and outdoor seating areas, and the centerpiece of the resort is not its casino, but rather the sprawling pool area. Dubbed the Sandbar, this three-acre spread can be seen from every vantage point on the property and includes multiple pools, beach areas and gaming. (It will also serve as an entertainment venue, where as many as 3,000 people can attend parties or concerts.)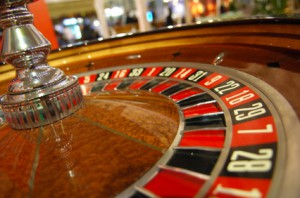 The resort features multiple parking garages (totaling over 6,000 parking spaces) and valet areas, serving six separate entrances; whether you're coming to enjoy an afternoon at the spa or place bets at the sports book, you can access these areas directly without ever having to contend with casino foot-traffic or labyrinthine floor plans. From every angle of the site there is access from roadways, enabling guests to enter the property from all directions.
"We live and die by how convenient it is for guests to come into the facility, and here, we've mastered that," says Scott Kreeger, president and general manager of Red Rock. "The old traditional way of doing things was to make people walk through the casino to get anywhere they wanted to go. Our view is, we're more of an entertainment destination for the local community and that doesn't just entail gaming. People want to come in and have a great meal, or see some music, or play bingo or visit the race and sports book. When they're ready to play slot machines, if that's what they choose to do, they're going to go do that."
Rise of an Empire
The Fertitta family is credited with creating the Las Vegas "local's casino" industry as know it today. In 1976, Frank Fertitta Jr. purchased a humble 5,000-square-property named The Casino, containing 100 slot machines and a snack bar, and designed it purely for the enjoyment of Las Vegans. The concept turned out to be a hit, enabling it to expand over the years as it changed its name to Bingo Palace and then to Palace Station in the early 80s. (Today, Palace Station remains the flagship of the Fertitta gaming empire.)
Frank Sr. stepped down in 1993 and his two sons, Frank Fertitta III (chairman and CEO) and Lorenzo (vice president and chairman) took the reins. The brothers steered Station Casinos Inc. to incredible heights, amassing 15 properties throughout the Las Vegas Valley and gaining control of much of the land that's been zoned for casinos. They plan to build four more local properties by 2008, and two others in Reno. Next up is Aliante Station, which Station will develop in partnership with the Greenspun Corporation, as it did with Green Valley Ranch.
With Red Rock, the Fertitta's original gameplan called for the resort to open with 414 rooms (including 45 suites) and then launch a second phase which would expand the hotel tower horizontally, bringing the room count to 850. "Phase II" would also enlarge the spa/salon from its original size of 35,000 square feet.
Instead, Station decided to accelerate the schedule and begin Phase II early. The additional rooms are already under construction, and Red Rock opened as a $925-million resort instead of its original (Phase I only) price tag of an estimated $450-$475 million. In the near future, a residential condominium component, the Residences at Red Rock, will join the colossal complex. This will consist of two towers containing high-end one-and two-bedroom residences. Sales will have probably begun by the time this story reaches print.
Local Values, Widespread Appeal
While Red Rock falls under the category of a "locals casino," as all Station properties do, a significant percentage of its guests will be out-of-towners. You'd be surprised at just how many tourists are opting to stay at Station properties, bypassing the Strip entirely.
"Our numbers show that across the board, all of our properties continue to enjoy over 90 percent [hotel room] occupancy rates," says Lori Nelson, Station's director of corporate communications. "There is a demand among people who've been [to the Strip] and done that in Vegas, and they're ready to do it a different way. They want all the excitement of Vegas, but they want a different location and experience."
Red Rock expands upon the successful model the company achieved with Green Valley Ranch, which itself recently expanded to 500 rooms. Green Valley was the first truly "high-end" Station property, designed to cater to the company's core customer base of locals while serving up gourmet restaurants, cutting-edge nightlife, high-roller suites, a first-rate spa, and other Strip-style amenities. Even the Fertitta brothers were surprised at how well Green Valley Ranch performed right out of the gate, drawing VIP players, celebrities and trendy, younger tourists, while still generating 70-80 percent of its business from locals.
Red Rock represents an even bigger, bolder step in this direction. It has the second largest room count in the Stations family (Palace Station remains the largest, at about 1,000 rooms) and placed special emphasis on its spa, another area in which Green Valley met with an unexpected level of success (its spa was recently expanded from 10,000 square feet to 35,000).
"We started to notice that people appreciate the finer things," Kreeger says of Green Valley Ranch. "You can raise the bar, as long as you keep your feet on the ground and remember who your guests are."
Word-of-mouth on Station's properties is so strong that the company hasn't needed to focus marketing efforts towards out-of-town players. "The fundamental part of the recipe is locals gaming," Kreeger stresses. "We don't change our business plan to go after out-of-town people. We focus on what we do with the locals, and the buzz has gotten out there that this is a superior product with more attention to detail and more personalized [service], that it's a warm and welcoming environment."
Red Rock's location, on the far west side of town approximately 10 miles from the Strip (and a 20-minute drive from McCarran airport), places it within the red-hot master-planned community of Summerlin. Perched on 70 acres at the foot of Red Rock Canyon, in the foothills of its snow-flecked mountains, the resort provides an incredible amenity for Summerlin residents—while its proximity to the 215 beltway will encourage customers from far beyond the neighborhood to visit regularly.
The motif is best described as desert-modern architecture, fostering a seamless blend between indoor and outdoor spaces. While other Vegas resorts do everything possible to obscure the fact that you're in the desert—creating the illusion of Paris, Egypt, ancient Rome, etc.—Red Rock celebrates the natural beauty of its environment. Architecturally, you might expect to see a structure like this in Scottsdale, AZ, rather than amid the neon glitz of Las Vegas.
"We broke from a lot of conventional rules," says Kreeger. "In a traditional casino, they wall up everything and don't put any windows in, [to make] people forget about whether it's daytime. We've embraced the desert; we're close to Red Rock canyon and all of these beautiful natural resources, and we wanted to build a project that complemented that. Many of our restaurants have an indoor and outdoor experience; you can eat inside, or outside on the terrace. There's lots of glass and a free-flowing feel. Even our nightclub has an outdoor pool and cabanas. There's as much square footage on the outside of the nightclub as there is on the inside."
Vintage Vegas Meets Cutting-Edge Design
Natural elements abound throughout the property, from stone and onyx finishes to the beautiful teak wood-and-marble floors that surround the perimeter of the gaming floor and wind past the resort's various areas. Yet there's also an unmistakable spirit of vintage Las Vegas, with gigantic chandeliers (containing more than three million crystals in all) filling spaces with light. The color palate is awash in rich reds, golds and browns, and the design is as comfortable as it is elegant, from the Venetian plaster walls to the ornate gold-leafed ceiling.
The casino itself is state-of-the-art and huge in scope. There are around 3,200 slot and video poker machines, 62 table games (including a massive high-limit room with soaring ceilings and its own bar), an extensive poker room, a super-sized bingo parlor divided into smoking and non-smoking areas, and a keno lounge.
"Surprises around every corner," is how Nelson describes the interior layout. The various gaming areas seem to flow from one area to the next, with no abrupt ends or corners; in another subtle departure from traditional casino design, there are no slot machines set against the walls. Everywhere you look, it seems bright, airy and expansive.
Interestingly, Red Rock also boasts the most luxurious race and sports book in the city, if not the world. Kreeger describes it as a "quantum leap" over other sports wagering facilities, which is immediately evident when you witness its 100-foot-long, 19-foot-high video screen. This mega-screen is divided into smaller panels to show various sporting events happening simultaneously, but can also be used to broadcast a single event (such as the Superbowl). In a high-tech twist, the tote boards (where the odds are displayed) are projected right onto the screen next to the games. Additionally, there are scores of individual betting terminals, a VIP lounge, and a grill that services both the poker room and the race and sports book.
The resort contains nine restaurants, two of which fall under the "gourmet" category, plus a food court with diverse food offerings and a number of popular favorites, including Fatburger, Panda Express and Starbucks. The 620-seat Feast Gourmet Buffet is particularly notable, boasting a beautiful, spacious design and a wide range of selections, while keeping price points in line with other Stations properties.
Salt Lick BBQ promises to be a standout. Stations executives visited Texas to ask the locals what they considered to be the best barbecue in the state; they found it about 45 miles outside of Austin along a country road, in a remote location called Salt Lick. These mouthwatering dishes, prepared in authentic Texas style, have been imported to Red Rock.
Other options include Cabo Cantina, featuring fresh Mexican Baja foods; Terra Rossa Italian Restaurant; T-Bones, a high-end steakhouse serving Prime steaks, signature bone-in meats, fresh fish and an extensive array of wines; Tides Oyster Bar, which is infused with the spirit of New Orleans; Turf Grill, offering what they call "classic blue plate specials and comfort foods"; and Sandbar Poolside Café, allowing guests to dine outside by the pool.
The spa, meanwhile, is a lavish retreat containing 20 treatment rooms, three VIP suites (ideal for couples who want to unwind together), and outdoor cabanas where masseuses can work on you while you enjoy the fresh air. The outdoor area also includes a lounging deck, lap pool and a yoga garden. In addition, the facility contains a workout room and a full-service salon, as well as a men's salon with barbers on staff.
Guests can also take advantage of its unique Adventure Spa program, which embraces the natural beauty that surrounds the resort and promotes healthy living and outdoor exercise. Excursions and activities are regularly offered, from hiking, to biking, to mountain and rock climbing. "One of the things Las Vegas has yet to discover is how beautiful Southern Nevada is," says Kreeger.
David Bert, host of the local TV program Along the Way and the PBS program Outdoor Nevada, both of which celebrate the state's great outdoors, will help to organize the spa's program of activities and classes that will educate people on subjects ranging from wellness to astronomy.
With Green Valley Ranch's Whiskey nightclub—which extends outside into the resort's lavish pool area—Station staked its claim in the ultra-hip Las Vegas nightlife scene. Red Rock builds upon this success with Cherry (created by the same operators as the Whiskey—Rande Gerber and his company Midnight Oil), which has a private outdoor pool area attached to the club. While this after-dark hangout promises to the focal point of Red Rock's nightlife on weekends, lounges and bars are scattered throughout the resort. Among them are Rocks Lounge, Onyx Bar, Sand Bar and Lucky Bar, which is based in the center of the casino similar to Green Valley Ranch's Drop Bar.
Traditional Station-style touches include a 16-screen movie theatre (except Red Rock's has private VIP viewing boxes) and a daycare center for kids. An adjoining 94,000-square-foot facility hosts meetings, conventions and banquets, capable of hosting crowds of up to 1,500. In a welcome added flourish, many of the rooms overlook the pool area and have outdoor patios.
Red Rock's room product is chic, high-tech and plush. Standard rooms, which measure 525 square feet, are more impressive than the standard room product among Strip mega resorts. They contain 42-inch high-def plasma screens, wireless Internet, 15-inch LCD screens, and even Ipod docking stations. Floor-to-ceiling windows allow either panoramic views of the Strip or of the pool area and mountains, depending which side of the tower your room is on. From the Egyptian cotton sheets on the beds, to the 15'' LCD televisions installed in the bathrooms, to the guest robes and slippers provided with every room, you're sure to be impressed by the amenities—and the value, with rates beginning at $170 and suites ranging between $650-$750 (off peak). For those willing to spend more—or VIP players being comped by the casino—the suites range up to 4,400 square feet.
Same Rules, New Twists
Given the track record of Station Casinos, and its vast and loyal customer base, the smart money says the Fertittas have got another home run on their hands. "Over the years, every time we build a new property we learn a few tricks," says Kreeger. "We learn more about our customers and how they've changed, and we push the envelope a little more. But there's basic fundamentals we always stick to—gaming value, food value, and quality of service and product are the fundamentals that you have to hit. Unlike the Strip, where a person may come once or twice in their lifetime, here some of our guests come three times a week."
To be sure, this resort represents an epic new chapter in the ongoing success story that is Station Casinos. Kreeger refers to it as the company's "masterpiece," calling it "the most incredible package anyone's ever done off the Strip." But when measuring it against the landscape of Las Vegas—and the American casino industry in its totality—Red Rock Station represents something more. It's a mega resort in every sense, bearing a near-billion dollar price tag to match, yet it's geared around the values and amenities that loyal players have come to expect. And while a cookie-cutter approach would probably have worked just fine from a financial standpoint, the Fertittas chose to subvert the traditional approach to casino design and build something innovative, beautiful and bold. A breath of fresh air, indeed.